There's no point sugar-coating it. Gem-set watches aren't for everyone. For one, all that ice racks up the price tag (so much so that all the watches below are POA), and for another, it takes a certain type of person to appreciate the — occasionally over-the-top — artistry it takes to make a watch shine like the proverbial crazy diamond, sapphire or peridot. But even if it's not your thing, you can't deny the power of the bling.
Rolex Rainbow Daytona in Everose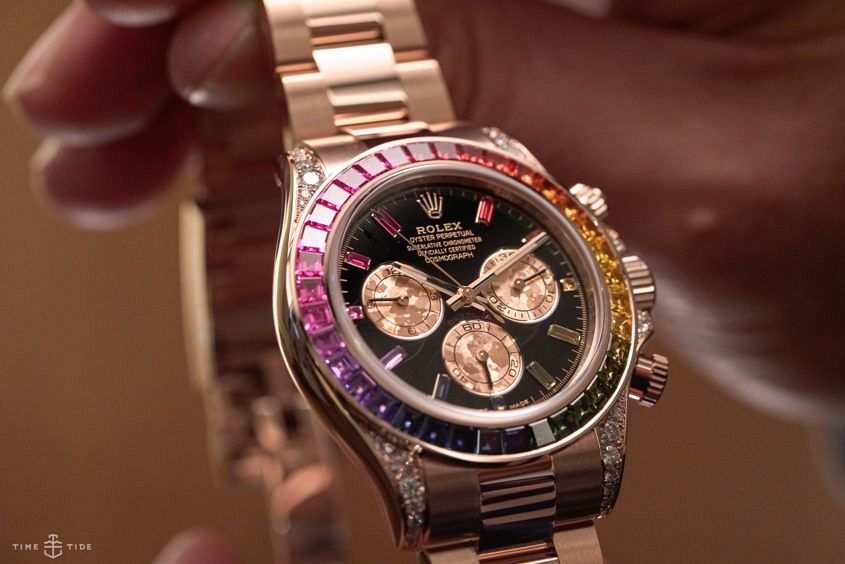 One of the major standouts of Basel 2018, the latest model to get Rolex's famous (and divisive) rainbow bezel treatment is the Everose Daytona, and it is a knockout (and one of my favourite watches of the fair). On top of the usual Daytona awesomeness, you get 36 baguette sapphires on the bezel, and another 56 diamonds on the case. The final touch is the pink gold crystal registers. You need to see this watch IRL to appreciate just how awesome it is.
Hublot Spirit of Big Bang Sapphire Rainbow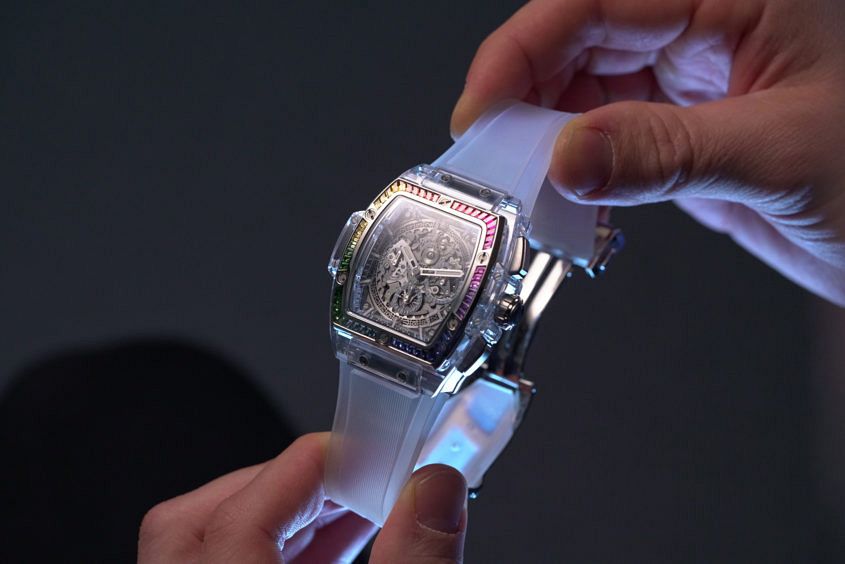 The second, and indeed final, rainbow set watch on this list could not be any more stylistically different to the Daytona. Hublot's big tonneau, the Spirit of Big Bang pairs its gem-set bezel (replete with exposed screws) with a barely there sapphire case. And even though the watch is translucent, there is zero chance this Hublot is slipping under the radar.
Jaquet Droz Loving Butterfly Automaton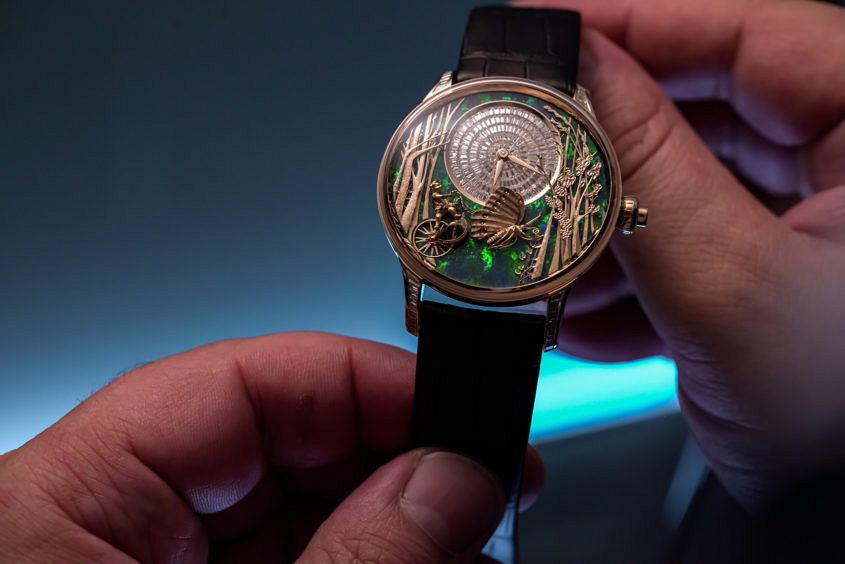 There is a lot going on here. There's a green opal dial, an exquisitely sculpted microscopic gold forest. And that's before we get to the dude riding on a chariot carried by a butterfly (an automaton by the way). But you know what, even amid all that opulence, the exceptional sub dial, fully set with baguette-cut diamonds steals the show.
Chopard L.U.C Heritage Grand Cru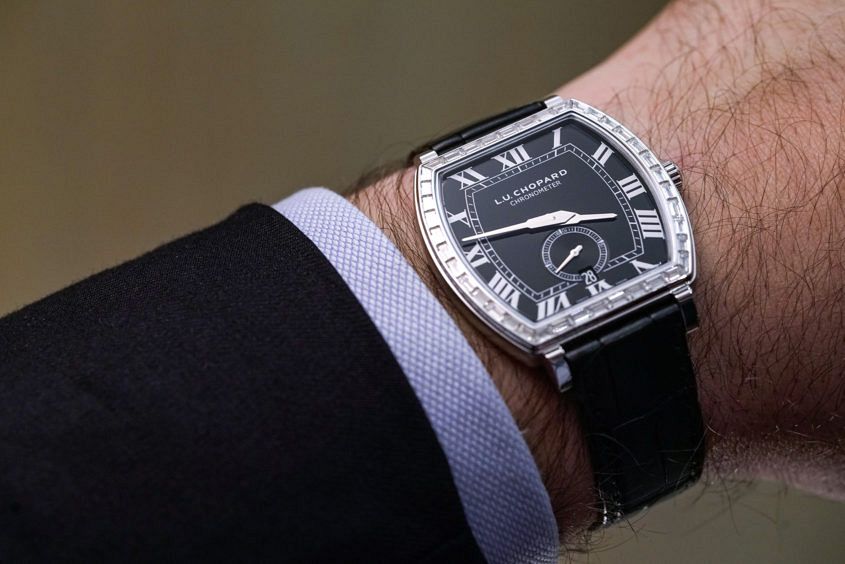 The diamond work on this Grand Cru is amongst the most restrained on this list, a single line of baguettes encircling the tonneau case. And while it might not have the same in-your-face wow factor as some other watches here, it is, in my opinion, the most elegant. This watch is a pure dream on the wrist. Bonus points for the movement being drop dead gorgeous too.
Chanel Boy.Friend Skeleton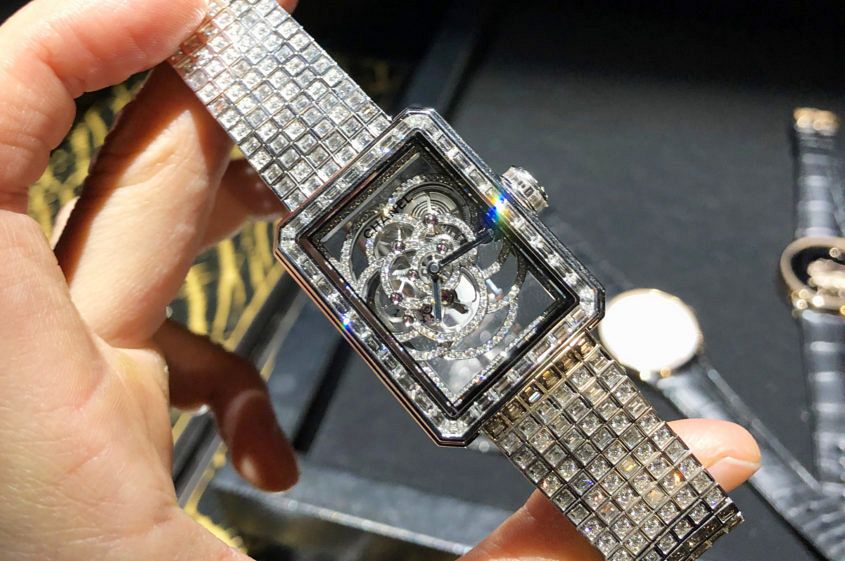 Holding this watch was another real highlight of Baselworld for me. Boasting a whopping 950 diamonds, weighing up to a equally whopping 22.68 carats, this watch is pure decadence. But there's more to it than just the frosting. The movement is Chanel's third in-house effort, the impressively skeletonised Calibre 3. For me, though, the real highlight was that bracelet, which, even though it's heavy with gold and ice, moves as supplely as silk.
Franck Muller Lady Gravity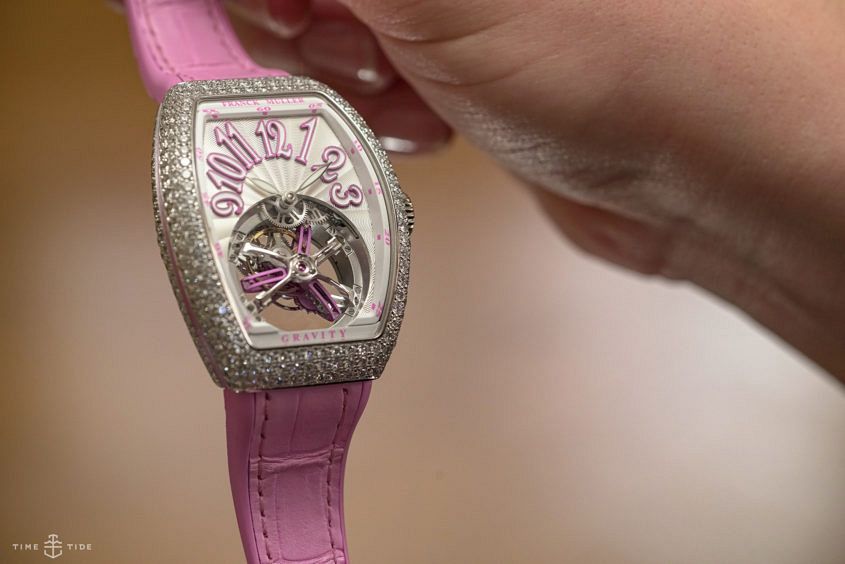 There's pink, and then there's PINK. Franck Muller's Gravity, with its supersized tourbillon, is already a head-turner, but case it in the most bubblegum of bubblegum pinks and cover it with a liberal dusting of diamonds and you've got a watch that's a flat-out showstopper.
Van Cleef & Arpels Lady Arpels Planétarium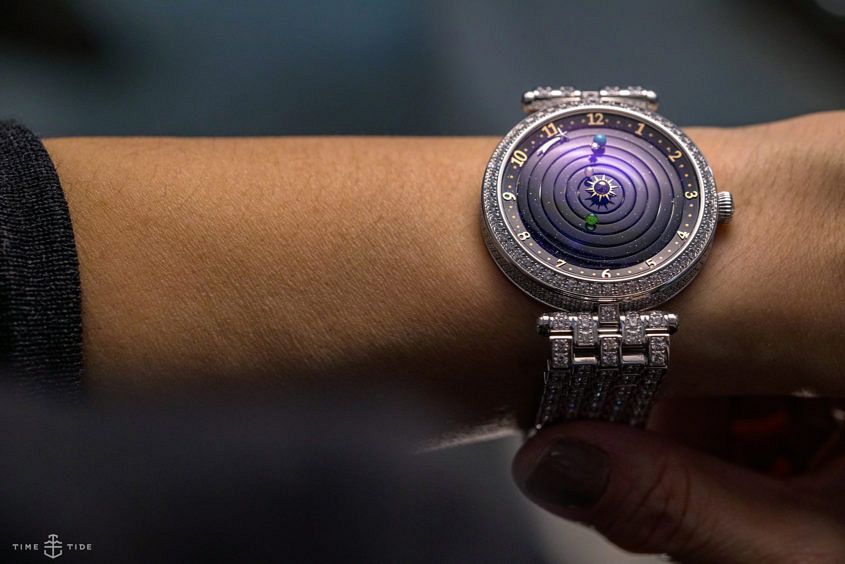 We've given a fair bit of love to the Lady Arpels Planétarium already this year, but to be honest, most of that ardour has been directed at the Christiaan van der Klaauw movement, and gorgeous dial (featuring on tiny, moon-shaped diamond). Today, though, we're all about that case, which is set within an inch of its life.
Patek Philippe Aquanaut Luce 5067A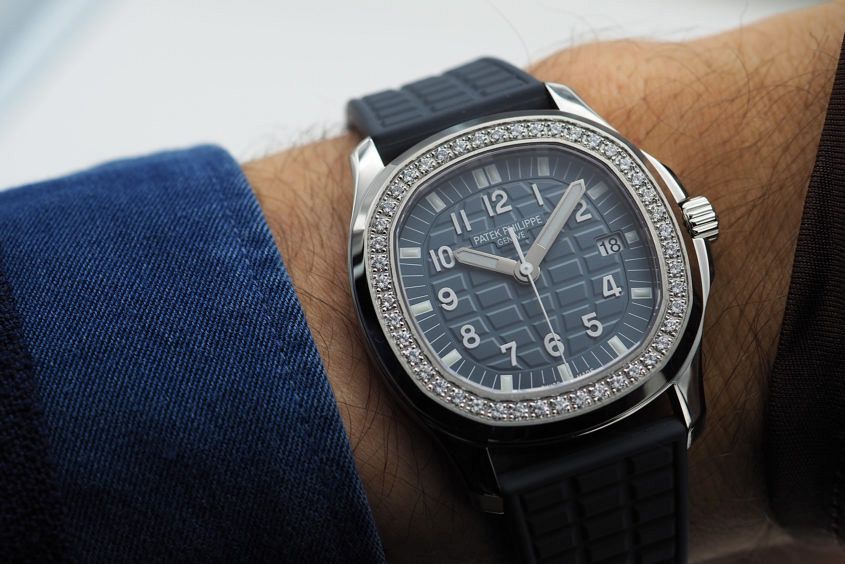 Yes, it's billed as a ladies watch, and yes, it's quartz. But can I see myself wearing this 35.6mm steel watch with 46 diamonds (or about one carat) weighing down the bezel? Heck yes, I can.