In order to think about the best women's watches, we must first ask ourselves: "What is a women's watch?"
At Cartier, the answer is particularly interesting: as the Maison's 100+ years of watches has been taken a particularly fluid approach to their collections, with models like the Tank or the Tortue being equally well-suited to male or female wrists, a notion that seems particularly modern and in line with a singularly French (even Parisian) notion of elegance.
And so, the question of "the best" of Cartier's women's watches is, above all, a question of which sizes will fit a smaller, feminine wrist, rather than which ones are categorised as "women's". The trouble is that leaves us too spoilt for choice.
So, rather than attempting to define "best", here are the watches that I will buy when Santa slips a Cartier voucher called "Pick any Six" down the chimney – one from each of Cartier's greatest collections. My choices are, inevitably, subjective, so I will endeavour to explain my reasons for each one.
BALLON BLEU 33MM IN STEEL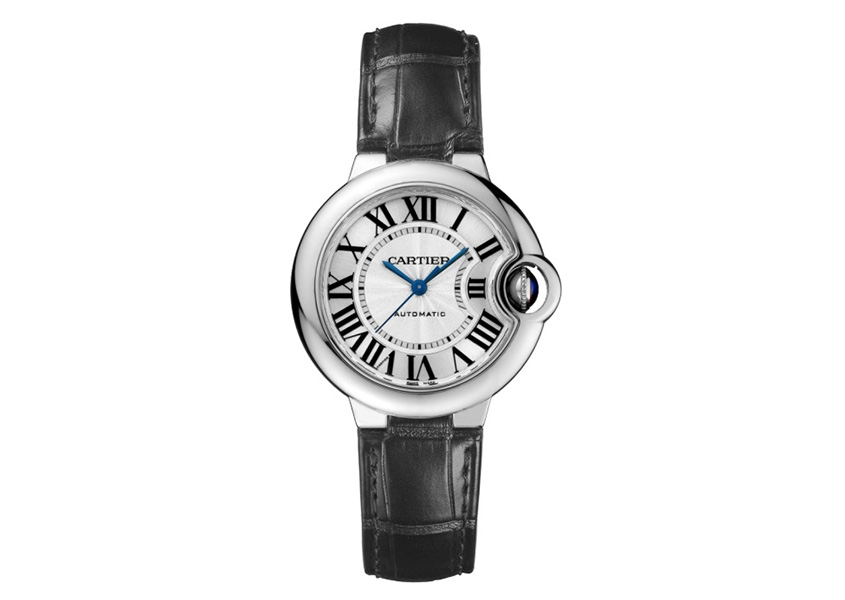 Given how quickly it comes to mind when we say "Cartier watch", it's hard to believe that the Ballon Bleu is barely more than a decade old. What's remarkable is that a design that was so utterly of-the-moment when launched in 2007, has proven itself to be absolutely timeless. But should we be surprised? Cartier certainly has a precedent in the timeless stakes: Tank. Tortue. Santos … the list goes on.
Ballon Bleu is one of Cartier's most recent, and a very popular addition to Cartier's catalogue. So picking one model from the current line-up is a very hard call. There's the 36.6mm two-tone yellow gold-with-white gold: a very "now" combination in a bold size that looks especially strong on the bi-metal bracelet. There's the deliberately in-your-face girly combo of baby-pink dial and alligator strap – in a choice of 33mm or 36mm steel case. Or the Ballon Bleu Moon Phase (the loveliest complication of all, surely) in 37mm – again in steel.
But my pick is the time-only Ballon Bleu in a 33mm steel case on an alligator strap. It's one of the less commonly seen versions of Ballon Bleu – and that automatically scores points with me. The dial is classic Cartier – a lacquered flinqué dial in a sunburst pattern – and having diamonds for the indexes, rather than (more predictably) encrusting the bezel, is a subtle and very contemporary take on luxury. The juxtaposition of diamonds with the steel case and the glossy black alligator strap (rather than the more usual metal bracelet) adds immensely to its stealth-luxe appeal. And that monochromatic chic, combined with its relatively modest 33mm size, takes the watch effortlessly from day to evening. $7350.
CLÉ DE CARTIER 35MM FLYING TOURBILLON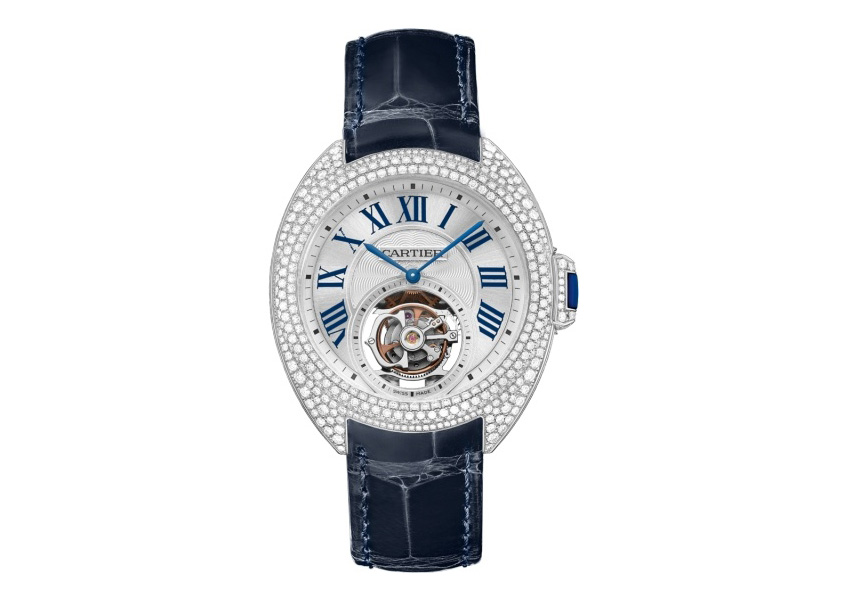 With its assertive, overtly contemporary design, the Clé could be Ballon Bleu's extroverted big sister. What intrigues me, though, is how such a strong design seems to shape-shift with each new aesthetic treatment and – especially – each different complication. And while it's impossible to go wrong with the simple time-and-date automatic in pink gold on an alligator strap (31mm or 35mm – the latter with Cartier's Manufacture calibre 1847 MC), complications are where the Clé really comes into its own.
And complications make my heart beat faster – none more than Cartier's "Mysterious" displays, made famous on clocks during the 1920s and '30s and miniaturised for wristwatches a few years ago by the brilliant Carole Forestier-Kasapi in her role as Head of Development for Cartier's now-defunct Fine Watchmaking division. The hand-wound Clé de Cartier Mysterious Hours movement, calibre 9981 MC, had to be designed in a crescent shape, to leave space for the mysterious time display; in place of a conventional dial, the skeleton formed by the Roman numerals leaves the movement open to view. It is mind-blowingly beautiful and the display is mesmerising. However, it's a little too large for my wrists, so it can't be on my list.
My pick of the Clé collection – the 35mm Flying Tourbillon – may seem a lot simpler horologically speaking, but it's far from a reluctant compromise. If any watch epitomises the best-of-all-worlds chez Cartier (strong design, great mechanical movement, and some lovely diamond-setting) this is it. And, as any watchmaker will tell you, a Flying Tourbillon is anything but simple to execute. This is another movement – Calibre 9452 MC – developed by Forestier-Kasapi and her team. And there's extra icing on this cake: it is certified with the Poinçon de Genève. One of the watchmaking world's highest accolades for quality, it's estimated that meeting its criteria will add anything from 25 to 40 per cent to the time needed to assemble and finish the movement. $222,000
TORTUE MEDIUM MODEL IN PINK GOLD

Perhaps the most overtly vintage-looking of all case shapes – and probably the least immediately recognisable (except among Cartier connoisseurs), the Tortue oozes quiet elegance. Louis Cartier, who designed the original in 1912 – inspired, as its name suggests, by the shape of a tortoise shell – would surely approve. Although, over the past century, the Tortue case has hosted a variety of complications, I think the subtle strength of its design lends itself best to a time-only display.
At 30mm x 24mm, the Small size is extremely elegant on a small wrist – and, indeed, is closer to the original size – but it's a little too self-effacing for my taste. The Medium model (39mm x 31mm) has a lot more wrist presence – as well as more detail on the dial. And you know what they say about the devil and detail. That sunken minutes track with its smooth surface finish provides an elegant counterpoint to the wavy texture of the flinqué dial and the bold Roman numerals. Appropriately for a watch conceived in the early 20th century, both sizes have manually-wound Manufacture movements – with the special pleasure that the ritual of hand-winding a watch brings. $21,100
ROTONDE MYSTERIOUS DAY & NIGHT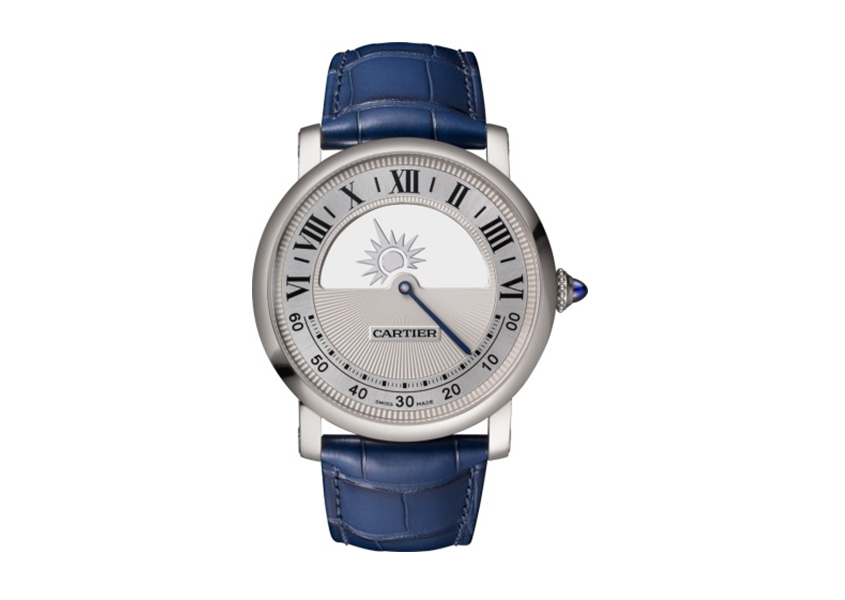 Combine one classically technical complication with another poetically beautiful complication, wrap them up in a highly original (and, yes, poetically beautiful) visual package and put them in a case size that fits my wrist? That's guaranteed to be love at first sight. I had it on my wrist for a short while during the last SIHH (why do I love my job?) and seeing photos of it now still gives me goose-bumps.
Cartier seems to have been edging towards this watch for a while: elements appeared in the 2013 Rotonde Day & Night and in the 2015 Retrograde Moon Phases – but this watch raises the ideas to an entirely different level. Let's take the technical complication first: on the lower half of the dial, the retrograde minutes are counted by a blued-steel hand that swings through an arc from right to left. On the upper half of the dial: a Day-Night indicator as never seen before, thanks to a Mysterious movement (first seen in the 1912 collaboration between Louis Cartier and the clockmaker Maurice Coüet and here miniaturised to wristwatch size). Seeming to float in the transparent space above the "horizon" line of the dial, a stylised sun traces an arc from left to right, pointing to the hours from 6am to 6pm. Disappearing below the horizon, it is replaced by a moon pointer that traces the same arc, from 6pm to 6am, surrounded by three stars that also appear to float in space.
The movement that drives this magic is Cartier's Manufacture Calibre 9982 MC, which – appropriately for a watch that you will forge such an emotional bond with – is manually wound, providing a power reserve of 48 hours, enough for two full Day-Night cycles. $99,500
PANTHÈRE SMALL SIZE WITH DOUBLE-LOOP BRACELET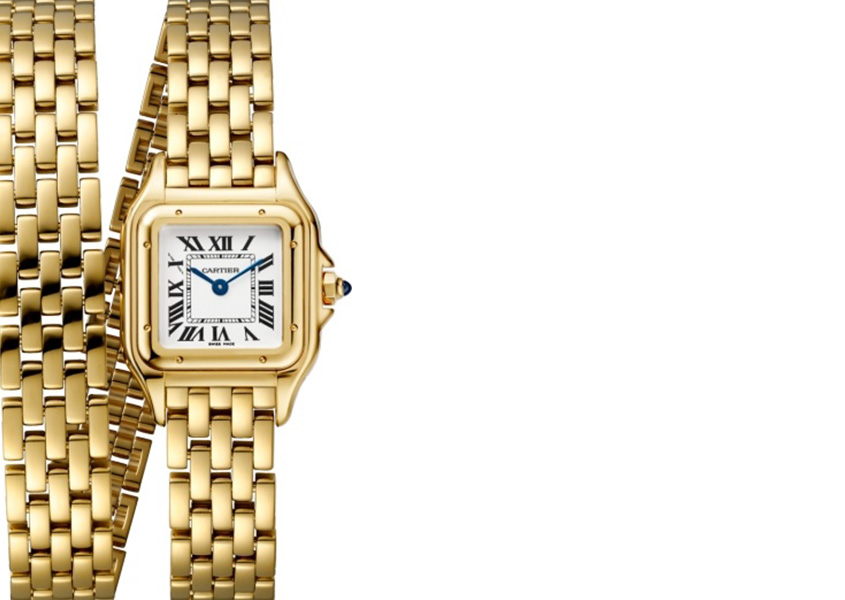 There was no doubt that a Panthère had to be on the list. This watch looks and feels so darned good on the wrist – a Panthère has to be among my six picks. Not just any Panthère, mind. The Panthère is as much a jewel as a watch, so my pick of Panthère is the double-loop or triple-loop bracelet. Those silky-smooth links feel wonderful against the skin – and they speak volumes about Cartier's goldsmithing skills. To my mind, ribbons of polished gold are a much more modern expression of jewellery than a row of diamonds on a bezel – which makes this version of Panthère a really strong statement of style. Not to mention incredibly good fun to wear. $47,100
TANK LOUIS CARTIER XL SKELETON SAPPHIRE

One of the great watch designs of the past century – in fact, one of the greatest "anything-designs" of the past century – the Tank is among the rare things that can be called an icon, in the true sense of the word. (Given how badly misused and over-used the word has become, it's a term that we don't use lightly at Time + Tide.) It's also one of those rare designs that has been adapted, modified and revisited countless times without ever losing its essence.
So, with that said (and regardless of how strongly I am drawn to several other Tank models), "the" Tank has to be the Louis Cartier – the model named after the creator of the 1917 original and the one with the most classically refined proportions. It's worth noting that the XL version of the Tank Louis Cartier is not a monster "man-sized" thing but measures a restrained 30mm x 39mm – the perfect dimensions for an elegant man's dress watch and for a woman who likes a watch with presence.
Into this pure and refined case, Cartier has put one of the most beautiful skeleton calibres in the entire canon of contemporary watchmaking: Calibre 9616 MC. A fine circular bridge is all that links the various elements of the mechanism, each of which has been reduced to the finest possible tracery of metal, forming a series of smaller circles. The entire ensemble seems to float in the space between the sapphire crystals of the front and back – the strong lines of the case sides contrasting with the delicate lacework of the movement. Cartier proposes a women's version in white gold with a diamond-set bezel and fuchsia pink alligator strap. It's gorgeous – but to my eye, no gem-setting is needed; the movement is a work of art that needs no embellishment. So for "my" Tank I shall cheat a little, taking the white gold model proposed for men and swapping its black alligator strap for the pink one. Then, once every three days when the power reserve runs out, I will enjoy the immense pleasure of winding the watch by hand, gazing at the mainspring as it gradually fills with energy. $72,000