"Girls just want watches that look pretty." So we are told. Of course, most of us want things that look good (and, ah, don't men want good-looking stuff too?). But "just" pretty? Please. The watch industry has patronised us with that old cliché for too long. For many of us girls, a fashion watch is anathema – and a diamond bezel is not the be-all and end-all either. Bung a bit of glitter on a boring watch and it's still a boring watch. Assuming that an interest in mechanical timepieces means that we'll settle for tool watches with zero femininity completely misses the point, too.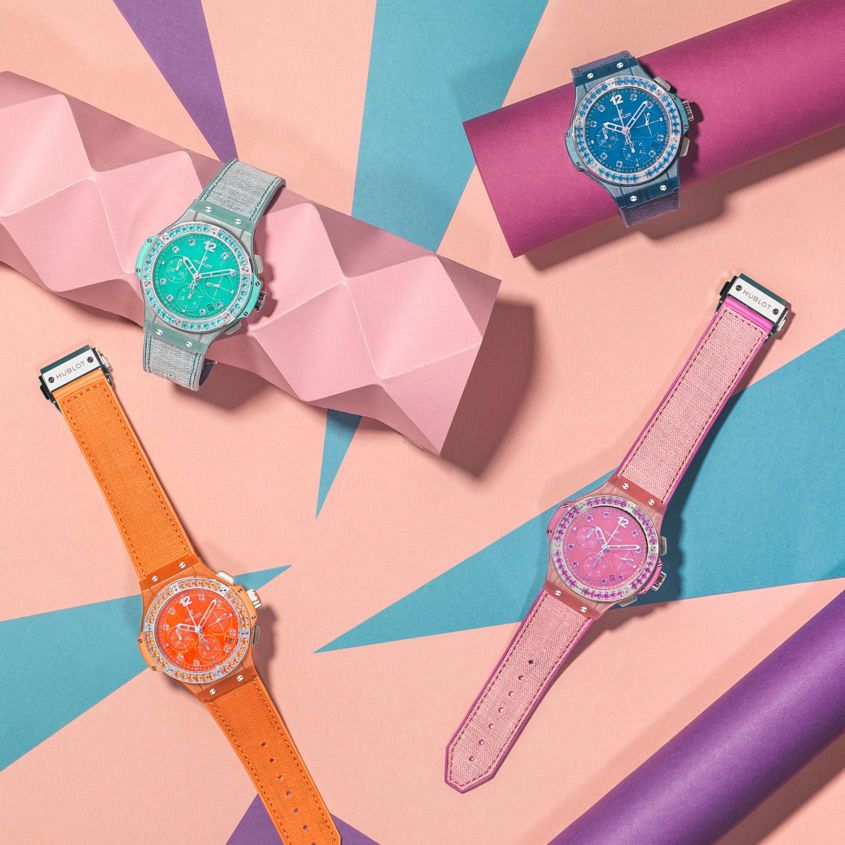 Rather than saying pretty OR technical, Hublot has done both. First, it chose its well-proven mechanical calibre, the self-winding HUB1110, for a series of Big Bang watches (thus safely ticking one of the 'technical' boxes). Then it harnessed the most advanced materials research into developing the "pretty" part – the case, dial and strap – transforming what are normally considered fashion fabrics into high-tech substances that answer all the demands of fine watchmaking. A very clever play on "fashion watch" perceptions, no? So, while the tech is there – and this materials technology is seriously complex stuff – the looks still lead. We're not talking conventionally pretty; these are bold pieces that thumb their noses at the pink-it-and-shrink-it brigade.
Big Bang Broderie
"What's the most feminine material in existence?" Lace. But rather than finding a way to print a lace-like pattern onto a base material, Hublot went to where most of the world's great couturiers source their lace, St. Gallen in the east of Switzerland. There, it commissioned the firm Bischoff to create a bespoke lace of embroidered floral arabesques surrounding a skull – a pattern that precisely fits the 41mm Big Bang case, covering the dial and, with no apparent break, the bezel. Then Hublot's materials scientists found a way to 'embed' the lace in carbon fibre without losing its richly textured look. The strap is embroidered to match – but that seems like the easy part.
Big Bang Broderie Sugar Skull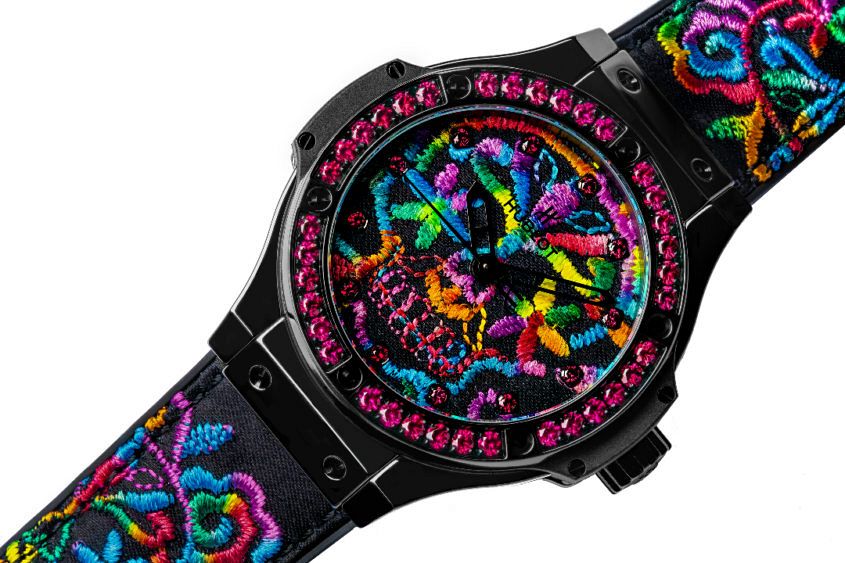 A year after the first 'Broderie' models, Hublot followed with three vividly coloured variations – each of which adds emphasis to the skull hidden among the lace flowers.
Big Bang Tutti Frutti Linen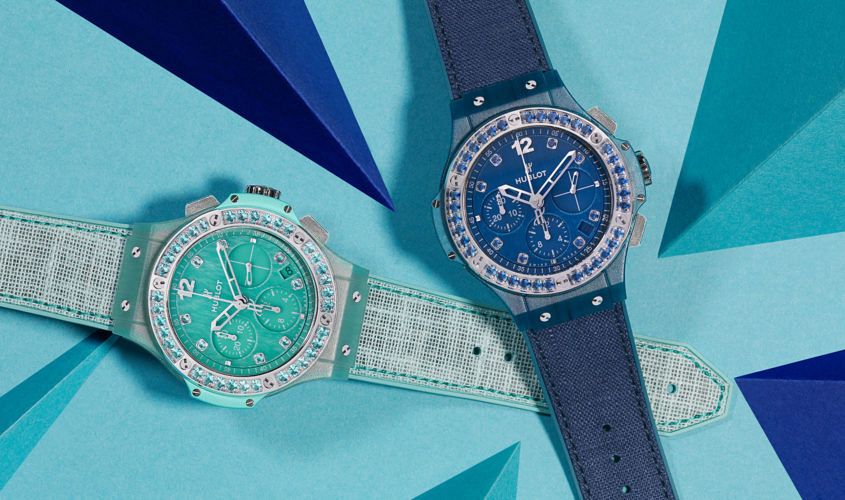 Next came linen. What a lot of us don't know is that, aside from making wonderfully cool summer clothes, linen fibre in the form of advanced composites has, in recent years, been used for all manner of things, from surfboards and racing yachts to guitars and even car bodies. So why not watch cases? Especially since it takes colour very well, unlike its near-equivalent, carbon fibre. Woven linen looks great on the dial, too – although that posed another problem: with normal drying processes, linen fibres retain latent humidity. And humidity is the mortal enemy of a watch movement. It took two years of working with Hublot's specialist partner, bComp, to develop the right drying technique. Much more easily said than done.
Big Bang Italia Independent Velvet
And so to more 'fashion fabrics'. At the same time as the boys got vintage Rubinacci tweeds in their Big Bangs, Hublot brought velvet to the girls. The headache was similar for both: those fabrics shed teeny, tiny fibres – another total no-no for any watch movement. Simply coating them with a sealant was not the answer, as the fabrics would lose their texture and colours. Over to the materials experts again who, as we can see from the velvet dials and strap inserts, came up with a solution.
Spirit of Big Bang Moonphase
Although Hublot didn't launch this as a "ladies' model", it's no surprise that with the wearable proportions of its curved 42mm tonneau case and its lollipop colours, it is being grabbed by the girls as much as the boys. To show off the hand-wound skeleton movement (Cal. HUB1770) the dials are milled from a specially developed quartz – silicon dioxide (SiO2) and aluminium oxide (AI2O3) – which can be coloured by adding other mineral elements without affecting the material's performance. By not creating an artificial boundary between 'male' and 'female' with this watch (an approach I strongly commend), Hublot may have taken a lesson from the final watch on our list, which had been launched two years earlier …
Classic Fusion Vitrail Automatic
The dial is a metal framework filled in with pieces of coloured glass – similar to the stained glass windows of a church. The technical challenge here was not the glass material per se – although impressively high-tech, it was already used in research labs to filter different colours and frequencies of light. However, the fact that it expands and contracts according to temperature makes it susceptible to breakage. So an O-ring style mounting system was devised, with each sliver of glass effectively "suspended" within its frame. Most probably because of the vivid colours – and despite its rather hefty 45mm diameter case (in titanium or black ceramic) – this piece was bought by almost as many women as men.