LIST: 7 power players who wear budget watches
Melissa Pearce
There is a band of world and business leaders who choose discreet watches over luxury pieces with value tantamount to a home deposit, recoiling at the thought of wearing a watch fashioned in their namesake or brandished as a status symbol. It would be a foolish misstep, however, to underestimate these style sleeper cells; men of influence, they resolutely reign in their domains.
Steve Jobs – the late Co-Founder, Chairman and CEO of Apple Inc.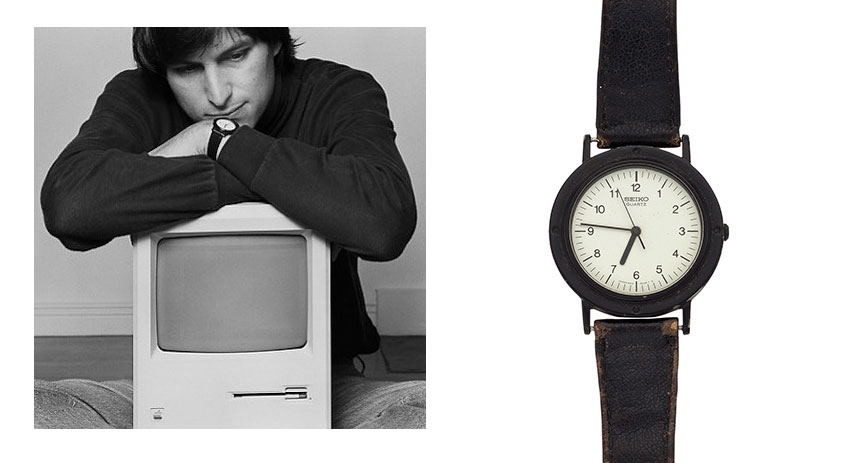 Net worth: At the time of his death in 2011, Jobs' net worth was estimated at US$10.2b
Watch: Seiko BCRP St. Steel Back / 33mm / Ref. 6431-6030, c1982
Price: US$180
Jobs' supremely classic Seiko was sold in 2016 for US$42,500 by US-based auction house, Heritage Auctions, who was consigned the watch by Jobs' longtime house manager, Mark Sheff. Like his unerring appearances in a black turtleneck and blue jeans, and the barebones of his Californian digs, the watch is a lesson in simplicity, with its white face, black Arabic numerals, black metal bezel, and black leather band with plain pin buckle. By the state of the back of the band, it looks like Jobs wore the watch until it was on its last lap.
Sir Ka-shing Li – Chairman of CK Hutchison Holdings
Net worth: US$32.2b
Watch: Citizen Eco-Drive Attesa ATD53-3051 (black titanium)
Price: US$500
The Hong Kong ports-to-telecoms tycoon who turns 90 in 2018 – and shows no signs of slowing down in the boardroom – is Asia's richest man and the 18th richest man in the world. Prior to his property and mobile communications endeavours, he started out in plastic flower exports and now helms a diverse global empire. Poverty marked his childhood in China and he believes in cash flow vigilance and a steady approach to growth, with stability prioritised over a headlong rush into unfettered opportunity. This prudent vantage point might explain his watch choice but, as a keen golfer and swimmer, he also likes a simple watch that he can use while exercising.
Mark Hughes, OBE – Manager of Stoke City Football Club
Net worth: £1m (US$1,289,637) per year wages
Watch: Polar V800 sports watch
Price: US$390 to US$438
English Premier League managers tend to illustrious watches — no surprises there. Hughes might be one the lower paid managers in English football, but he is still clearing a good seven-figure keep before bonuses and cuts a sharply tailored figure on the pitch, complete with classic cufflinks. But he adheres to a utilitarian flavour with this chunky watch. Polar is a Finnish brand that specialises in heart rate monitors, activity trackers and bike computers, and Hughes' fitness-focused watch is packed with the latest tech features, but also appeals to his managerial preoccupations, muting everything but calls during training — and the waterproof body is ideal for English weather.
Chuck Feeney – Philanthropist and Co-Founder of global duty-free shopping business, DFS
Net worth: Feeney earned US$7.5b during his career, though his current assets are said to be US$2m as a result of his decades-long philanthropic efforts.
Watch: Casio F-91W c1980s
Price: US$30
Feeney practises stealth philanthropy, such is his secrecy and reticence when it came to publicity. In fact, Warren Buffet calls him and Bill Gates (himself a fan of budget timekeepers) his heroes for their shared self-effacing charitable spirit. Feeney has long disliked ostentatious dressing (it was not unusual for the Irish-American businessman to take business meetings in Hawaiian shirts) but another reason he avoids being seen in expensive watches is simple: security. He was particularly cautious not to draw attention to himself when his children were growing up in the 1970s and 1980s in Europe, where kidnapping for ransom was rife. He wore a Timex as his low-key choice then but more recently has been seen in a 1980s Casio icon. One suspects Feeney's Casio F-91W is a period original but it is impossible to tell as the quartz digital model is still currently available today, with the same styling as the archetype.
Chris Martin – Musician, Singer/Songwriter
Net worth: US$90m
Watch: Casio G-Shock GA110B-2D
Price: US$190
In case you haven't noticed, Coldplay's frontman has a uniform: a long-sleeved white undershirt, a purple or sky blue tee, skinny black jeans and high voltage Air Jordan high tops in myriad hues – occasionally a splash of tie-dye might appear in the mix as well as a not-for-profit pin. All uni student staples ideal for expressive stage jumping and running, but also poised for a quick spot of yoga on a break from the studio. The beacon-like Casio G-Shock's electro-luminescent panel is surely a handy feature backstage or in the middle of the night in his private jet. Add to that the stopwatch and timer tools (the latter reminds the wearer of one-off or recurring events) and water resistance to 200 metres – it's a thrifty coup. Oh, and there are 31 time zones across 48 cities, perfect for frenetic tour schedules.
Pope Francis – the 266th and current Pope of the Roman Catholic Church
Net worth: US$25m — to hazard a guess; CNN Money put the Vatican's wealth at a conservative US$8b in 2015.
Watch: Swatch Once Again (GB743)
Price: US$100
Another octogenarian to grace this list, Pope Francis, who – believe it or not – has a Forbes power listing, possesses a key point of difference. He is much closer to hipster wardrobes with his normcore leanings than Li or Feeney. There is a surprising cult of Swatch among CEOs' wrists but the Pope's matching of this white dial, black hour markers and black strapped design with the white papal regalia speaks volumes about his values, especially given the Vatican and Patek Philippe's long relationship. Apparently, his cassock conceals the simplest foundations of a shirt, sweater and trousers, atop orthopedic shoes. But despite his foot issues, the monochromatic Swatch makes him entirely modern and – most importantly – accessible.
Ashton Kutcher – Actor and Investor/Venture Capitalist
Net worth: US$140m
Watch: Motorola Moto 360 (1st Gen)
Price: US$200
Kutcher has invested in successful tech start-ups to the tune of US$100m, putting money on Skype, Foursquare, Airbnb, Path and Fab.com, and has explored app development and social media-driven content platforms, namely A Plus. He also has his own venture capital firms, A-Grade Investments and Sound Ventures. It is not really a huge shock he is wearing the Moto 360 because in 2013 he was announced as a product engineer for Lenovo. What qualifies him to carry out the role is somewhat obscured but at the announcement, Lenovo said he would be helping them mainly with their Yoga tablet, while the actor said he looked forward to making their products as consumer friendly as possible. On further digging, it turns out Kutcher studied biochemical engineering before dropping out to pursue entertainment and has a particular interest in problem-solving for start-ups. His eye-watering pay on CBS' Two and a Half Men helped him parlay the benefits of being one of Tinseltown's highest-paid actors into his standing as a Silicon Valley patron and mover.