Today's list is, without doubt, one of the most meta we've done in a while. We're looking forward… to the past. There's no escaping that vintage reissues are a part of the watch collection landscape, now being a 'key pillar' for many brands, and guessing what they're going to pull out of the archives is always a fun game. So Andy and I polished off the crystal ball and had a stab at what we're going to see at SIHH and Baselworld 2018.
Omega Flightmaster
Andy: The Omega Flightmaster is one of those watches that was made for such a short period of time (about four years) that you really wonder what happened. It was a pretty significant watch for Omega, being the last time they specifically developed a movement for pilots. It was basically superseded, technologically speaking, by the Speedmaster X-33. Which at the time, the late '60s to early '70s, made sense. Now that we live in an age where practicality doesn't really matter, the Flightmaster is due for a comeback, and I think it's going to happen. Likelihood: 7/10
Felix's take: Much like Mulder, I want to believe, but the Flightmaster is a complex watch… maybe too complex? Likelihood: 6/10
Breitling Top Time
Felix: All eyes will be on Breitling in 2018, thanks to their new major-domo, Georges Kern. The general consensus is that it's a brand with an incredible history and back catalogue that's ripe for reissue, something the flying B has been slow to exploit. Given Kern's previous form at IWC, I expect that's all about to change, and I'm excited to see what that change looks like. I'm really hoping they bring back one of their less machismo-laden models, the Top-Time – a clean chronograph offered in loads of variants, from classic panda configurations through to some fun and funky '70s options. Likelihood: 4/10
Andy's take: Although I agree that a well-executed Top Time would be amazing, I think Georges has other models higher on the priorities list. Likelihood: 2/10
Breitling Navitimer 92 Tropical
Andy: The Navitimer is arguably Breitling's most iconic watch, and adored by aviation fans worldwide. Over the past few decades we've seen a lot tweaking on the original. Now I'm not saying I love faux-patina, but I wouldn't be surprised if we see a Navitimer released with a faux-tropical dial, and some creamy lume – which is apparently how brands let us know it's a reissue. Likelihood: 6/10
Felix's take: Yep, this one's a no-brainer: new but still familiar. Likelihood: 6/10
Heuer 'Bund'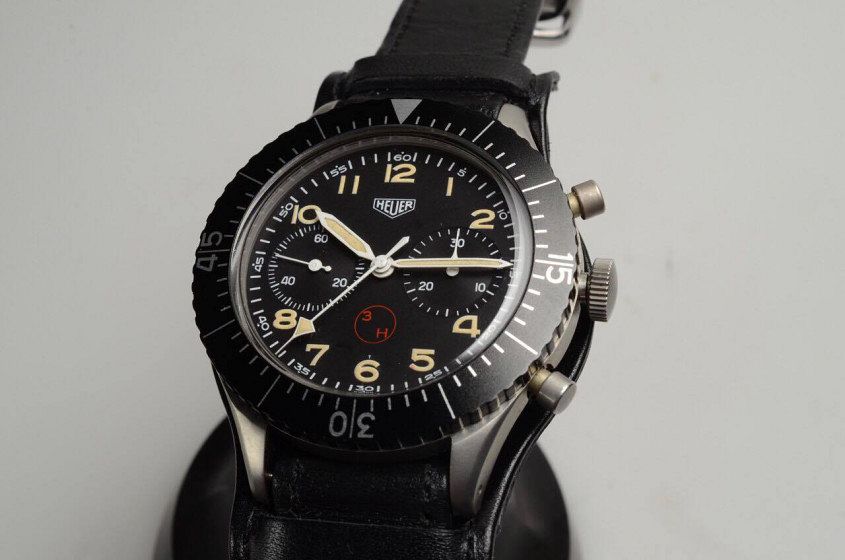 Felix: The Heuer Bund (short for Bundeswehr) is a cult non-automotive Heuer that's surely due for a comeback. Originally made in the '60s and '70s, it was designed for use by for military pilots, notably the German Air Force. it has a hot military look and a backstory that marketing departments drool over, but my only concern is it might serve as a distraction for TAG Heuer's laser-like focus on their current darling, the Autavia. Likelihood: 7/10
Andy's take: Completely agree. TAG Heuer has shown they listen to the people, and they're open to other reissues. Likelihood: 8/10
Jaeger-LeCoultre Memovox Polaris II
Felix: Jaeger-LeCoultre's Memovox is one of their most recognisable models, a whirring alarm with a dressy vibe. But the Memovox wasn't always so refined. Meet the Memovox Polaris II, produced for a few years from 1970 and equipped with the high-frequency Calibre 916 (marked HPG, or High Precision Guaranteed, in the American market). I'm a particular fan of this big blue version. Cool as it is, I think seeing this model again anytime soon is a bit of a long shot as stylistically it's a little to outré for JLC's current direction. Likelihood: 2/10
Andy's take: I think we're on the same page here. We saw the Master Memovox boutique edition from JLC back in 2016, which was a winner. I'm not sure where such a funky '70s design fits in with the JLC's current collection. Likelihood: 1/10
Blancpain Fifty Fathoms 1000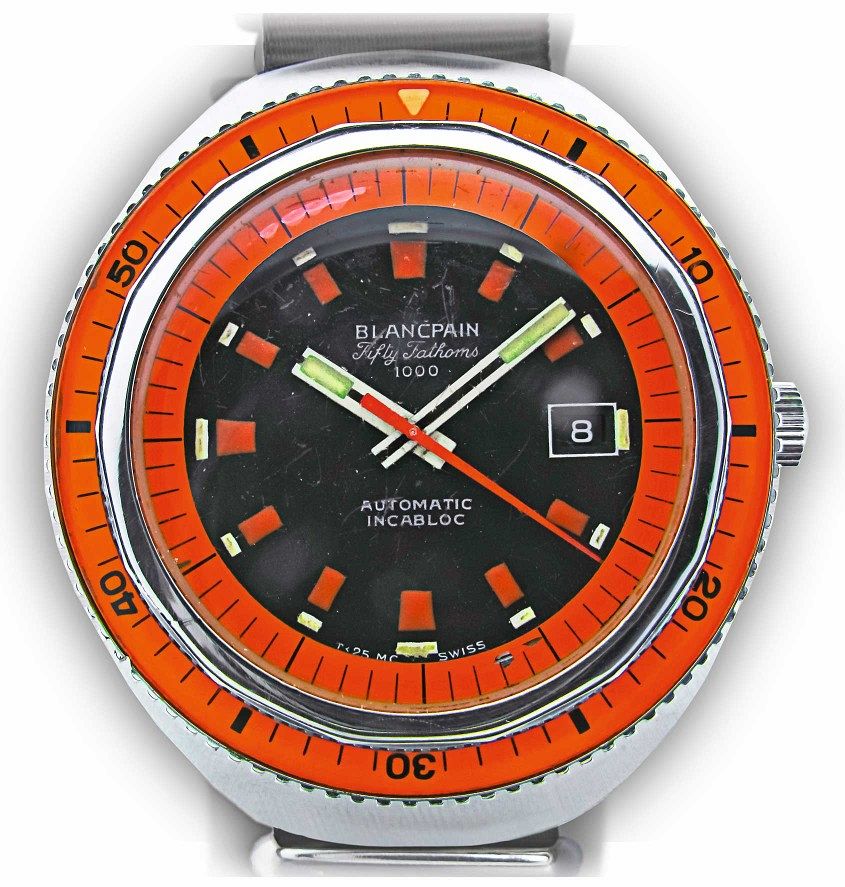 Felix: In 2017 Blancpain released a killer tribute to the historic Fifty Fathoms with the MIL-SPEC, so expectations are high for a strong follow-up. My pick? This awesomely orange number that's happens to be the first commercial diver rated to 1000 metres. Having said that, it is very orange. Likelihood: 1/10
Andy's take: As much as I'd love to see this, I think you're right. The Fifty Fathoms MIL-SPEC is quite an honest reissue, but it's also much safer. That being said, in terms of iconic heritage pieces to reissue, Blancpain really don't have too much else. So if we were to see another reissue, then it'd likely be a more cautious '70s Fifty Fathoms Diver Date – think of those grey gradient dials. This piece gets 10/10 for desirability, and a 1/10 for likelihood.
Universal Geneve Aero-Compax
Andy: Universal Geneve have been asleep for quite a while. I think their last release was a limited Compax back in 2008. Imagine how great it would be to see them hit the fairs in 2018 with an authentic and perfectly executed Aero-Compax. It's an interesting one with some military provenance. There must be a reason UG have kept their office doors open, and website live, all these years. And they'd have to be across the outrageous prices their highly desirable vintage pieces now sell for. I'll give this one a 0.5/10 chance of happening next year, but UG – I know you're up to something! Likelihood: 0.5/10
Felix's take: It's a pipedream, a beautiful pipedream. Likelihood: 0/10
IWC Tribute to Mark XI RAAF
Felix: Earlier this year IWC released a tweaked version of their Mark XVIII, the 'Tribute to Mark XI', with a dial and handset that's a faithful to the historic military piece. Next year I'd like to see IWC take it one step further, releasing a version of this watch inspired by the RAAF-issued watches. The point of difference? Broad arrow marking, old-school brand text and a kangaroo strap are all options… Likelihood: 3/10
Andy's take: If a month ago you'd asked me if I thought a RAAF reissue from IWC was likely, I'd have said no – it would make no sense to release specific to the Australian market, we're just too small. But this year we've seen both a tribute to the Mark XI AND an Australian limited edition with a retailer, so that 'one step further' you mentioned isn't that big a step. Likelihood: 2/10
Tudor 'Snowflake' Submariner – Blue (7021/0)
Andy: Tudor's current collection is so close to a Blue Snowflake Submariner that it physically hurts. We've got the snowflake hands and have moved to the 'shield' logo. We even have a blue-dialled Pelagos. Basically, now all we're missing a complete reissue – I'm talking a 40mm case, with a matching blue dial and bezel. The likelihood of Tudor introducing a Submariner collection alongside their extensive Black Bay and Pelagos range is negative 12 million. However, I can only hope that at some point we see an anniversary edition Black Bay one day. Likelihood: -12,000,000/10
Felix's take: I'm all for the power of positive thinking, but this isn't going to happen. Likelihood 0/10