Earlier this year I found myself in London sitting in the office of Paul David Maudsley, in the Phillips Office at Berkeley Square, discussing the finer things in life. Now, when you pop in for tea with the international specialist of the London Watches department at Phillips auction house your expectations in regards to what's in the safe sitting by his desk are pretty damn high.
And, let me just say right away — they were most definitely met. At the time, March 2017, Paul was still finalising the catalogue for an upcoming auction, which the world now knows as the Crosthwaite & Gavin Collection. For those of you outside of the vintage Heuer world, Richard Crosthwaite and Paul Gavin are distinguished collectors, authors, and respected vintage Heuer authorities. For both Crosthwaite and Gavin, collecting watches is a passion, driven by two core values — condition and rarity.
The pieces I handled all truly were world class, in both condition and rarity. Aside from this, this particular auction focuses on the period between 1962 and 1982, otherwise known as the 'Jack Heuer Era'. I'm by no means an expert on vintage Heuer, but fundamentally this was the period when Jack Heuer kicked off the Heuer Carrera project, covers Heuer's merge with Leonidas, shortly before TAG took over in 1986.
So, as the impending auction approaches, I thought we'd take a look back at my picks of the bunch, and why they matter.
1. Autavia Big Sub, reference 2446 [LOT 3]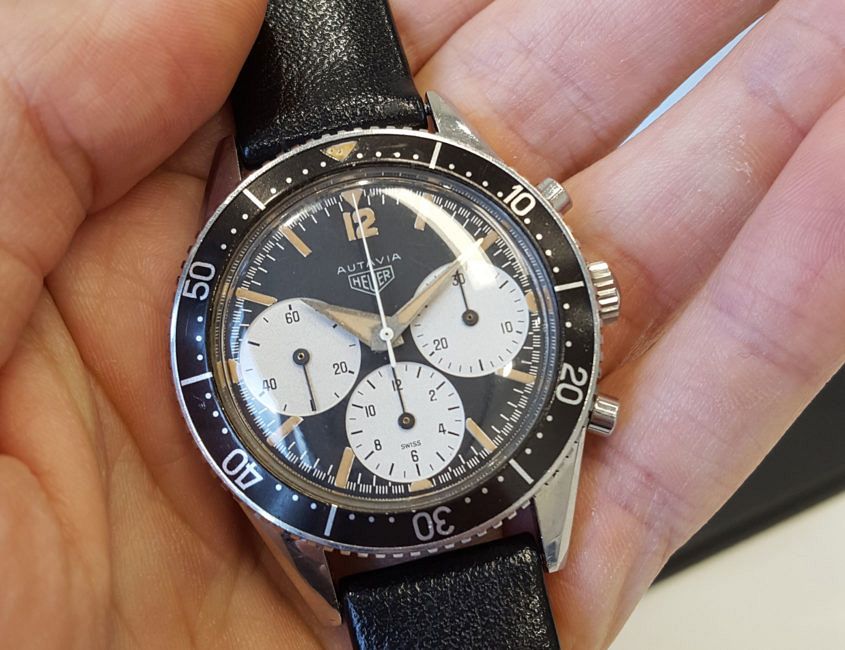 The first and arguably most important piece in this auction is a very early Autavia, with first execution dial and second execution hands which comes with an original certificate of guarantee, and Heuer swing tag. With a current estimate of $80,000 – $120,000 USD, this piece has the potential to set a record (and if you believe the hype, it will).
Estimate $80,000 – $120,000 USD
2. Heuer Monaco 'Dark Lord' [Lot 6]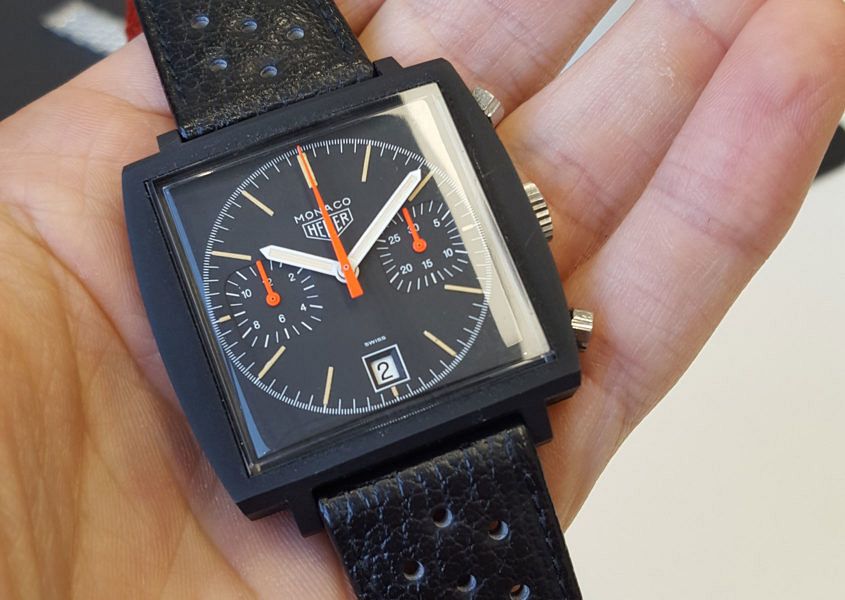 What we have here is an ultra-rare Heuer (according to Phillips, Jack Heuer stated only 100-200 were produced), in phenomenal condition, WITH the original hang tag, box/outer box. In fact, this piece had the caseback sticker intact. The first thing I noticed when I picked this up was the pristine condition. Pretty incredible for a watch that's roughly 30+ years old and PVD coated, which — let's be honest — at the best of times isn't the most scratch resistant.
Estimate $35,000 – $50,000 USD
3. Autavia 'Siffert Chronomatic' [Lot 42]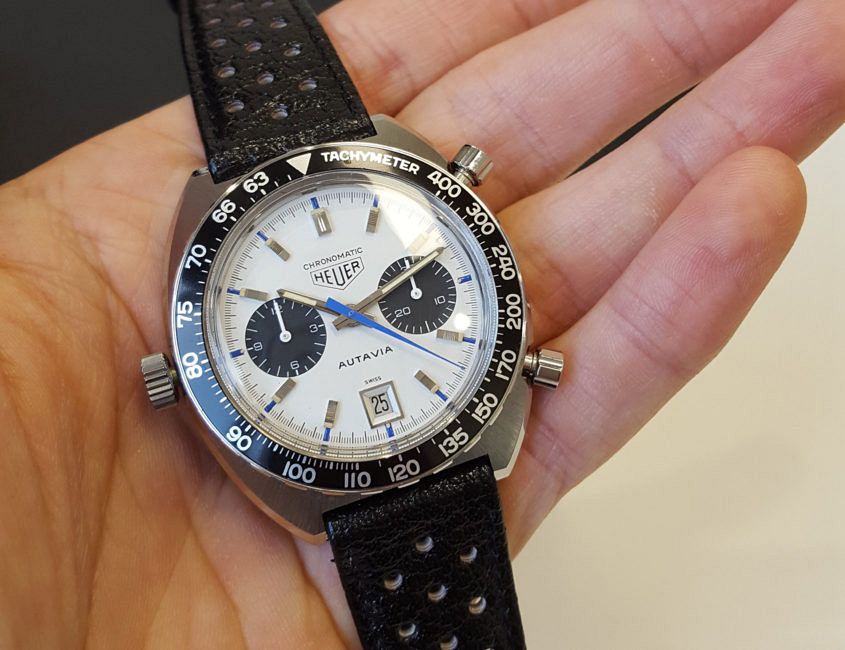 Heuer Autavia collectors already know the Jo Siffert Story, but for those of you who don't, this 1163T is sometimes referred to as the 'true Siffert Autavia'. This piece is, again, extremely rare, but what sets it apart is 'Chronomatic' printed above the Heuer logo, which puts it in the 'holy grail' category for collectors. Paul notes that only 10 examples have been found by collectors, so seeing one in this condition on the open market is unlikely to happen again any time soon.
Estimate: $50,000 – $80,000 USD
4. Abercrombie & Fitch Seafarer [Lot 17]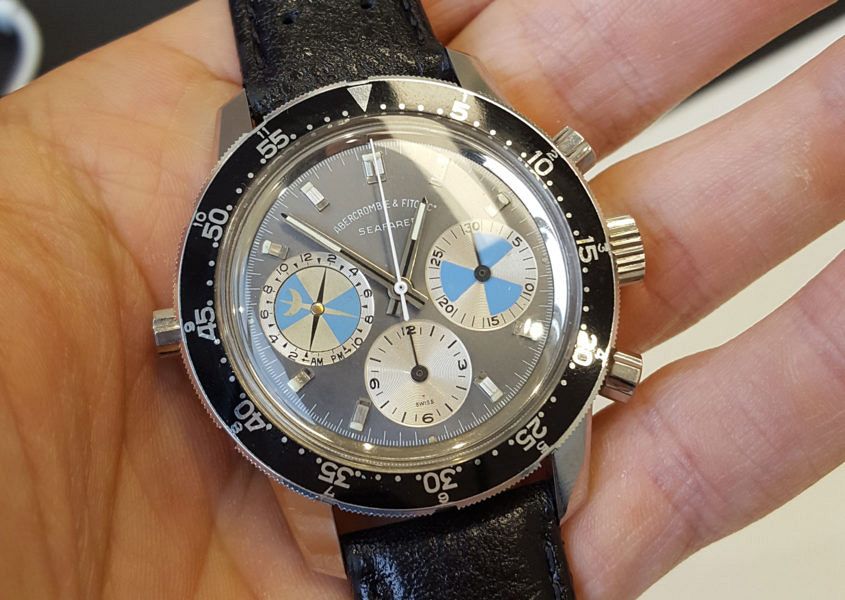 This piece had a pretty striking dial when I first picked it up, and the overall condition was outstanding. Afterall, it's nice to think back and imagine a time when A&F were cool, and this Seafarer is a great example, coming from a partnership that lasted more than 30 years. Aesthetically, these old Seafarers are just stunning.
Estimate: $10,000 – $15,000 USD
5. Carrera 'Jordanian' [Lot 24]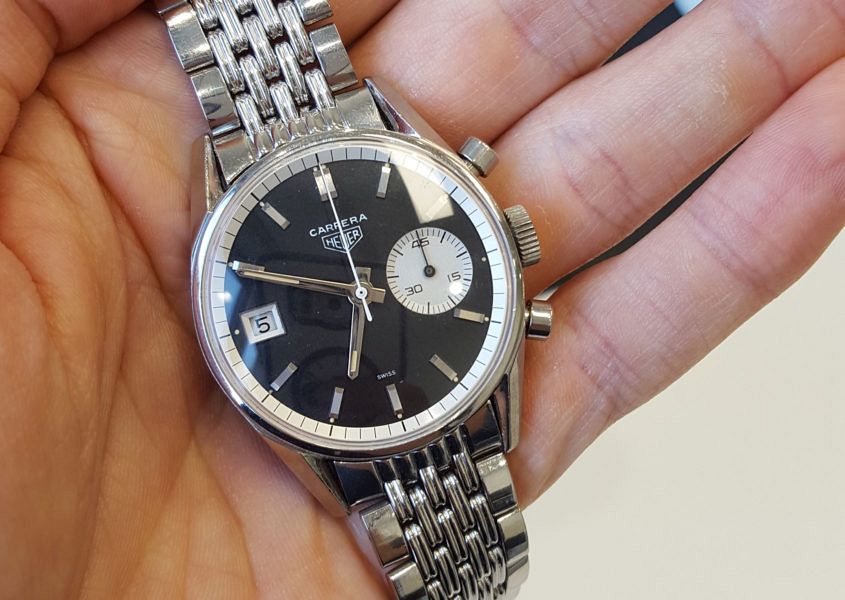 Another watch I found particularly interesting was an late '60s Carrera, issued to the Jordanian Air Force. According to Phillips, only five pieces have ever been documented, and it's thought the production run was 100 units. This piece gets extra points for the Arabic engraving on the caseback, which translates to 'Weapon of height'. The estimate on this piece isn't outrageous either, especially when you consider its rarity and the current market for vintage military watches.
Estimate: $8000 – $12,000 USD
6. Carrera 'Indianapolis Speedway' [Lot 11]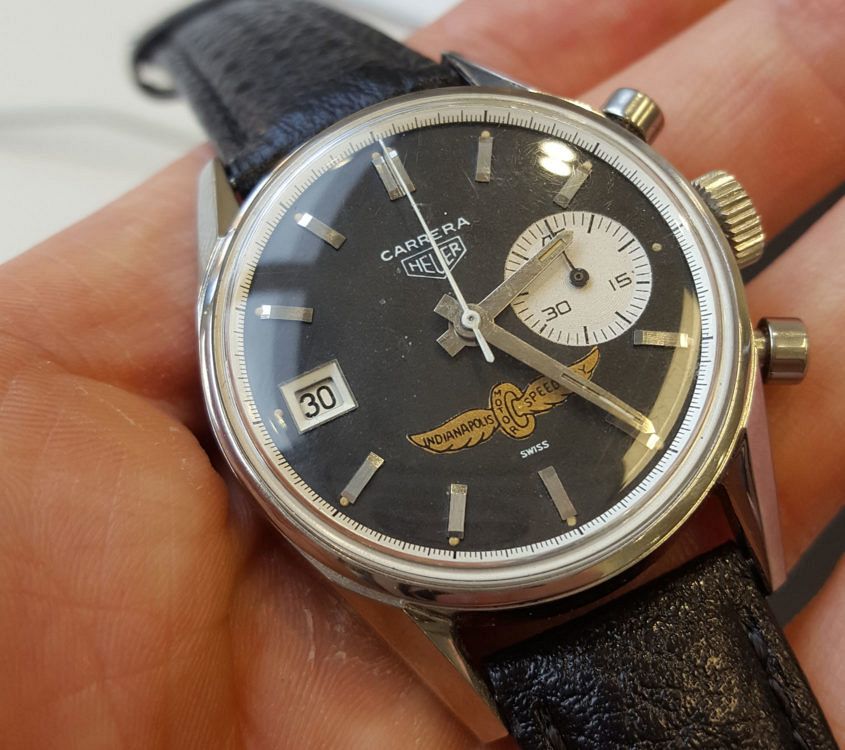 Next up, we have a 1960s Carrera with a killer backstory! Back in the late '60s, Heuer saw an opportunity to capitalise on the famous Indianapolis Motor Speedway and released this Carrera as a promotional item, featuring the IMS 'wing & wheel' logo. This piece was made in very small (and unknown) volume, with some pieces literally being sold in the gift shop next to the Speedway circuit.
Estimate: $20,000 – $30,000 USD
7. Autavia GMT [Lot 27]
I, like most, am a sucker for a nice tropical dial, and this Autavia GMT, which has turned to a chocolatey brown, is just magnificent. This reference (the 1163 GMT) followed up on the 1163 Autavia and featured a calibre 11 movement, with an upgraded GMT module. Not long after (1972), this was swapped for a purpose-built Calibre 11 with a GMT module, otherwise known as the calibre 14.
Estimate: $15,000 – $25,000 USD
8. Monaco 'McQueen' [Lot 40]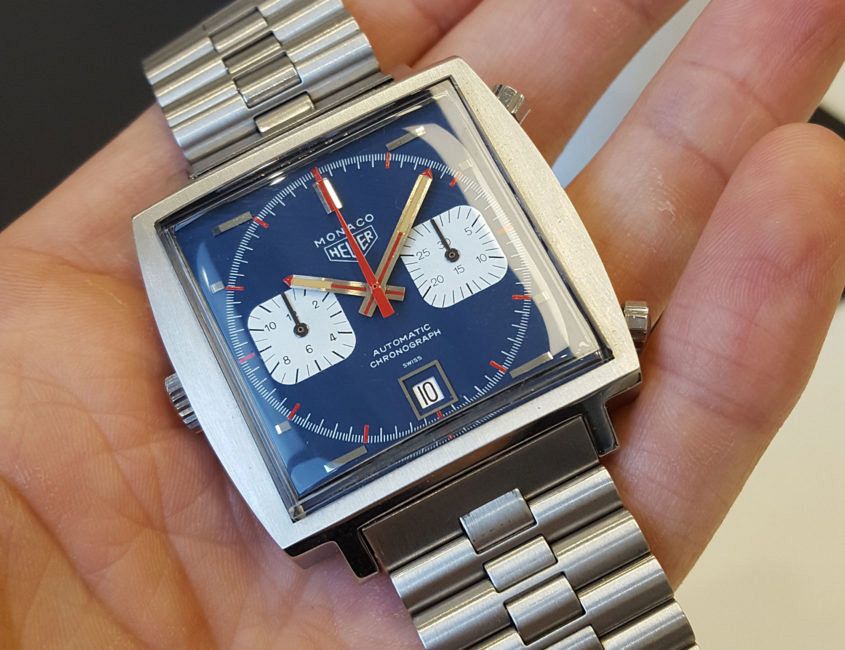 And last, but not least, how could I leave out an absolutely pristine Monaco, made famous by Steve McQueen after being used as a prop in the film Le Mans. Now, this looks just like any 1133B Heuer Monaco — and a fine example at that — but what makes it exceptional, aside from condition, is that it features a 'no lume' dial, making it possibly unique.
Estimate: $12,000 – $18,000 USD
Paul Maudsley's pick of the bunch
Of course, after researching, collating and cataloguing this magnificent collection, Paul and the Phillips team in Geneva have become quite ingrained with the pieces. From previous interviews, we know Paul has impeccable taste, but we had to ask if he had a favourite (it turns out he does) …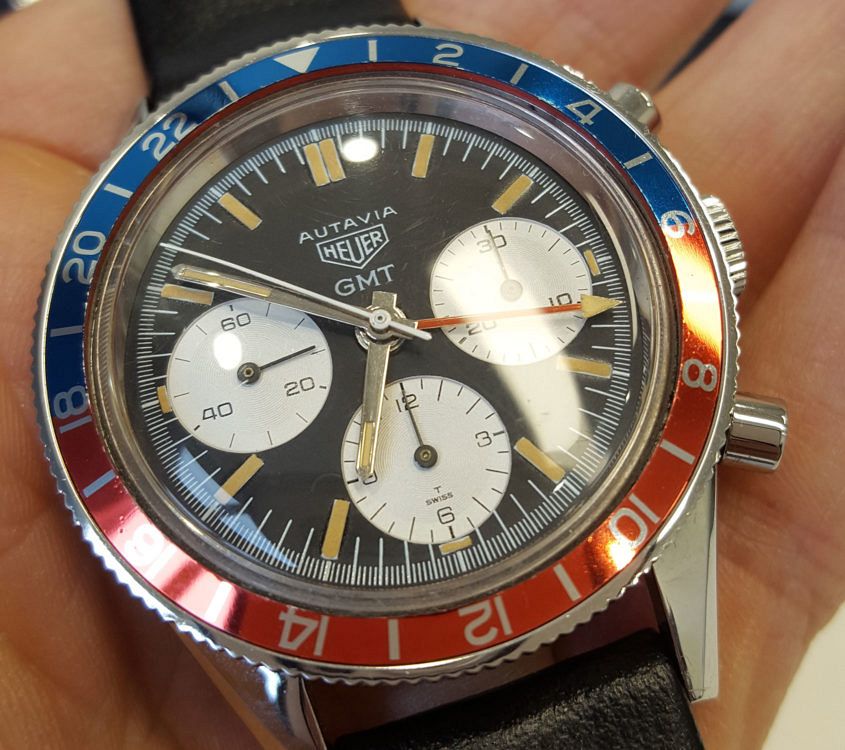 "It's always hard to choose a favourite from so many but I really love the Carrera 'Yachting' tropical dial, such an elegant design. A fondness for the very rare Autavia Ref: 3646 First Execution cannot be overlooked and has the most amazing lume colouring. But my favourite watch in the auction has to be the truly stunning Ref: 2446 GMT First Execution [LOT 28]. Its original untouched case and stunning 'Pepsi bezel' makes this watch shine amongst an already bright selection."
For those interested in catching the auction, pencil in the 11th of November, and head here for details.