2018 is a fascinating time to be a watch collector, and as we can all agree — social media has an impact on the hobby we all love. This impact has been felt at all levels, whether that be market prices of specific 'hot watches', an increase in consumer influence over the design of watches, and the way watches are not only announced but ultimately sold. Whether the impact is positive or negative is open to interpretation.
In recent years, we've not only seen all the major brands jump onto Instagram (thanks for joining us, Patek) but a notable increase in activity from the CEOs driving these brands. After all, it's a great way to engage the audience, release new info — and, of course, promote the brand! Today we take a look at five watch industry executives, who are at the top of the 'gram game.
Jean-Claude Biver – LVMH Watch Division – @JCBiver
First up, the legendary Jean-Claude Biver, President of the LVMH Watch Division, Chairman of Hublot and Zenith, and CEO of TAG Heuer. Aside from being an industry tycoon, Mr Biver was one of the first CEOs we saw not only taking up but embracing the use of social media.
Mr Biver shares a lot more than watches, often featuring his love for cycling, and passion for cheesemaking (I hear it's fantastic). As a follower, you'll gain a lot of insight into how a CEO at his level operates, as he shares ongoing collaborations, a look at his taste in watches, and a peek into new products and the future of LVMH Group.
Georges Kern – Breitling – @GeorgesKern
The CEO of Breitling, Georges Kern, is an industry heavyweight, who isn't afraid to share personal views on social media. Those following his account know he's somewhat famous for conversing with his followers in detail and getting into tempestuous discussions about the brand. He's one of the more vocal CEOs when it comes to representing his brand on Instagram.
If you're a fan of the brand, he's worth a follow, as he's often shared teasers of new releases and other upcoming projects.
Christoph Grainger-Herr – IWC – @ChristophGraingerHerr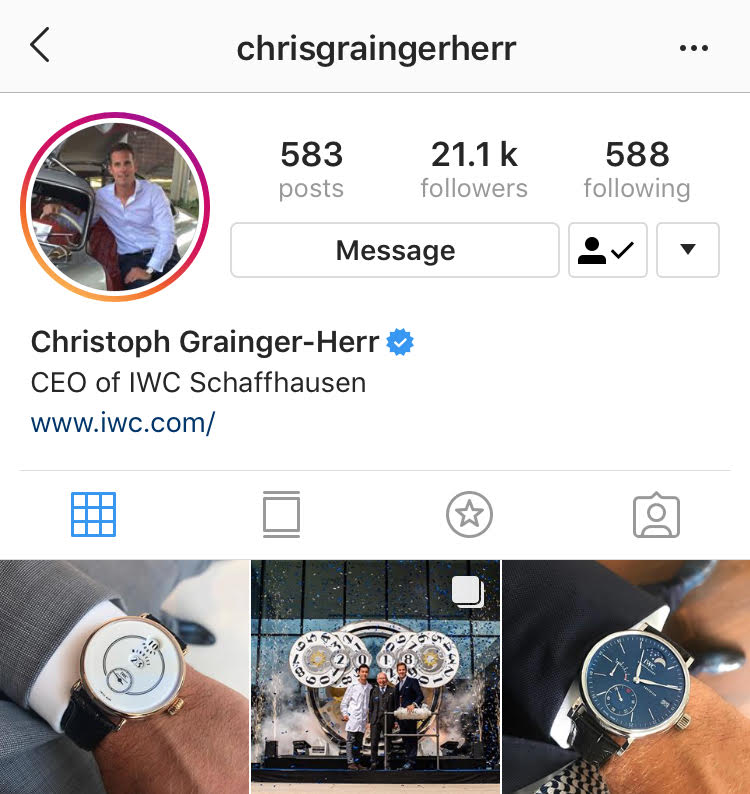 Let me start by saying that IWC's Christoph Grainger-Herr *might just* take the best wrist shot of all the CEOs out there. I mean it, he's really quite good. Photography aside, his channel is full of all the excitement you'd expect to see — race cars, fighter jets, you name it.
Mr Grainger-Herr also has impeccable dress sense and certainly knows how to match an IWC to his outfit. In doing so, he does a fantastic job showing off the dynamic versatility of the current IWC line-up.
Davide Cerrato –Montblanc – @DavideCerrato
Davide Cerrato is the Managing Director of Montblanc's Watch Business (which has come a long way in recent years), and self-described 'vintage design Jedi'. Davide's feed is a personal favourite, as he shares his fine taste in, well, basically everything. Aside from watches, Davide's got a very good eye for cars, and design as a whole. His account is definitely worth a follow, especially if you're into bow ties.
Maximilian Büsser — MB&F — @MaxBusser
Last but not least, Maximilian Büsser, of MB&F. As far as CEOs go, Max is one of the most enthusiastic and vocal on Instagram. We love seeing Max take the time to engage with his audience, responding to comments, and building his community. Aside from his watches, and other horological creations, Max shares his excellent eye for design. Whether that be automotive or architecture, Max is one of those guys who gets it, which is what makes his feed one of the best.
Let's close by saying that this is obviously not an exhaustive list — there were several more Instagram-active CEOs, with private accounts that we chose to exclude.