It's not many sleeps until Christmas, and the spirit of the season has well and truly taken over in the Time+Tide office, and – as so often happens – our idle speculation has turned to watches. Specifically, Cartier's watches. So, in the spirit of the season, we've done a quick whip-around as to what watch we might find ensconced in a red and gold box under the tree. Assuming, of course, that we've been nice this year.
Andy's choice – the Santos de Cartier in pink gold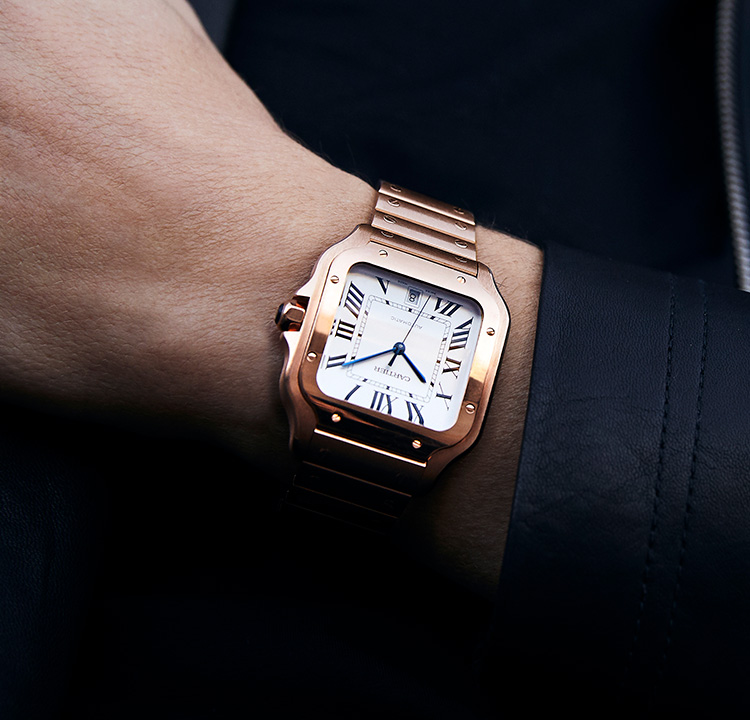 You have to wish big when it comes to Christmas, so why not the Santos de Cartier watch in pink gold? I love the freshness of the crisp white dial, against the gentle warmth of the pink gold. At $52,500 AUD it makes for a reasonably priced full gold watch, with the reliable in-house 1847 MC movement.
Justin's choice – the Drive de Cartier Extra-Flat in steel
Easy choice, such an easy choice. The Drive de Cartier Extra-Flat in steel was an immediate home run when it launched. The elegant dial and thin case pairing makes it the perfect daily wear for dressy situations, yet it can still pass as a more casual weekender, given the opportunity.
Andrew's choice – the Drive de Cartier in pink gold with anthracite dial
This is just a pure finishings-fest, with almost more finishings than you could care to mention: concentric engraving of the seconds dial, flinqué engraving of the centre dial, and a subtle starburst grain to the outer dial. On a purely aesthetic note, is there any combination as dead sexy for a man as pink/red/rose gold and grey? Hashtag masculine elegance, all day long.
Sandra's choice – the Tank Louis Cartier XL Sapphire Skeleton
It was seeing a watch movement through a loupe for the first time that tipped me into the rabbit-hole of incurable watch-fandom (those wheels, those cogs, those levers – pure poetry in motion). So I am irresistibly drawn to anything with a skeletonised (or skeleton) movement. Equally, Cartier's Tank was one of the first "real" watches that I became aware of and loved, three decades ago. So my favourite Cartier – no surprise – is the Tank Louis Cartier XL Sapphire Skeleton.
The genius of Cartier's haute horlogerie movement designers is that they don't just make a movement then cut away excess metal to skeletonise it. They do it the hard way: starting by designing a skeleton to support the components then developing a movement architecture specifically to fit that skeleton in the most beautiful way possible. In this watch, the skeleton is a fine metal ring; all of the other elements of the movement are smaller circles, each one skeletonised to look as light and lacy as possible, all arranged around the circular skeleton support. This is Cartier's Calibre 9619 MC and, to my eyes, it is the most beautiful skeleton (or skeletonised) movement in contemporary watchmaking.
Felix's choice – the Tank Américaine in steel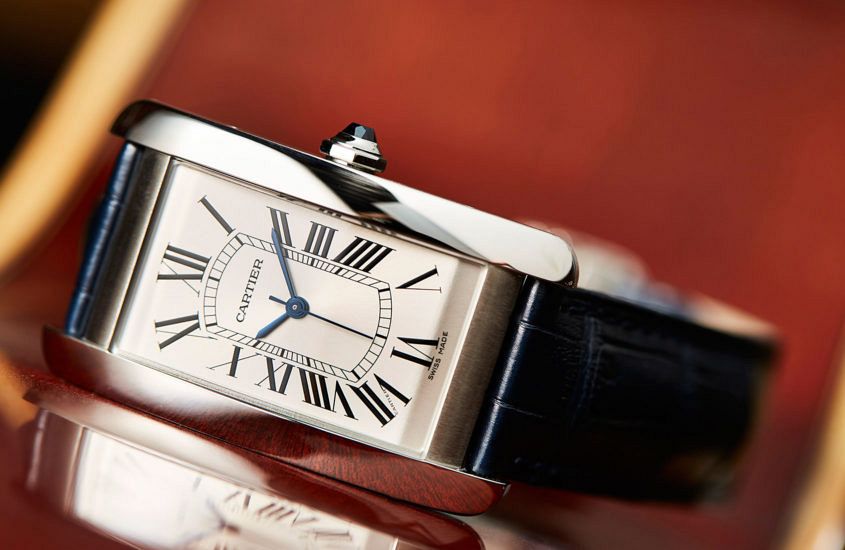 Like Sandra, I've picked a Tank, but in this case I've gone for the slightly more modern form of the Américaine, recently given a strong steel case. For me, Cartier is a brand that leans to the dressier side of the spectrum, and this Tank is no exception. But in the large size and steel case, this broad-shouldered beauty can easily pull off more casual looks too.