LIST: 4 watches Mark Wahlberg wears on a daily basis that you'll never, ever have the stones to
Daniel Senia
Mark Wahlberg, eh. This guy! Actor, entrepreneur and unfettered watch lover who doesn't care — not even a tiny bit — about what you think of his horological choices. And with his exciting combination of lack of you-know-whats to give and a surplus of funds comes the kind of freedom that allows his wrist to live its best life, just about every day.
What does he wear? He's got the right stuff, baby; often iced out, sometimes gem-set, near always gold or platinum. It's a gangster's paradise, and with yet more shots of his baller collection flooding the socials today, it's time we recapped the four watches he wears that leaves steel sports watches in the dust.
1. This platinum Rolex Cosmograph Daytona 116576TBR with gem-set bezel and diamond dial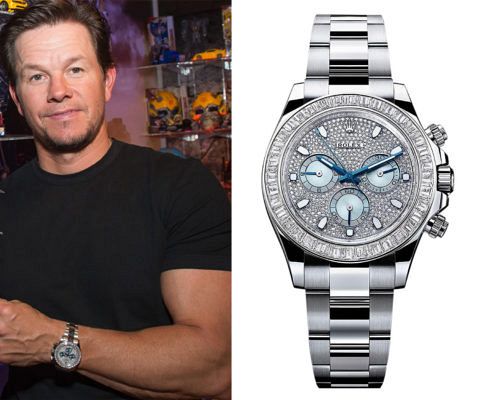 Note the boss-town move of pairing a super dressy watch with a solid colour T-shirt, which gives it a black, blank canvas to shine on. Several levels above.
2. A Rolex Day-Date 40 "Green Emerald" 228396TEM with diamond dial and green gem-set bezel and feature indices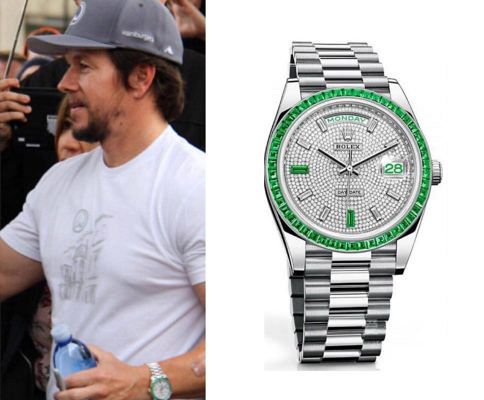 The perfect St Patrick's Day watch for this Boston native. And that's probably what it was, too. You're wearing a leprechaun hat. Marky Mark's wearing this. *Commence the shame*
3. A 'Rainbow' bezel 18K Everose Gold gem-set Rolex Cosmograph Daytona 116595RBOW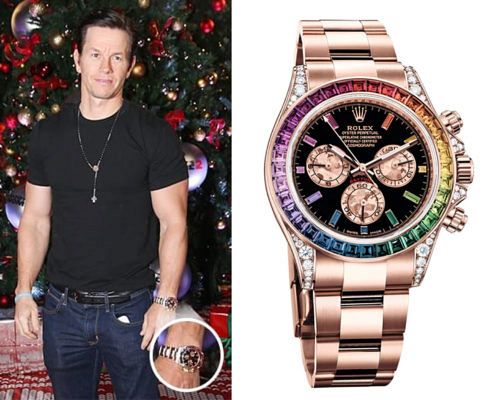 Felix is not the only dude in Dodge that is all about that rainbow bezel, with perfect graduated precious stones all the way around. Soul brothers.
4. Iced out white gold Patek Philippe Nautilus 5719/1G-001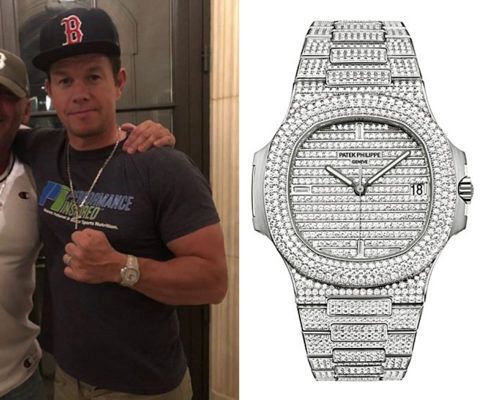 There is an argument that while some people in the music industry are helping watches with their wrist choices (the real Slim Shady, please stand up — all the way from AP to G-Shock, it's win after win), others could be said to harming the whole game. Like you, French Montana. So step aside one-hit wonders, Mark's taking the iced out Patek Philippe Nautilus back. Daddy's home.
And, just in case you wanted to have a closer look at that rainbow bezel Rolex Daytona while learning about Boston slang, such as 'Shiesty' and to 'Bang a Uey' …