Linde Werdelin has once again teamed up with master engraver and artist Johnny "King Nerd" Dowell to create this – the Linde Werdelin Oktopus Volcano.
Dowell, who was an engraver at the notable British gun makers James Purdey & Sons for 15 years, has previously worked with Linde Werdelin to create the Oktopus Reef and the Crazy Universe limited edition timepieces.
Representing the third collaboration between Dowell and the boutique Swiss watchmaker, the Oktopus Volcano, as the name would suggest, depicts an active volcano.
As such, the 44mm grade 2 titanium case, which is meant to portray a jagged rock face, is contrasted by 24k yellow gold, which represents molten lava.
This highly complex aesthetic took more than a year to design, and is achieved by Dowell hand-engraving each and every nook, cranny and crevice into the titanium case and then inlaying the 24k yellow gold – a process that takes several weeks per watch.
Just eight examples of the Oktopus Volcano will ever be created, and what makes them truly unique is that, because all the engraving is performed by hand, each and every piece will be unique and nuanced.
Speaking about the new collaborative timepiece, Dowell said, "If you look back at watch engraving, it is a lot of traditional, ornate patterns, and you know modern-day people want to see something completely different … it has a pattern feel to it, it's an effect as well as trying to portray a volcano."
The limited edition dive watch is also treated to Dowell's hand-engraved signature "Kind Nerd" motif on the case back.
The five-layered open-worked dial of the Oktopus Volcano is equally as arresting as the case, with the deep black tones contrasted by the gold of the three, six and nine numerals and the date aperture.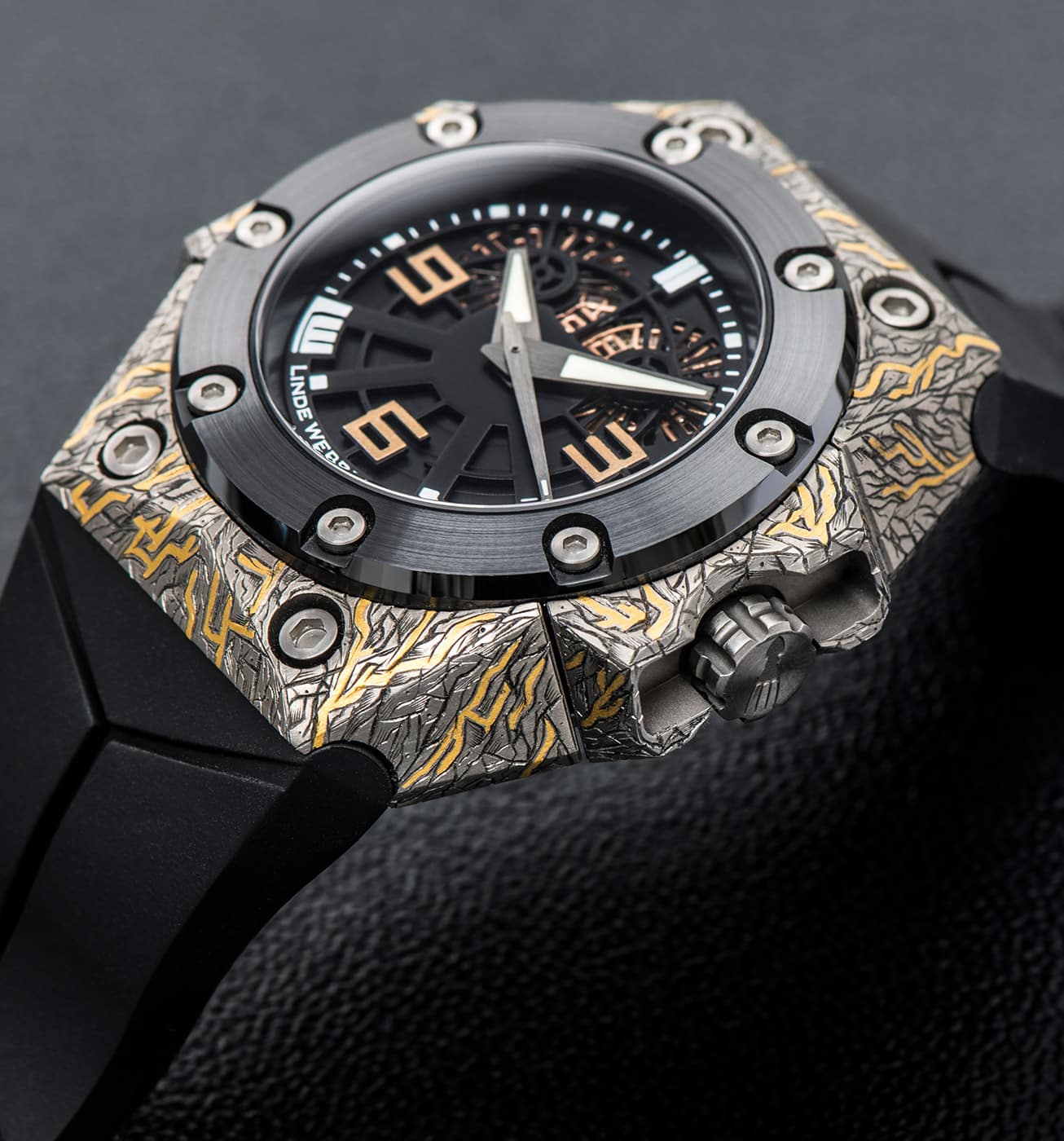 Housed inside the bespoke case is Linde Werdelin's Calibre 14580, an automatic movement made in conjunction with Dubois Dépraz, which offers customers 44 hours of power reserve and ticks away at 28,800 vph (4Hz).
The white hot Linde Werdelin Oktopus Volcano is priced at $34,018 Aussie dollars, which is a fair chunk of change, but this watch does offer an exceptional amount of craftsmanship and it would be cool walking around with an active volcano on your wrist.