NOT ON MY WATCH: For the love of Mary, make watches small again. All the reasons I hate big watches…
Zach Blass
As times change, the perception of the perfect fit evolves. When wristwatches were created, they were lauded for finally miniaturising the timepiece and making it a compact wearable object versus a large item that had to rest in a pocket. Now it seems, like American politics, the watch community is split in two: one party wants to upscale watches to larger sizes while another wants to bring back the classic sizes of yesteryear. I've heard and read people call for larger Submariners and Daytonas, or even bringing watches into the stratosphere of Panerai and Invicta sizing. I wonder who this really benefits; are the average wrists really much larger than the average wrists a century ago? Why are dress watches suddenly sharing equal lug-to-lug measurements of their sportier peers? Who does this really benefit? Are wrists really larger or has the perception of the perfect fit been warped?
So, what do I believe is a perfect fit? In my own personal taste, which I would consider more tailored and classic versus modern and bulky, I find that a watch should situate itself in the middle of one's wrist in a way that the strap or bracelet does not flare down straight. To better picture what I mean, the strap in relation to the lugs should not hang straight down creating a 90-degree angle. Ideally it should form an angle between 110-135 degrees as that should allow the watch as a whole to look bespoke to one's wrist. In my mind it creates a better aesthetic when you can see the strap or bracelet form around one's wrist versus disappearing behind it.
Using the Seamaster 300 as an example …
A wrist 2 inches across – less than ideal fit as bracelet flares practically straight down.
A wrist 2.4 inches across – much better fit as lugs do not extend to the extremes of the wrist, leaving room for the bracelet to form around the wrist.
For my wrist — which is a little more than 6 inches in circumference and about 2 inches across the top — had Omega made a 36-37mm model of these watches, the fit on my wrist would in theory match the look of the image above, simulating a 2.4-inch wrist. I personally believe a sports watch should not extend past 50mm lug to lug, and dress watches should not extend beyond 47mm lug to lug. This will maintain a traditional well-fit aesthetic for all wrists.
The proof is in the numbers …
Mark Cho, the founder of the Armoury and Drake's brands, has a large presence in the tailored fashion and watch community. Cho is a known watch collector and enthusiast, who has displayed his love for F.P. Journe and smaller Royal Oaks among other brands/watches on various YouTube channels and podcasts, most notably on Hodinkee and WatchBox, where he walks through his collection and personal preference for classic sizing. He has also notably hosted a survey to collect data on this very issue and the results are quite telling.
Of 924 total respondents, more than half felt that their wrists were considered small, and only seven per cent thought their wrist would be considered large. It is interesting to note that most respondents found their wrists to be considered small while watches are becoming increasingly larger. Where is the demand for larger watches coming from? What encourages people who have average-sized wrists to believe they are small? I will concede, however, with the average wrist size polled in Cho's survey being 6.74 inches, respondents on average were "below average" in wrist size.
Author's 38mm Ming 17.03 GMT One Year Anniversary Limited Edition
In another survey by Alessandro over at theslenderwrist.com that polled 1563 respondents who were all WatchUSeek forum members, the results revealed that "the average wrist size of a man is 7.25 inches or 18.42 cm – 50% of men have a wrist that is bigger than 7.25 inches and 50% have a wrist that is smaller. 80% of men have a wrist size bigger than 6.75 inches or 17.5 cm and 20% of men have a wrist size bigger than 7.75 inches or 19.67 cm".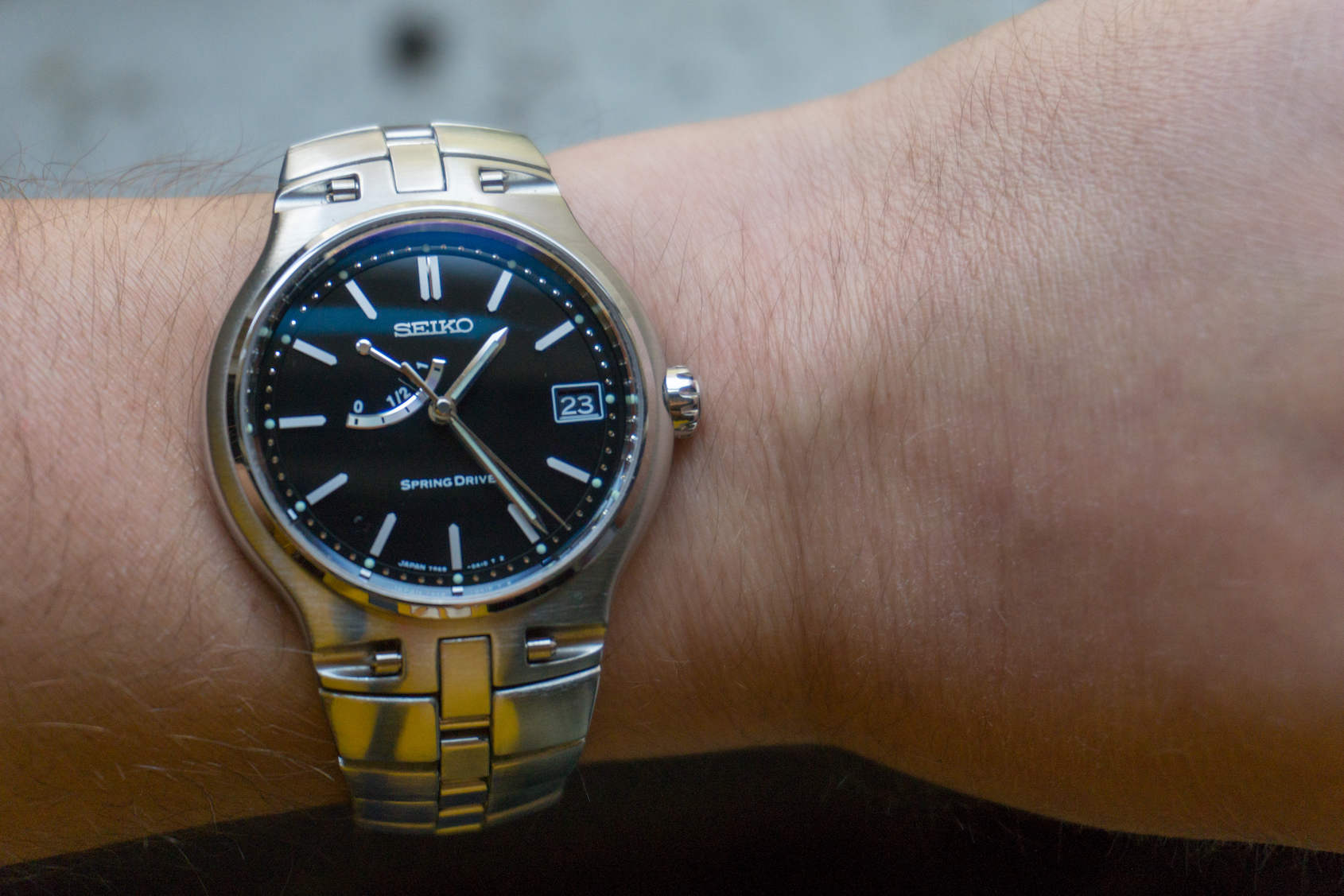 Author's 36mm Seiko SBWA001 Spring Drive Limited Edition
More interesting to note (within Cho's survey) are the respondents' preferences in regards to a Primary Watch (Office/Dress) and Secondary (Weekend/Sporty Watch).
Based on Cho's survey, most men desire a casual/dress watch to be 37-38mm in diameter, with their sportier watch between 39-40mm. From my own perspective, I would concur with Cho's averages. As an example, my dress watches, such as my A. Lange & Söhne Up/Down (36mm) and Kurono Mori (37mm), are consistent with the above. On the sportier side, my Black Bay Fifty-Eight Navy Blue (39mm) and Rolex Submariner (40mm) match the 39.28mm average found above as well. So why are brands and consumers increasingly pushing their collections to 42mm and larger?!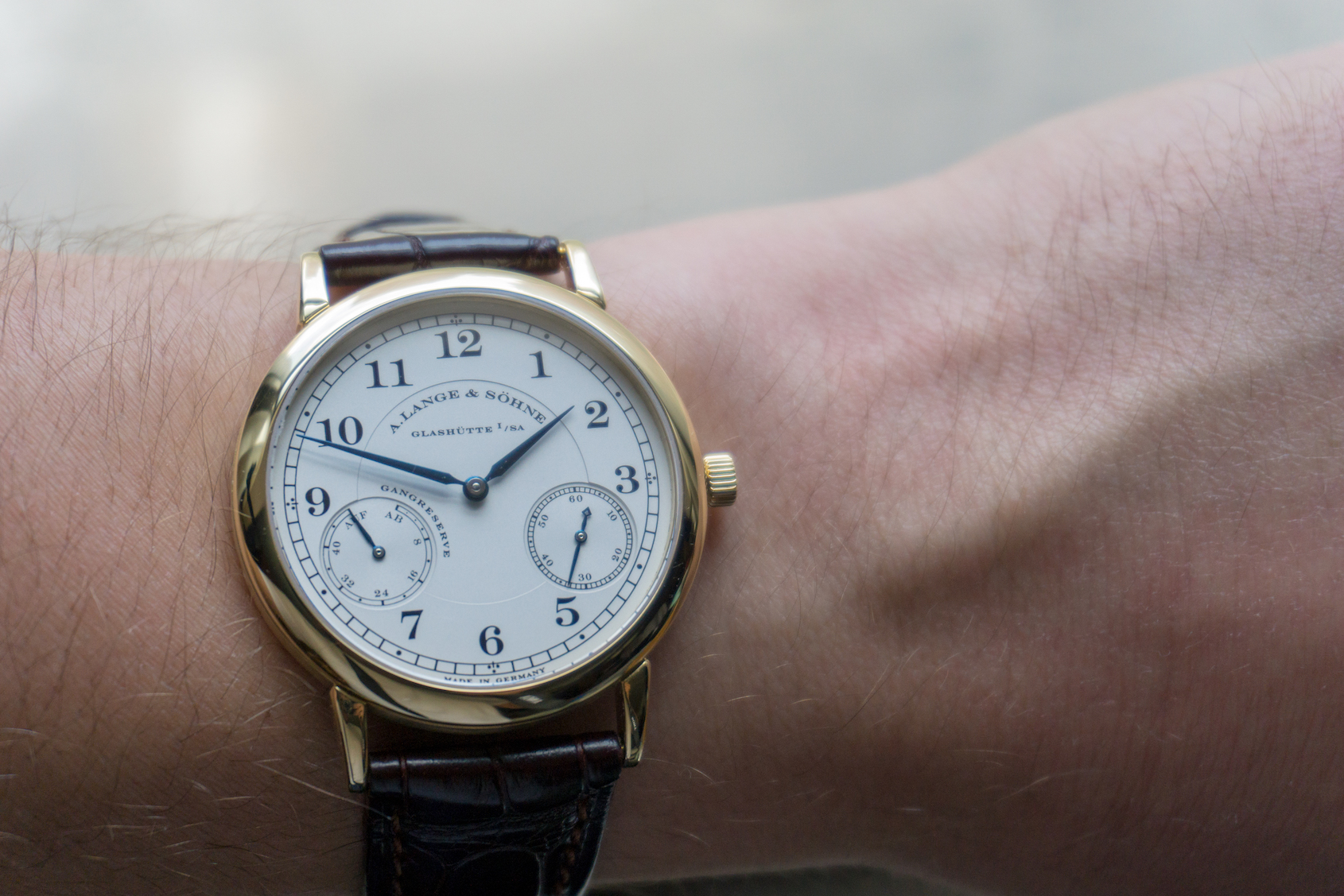 Author's 36mm Lange 1815 Up/Down 221.021
Looking at all the data as a whole, it conveys two things in my opinion. First, that it's fair to say that most male wrists are between 6.5 to 7.5 inches. Second, Cho's audience is a more slender and tailored audience that, though smaller in wrist size (1/2 an inch less than Alessandro's average), is hypothetically more "fashion inclined" and cognisant of their style and achieving the perfect fit/aesthetic. To an extent, they have a better formal eye, while Alessandro's poll may be driven by more athletic sportier watch enthusiasts who prefer steel sports models versus precious dress models (as the mass market has displayed). With dress/casual watches declining in sales, and sports models being stronger than ever, I would argue that the sports watch craze has warped perception of how a watch should look and sit on one's wrist, with the average Joe wishing for larger models, while the more traditional watch and fashion enthusiasts are trying to slow the growth of case diameters. 
Author's 37mm Kurono Mori Limited Edition
The sentiment that larger watches are necessary for a better fit, or that upscaling the size of traditional models will help drive watch sales, does not seem valid. In my opinion, it is actually ruining certain collections within brands and resulting in a loss of DNA/heritage and, dare I say, class, as these timepieces grow to rather unnecessary sizes. Isn't enlarging a Cartier Tank to modern sizing (that is, the Santos XL) equally less true to its DNA as a Speedmaster Professional's upgrade to the sapphire sandwich (which many collectors deem as not a "true" Speedmaster)? I caution brands that grow the case diameter of their watches to try to limit the growth of the lug to lug of the watch as some dress/casual pieces are pushing over 50mm lug to lug (that is, the IWC Portugieser), which is larger than even some of the best-selling sports models on the market today.
It is no secret that the mass market is drawn more to sport models, as ultra-thin dress watches have been increasingly harder to sell. This has caused dress-focused brands to effectively upscale their dress/casual offerings into beefier, sportier, modernised versions while phasing out the smaller dress pieces declining in sales. As I mentioned, is this truly the result of wrists being larger than ever? Or is it the result of the marketplace skewing to sport models and becoming more accustomed to their larger sizing? What most men do not realise, whether they would care or not, is that women who are increasingly interested in the hobby are finding it increasingly harder to find modern sport watches in a size that suits their own wrists. Traditional sizing benefits watch brands as they would no longer need to genderise watches and allow all who want to participate in the hobby a perfect fit.
Food for thought: If a 37mm Submariner was not considered small on Sean Connery as James Bond (RIP legend), why would you think it would look small on you?