Editor's note: Why is this unassuming looking farmhouse in the Swiss countryside so important to a brand as large as Cartier? Because it houses the workshop for Cartier's Maison des Métiers d'Art, sanctuary to a set of artistic skills and techniques that are hundreds of years old. It is in this farmhouse that some of the most skilled craftspeople in the world are tasked with painstakingly producing the high-jewellery part of Cartier's collection.
Cartier's Maison des Métiers d'Art
It is impossible to overstate the importance of tradition to the Swiss watch industry. It's a business, after all, built on skills and techniques that by all rights have no place in the 21st century. Watchmakers in general are a rare and special breed. Fewer still are experts in the more specialised artistic crafts such as marquetry and enamelling, which places their talents in high demand. Collectively, these artisanal disciplines are referred to as Métiers d'Art, and Cartier is leading the way in preserving and fostering these nearly forgotten skills through the Maison des Métiers d'Art.
Based in an 18th century Bernese-style farmhouse, a short walk from their main fine watchmaking facility, the Maison des Métiers d'Art is the perfect expression of what's inside: technology and tradition collide here beautifully, much as they do at Cartier's other watchmaking facilities.
Part of the facility's role is to showcase and further research these crafts. It also houses Cartier's collection of historical Métiers d'Art pieces. But at the beating heart of the building are five fully functional workshops, dedicated to the crafts of granulation, gem-setting, filigree, marquetry and enamel.
Granulation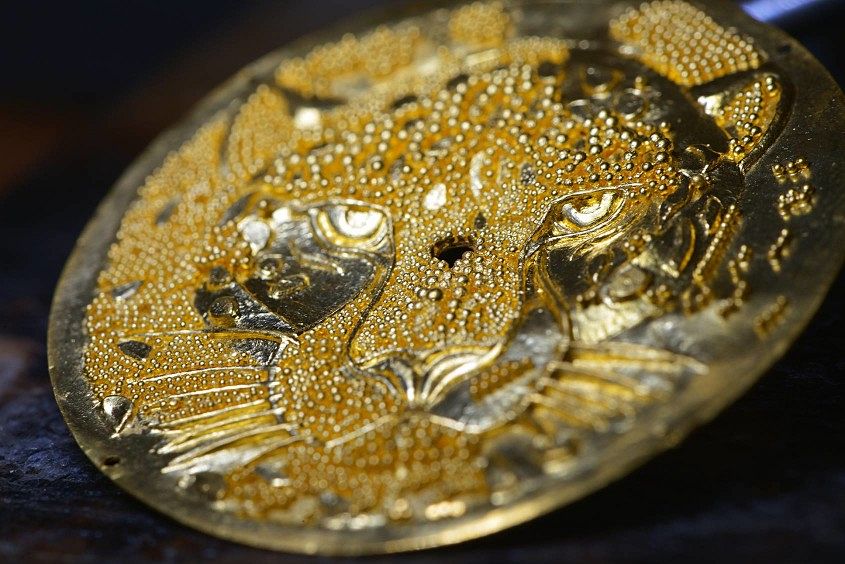 Granulation is an ancient technique that first appeared in the third millennium BC. It involves creating gold beads from wire, which are then soldered and fused onto a gold dial to create an intricate relief design.
Gem-setting
While gem-setting is far from a forgotten art, it's an incredibly skilled one. Cartier's master gem-setters work with stone and metal to create a piece that must be as structurally solid as it is sparkling.
Filigree
Filigree is another ancient skill revitalised in the Maison. Essentially ornamental wirework, it sees Cartier's craftspeople working with fine wires of gold and platinum to create miniature sculptures. The filigree work on the Ronde Louis Cartier panther's motif took 10 days to complete.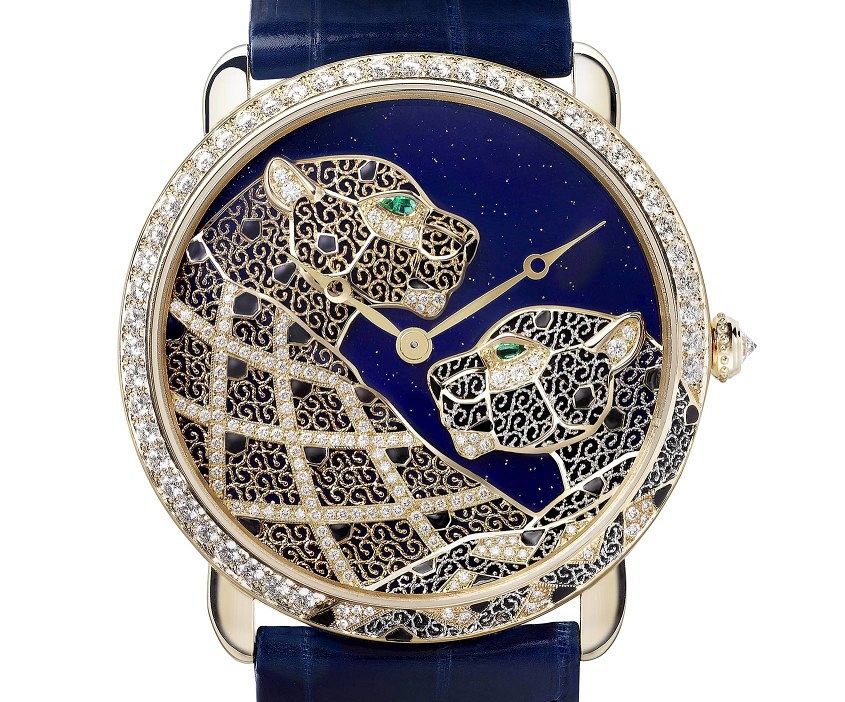 Marquetry
Rose petals, straw and stone may not be what you'd expect to find on a luxury watch, but these are the materials used on Cartier's marquetry pieces. Tiny pieces are cut into shape and painstakingly assembled to create richly textured birds, panthers and lions – or anything else that the artisans dream up.
Enamel
The enamellers of Cartier don't limit themselves to one style of the ancient craft – instead they work across a gamut of related techniques, including champlevé, cloisonné, plique-à-jour, painted, grisaille and grisaille gold paste. Fundamentally, enamel involves fusing glass with metal at high temperatures to create a hardwearing and beautifully rich finish. The finish differs dramatically depending on the technique. For example, plique-à-jour melts glass between a delicate net of gold partitions, creating a translucent dial that resembles a miniature stained glass window. Painted enamel, meanwhile, involves painting successive layers of fine particles of glasswork suspended in oil onto the metal plate, and repeatedly firing the delicate painting to create the final lustrous dial.
In establishing the Maison des Métiers d'Art, Cartier has invested significantly in preserving the traditional, almost forgotten skills of the Métiers d'Art. Not only does this immediately benefit Cartier, who are able to produce truly stunning timepieces, it also highlights the skills that make watchmaking so skilled and diverse.