Everyone's first Rolex purchase is important — it's a milestone that, for most, carries with it a great amount of pride and sense of accomplishment. And for almost all of us out there lucky enough to have bought their inaugural timepiece from the legacy watchmaker, it isn't something that was entered into lightly; we have known for ages before the purchase which exact model we were going to buy. However, Joseph's first Rolex purchase was … somewhat anomalous, shall we say.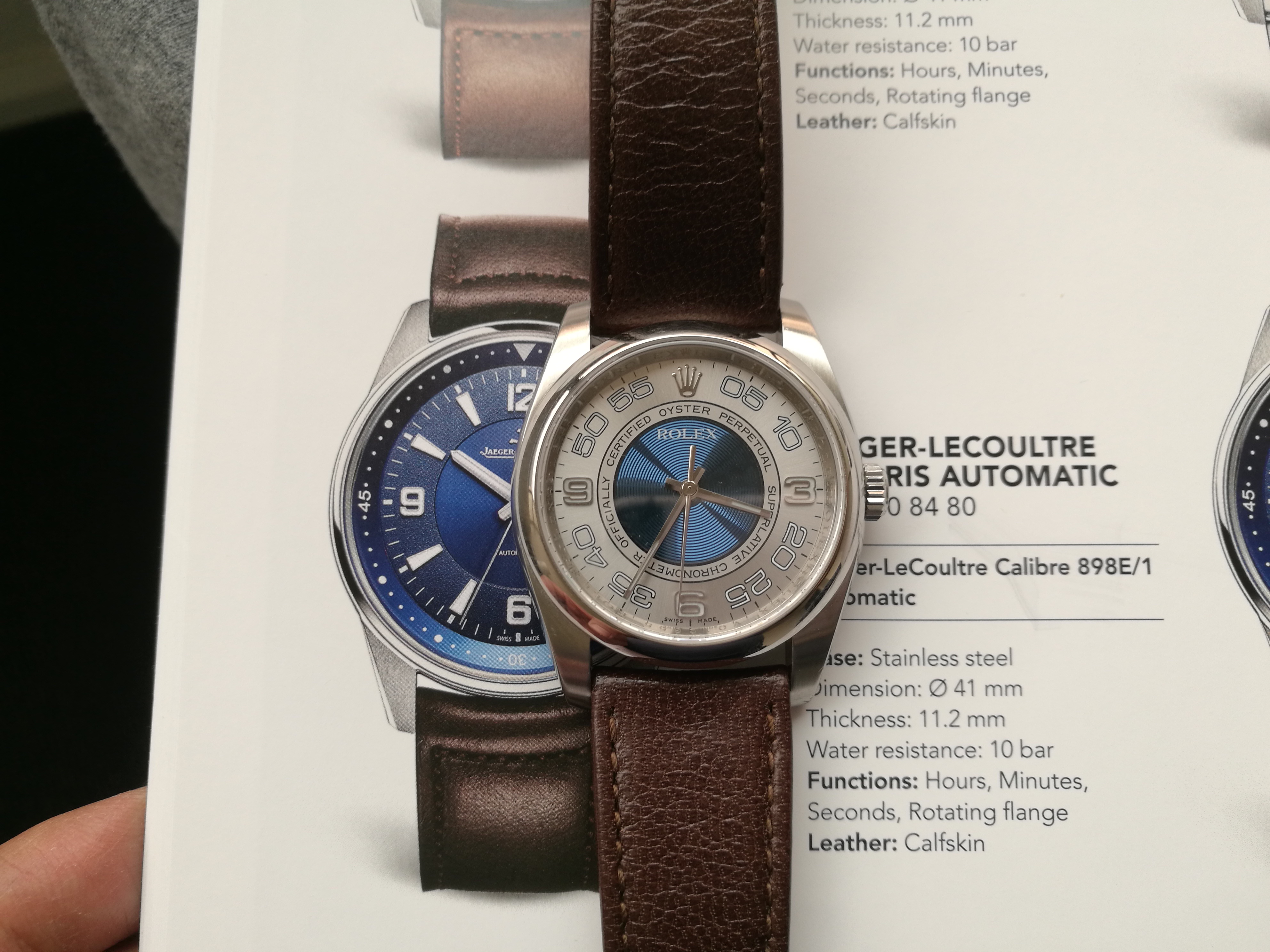 Rolex, I guess, is a staple in every collector's stable. As for me, for as long as I can remember, I have been aware of the prestige the brand commands. The interesting part, though, is that I never liked them. And when I say them, I mean their "sports watches" (before y'all hyperventilate with the insane ridiculousness of this statement, you gotta realise that to me, uniqueness of a watch as a complete product — so dial, straps, lugs, pretty much everything visual about a watch — is what makes collecting interesting). This particular Rolex, a simple Oyster Perpetual 36, is something that I saw in a window display while passing by. I am sure other watch enthusiasts would agree, it was one of those moments where you see a watch and you just simply stop. For those few moments, there is nothing else around you (not even your significant other's eye rolls) but that romance that's about to start between you and that watch.
I had actually just purchased a Speedy a week prior to spotting this watch (which by the way has a very interesting story of its own), so I wasn't intending on being allowed by my master (wife, but just in case she is reading this, master scores me brownie points towards another piece) to make another purchase. The purchase itself was pretty straightforward — I committed there and then to pick up some home chore duties as a trade-off.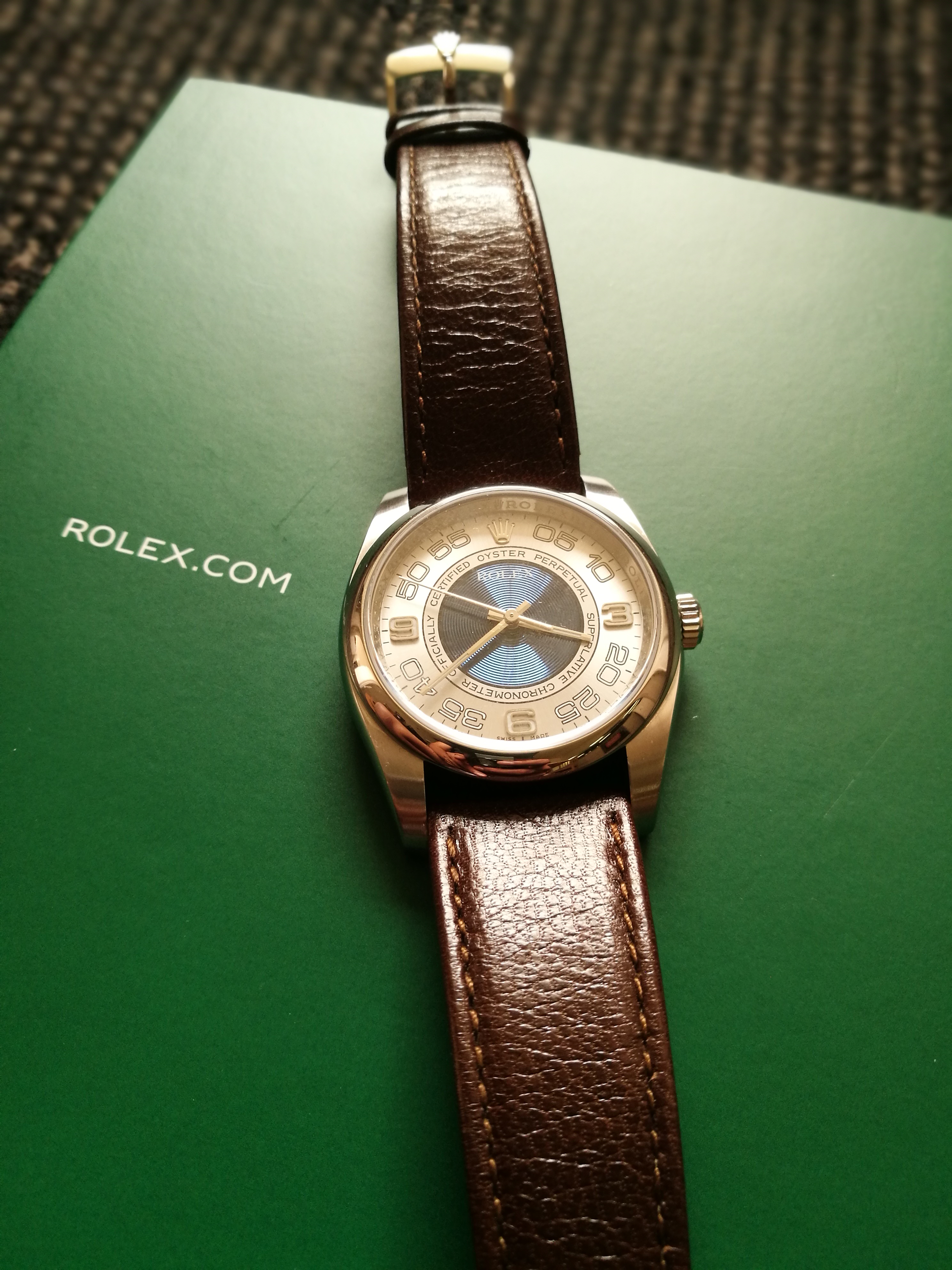 The problem lies in the fact that I was pretty stressed for a few weeks after buying the watch. The reason: I had never seen the dial anywhere! No pictures, no info, nothing. And since the watch was bought off a dealer, not a Rolex boutique, I was very apprehensive. Anyway, we bought the watch and then began my quest to prove it to be real. I knew the person selling me the watch wouldn't cheat me, so that was fine. I just didn't know for sure if he had been cheated or not! Fortunately, the watch came with the original Rolex warranty still remaining, but it was from Taiwan. From memory, I called up a few places to verify the watch but to no avail. Then I sent the boutique in Taiwan an email to which they replied a while later, confirming that they did indeed sell a watch matching my particulars. In the meantime, I took it to a person I know who works at Tiffany Sydney who kindly lent me his jewellery magnifying glass through which I was able to spot the logo at 6'clock. Being Christmas time, the Rolex service centre was closed for holidays, so after they re-opened, I took my watch in and got it checked!
It was a long journey, but even to this day if someone spots my watch, they have this confused look as to how this is a Rolex.
There is something to be said about my watch-wearing habits — 90 per cent of the time I change the strap on a watch before I wear it. To date, I still haven't come across a watch dial and bracelet combo that I think works (maybe barring the exception of Aquanaut Ref 5968A with the orange strap). Also, I cannot stand bracelets. Just simply can't. On a side note, I wish the new Alpine Eagle size 41 didn't have an integrated steel bracelet, because the dial in blue is an absolute stunner.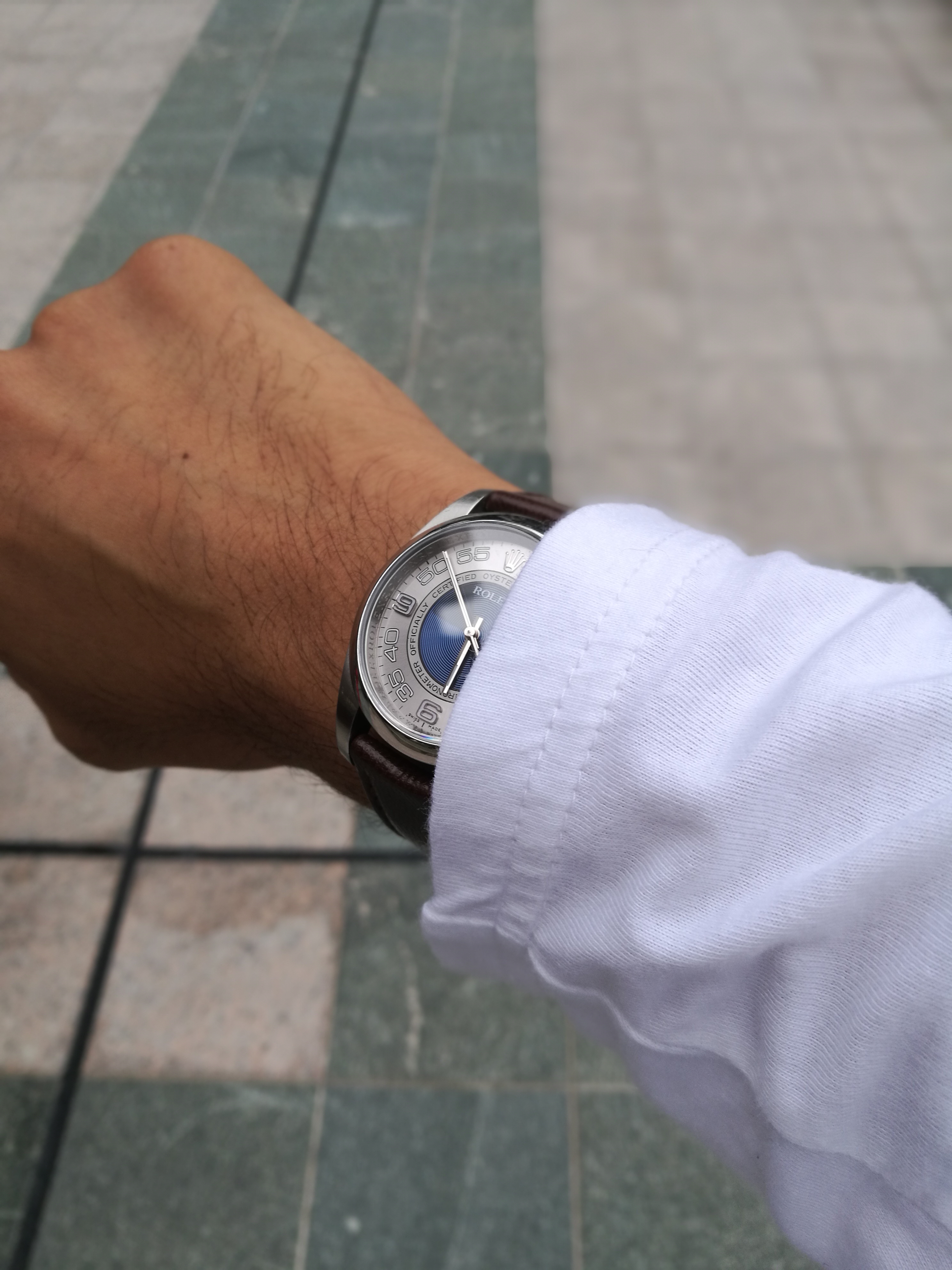 The next part of this ride to perfecting my new purchase took about 11 months, in which I managed to acquire the perfect strap. It's an original brown calf leather Rolex strap with the original Rolex clasp, and now I am satisfied. (I emphasise original because, God knows, it's been Herculean to manage to get Rolex leather straps for an Oyster Perpetual 36.)
The watch is a perfect Rolex to me: it's 36 in size, the combination of the dial and the leather strap gives it a very Cellini 50519 feel (most people who notice my wrist assume it's a Cellini of some sort), the hour markers are very reminiscent of the Air-King Ref 14010 dial and the bold '3,6,9' Explorer 214270 models; in fact it's very similar to the Air-King 116900. The blue concentric dial in the centre from a design perspective (I am an architect, so I look at these things in more detail) is to me a representation of the blue Parachrom hairspring, and the blue dial with brown strap combination gives me JLC Polaris ref 9008480 vibes.
I wear it very often in rotation but it's my beater. A nice, dressy Rolex beater. And yes, when the light hits that middle blue concentric dial, it's sheer magic on the wrist!