Editor's note: Whether you're a wannabe operator or just in love with the stealth appeal of ceramic, this JLC is pretty much the definition of tacticool, even with the blue details.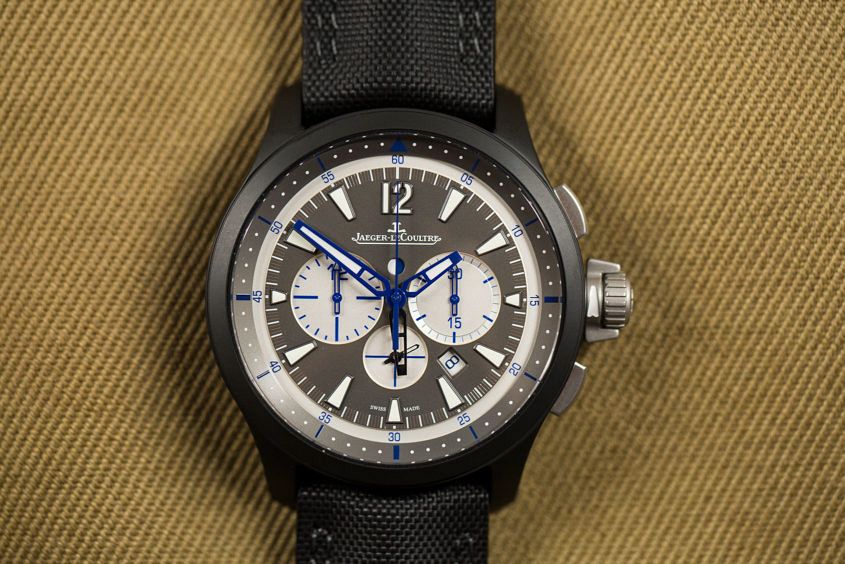 Based on the coverage of Jaeger-LeCoultre's SIHH releases, it'd be fair to assume the brand put out nothing but dressy Reversos this year. Well, that's not true. One of the more under-the-radar releases was a handsome update to the Master Compressor Chronograph Ceramic.
Physically and functionally, the new version is unchanged from the 2014 original. It's still the same imposing black ceramic 46mm case, paired with a technical-looking 'Trieste' calfskin strap and utilitarian dial layout. What's new is the colour scheme. Previously, the Master Compressor Chronograph ran with the ever popular black-on-black with red highlights, but JLC has softened this approach, replacing the red flashes with a navy blue, and adding contrast to the dial, thanks to the pale grey chronograph subdials and minutes disc. And while a fresh coat of paint isn't the biggest innovation in the world, it's remarkable the difference it can make. The military feel of the watch is greatly toned down, making it feel lighter, and even more summery. More yacht, less attack helicopter.
Aside from the new look, the Master Compressor Chronograph is still the same, quite impressive, piece of kit. In addition to the chronograph, the watch has a GMT and day/night indicator, located between the logo and the central pinion. The crown features JLC's patented compression key, which, when locked, ensures the case is water resistant to 100m. Meanwhile, the calibre 757 boasts 65 hours of power-reserve and is hand-finished, which makes the fact that it's hidden behind a solid case-back a bit of a shame.
It's easy to pigeon-hole JLC as the master of restrained, refined dress pieces — and certainly it excels in this genre — but the Master Compressor Chronograph Ceramic proves the brand isn't lacking in sports watch chops either, and can throw down with the best of them.
Jaeger-LeCoultre Master Compressor Chronograph Ceramic, ref. 205C571 Australian pricing
The Jaeger-LeCoultre Master Compressor Chronograph Ceramic, ref. 205C571, $18,200