When you look at Jaeger-LeCoultre's core offerings from their Reverso and Master Collection lines it's easy to see why the brand has something of a reputation for straight, sober watchmaking. But don't forget that Jaeger-LeCoultre is also capable of absolute top-shelf high-complication, high-jewellery pieces like this (frankly astonishing) Jaeger-LeCoultre Master Grande Tradition Tourbillon Zodiaque.
So what are we looking at here? Well, first of all, you're looking at a 42mm white gold case, not that you can see too much of it under all those baguette-cut diamonds gracing the bezel, lugs and even the crown. Under normal circumstances these diamonds would be enough to steal the show, but on this JLC they merely serve to frame the truly exceptional dial. The first thing you'll notice is the tourbillon, which in addition to whirling in its cage, will make a slow march around the dial. And then, in addition to all this drama, there's the astronomic calendar display, complementing the regular date, highlighted by means of a bright golden sun at the outer section of the dial. The aventurine dial base provides the perfect setting for this celestial action.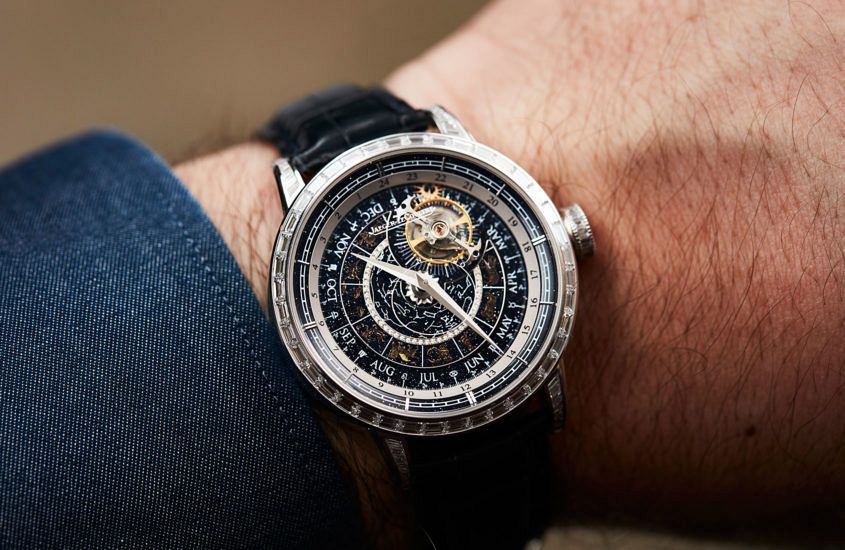 The view from the rear is quite fine, too; the big bridges of the manually wound Calibre 946 look gorgeous. This watch is a declarative statement of Jaeger-LeCoultre's mastery, and while the look might not be for everyone, with a price tag north of $475,000 AUD, that's not exactly unexpected.
Made in partnership with Jaeger-LeCoultre. However, the opinions expressed in this article are our own in accordance with our Editorial Policy.