Editor's pick: If you're in the market for a massive, 45mm manually winding dress watch with more power than you can shake a mainspring at, we think the IWC Portofino Hand-Wound Moon Phase might just be up your alley …
Few things are as tactile and pleasing as manually winding a watch, and I've got to say the levels of satisfaction achieved in watching the power reserve indicator on this plus-sized IWC Portofino are pretty intense. On one level it's because there's a lot of winding to be had, thanks to the eight days of power, but partially I think the joy is simply because this large 45mm red gold watch just feels great — heavy, substantial and downright powerful.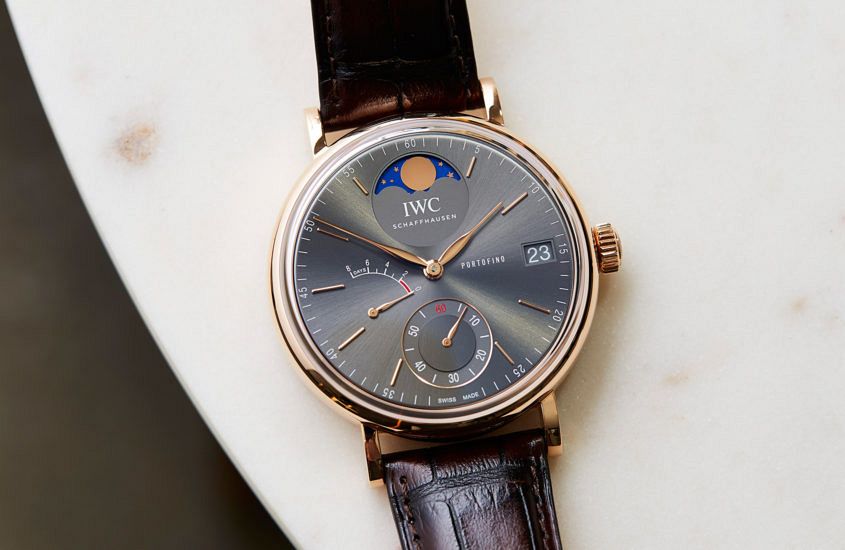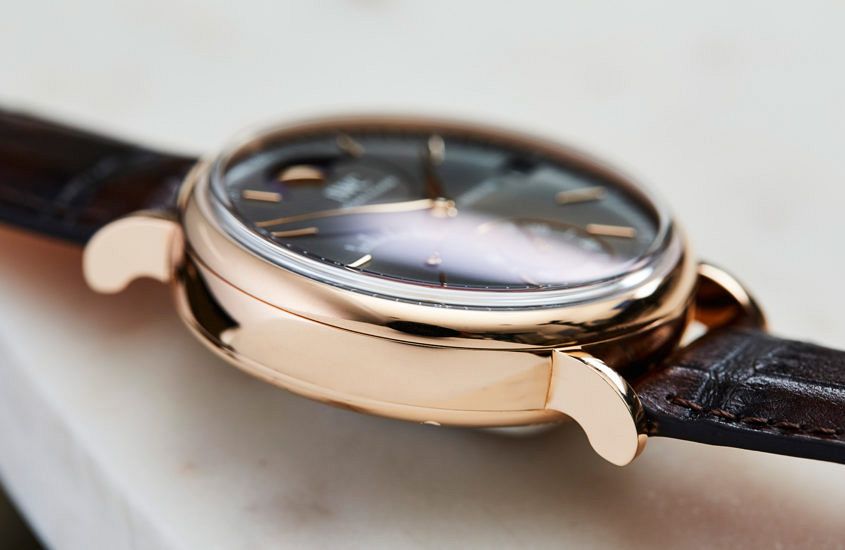 At its heart, the Portofino is a dressy watch. Simple, refined, with a curvaceous case inspired by the pocket watches of yore. But the Portofino Hand-Wound Moon Phase is no diminutive dress option. It's as bold as a Big Pilot, but still somehow delicate. The expansive dial looks wonderful in shimmering slate grey — a colour that pairs exceptionally well with the red gold hands, markers and case, and manages to encompass the diverse displays of moonphase, sub-seconds, date and power reserve without looking cluttered or busy. No mean feat.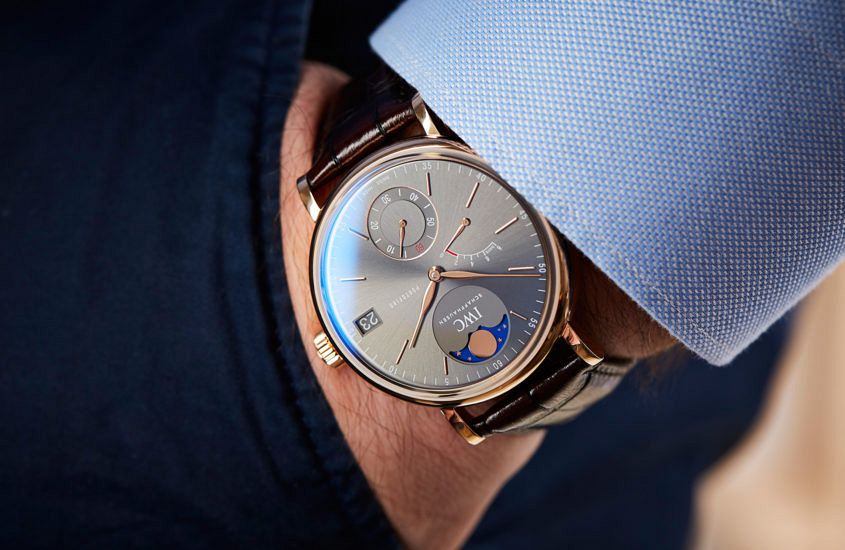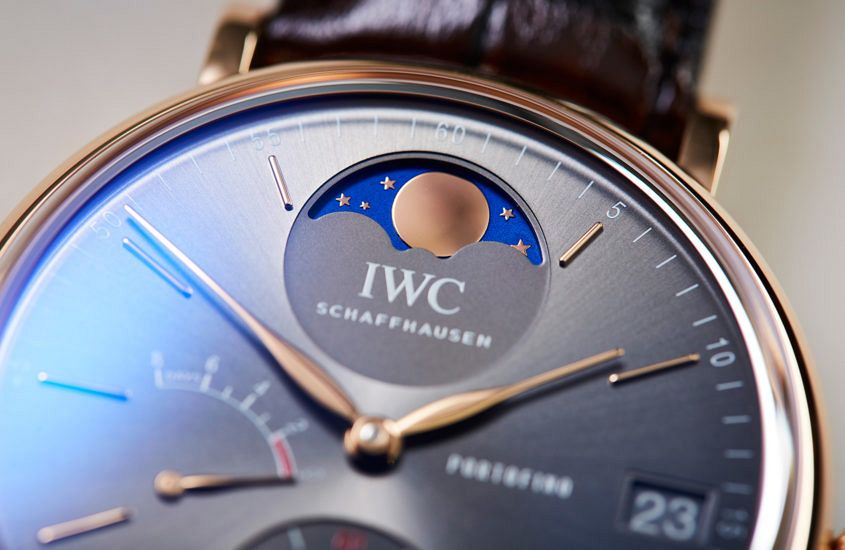 For me, though, what I like most about this watch isn't visible from the front – it's the big, beating heart of the watch, the mighty Calibre 59800, which makes the most of the sapphire caseback, filling it completely, with every spare millimetre filled with neatly finished bridges, rubies and screws. And while the movement lacks the drama of a chronograph or an automatic, it's still beautiful, and it gives hints of the engineering wonders underneath — you can see the big barrel up the top and the 4Hz balance wheel on show at the bottom. The finishing, like most of IWC's watches, isn't overly ornate, but it's pretty, and the design makes a nice change from the usual. The other benefit of the view from the back is that you can see the distinctive orange lining of the Santoni leather strap, which is as fine as you'd expect.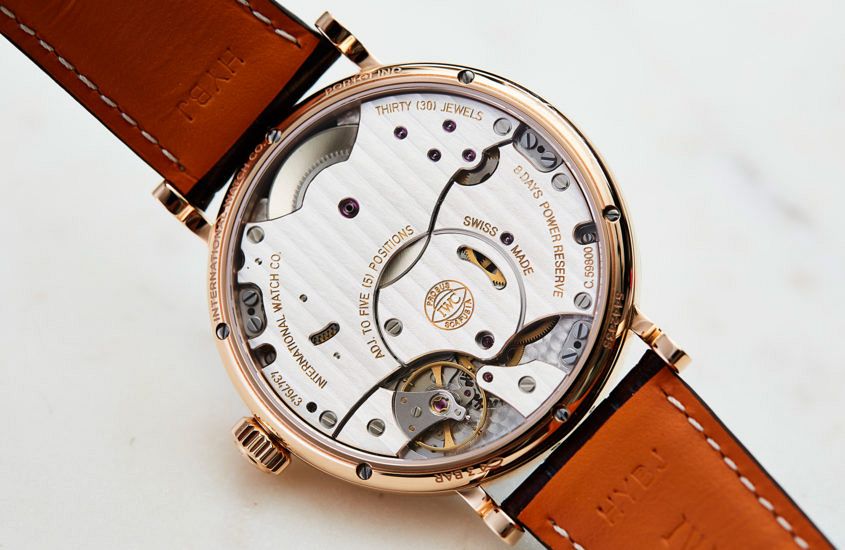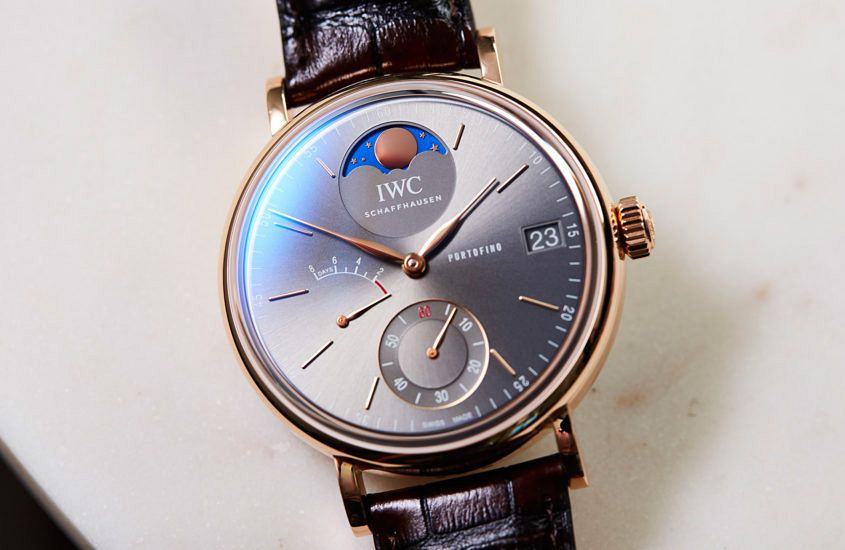 There's no denying the presence of this watch on the wrist: 45mm is large (though it's not too tall at 13.2mm). It's the sort of watch that takes confidence to wear, but also — somewhat paradoxically — instils confidence, simply because it's so stylish, and downright awesome.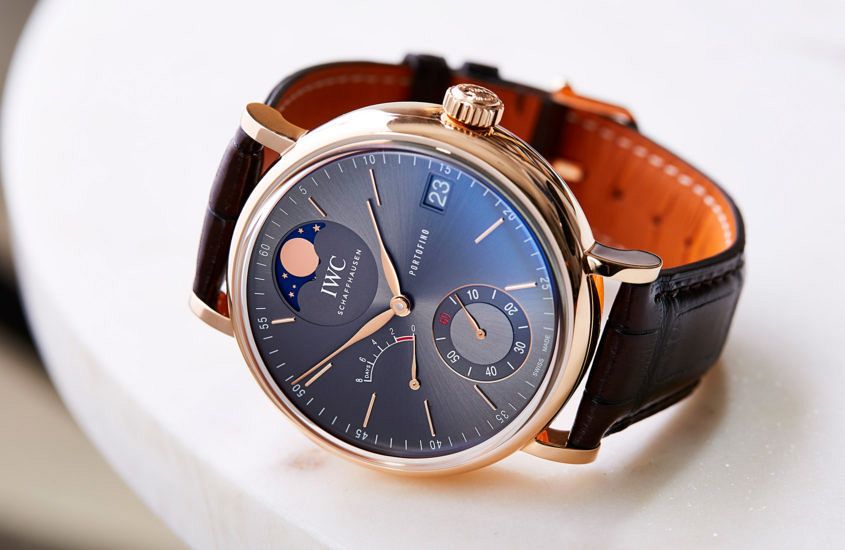 IWC Portofino Hand-Wound Moon Phase Australian pricing
IWC Portofino Hand-Wound Moon Phase, $33,200