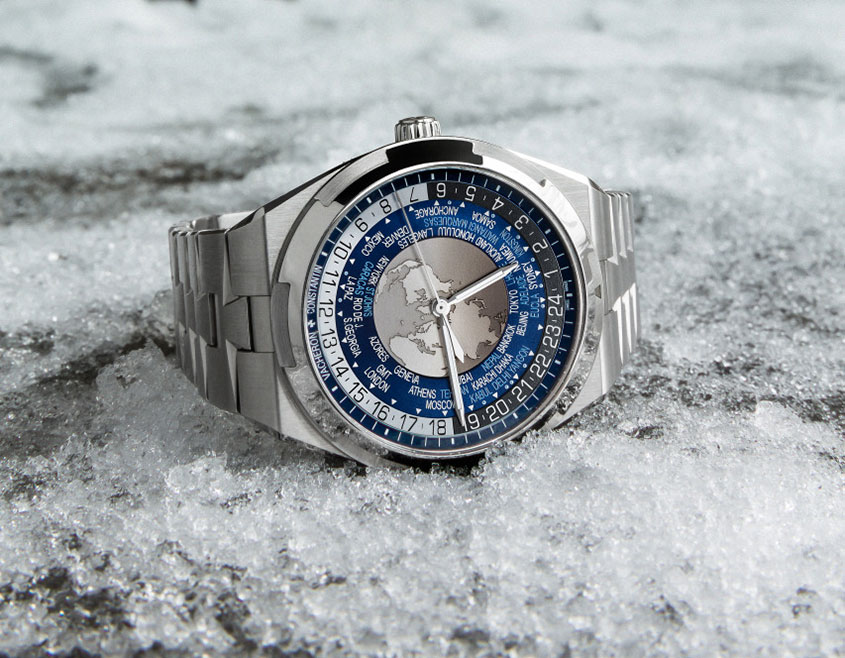 At the start of the year Vacheron Constantin announced a significant update to its luxury sports watch, the Overseas. A contemporary of Patek's Nautilus and Audemars' Royal Oak, for years the Overseas has been the little brother within the famous three, but all that's set to change, thanks to the revamped new collection that has everything going for it: looks, peerless mechanicals and an impeccable pedigree. At SIHH, we saw time-only, chronograph and perpetual calendar models, and now a world time complication has been added to the mix.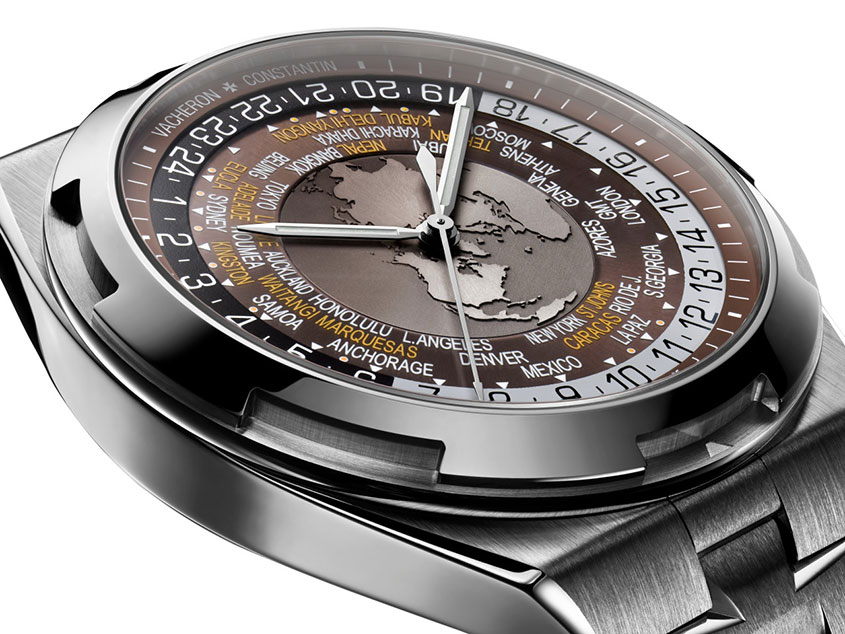 Vacheron Constantin's Traditionnelle world timers are regarded as among the best in the business but, as the name suggests they're a traditional take on the genre. This latest offering takes the same base, namely the Caliber 2460 WT, and puts it inside the angular steel Overseas case. But what makes this movement so special? Well, it's the only world time complication that simultaneously displays all 37 time zones, most merely sticking with the regular 24, neglecting those locations where the time is offset by 15 or 30 minutes. Not so Vacheron Constantin. If you're someone who regularly needs to know the exact time in Caracas (UTC-4:30), Nepal (UTC+5:45) or Adelaide (UTC+9:30) this watch has you covered.
Because of all this extra information, the city ring takes up even more space on the dial than it would on a typical world time, but it's still quite easy to read the world times off the 24-hour disc. Adding visual interest and an extra layer of complication is the central map of the northern hemisphere with the landmasses rendered in a satin-brushed sunburst, and seas shown in a velvet finish. Vacheron has overlaid this rendering of the world with a sapphire disc finished with a subtle smoky tint. This disc, which is synchronised with the 24-hour ring, acts as a day/night indicator. And of course the movement itself is exquisitely finished, and carries the Geneva Seal. Meanwhile, the pink gold rotor is a stylised representation of a compass rose – a nice link to the adventurous spirit that underlies the Overseas.

Placing this complication in the definitely-casual-yet-unmistakably-luxe Overseas case is a perfect match, the detailed case and rich dial serving to amplify the beauty. More than any other watch in the Overseas collection, the World Time embodies the model's approach to adventure. It's up for anything, but doesn't scream 'extreme'. It's a watch that will be noticed on the wrist, without begging for attention. And we would be remiss not to mention one of the Overseas' smartest features – the brand new, foolproof, no-tools-needed interchangeable strap system. Thanks to this, you can swap from alligator to rubber to steel in the blink of an eye, ensuring you're ready for whatever situation, sartorial or otherwise, the world throws at you.
Vacheron Constantin Overseas World Time Australian pricing
Vacheron Constantin Overseas World Time in steel, $55,400