Ulysse Nardin recently introduced four new members of its freaky family. With titanium cases and unmistakable style, these watches are known collectively as the Freak Out, and today we're taking a look at the Freak Out Blue.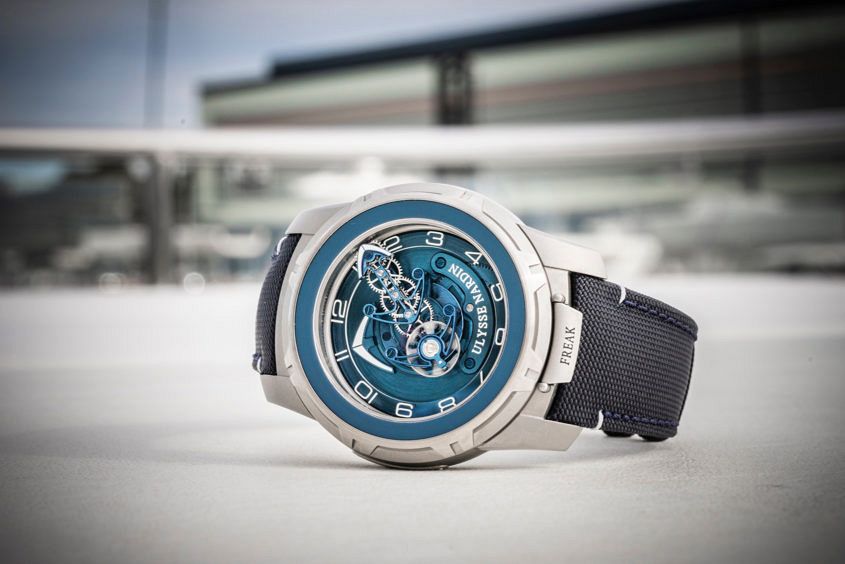 First, though, a quick primer on the Freak. Conceived by genius watchmaker Ludwig Oechslin, the Freak first came to life in 2001. It shocked not just because of its unconventional use of a flying carousel tourbillon to tell the time instead of hands, but also its groundbreaking use of silicon components.
Fast forward to today and the Freak is, for all its familiarity, still capable of shocking. SIHH saw the entrance of the first automatic Freak, the Freak Vision, and now this quartet joins the fray. Powered by the manually wound UN-205, the observant among you might also have noticed that the Freak Out lacks a traditional crown — instead, the time is set using the newly redesigned bezel (which is unlocked by the lever marked with 'Freak' text). Winding is achieved via a similar bezel on the caseback (not that you'll have to do it too often, thanks to the seven days of power reserve).
The real pleasant surprise, though, is the titanium case. Not only does this material suit the technical, sporty aesthetic of the watch, but it also ameliorates the ticket price, allowing more fans of genuinely significant high horology to get their freak on.
Ulysse Nardin Freak Out of the Blue Australian pricing
Ulysse Nardin Freak Out of the Blue, $69,000