INTRODUCING: The Sinn EZM 12, a German Design Award-winning watch for the sanitary conscious
Fergus Nash
Editor's note: When this landed in our inbox with imagery of surgical scrubs, a soapy petri dish and a headline along the lines of 'finally, a super-hygienic watch for medical personnel', we recoiled. It seemed opportunistic, given the obsession the world currently has with personal — and professional — hygiene. So I called a few friends who work at a hospital. An orderly, a doctor, a surgeon. I asked them what they thought. They all wanted to know more. What makes the watch less prone to contamination? I realised quickly that this was a review worth sharing. There was no sense from them that it was a marketing stunt from Sinn, especially considering the many and material ways that it will appeal to the sanitary conscious. 
German powerhouse Sinn have a surprisingly recent history of making watches for those who need them. Founded in 1961, an absolute baby in horological terms, their tool-oriented high-contrast watches for pilots and divers have gained a significant following and, like some other well-known German brands, they have managed to eke out a place of their own at the top among the Swiss. Now, with more focus than ever on the medical professionals who are saving lives while risking their own, every day, we can turn our attention to the Sinn-developed ultimate mechanical watch for doctors and emergency staff, the EZM 12.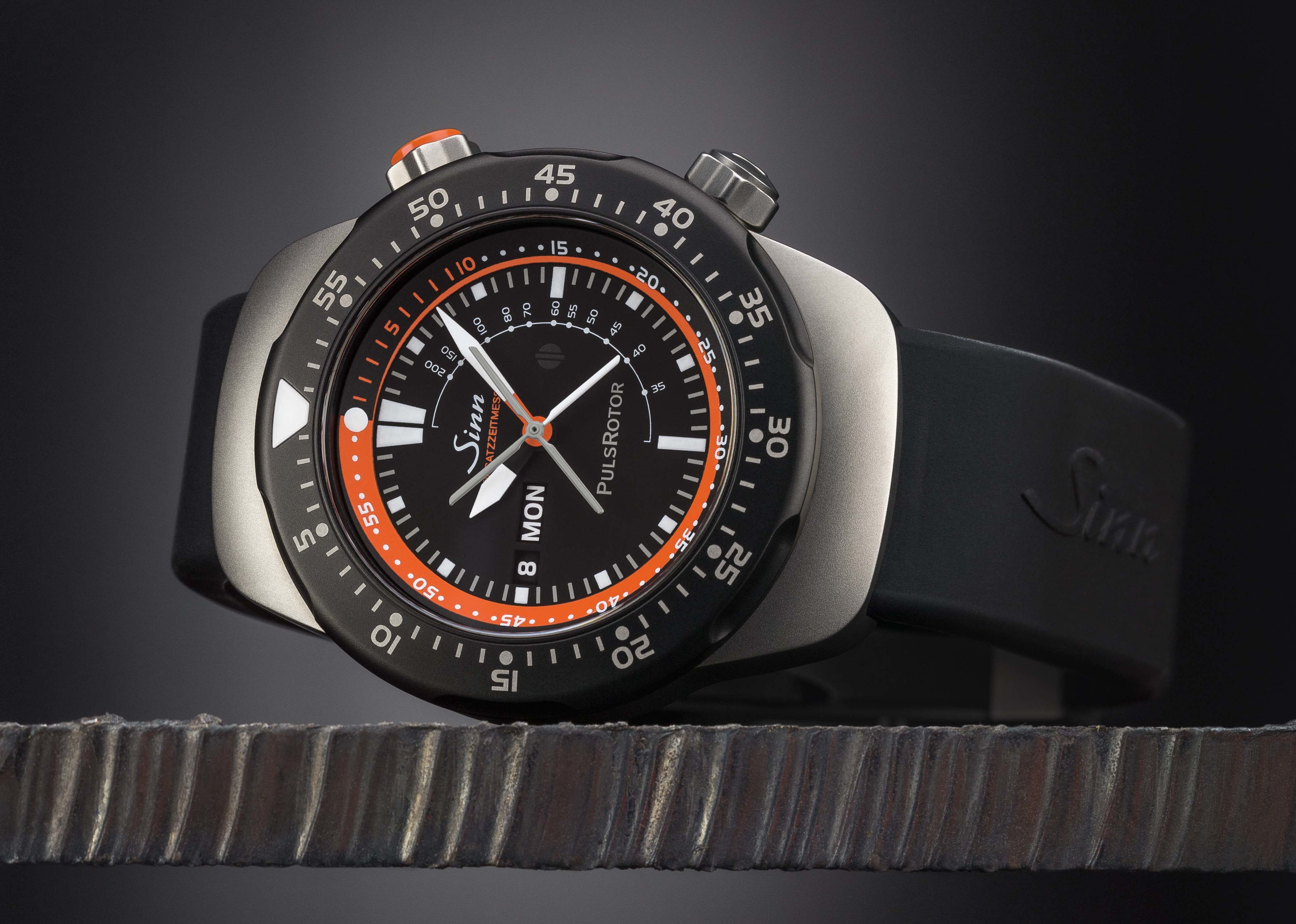 Decades have passed since a mechanical wristwatch was a necessity for anyone, let alone for people who work in the surrounds of cutting-edge equipment. That's not to say that medical professionals can't enjoy a watch if they want, but the timepiece must really provide the utmost practicality to be worth replacing something with all-modern technology.
The EZM 12 features a rather unique two-bezel system, one of which seems to be a reversed traditional diver's timing bezel, and another mirroring it as an inner-rotating bezel controlled by a second crown. The latter allows for the exact timing of two vital emergency guidelines — the 'platinum ten minutes' in which medical attention must be given, and the 'golden hour' in which it is most important to get patients into hospital care. The former acts as a countdown timer rather than an elapsed-time counter, reliably recording when medication is administered to accurately predict its effects' arrival.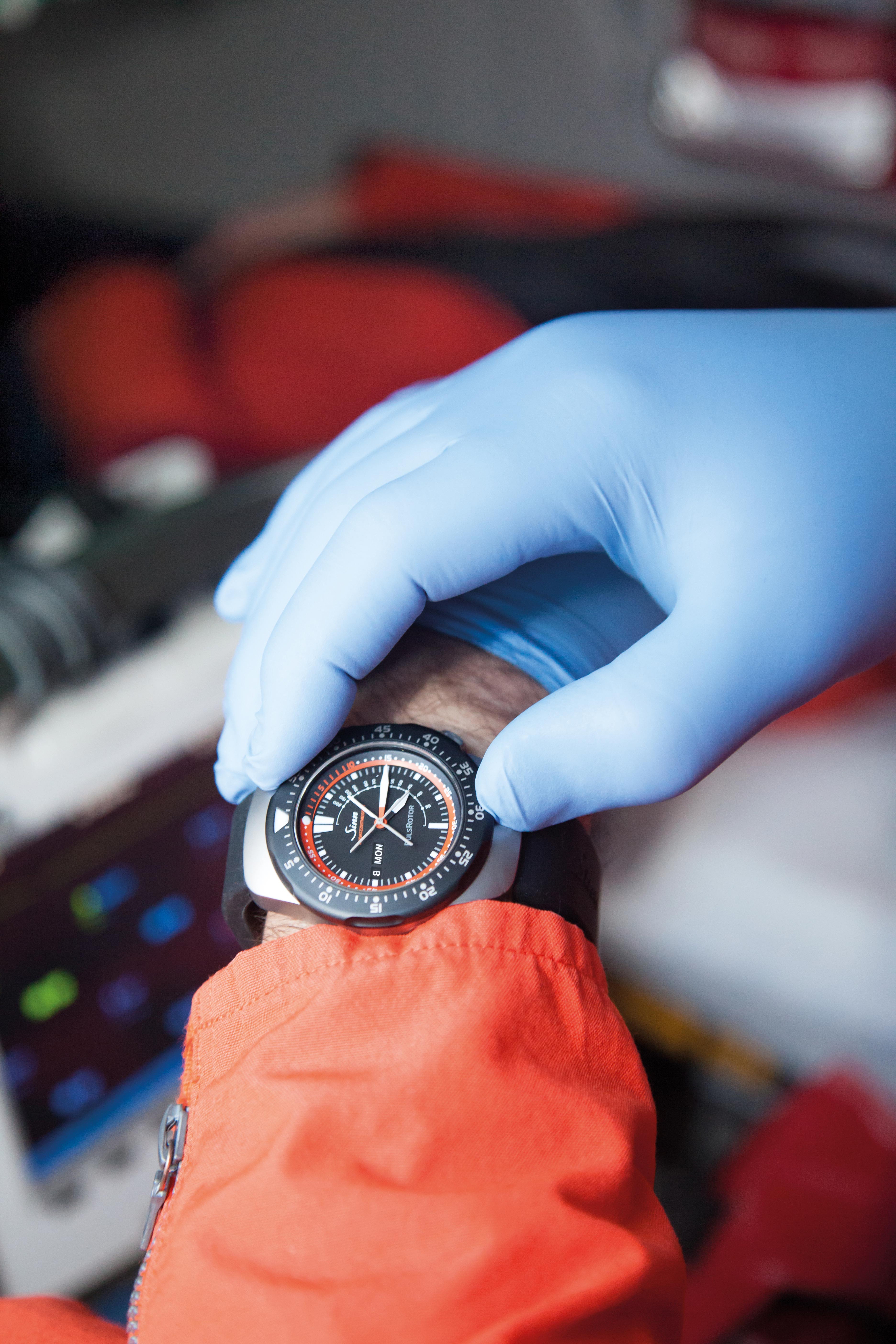 The propeller-like four-pronged seconds hands allows for the dial's PulsRotor to be read every 15 seconds as opposed to only once per minute — the scale designed to quickly calculate a patient's heart rate without the need for a dedicated chronograph and pulsometer to complicate the legibility of the watch. Not only is it designed as such for the practicality, but it also honours emergency teams working with helicopters to rescue those in difficult locations.
Of course, one of the most important stages of medical work is disinfecting, as those in close proximity to patients are simultaneously the most likely to pass on harmful bacteria or more between hospital beds. The Sinn EZM 12's bezel and strap are easily removable and safe to use with the most common professional disinfectants, meaning there is no surface invulnerable to cleansing. Part and parcel of staying sanitary is wearing latex gloves, notorious for being easily torn in contact with sharp implements. Sinn accounted for this by applying soft bevels to every facet of the case, bezel and strap, ensuring there is nothing to snag and rip the glove. The crowns, too, are aggressively shaped for ultimate grip when trying to adjust.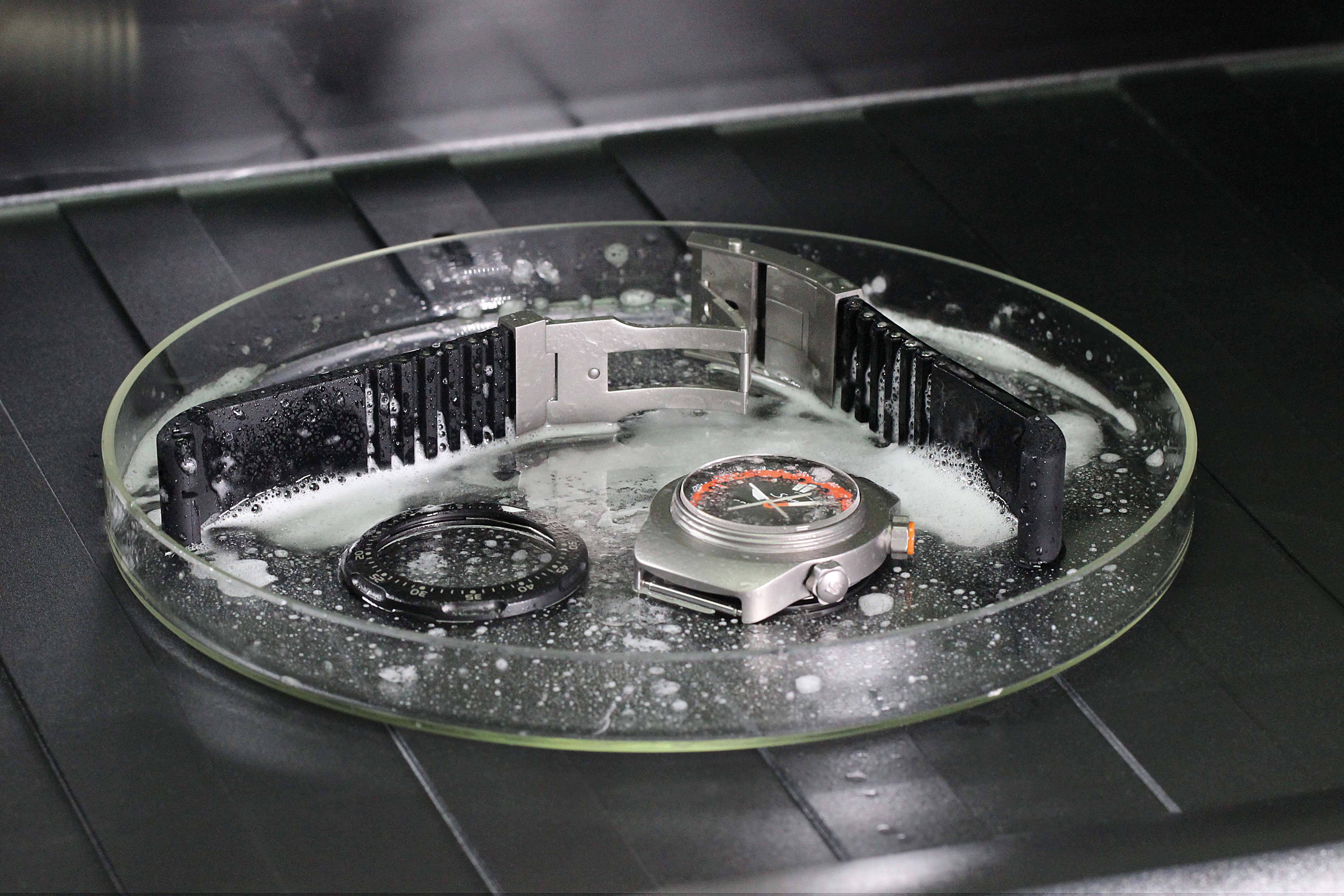 While the design of the EZM 12 is no doubt utilitarian, that's not to say it is unattractive. Winning the Red Dot Award for product design in 2019 and the German Design Award for 'Excellent Product Design 2020', the use of their sword-shaped hands are incredibly legible, but also lend the watch an aggressive look. The rounded and bead-blasted case serves its purpose of being unobtrusive, yet ties the whole thing together in retrofuturism. If it were to turn up in Stanley Kubrick's 2001: A Space Odyssey, it wouldn't look tremendously out of place. The left-aligned day-date complication gives a balance to the heavily complicated right side of the watch. Two crowns and the PulsRotor draw the eye significantly, as does the gently sweeping orange band which grows in width along the inner bezel, increasing the alarm as time grows shorter.
The EZM 12 is available with either an orange or black silicone strap, and comes in a sleek black presentation box accompanied by a multi-use watch tool and pocket-knife. Priced at circa $6000 AUD, it's an exceedingly thoughtful and nuanced execution of a piece of timekeeping equipment for medical industry workers. This extraordinary attention to detail is clearly a dedication to some of the planet's hardest-working people; it was clearly designed in close consultation with those who would use it every day, which gives it, in my opinion, a proper reason for being, whether that's in your collection or not.