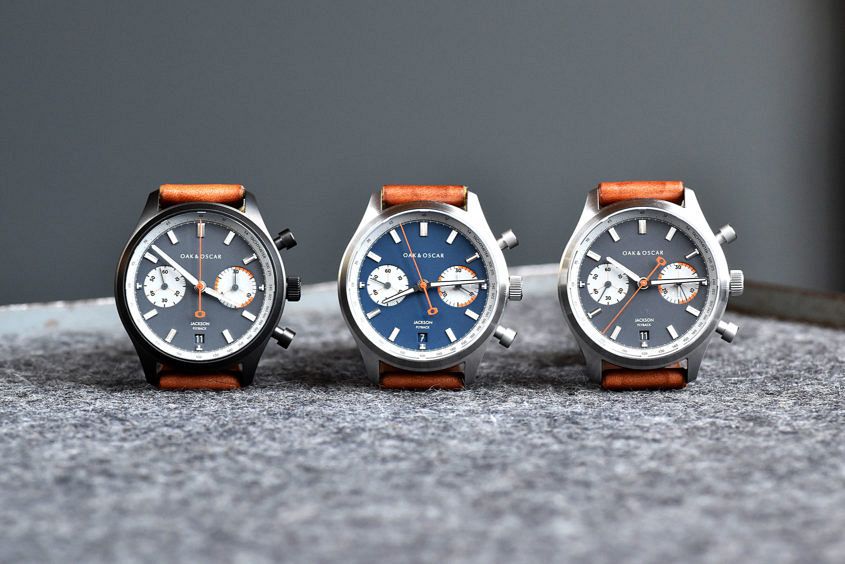 At Time+Tide we've been following the successes of Oak & Oscar's founder Chase Fancher with interest. We've met him in Basel and New York, but most of the time we've been watching the evolution of his brand from afar. Overnight we saw the release of their third watch, the Jackson FlyBack Chronograph, which – if the pictures are anything to go by – is another winner. The Jackson is offered in three variations, two of which are stainless steel, with either a grey or navy-blue dial. The third has a charcoal PVD case, with a grey dial.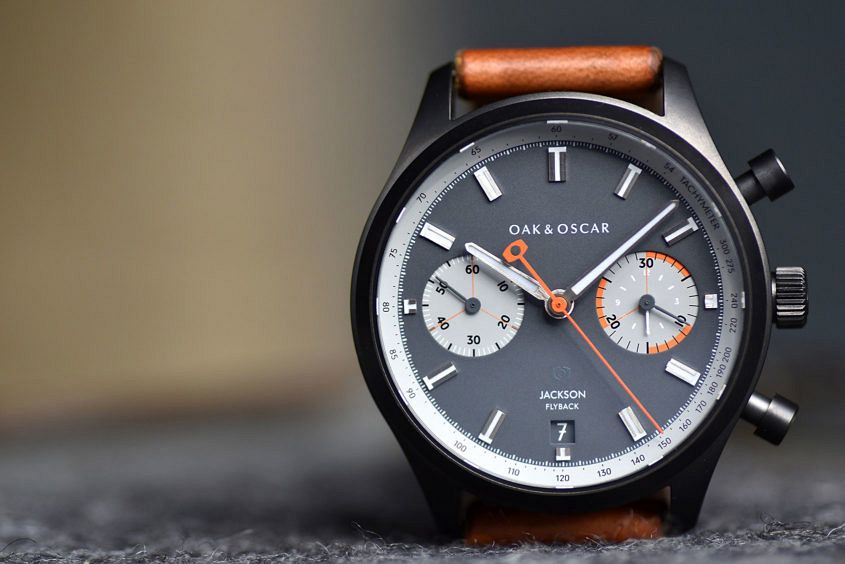 All three watches have identical case specifications – 40mm in diameter – which is a smart choice and a size that will work for most. In terms of case height, the Jackson is 14.5mm, which sounds a little on the thick side, but with these things its best to reserve judgement until the watch is actually on the wrist. Mechanically they are also identical, and the flyback chronograph is powered by an uncommon and interesting choice of a hand-wound Eterna movement (Cal.3916M) with a 60-hour power reserve.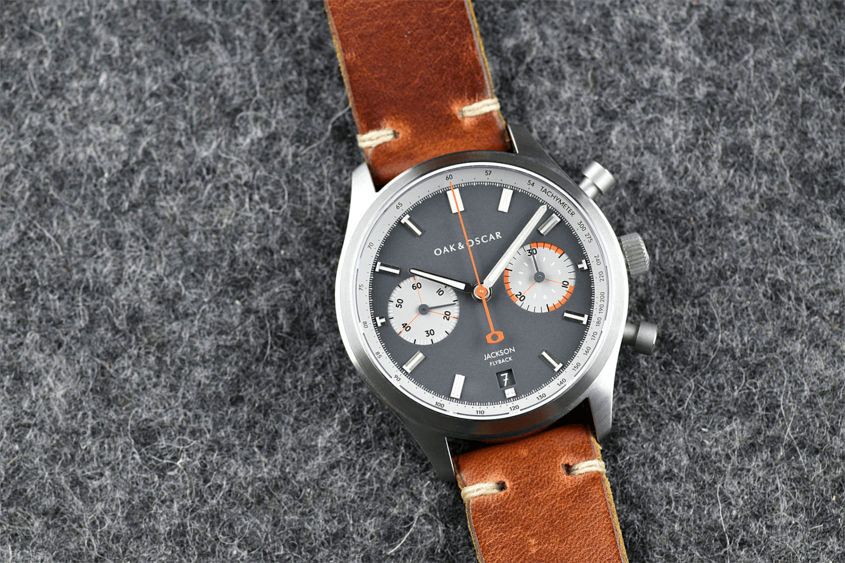 Aesthetically, it's great to see Oak & Oscar further develop their identity. The grey-dial stainless-steel Jackson has the look and feel of past releases, and fits right into the Oak and Oscar family. The addition of a grey PVD case with grey dial is a fun yet methodical step in the right direction. It is evidence of a willingness to experiment and push themselves creatively.
Finally, the introduction of the navy-dial Jackson looks fantastic, with small orange accents on the subdials and seconds hand. Topped off with a brushed stainless-steel case, this watch oozes vintage vibes.
As with their previous two releases, the watches are accompanied by a swag of goodies. Owners are given two straps, a tapered Horween leather strap and a tapered leather rally strap – both with O&O-signed buckles. The Oak & Oscar kit is topped off with a modular leather watch wallet, with three detachable watch pouches and an additional watch tool. Overall, the Jackson release represents solid value for money, especially when you weigh up the level of care, thought and finishing that's been put into the Jackson. Plus the design is a cut above the rest of the micro-brand pack.
Oak & Oscar Jackson Flyback Chronograph pricing and availability
The Jackson is now available for pre-sale, with delivery expected early 2018. Pre-sale prices for steel, limited to 150 pieces, is $USD2850; PVD, limited to 100 pieces, $USD3150