The Mido Ocean Star Decompression Timer 1961 brings the colour we all need in a dark year at a budget-friendly price
Fergus Nash
There's very little that hasn't been done in watchmaking. That's part of what makes vintage-inspired new releases so popular among watch enthusiasts, especially for diving styles. Mido's Ocean Star range has sat in this bracket, earning a good reputation for solidly built and classically handsome dive watches for their affordable cost; however, they toed the line between vintage and modern quite conservatively. The new Mido Ocean Star Decompression Timer 1961 smashes that established model by going back to Mido's mid-century cult classic, the Powerwind "Rainbow" diver.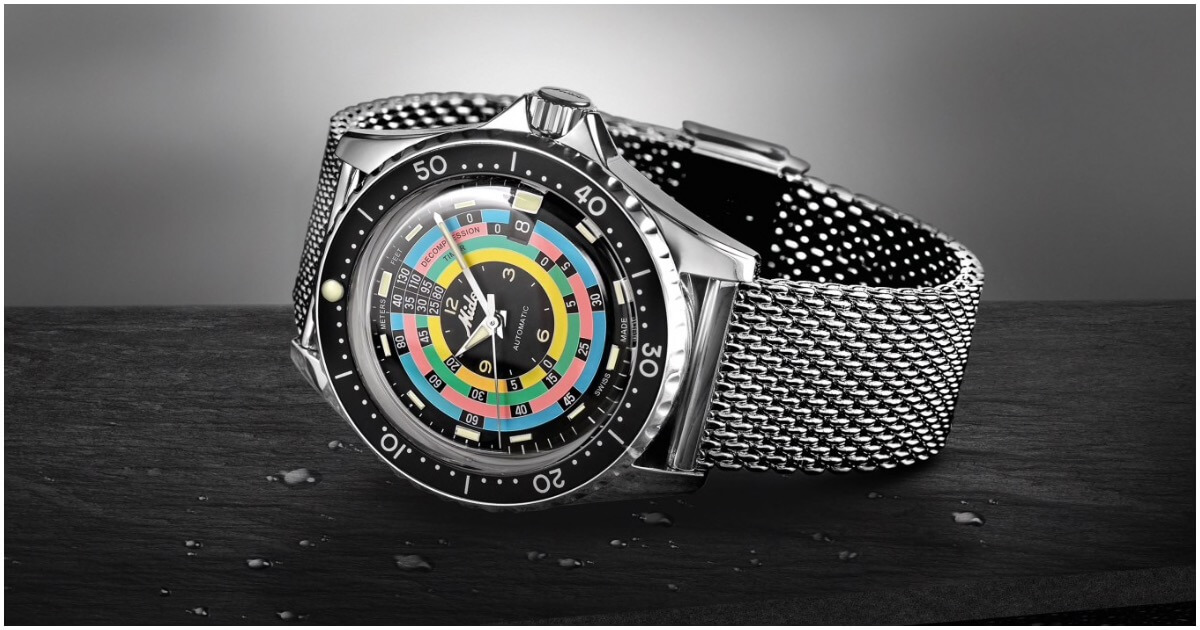 This isn't just a one-for-one reissue, as many brands would be tempted to make. Firstly, the case has been bulked up for modern tastes. A 40.5mm diameter ensures wrist presence and legibility, but short, vintage style lugs remain in place to keep it from being overbearing on the wrist. Even with a domed sapphire crystal, the 13.4mm thickness shows some restraint as well. The original may have claimed a 300m water resistance, but without a screw-down crown that may not have held up over the years. The newer Decompression Timer uses a more standard three-piece case construction with a screw-down caseback and crown, getting that rating to 200m. The caseback is also beautifully etched to include the Ocean Star logo. 
The most notable change from the original "Rainbow" is the colour scheme becoming darker all over, aligning itself more with what people expect from a '60s skin diver. The previously steel bezel is now blackened, as is the centre section of the dial from which you'll be reading the shortened dauphine hour hand. The colours of the '60s models could vary, but Mido have kept the old pastel colour theme, which is fantastic to look at — ensuring clear legibility without being bombarded by bright and conflicting shades.
The decompression scale itself is quite a rare feature, mainly springing up in the early '60s on watches from such brands as Mido, Cornavin, Buler, and Vulcain. It doesn't turn, or add any complications to the watch mechanically, but the painted scale can act almost like a slide rule calculator when read correctly. For deep-sea divers, there are few worse fears than getting "the bends". More correctly known as decompression sickness, the condition occurs when nitrogen gas bubbles form in the bloodstream as a result of returning to low-pressure atmospheres too quickly. Depending on severity, symptoms can vary from mild joint pain, to paralysis, to a rapid and agonising death.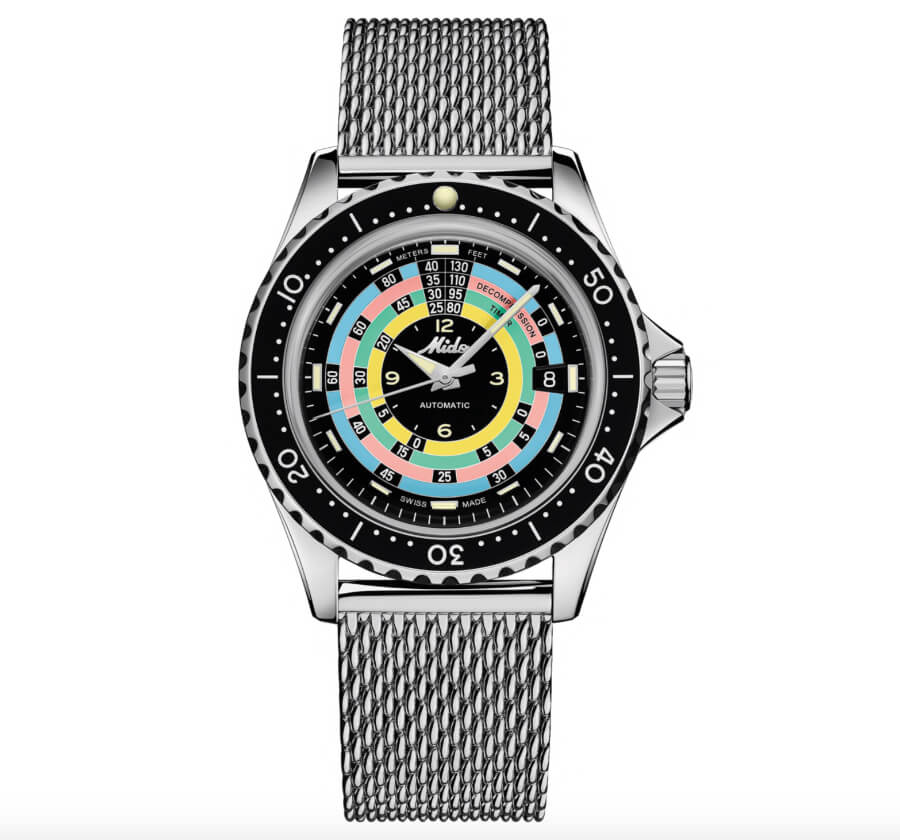 Modern technology and the use of decompression chambers for saturation divers have made this illness much easier to avoid, although for the old souls who dive for their own passions, stopping three metres below the water's surface for a rest will help your blood return to regular pressures. That's where the scale comes in. The white-on-black numbers above 12 o'clock indicate depth, and the others equate to how long you need to stop for, when reaching the three-metre mark. For example, if you've been diving at 30m below the surface for 45 minutes, follow the green track around to the 9 o'clock index and you will see you'll need a 30-minute stop. Naturally, the deeper and longer you go, the longer you'll need to acclimatise.
The practical use of such a watch is beyond the definition of niche, as most dive watches barely even see a swimming pool on the average wrist, but practicality often has little to do with watch buying decisions. What Mido offers is a little slice of their own proud history, with a hypnotising dial and all of the benefits that the Swatch Group brings — such as the ETA C07.621 based movement giving a staggering 80 hours of power reserve. Retailing at $1750 AUD makes this a solid value proposition, with the limiting to 1961 pieces just being an added bonus. Though the 21mm lug width may be frustrating for strap-swappers, it comes with two extra leather strap options, all with quick-release spring bars. If you've been looking for a vintage-inspired diver but haven't yet been excited by the thousands of options, look no further than this Ocean Star.
Pricing and availability of the Mido Ocean Star Decompression Timer 1961
The Mido Ocean Star Decompression Timer 1961 is TBA (circa $1750 – $1900AUD). This watch was offered in an exclusive pre-sale to Time+Tide Club members, and subsequently sold out. To join the Club, go to https://www.timeandtide.club