INTRODUCING: The Franck Muller Crazy Hours 15th Anniversary collection
Cameron Wong
I don't know about you, but the only thing on my mind when I'm at a resort on vacation is how many trips to the breakfast buffet is considered too much (more than five apparently, if the appalled looks of fellow diners was anything to go by).  However, for watchmaker and eponymous brand founder Franck Muller, holidays can be a time of more radical thinking, as it was a holiday in Mauritius that inspired the instantly recognisable (and undeniably fun) Crazy Hours complication.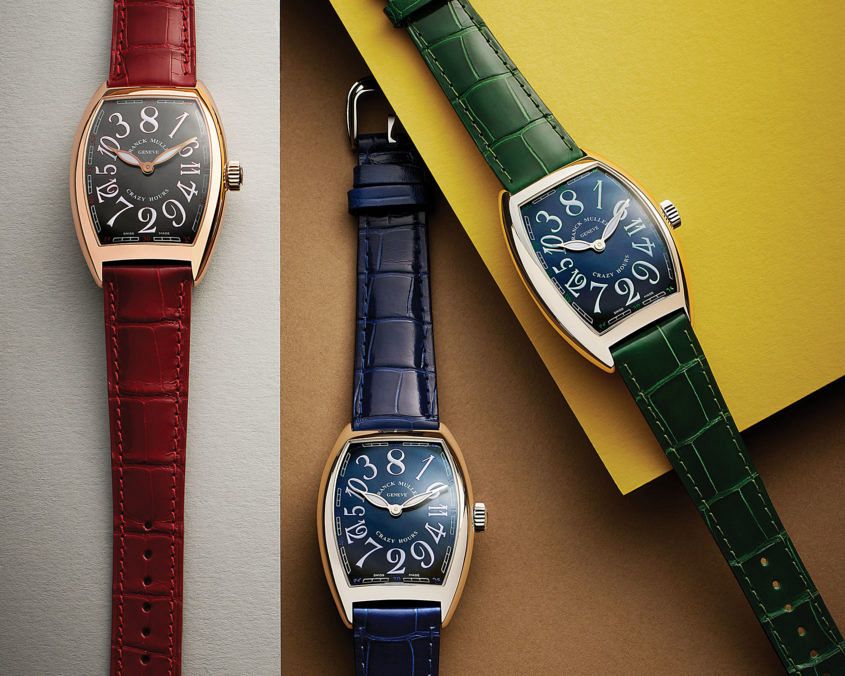 First released in 2003, the Crazy Hours collection introduced a dial layout where the traditional display of 12 hour numerals was jumbled up. So, the number 8 is now at 12 o'clock, 5 is at 9 o'clock, 3 at 11 o'clock, and so on. Meaning that instead of progressing clockwise in numerical order, the hour hand must jump to the next hour which is placed nearly directly opposite (at an approximately 120° arc). The craziness was brought to life by the addition of a jumping hour module on top of a 42-hour power reserve automatic movement.
With this year marking the collection's 15th anniversary, the manufacturer known as the "Master of Complications" is celebrating with the release of a series of exclusive models made available throughout the brand's 23 boutiques and select watch retailers across Asia.
With something to suit both the ladies and the gents, the instantly recognisable Cintrée Curvex case comes in three different sizes (39.60mm x 55.40mm, 36.00mm x 50.40mm, and 32.10mm x 45.10mm). And they are available with or without diamond settings in either stainless steel or rose gold. As for the dial, there's now a blue and a grey, both finished with a sunburst pattern, and of course the familiar sunray guilloché-patterned white. With newly added pops of colour given by 5-minute markers that inject green, red, blue, and black tones into the dial, which are then complemented by matching alligator leather straps.
Available in 40 different combinations, there's sure to be something for everybody, especially if you like your timekeeping a little loco.