INTRODUCING: The Cartier Drive de Cartier Flying Tourbillon
Cameron Wong
Last year, Cartier launched a brand-new collection: the automotive-inspired Drive de Cartier. However, unlike much of the brand's other offerings which have cross-gender appeal, the Drive de Cartier is intended solely for men. It has proven to be a hit the world over, with a case that is neither round nor square. Instead, its elegant curves form a rounded cushion shape, which is unmistakably masculine – but not in a macho kind of way. To use an automotive analogy, it's less brute Mustang muscle and more the sophistication of an Aston Martin.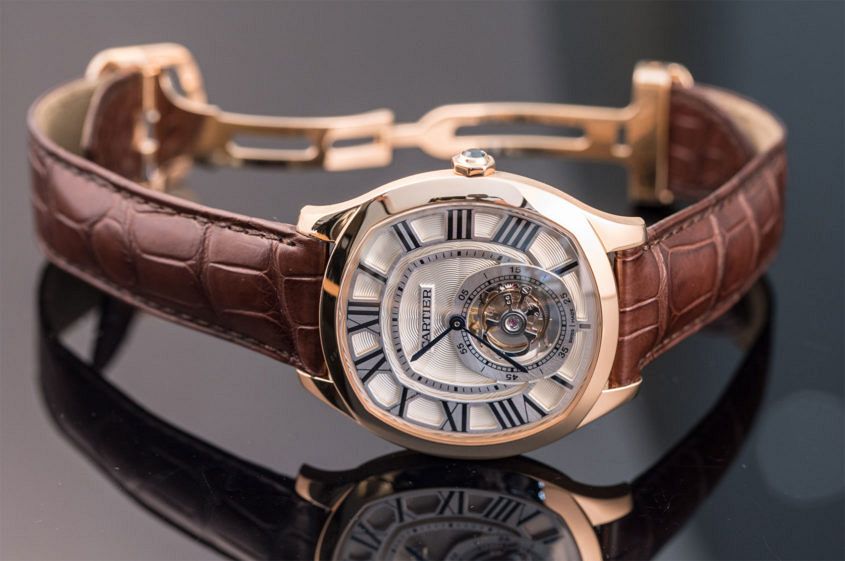 The crowning achievement of the collection is the Drive de Cartier Flying Tourbillon with its in-house, mechanical tourbillon, caliber 9452 MC movement that's been hand finished to a high degree to meet the standards of the Geneva Seal certification. However, it's not just the movement that is impeccable. The dial is a richly contrasting display of satin-brushed surfaces and intricate guilloche finishing. Cartier has created a sense of depth by open-working the outer dial that displays the markings for the hours, minutes and seconds, and exposing the white galvanised guilloche below.
Despite the elaborate interplaying layers, the dial layout manages to come across as simple and elegant. The flying tourbillon and its C-shaped cage double as a small seconds indicator, and the blued-steel hour and minute sword hands are classic Cartier. The Roman numeral hour markers push out from the centre, adding some masculine edge as they look as though they are going to burst through the 18k pink gold case.
It's this mix of casually confident masculinity and refined design that defines the collection and is very much in evidence with the Drive de Cartier Flying Tourbillon.
Cartier's Drive de Cartier Flying Tourbillon Australian pricing
Drive de Cartier Flying Tourbillon, $78,500 excl. taxes