INTRODUCING: The Seiko Presage Sharp Edged Series is yet another competitively priced collection for dial fetishists
Thor Svaboe
Seiko Presage is the sharp alternative between everyday Seiko and the mythical big brother Grand Seiko, with a price range coinciding with the Prospex range and an emphasis on dressy references with a classic Japanese twist. During the last couple of years, Presage has mainly been known for their very popular Cocktail Time series, with a typical Seiko focus on superb value for money – especially in their choice of colourful and elaborate dials. As with their ever-expanding Prospex series, we are now seeing a proper step up in style with the new Seiko Presage Sharp Edged Series.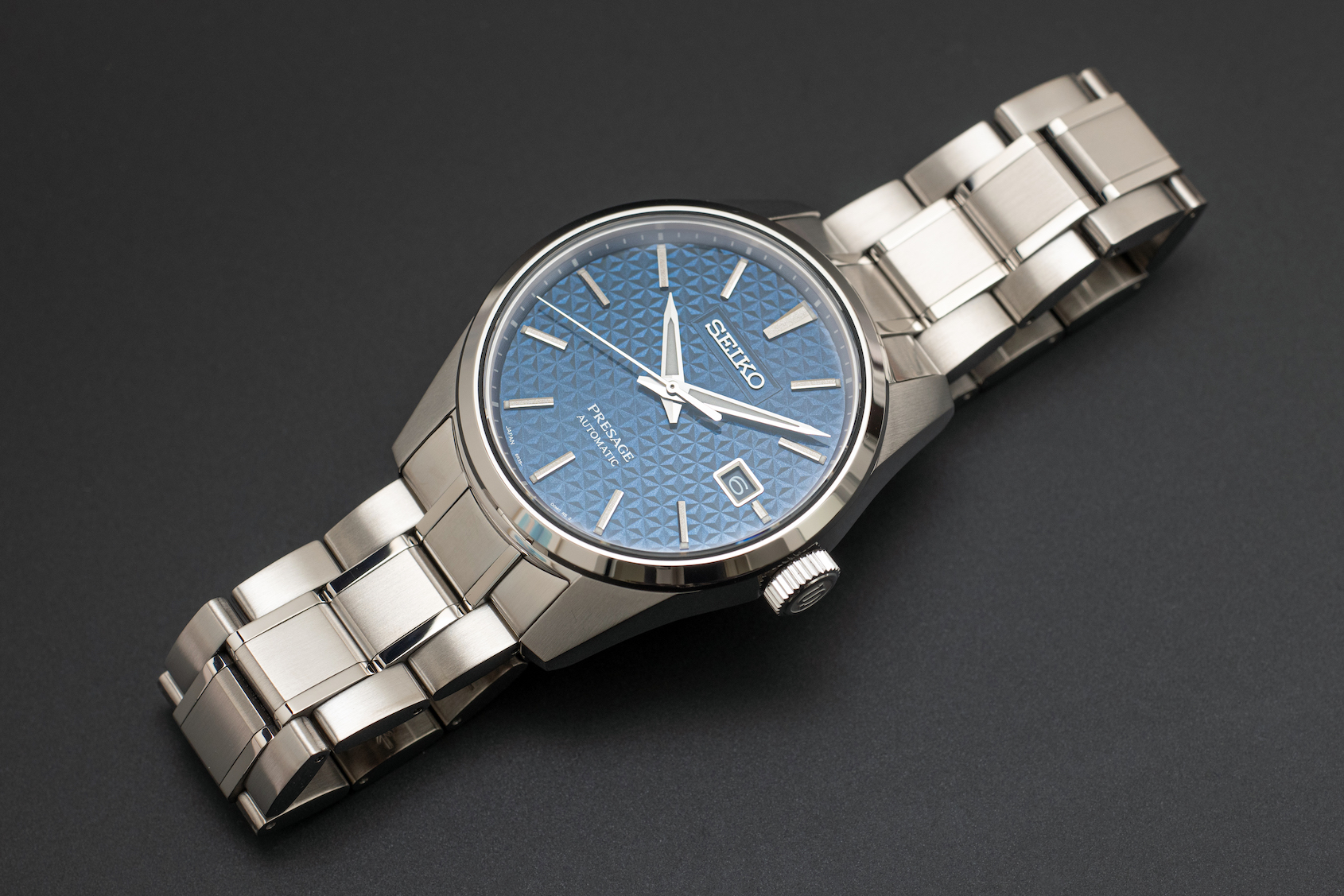 In this new series, we welcome the sight of familiar sharp angles and muscular side profiles we know from the master of dressy sports, Grand Seiko. We saw a glimpse of a more angular Presage future with the unusual 1964 Chronograph re-edition earlier this year and its sharp vintage-style lugs, but this is thoroughly modern, with no curves in sight, and a dial that pops like few others. It's a dial with the mysterious ability to draw all focus away from other details, so let's save that for last.
The bracelet and case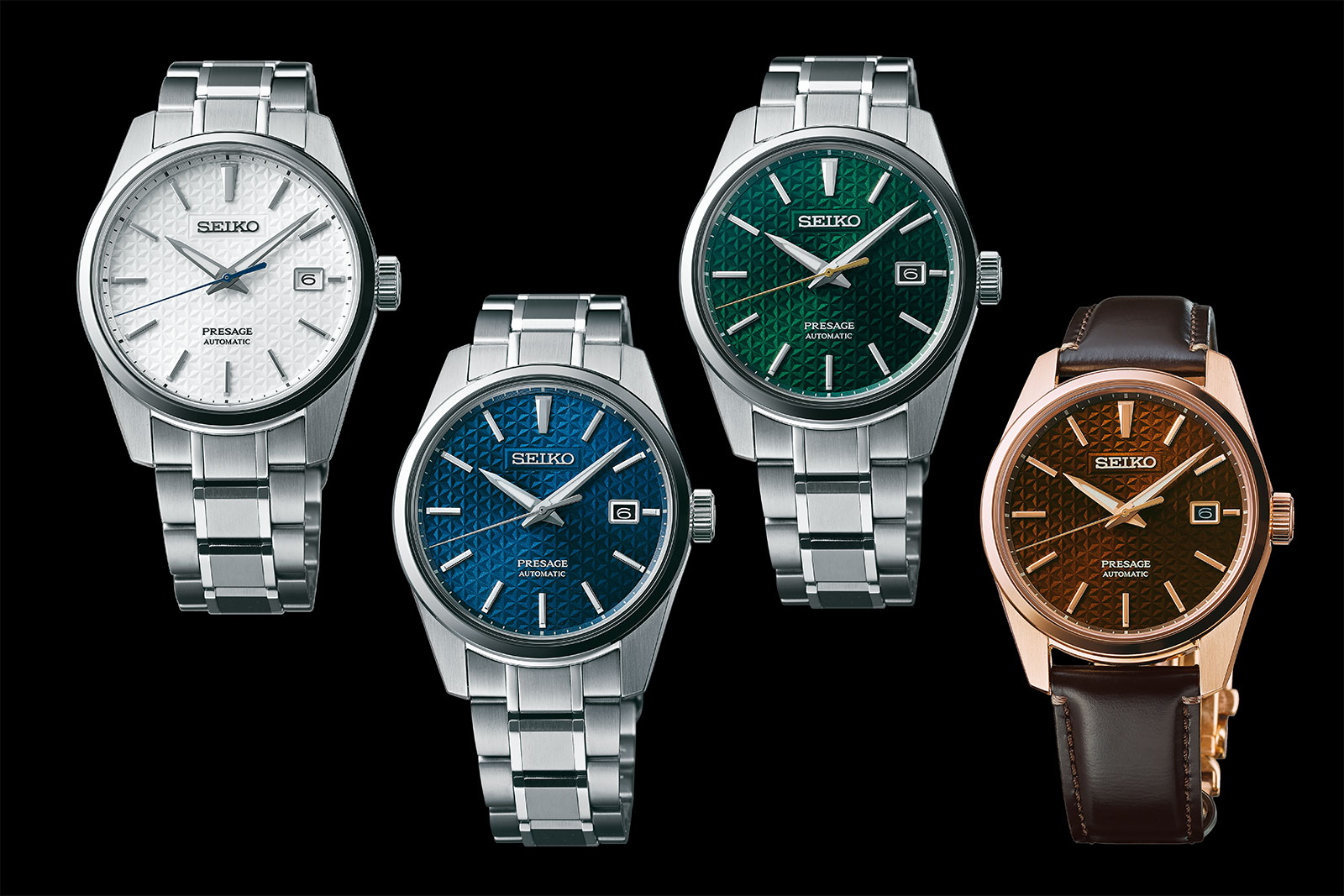 This series comes on leather straps, or a sharp new bracelet, which is what I can best describe as an edgy version of a Grand Seiko design: classic 3-link, with the centre link having polished side pieces and, like the rest of the design, discreetly finished off edge to keep the new sharpness of line. We can expect a nice solid bracelet, which now has a super-hard coating, as does the case itself, and it comes on a three-fold clasp. The case in itself is a proper sharp-cut baby Grand, which is a godsend for the many Cocktail fans with a secret desire for angles.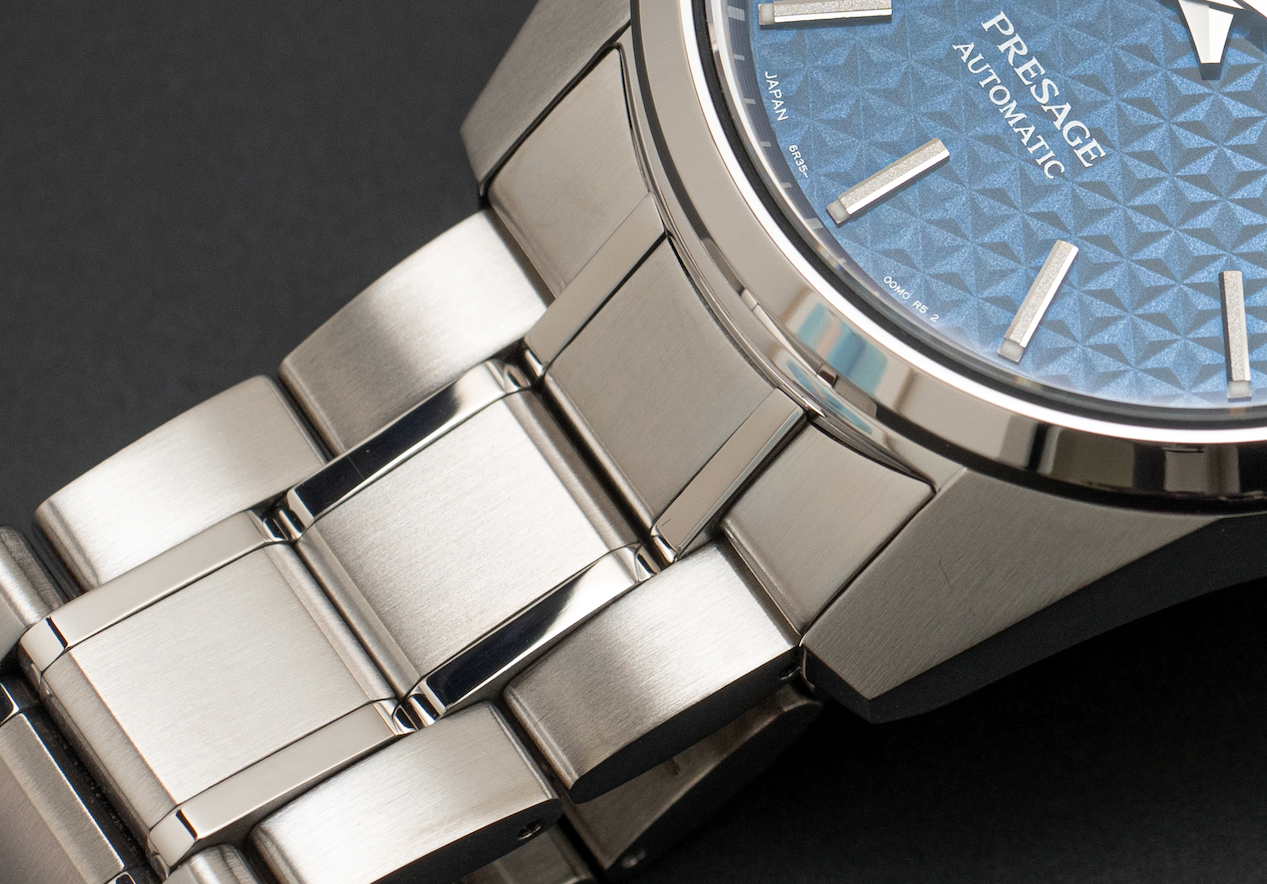 Dramatic angled brushed lugs work perfectly with the flat links of the bracelet. The polished ends and case sides have the usual Seiko ergonomics that will make even a large case sit well on a small wrist, but lo and behold! We read sub 40mm, actually 39.3mm diameter, and unlike a round case with a narrow bezel, with those powerful lugs, this will feel as perfect as a 38-39mm – the size of the year. 
The dial
So, all boxes ticked so far. Did I mention the dial? Indeed. Asanoha is a traditional hemp leaf pattern that has been in existence for thousands of years. This is the inspiration behind a light-catching textured pattern with a depth and hexagonal pattern that complements the angular appearance of the case, or makes you forget all other details. The new series has four coloured dials, each a traditional Japanese colour: Shironeri, an unbleached silky white; Aitetsu, or indigo iron; Tokiwa, the colour of evergreen trees; and Susutake, a brown-toned smoked bamboo. All colours come in the steel case, except the deep brown Susutake blinging it up in a rose gold-coated case on dark brown leather.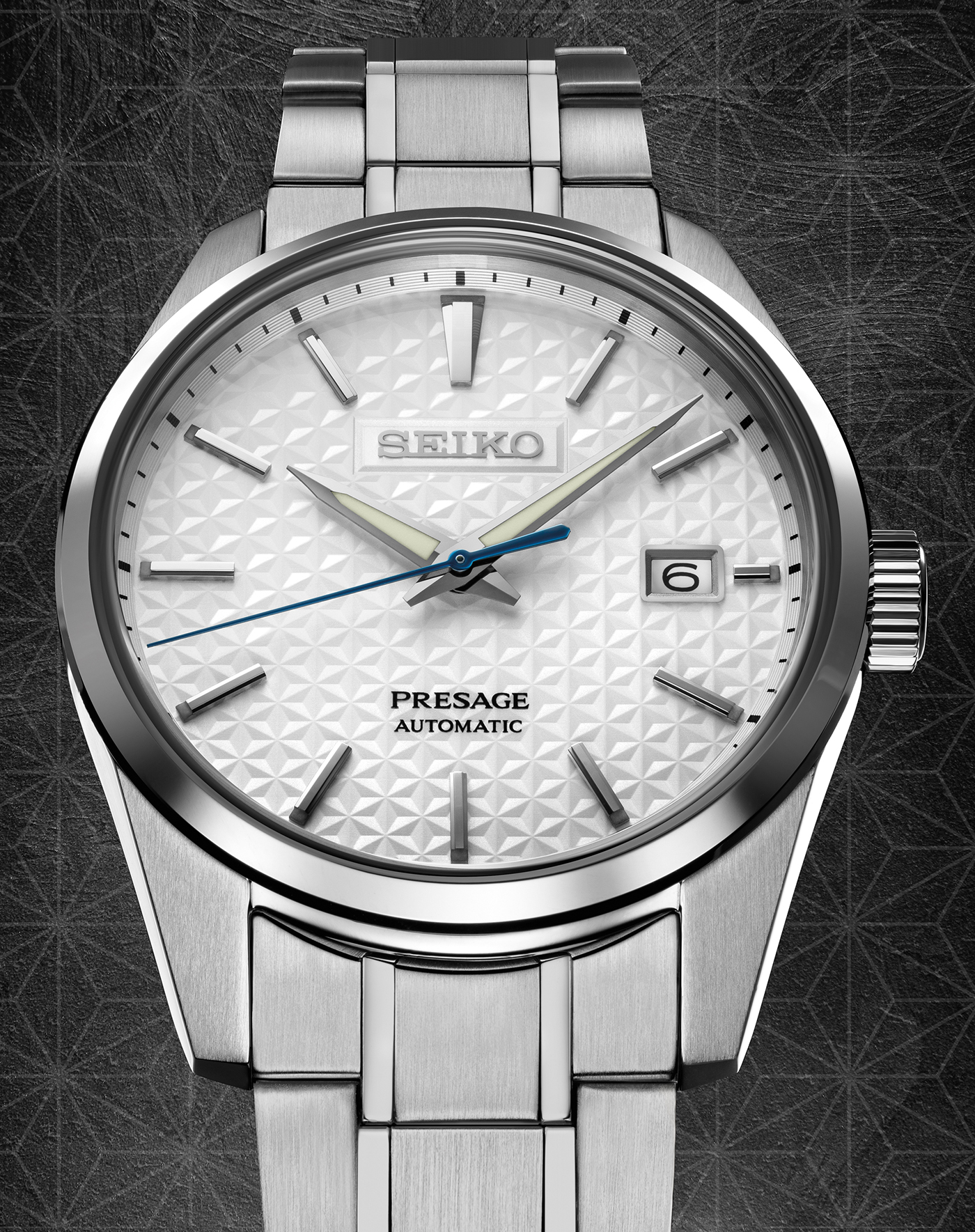 This dial is obviously still the hero here, and the dial is spectacular, with its structural variation and recessed plinth-like Seiko logo at 12 o'clock. This is framed by a colour-matched angled smooth minute track. A silver bevelled frame marks the date at 3, the hands are of a new crisp sword design, and the seconds are marked by a classic needle. On the Shironeri white dial, the seconds hand brings a welcome pop of blue colour, and complements the Tokiwa green with gold. The size is exactly what the fans have been waiting for, and as we have seen with the new SPB 146-149 line of Prospex divers, Seiko may be late to the sub-40mm party, but when they arrive they do it in consummate style.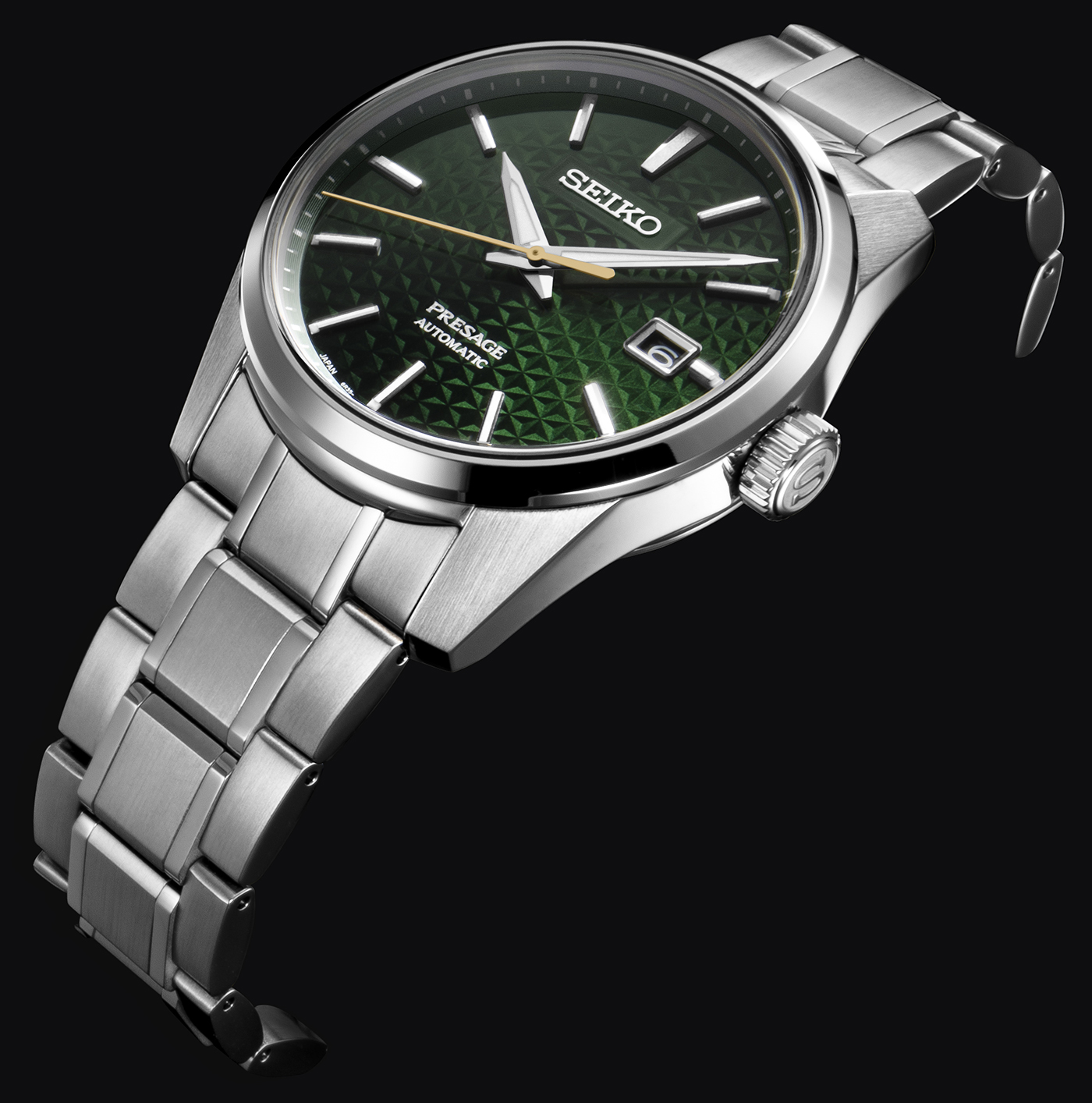 The new Prospex series is powered by the 6R35 automatic movement, well known from the Prospex series, delivering a solid power reserve of 70 hours. The exquisite new dials are protected by a sapphire crystal, and all come with an exhibition caseback, also in sapphire, revealing the mechanical heart. All four watches will be available from September 2020 at Seiko Boutiques and selected retail stores worldwide.
Seiko Presage Sharp Edged Series price and availability:
The Seiko Presage Sharp Edged Series is AUD$1495 and will be available from Seiko boutiques, authorised dealers and online from September.