It's late January, which means it's LVMH Watch Week, an event where the watch departments of Bulgari, Hublot and Zenith unleash their new novelties for the year. For Hublot in 2021, we enjoyed a number of updates to existing collections, including a totally new colour of sapphire crystal in the Big Bang Tourbillon Automatic, a ceramic expansion of the Big Bang Integral collection and the Big Bang MP-11 now in Magic Gold. But we were also treated to an exciting new reference that should quicken the pulse of fans of Takashi Murakami. The Hublot Classic Fusion Takashi Murakami All Black takes the famous "smiling flower" motif of the cult Japanese artist and lets it bloom into horological form.
Using the Classic Fusion as a base template, the watch is constructed from 45mm of black ceramic and is paired with the black rubber strap that Hublot is so famous for. For those who follow Takashi Murakami's high-impact work, you might be surprised to see the monochromatic tones of this collaboration watch, but the liveliness of the dial does more for the watch than colour ever could.
Set with 563 black diamonds, the dial features one of Murakami's most well-known motifs in the smiling flower. The hands of the watch that display the time sit between the central smiling face (set with 107 brilliant cut black diamonds) and the petals (set with 465 brilliant cut black diamonds) that are able to fully rotate with the motion of the wearers arm. What is really cool is the central smiling part of the flower is actually situated on the outside of the sapphire crystal covering the dial, while the rotating petals sit protected beneath it.
In an Instagram live with Miwa Saka, the Asia Pacific Regional Director of Hublot, Murakami admitted that the watch was, "a dream come true". Saka went on to explain the story of the collaboration, explaining Murakami "refused so many times! I think he refused three to five times, but I never gave up because it was my dream."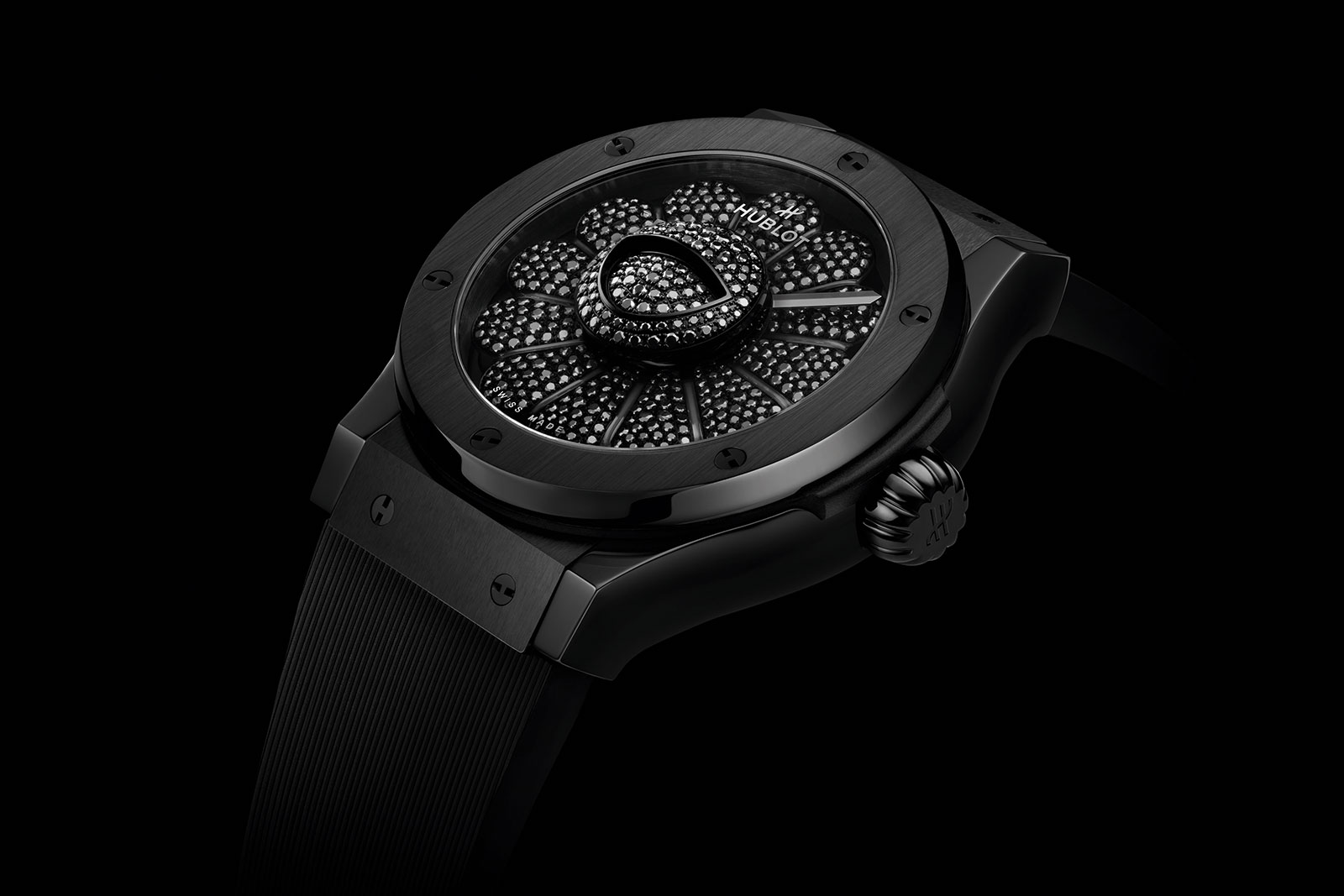 Murakami finished the Instagram live with a shoutout, "Hey Ben Baller, I love you too!" in reference to the Los Angeles based jeweller who Murakami has worked with in producing several necklaces that feature the same smiling flower motif.
Hublot Classic Fusion Takashi Murakami All Black price and availability:
The Hublot Classic Fusion Takashi Murakami All Black is $38,000AUD and limited to 200 pieces worldwide. For more details, visit Hublot right here.