INTRODUCING: Don't miss out – the new Kurono Chronograph 2 from the cult Japanese brand will sell out fast
Zach Blass
I have been a huge fan of Kurono watches since their introduction. Master watchmaker Hajime Asaoka should be applauded for the brand's mission of trying to make high-quality timepieces more accessible to consumers. What really makes Kurono so intriguing, beyond these more approachable price points, is the design language utilised across the various lines. This Japanese take on Art-Deco design has really caught the eye of collectors around the world. No detail is left unconsidered and the Kurono designs really revive an era of more classical proportions and aesthetics. The Kurono Chronograph 1 received a great deal of praise, and was even nominated for a prize at the 2020 GPHG awards. This week the Kurono Chronograph 2 goes on sale, bringing the "Reiwa" brown, black, and copper aesthetic to the Kurono Chronograph watch.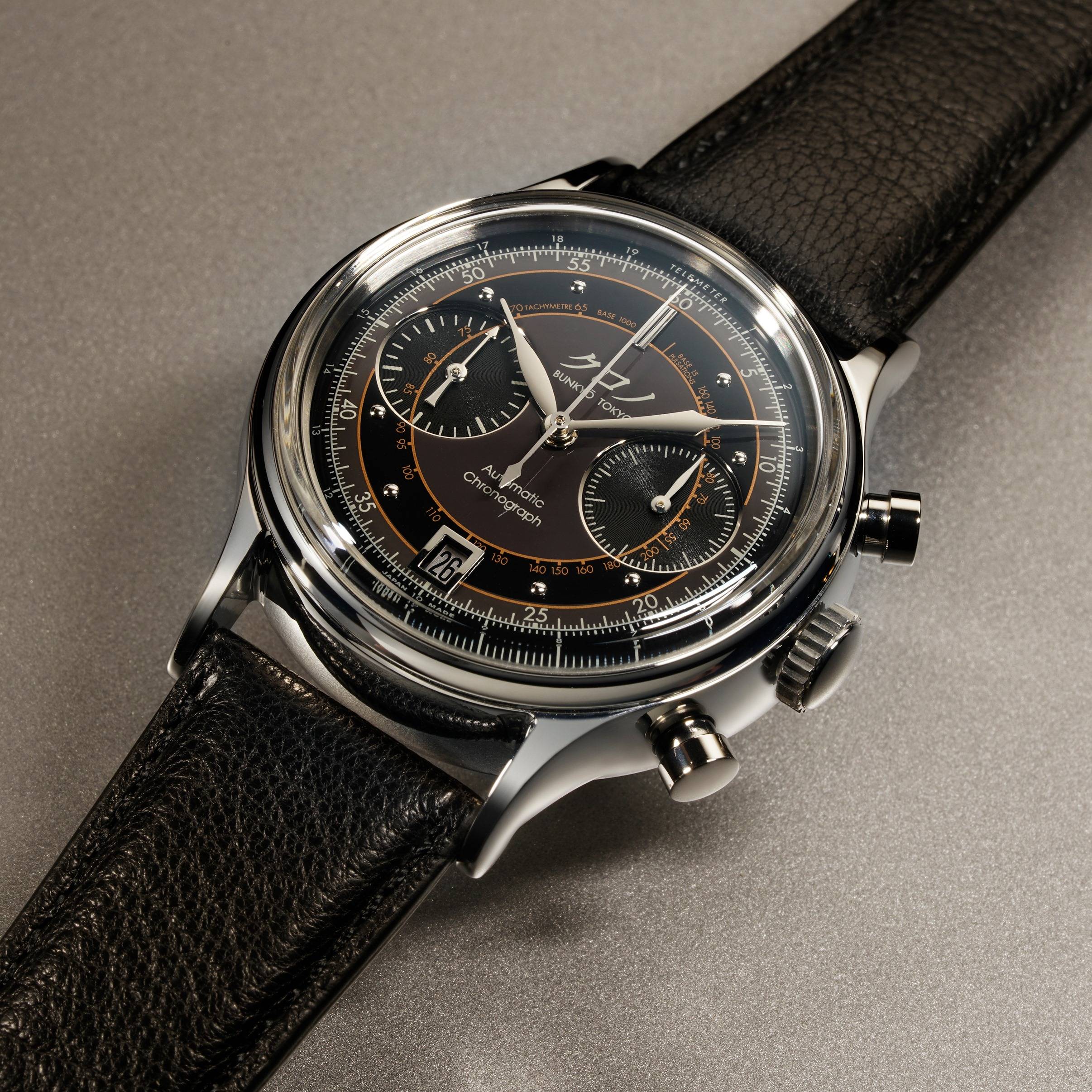 The dial shares the same layout as the Chronograph 1, packing in a ton of information without being cluttered. It is composed of rings, alternating in gloss black and brown with the two most inner circles framed with copper accents. The outer most black ring has a telemeter scale within it, which can be used to determine the distance of something that can be heard or seen (i.e mortar shells for those who once used the complication in the military). The next ring, in brown, conveys the minutes with printed hashes as well as numerals every five minutes. The black ring that follows hosts both a tachymeter scale (to determine the speed of a vehicle) and pulsation scale (to measure heart rate), There are also polished studs that serve as hour indices, with the 12′ index fashioned in a rectangular shape.
There are two sub registers on the dial, each with a concentric guilloche pattern to add further texture. The 9′ register with its intriguing Kyudo arrow hand, indicates the elapsed minutes (up to 30 minutes) while the register at 3′ serves as the running seconds indicator. It is also worth noting that the central seconds hand of the chronograph, as well the hours and minutes hand, are all bent at their ends for added elegance and legibility – a nice touch that many brands overlook. Lastly, above "Japan Made" is a framed date aperture that utilises a black on white date disc. A black disc may have blended better, but fortunately the white disc does not detract from the overall aesthetic.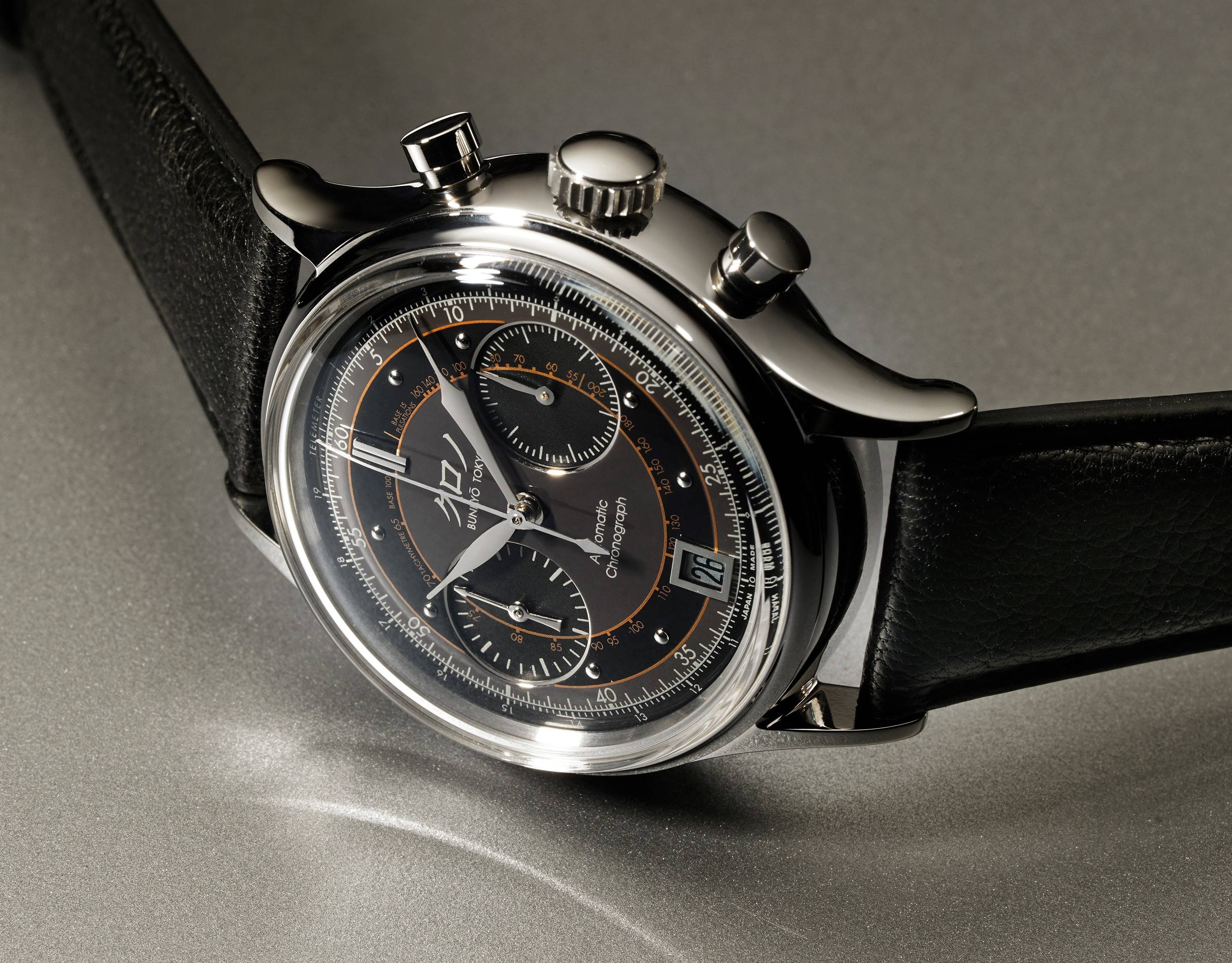 The Kurono Chronograph 2 is 38mm in diameter, a size I believe really caters to many wrists and is closer to more classic dimensions. Including the sapphire crystal, the watch has a case thickness of 13.9mm. The stainless-steel case is entirely polished, but with the sporting dial scheme it feels youthfully elegant. It is water resistant up to 30 meters, so it can safely take encounters with rain or minor splashes.
The watch is outfitted on a grained black calf leather strap with a polished stainless steel buckle. The strap is 20mm in width but tapers down to 16mm in size.
Inside the Kurono Chronograph 2 is the mechanical chronograph caliber Seiko NE86A. The movement consists of 311 parts and features like a column wheel, vertical clutch, and a magic lever winding system. According to Kurono, it has "a unique three-pointed hammer system that starts, stops and resets all three wheels simultaneously. This system allows for all the counters to advance continuously rather than only at one-minute intervals. Additionally, instead of driving the minute and hour counters from the chronograph seconds wheel, each is driven by a powered wheel with its own clutch." This results in increased accuracy and durability for the movement. Vertical clutch architecture has the added benefit of being able to be run continuously with far less wear and tear to the movement over time. In terms of power reserve, the NE86A can last a respectable 45 hours before needing another wind.
Kurono Chronograph 2 pricing and availability:
Delivery: End-March to June 2021 (Starting from Public Tier)
Price: JPY418,000 / USD3,993 excluding applicable taxes (50% pre-order deposit)
Limited to 500 pieces worldwide (Including Japanese Domestic Market)
*20% of stock will be reserved for JDM and Kurono Contributors
Public Sale (Worldwide): 20 February 2021 23:30 PM JST PST 06:30 AM – California, United States EST 09:30 AM – New York, United States CET 15:30 PM – Central European Time GST 18:30 PM – Dubai, United Arab Emirates SGT 22:30 PM – Singapore, Singapore
Click here to learn more information on the Kurono Chrongraph 2, as well as make an account to purchase. Watches tend to sell very quickly, so you will want to be signed in and ready to click to order when the purchase window opens.