Pack it up, 2020 has its wildest watch. Prepare your eyes for the blackmobile that is the Jacob & Co. Twin Turbo Furious Bugatti La Montre Noire
Fergus Nash
There are few things as desperately desired in this world as the 1930's La Voiture Noire. The long-lost Bugatti Type 57 SC Atlantic Coupe was one of just four high-specced models to be made between 1936-38, and the only one to be completely draped in black. Whether it now lies in ruins at the bottom of the ocean, or still hides away in some abandoned shed, is a constant source of fever dreams for wealthy collectors and daydreaming teenagers alike. Last year, Bugatti announced a new one-off hypercar named after 'The Black Car', honouring the legend of the first. Not to be outdone, Jacob & Co. have now announced their own piece unique — the murdered-out Jacob & Co. Twin Turbo Furious Bugatti La Montre Noire.
The original Bugatti Type 57 SC Atlantic Coupe is not just famous for its legend, it has to be one of the most breathtakingly gorgeous cars ever designed. The sensuous, sweeping curvature almost seems like it's taken from a comic book, or been given the Salvador Dalí melting treatment. The rear end of Bugatti's La Voiture Noire from 2019 echoes that fluidity, while the aggressive front end reminds you that it very much belongs in the modern era, and packs around 7.5 times the grunt of the original with 1500 horsepower. 
La Montre Noire, or 'The Black Watch', achieves very much the same spiritual succession in its case. Hewn from 18k black gold and black titanium, the case shape effortlessly evokes Bugatti's horseshoe front grill, as well as the bodywork of both cars. It's masterfully set with no fewer than 344 natural black sapphires, simultaneously giving it the texture of a sporty tyre and a pseudo-snakeskin feel. The finishing adds a great level of detail, too, with the inky-gloss polish pierced by the occasional facet of lateral brushing, or even some large sections of knurling around the crown.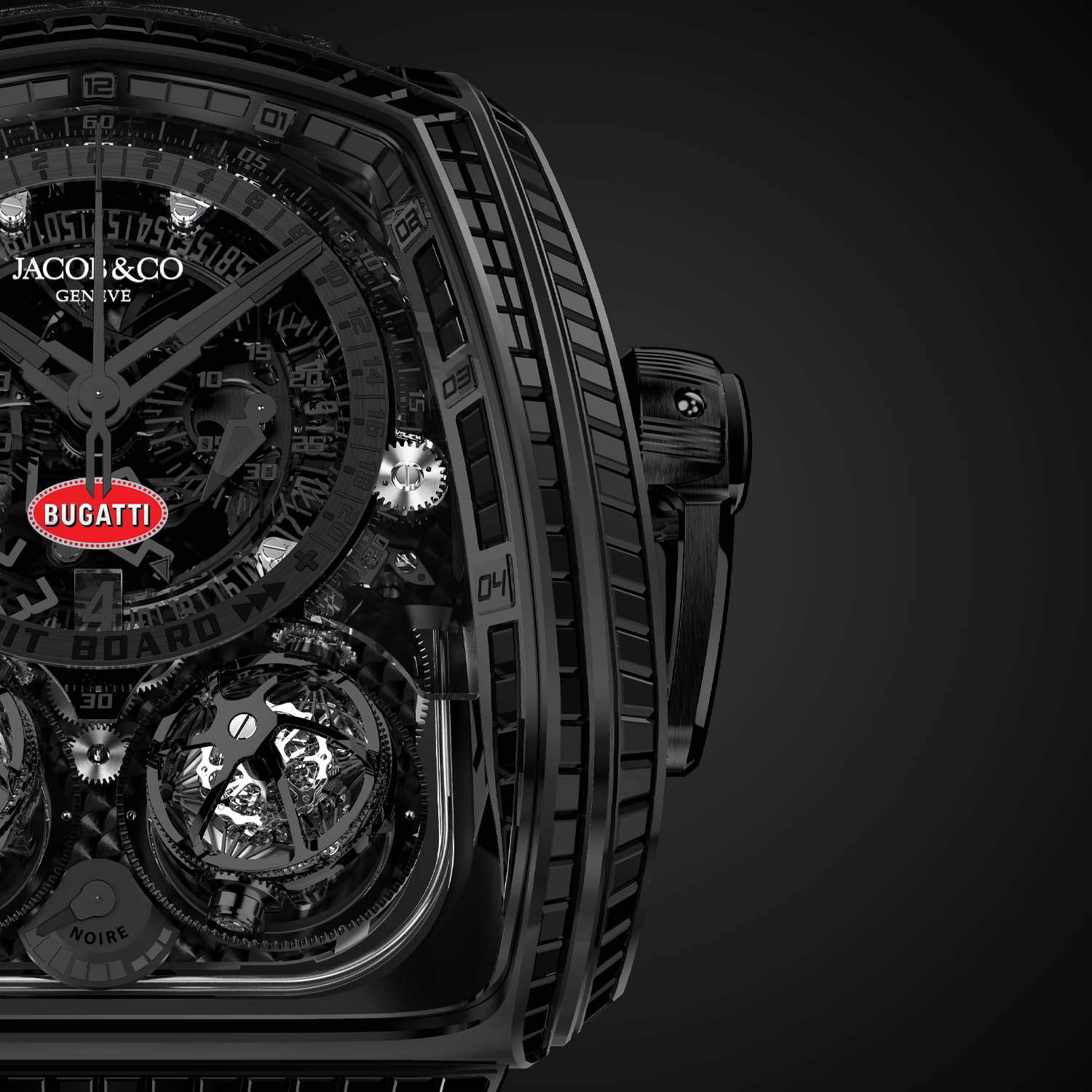 Of course, it wouldn't be a Jacob & Co. creation without a few tremendously intricate complications. In fact, it's hard to list the specifications of La Montre Noire without it sounding like a very geeky game of Top Trumps. Although 2019's La Voiture Noire is equipped with four turbochargers, the Twin Turbo part of this timepiece's name is represented by two triple-axis tourbillons, gyrating and spinning constantly beneath the crystal for the owner to enjoy. Between the two lies a power reserve indicator, letting the owner know when their 48 hours are running out. That would be enough to impress anyone, but the complexity doesn't stop there. A monopusher chronograph engages the 'reference time display' in the centre of the dial, allowing for a comparison to a time — for example, a lap around the Ehra-Lessien test track where the Bugatti Veyron recorded its top speed.
As if all that doesn't quite meet your expectations, Jacob & Co. had to go the extra mile when adding a minute repeater. Similarly to the A. Lange & Söhne Zeitwerk Minute Repeater, La Montre Noire uses a decimal chiming system which makes interpreting the time a lot easier alongside our digital age. Instead of the high and low gongs chiming once every 15 minutes for the quarters, they chime once every 10 minutes. For instance, a time of 3:17 would be heard as three low chimes, one double chime, and then seven high chimes. This attention to detail epitomises what it means to be a high watchmaker.
Just like La Voiture Noire, the Twin Turbo Furious Bugatti La Montre Noire is a unique piece, and will likely never be seen outside of photographs. The quoted price is $1 million, but even that abundance of money is no guarantee of getting your hands on something as utterly exclusive as this. Some people ask how a watch can possibly be worth that much money, and there is a grain of truth in that sentiment, but logic doesn't belong in this conversation. Just as you don't need a hypercar to do the weekly groceries, an individual will buy this watch for the thrill of having bought it, and hopefully it will spur them on to hunt down that long-lost Bugatti.