INTRODUCING: The Isotope GMT 0º is a futuristic GMT with a fascinating twist
Thor Svaboe
It's all well and good catering to our tastes for vintage nostalgia and I admit that I'm usually wearing some form of field / pilot's / diving watch of 37-40mm that conforms to that genre. But there is a feeling that we are nearing the peak of that graph. If that should happen, the Isotope GMT 0º is ready to take a leading position.  The new model is a fine Swiss-powered tool watch made by a design team with a happily progressive agenda.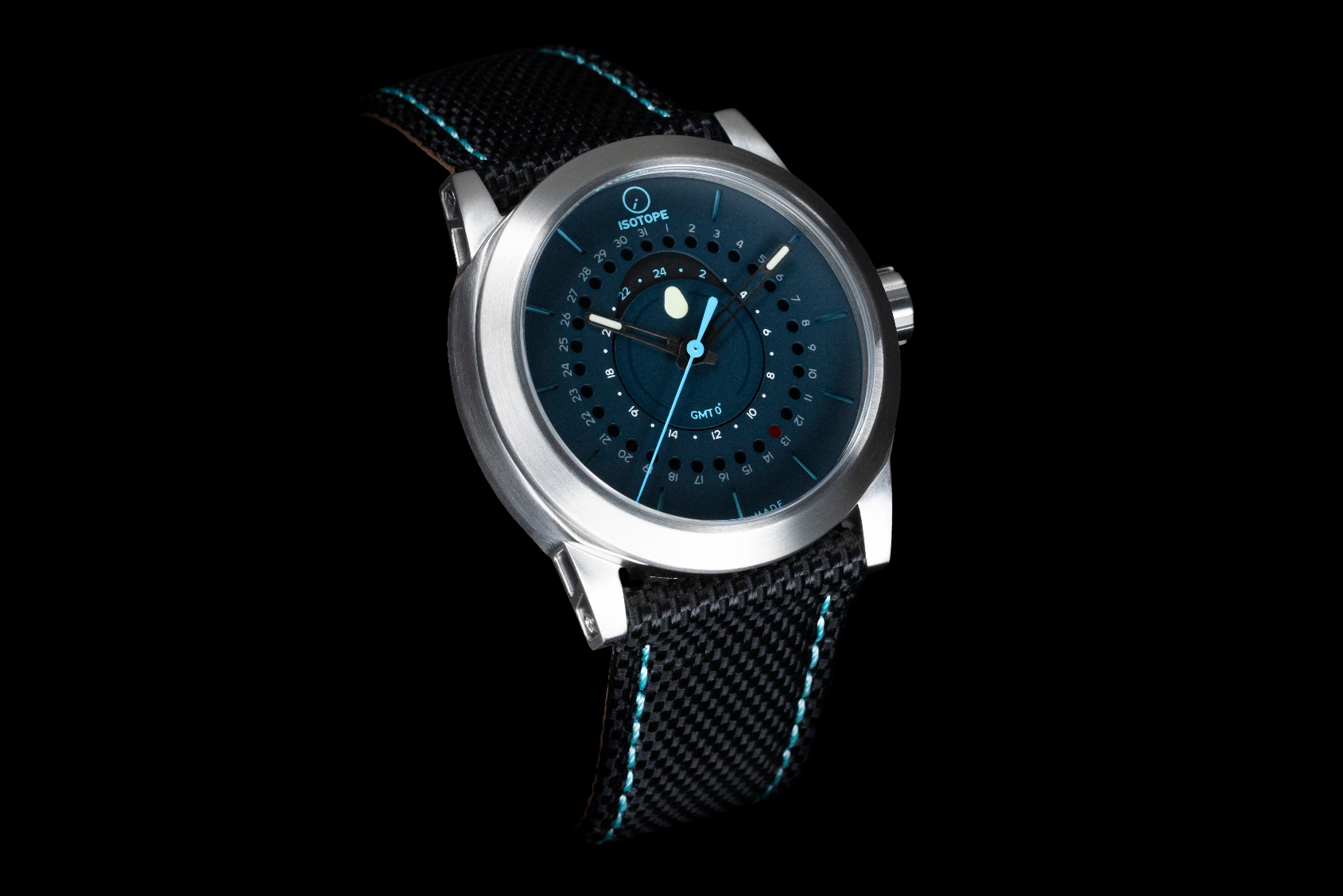 This makes for a design that, while it may look like the cool love child of Bauhaus minimalism and seventies dial art, is a proper 200m tool watch that also debuts a delightful complication. As a British manufacturer, Isotope are based on the same meridian as Greenwich, hence the significance of the name GMT 0º. To further reinforce that concept, the 41.5mm case is also made in a subtle oval shape to represent that aforementioned zero.

The clean dial architecture of mech-tech minimalism is home to the first combination of a Nomos-like date dot circle, showing us a red dot popping cheerfully out from an inner perforated circle, and clear stick markers printed for the hours framing it on the dial. Rounded, future-proof skeletonised hands show the time, while at the centre we find the second intuitive complication, the most imaginative GMT display I've seen in a while.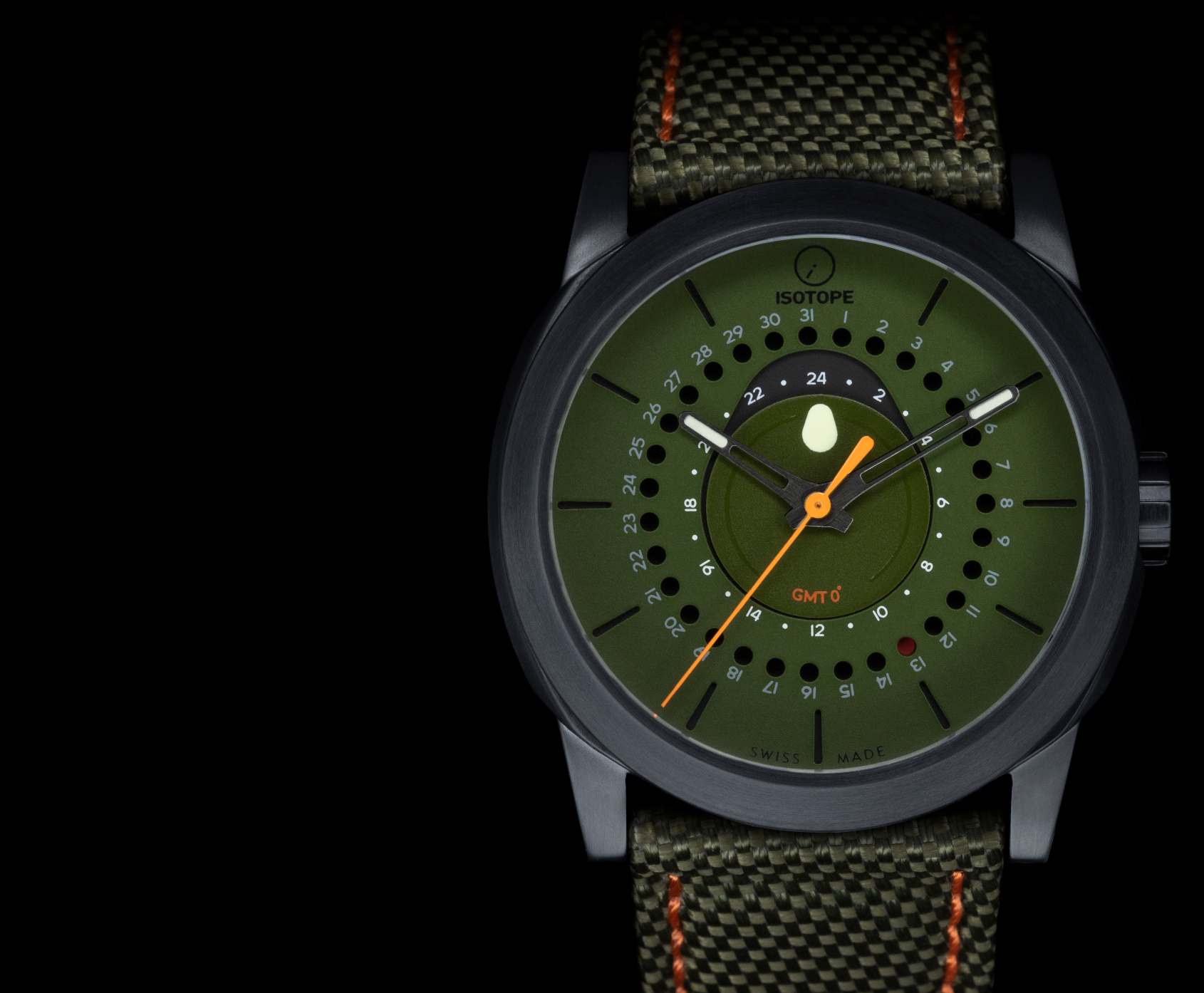 The seemingly asymmetric inner circle of 24 hour markings is based on Isotope's teardrop symbol to signify the darkest hours between 9pm and 3am through a dark, organic shape and represent the GMT second time zone pointer. Another lacrima symbol, lumed and printed on a rotating centre disc, points to the 24-hour timescale, while creating unusual shape-play within the tidily organised dial.
Turn the Isotope GMT 0º around and you get another teardrop-shaped window into the customised automatic calibre. This is produced by Swisstech, a 28,800vph – 40 hour power reserve movement with a three-year warranty, nestling behind a cool black Isotope rotor.
The rest of the caseback is thoughtfully engraved with the most important time zones of the world, making for easy adjustments on the move. Great for whether you're actually travelling, or trying to remember (sorry Luke) not to wake up the rest of the Time+Tide editorial staff as they're actually asleep when I'm awake in my Nordic office.
The case itself, while looking tool-tough and simple head-on, has intricate cut-out details on the lug sides and on the custom Isotope steel buckle. The choices of colours are many and varied, from a military-tough black DLC case with a very 2021 olive-green dial, to a formal dark blue. Each version has its own design accents, like the olive green with its bright orange seconds hand and logo, matched to a tee by an orange stitch on the tool-tough 24mm fabric strap.
Personally, I do love the limited-edition Ruby Red, its saturated dark red dial playing a more elegant wrist-game than its more tool-orientated brothers, showing just how much of a difference that a colour can make. Be warned: both this and the black DLC olive-green dial version are limited editions, so you might have to hurry to bag one, as tempting and unusual watches they certainly are.
The Isotope GMT 0º, price and availability:
The Isotope GMT 0º, is available from 710 GBP on a fabric strap.
For more details, visit Isotope Watches right here.
Made in partnership with Isotope Watches. However, the opinions expressed in this article are our own in accordance with our Editorial Policy.