Hublot truly is a pioneer in watch materials. Their motto "The Art of Fusion" is not just a tagline, it is a prime directive that drives all of their manufacturing. By thinking ahead, and pushing the boundaries of what a manufacturer can do, they are able to execute things many (if not all) brands are not capable of producing. There are brands who work with sapphire, sure, but with the new Hublot Big Bang Integral Tourbillon Full Sapphire – a limited edition of 30 pieces – the brand has made the first Big Bang that utilises the robust material almost entirely, including its bracelet.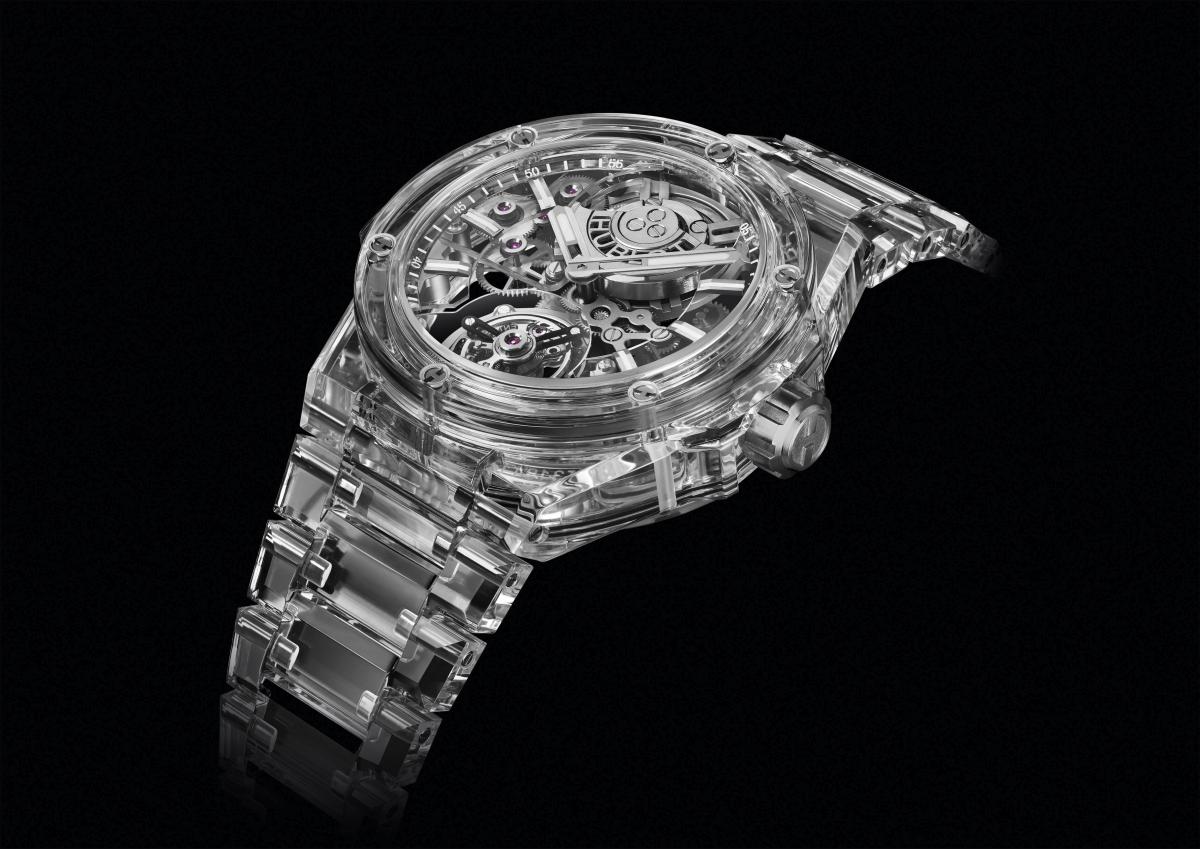 The sapphire case is 43mm in diameter and 15.25mm thick. Its case presence is more than just its larger dimensions. The Hublot Big Bang Integral Tourbillon Full Sapphire is incredibly faceted throughout. The brilliant material is incredibly tough to scratch while worn, which means it is also very difficult to shape during the manufacturing process.
Hublot explains, "Sapphire is a very demanding material, growing slowly for months and expanding into large solid blocks of pure transparency. While being cut into shape, sapphire is not only the hardest case material but also one of the hardest to work with. The sapphire is cut, milled, and ground into watch case components using 5 axis CNC machines. To recover its original transparency the sapphire is polished with diamond powder, a lengthy process repeated over and over to ensure a flawless mirror smooth finish and refined touch. Together the milling and polishing processes can require more than several 100 hours of work."
The only Achilles heel for the case, in my mind, is its water resistance of 30 metres. I would have personally preferred another 20 or more metres, but I understand that this is no ordinary metal watch. It would also take a personality as bold as the Hublot Big Bang Integral Tourbillon Full Sapphire to want to take this watch into the ocean.
The dial puts the full movement on display, as the aim of the watch is to be as transparent as possible with the maximum amount of sapphire possible. There are technically bridges to the movement components, you just might not see them right away considering they are made of transparent sapphire. There are no secrets with this watch, everything is in full view. But Hublot have still managed to make the dial quite legible, with a stepped inner bezel for the minutes scale and rectangular hour indexes at 2′, 3′, 4′, 8′, 9′, and 10′. The missing indexes allow the mainspring barrel and micro-rotor at 12′ and tourbillon at 6′ to be in full unobstructed view, and the remaining hour can be intuitively deciphered from the outer minutes scale. The present rhodium-plated hour indexes, as well as the hands, are coated with white SuperLuminova® for added visibility in darkness.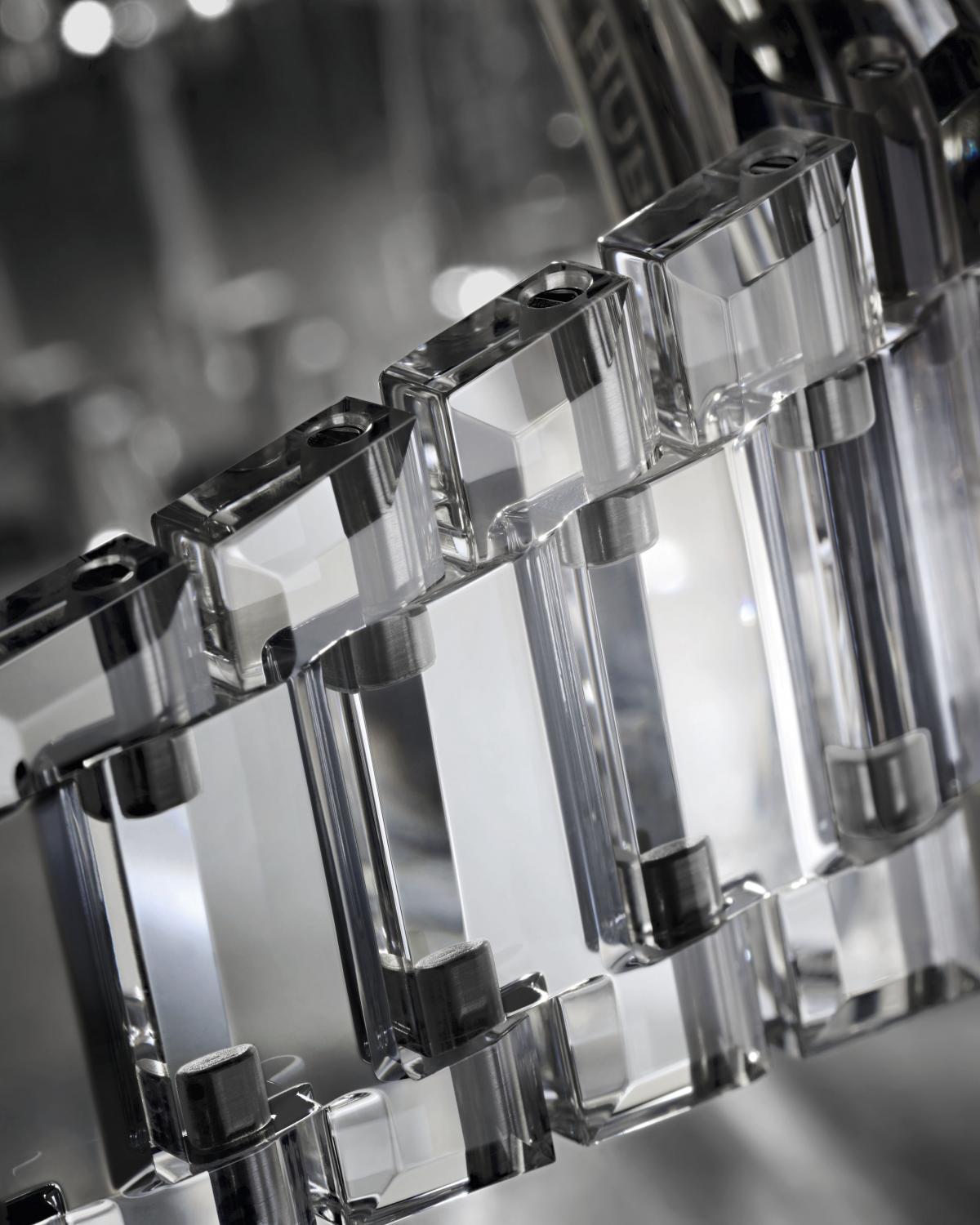 While the entire novelty has an aspect of shock and awe, the bracelet is one of the main attractions here. It marks the first time a Big Bang fashioned in sapphire has a matching bracelet. The case is comprised of 37 components, five of which are entirely made of sapphire. But the bracelet alone comprises 165 components, 22 of which are made from sapphire. Therefore you can imagine just how complex it is to fabricate.
Hublot explains, "Each component had its own industrial process. A third of these were specially designed to provide unique harmony with the transparency of the case, and to offer fluidity and flexibility. Of particular note are the titanium inserts Hublot developed, ultra-reduced to ensure they do not protrude either side of each bracelet link – a first for the manufacture, and probably for watchmaking."
Aside from the titanium link inserts, the only other component not made of sapphire is its deployant buckle clasp – a notoriously sensitive component. Therefore Hublot opted to make it out of titanium as well and, in my opinion, it completely fits with the aesthetic of the watch.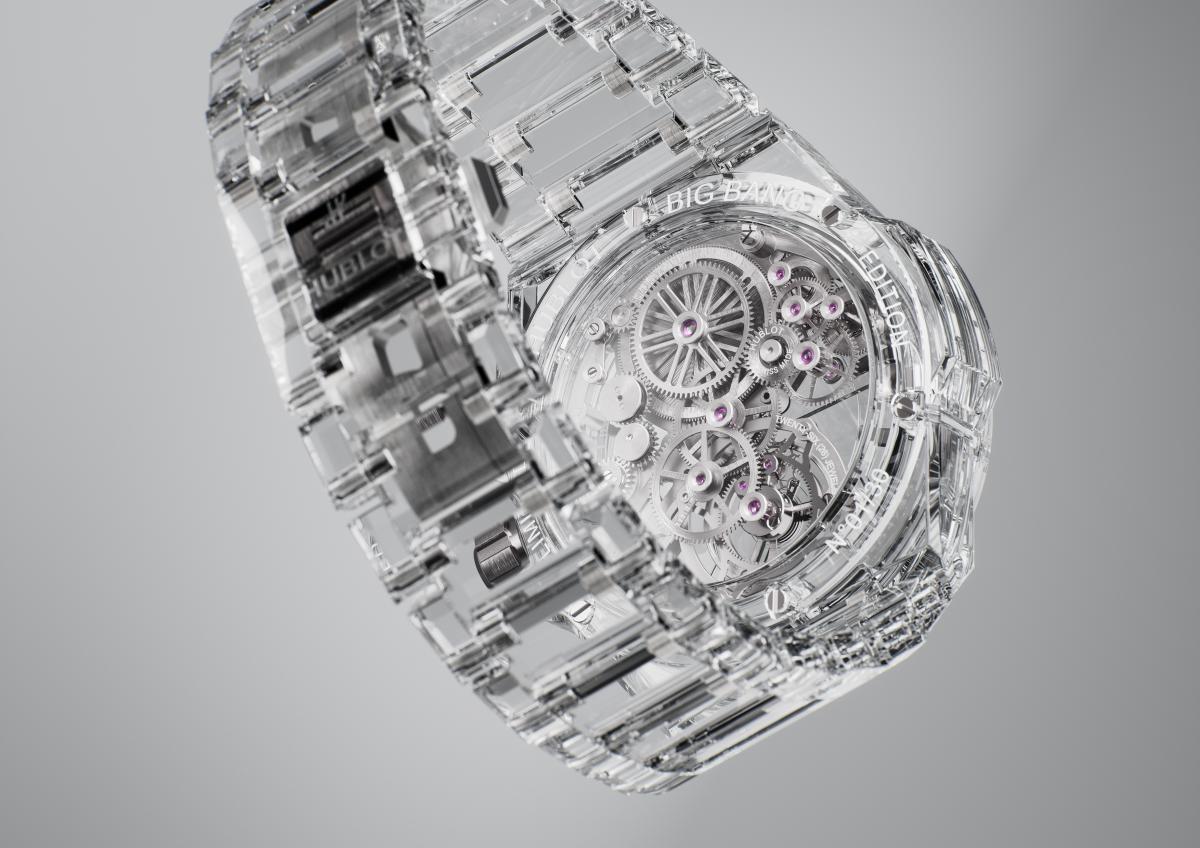 Inside the Hublot Big Bang Integral Tourbillon Full Sapphire is the automatic manufacture calibre HUB6035, entirely designed and manufactured in-house. The micro-rotor and mainspring barrel at 12′ and the tourbillon at 6′ work to create balance and symmetry to the dial. With its three transparent sapphire bridges, exclusive to this new model, the components look as if they are suspended in space.
Hublot explains, "Each gear train is not only penetrated by light coming in from the dial side and passing through the skeleton movement on the other side: now, and for the first time, light enters the heart of the Big Bang Integral Tourbillon Full Sapphire from all directions. It is diffused, refracted, reflected, twisted and twirled – a fragment of light encapsulated on the wrist."
In terms of specifications, the calibre HUB6035 has a power reserve of 72 hours that is maintained while on the wrist due to its 18K white gold micro-rotor. It is a symphony of sapphire bridges and anthracite ruthenium plates that ultimately results in a industrious and luxurious top-class aesthetic.
Hublot Big Bang Integral Tourbillon Full Sapphire pricing and availability:
Hublot Big Bang Integral Tourbillon Full Sapphire is a limited edition of 30 pcs. and will be made available at Hublot Boutiques. Price: $422,000 USD