INTRODUCING: Elvis was a Sith Lord in a parallel universe and he wore the Hamilton Ventura Elvis80 Skeleton
Thor Svaboe
First impressions: a stealth black UFO. perhaps? And then a red pulsating zig-zag that I feel like illustrating with a comic book "ZAP!". This is my introduction to the Hamilton Ventura Elvis80 Skeleton. Fresh from being inspired by the vintage purity of the Intra-Matic chronograph we recently covered here, I was not expecting this dark futuristic visage from the Hamilton brand. Anyone conversant with watches past a certain age instantly equates the Hamilton Ventura with Elvis Presley. This, however is not a vintage reissue of his quirky triangular wristwatch from 1957 that was the first-ever battery-powered watch. Pretty damn far from it, in fact.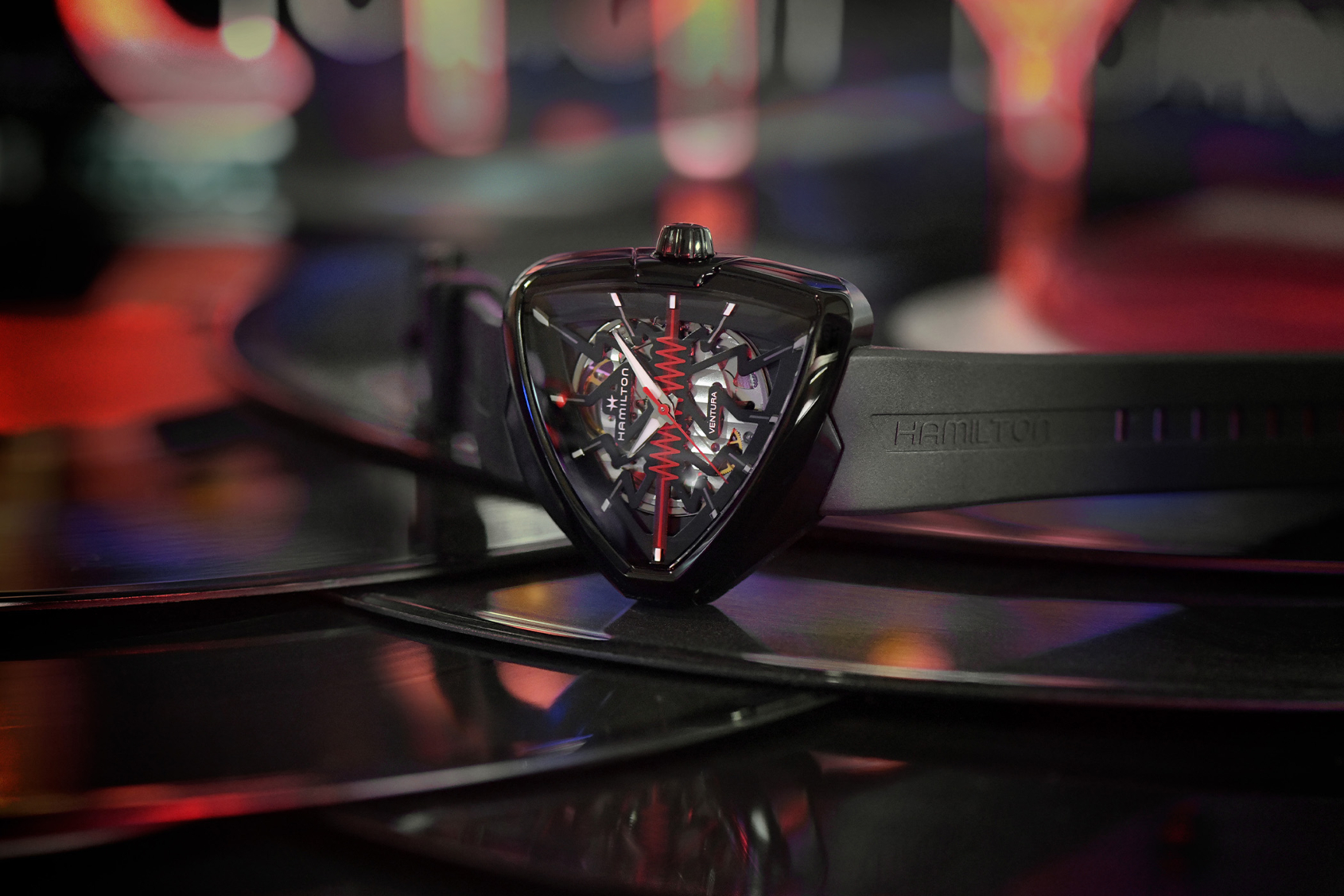 The Elvis Aaron Presley wearing this was not born in the US of A, but in a parallel universe, on The Death Star. Yes, this is the watch worn by Elvis the Sith Lord, a wristworn dynamic sweep of a soft alien shape – no easy circles or rectangles here, son.  In order to wrap your head around it and make sense of it, you have to consider the visual references of '50s American design. Because the basic shape, one suspects, is informed by that world of chrome tailfins and UFO-shaped diners.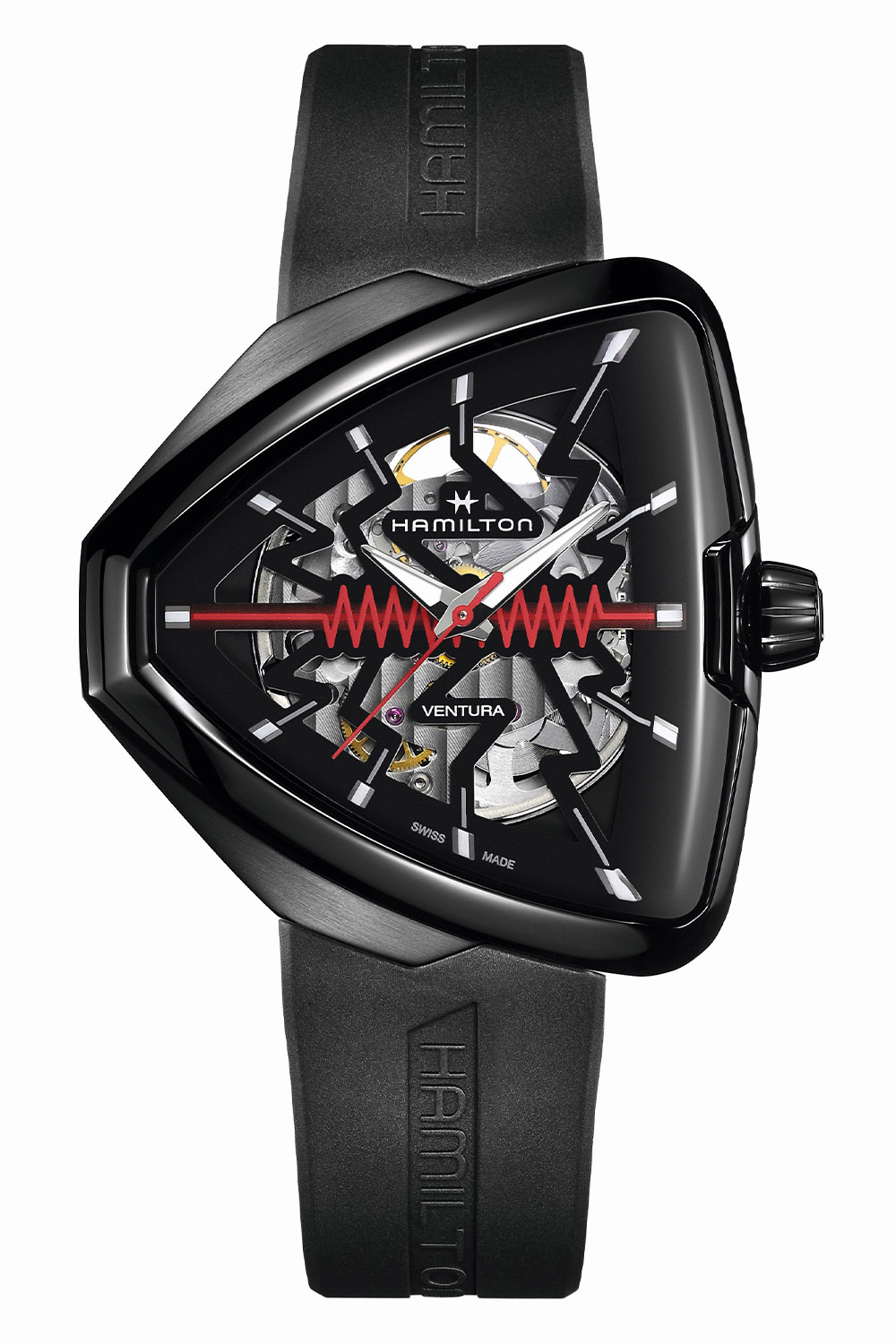 Theorising aside, it's a cool weapon of a watch, still looking like nothing else after it's debut close to 70 years ago, with the same contemporary size of 42.5mm x 44.6mm as the 2015 models introduced for what would have been Elvis' 80th birthday. This is the smooth and recognisable shape in a smooth black PVD finish though, if you feel like flexing, there is also a delectable rose-gold version. The case is more intricate than it first seems, with racecar-like wing protrusions to the top and bottom, or is that the sides? The Ventura has such a strong dynamic in its arrowhead shape you'll get slightly disoriented. The stance of the wedgy design is akin to a low Italian supercar that conveys a sense of movement even when standing still.
This is only underlined by the strong red accent, scorching across the skeletonized dial like a live current, a nod to the Ventura's electric past, and a textbook design twist to the black, matched by a red seconds needle. The rest of the skeletonized dial gives us a sneaky peek of the well-known ETA-based engine room, with the electric theme underlined by strong black shapes, viscerally cutting across the surface in soft zig-zag patterns. Legibility is easily distracted by the details, but is pulled in by a stubby, sharp sword hand set with plenty of Super-Luminova to match the blocky indices, set on a broad matte black rehaut. So, while you might find it disturbing at first, reading the time through something that is (shock! horror!) not actually round or rectangular, it makes for a very balanced design.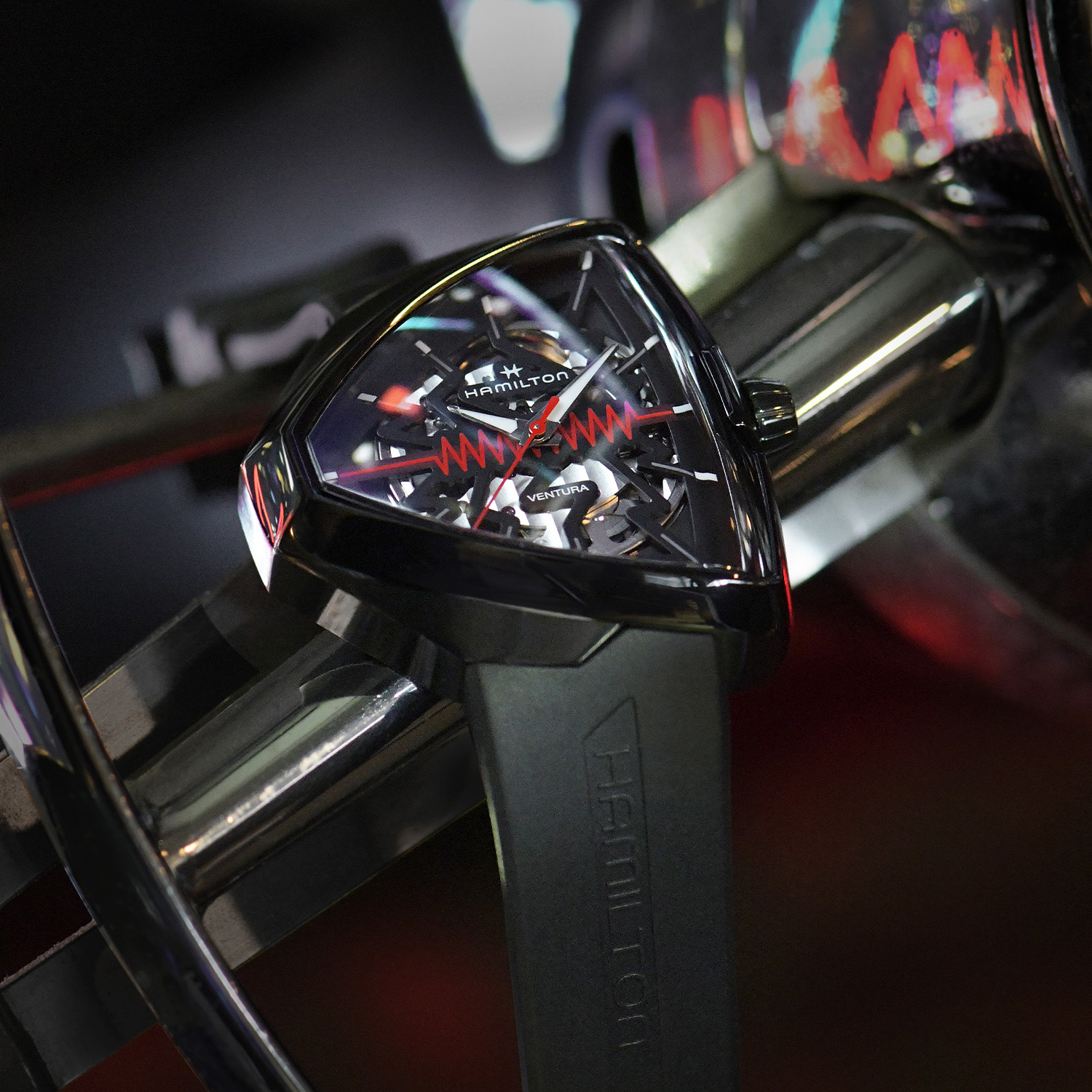 The sapphire crystal follows the shape of the futuristic case in organic fashion, lending it a very tactile look. Underlining the tough aesthetic, Hamilton has fitted the watch with a soft, logoed rubber strap, flowing out of the case and no doubt making the lugless shape sit like a dream. If you're more of a cocktail lounge guy, have a closer look at the warm tones of the PVD rose gold version, the same comfortable black rubber strap integrated into a no less alien case, here with a richer lustre, and the tonal black and gold dial of a bona fide party piece.
Behind the clear caseback lies the Hamilton's H-10-S automatic, their version of the ETA C07.111, that we know as the solid Powermatic 80. With 25 jewels, beating at 21,600vph and an 80-hour power reserve, our praises for this movement has already been sung, you'll also find it in the other Elvis80 models. The Hamilton rotor is decorated with Hamilton's logo, and mainplates have the elegant touch of perlage. To conclude I would say that this is a refreshingly different, sharp spaceship of a watch, fitting of the Ventura name and ready for a new generation of fans. Yes, the very same ones that will need a five minute explanation of who Elvis Presley actually was. 
The Hamilton Ventura Elvis80 Skeleton, price and availability:
The Hamilton Ventura Elvis80 Skeleton is CHF 1,795 on a black rubber strap, in either black or rose gold coated PVD. For more details, visit Hamilton right here.
Made in partnership with Hamilton. However, the opinions expressed in this article are our own in accordance with our Editorial Policy.