INTRODUCING: The DOXA SUB 200 Whitepearl is as fresh as an arctic breeze
Thor Svaboe
The SUB 200 is the most contemporary diver's watch in the retro-tastic arsenal of DOXA.  It was already a strong contender to be the ideal summer watch, but such claims are further strengthened by this all-white remix. While the DOXA SUB 200 Whitepearl may be colourless, it's far from insipid – the feeling it evokes as invigorating as an arctic breeze.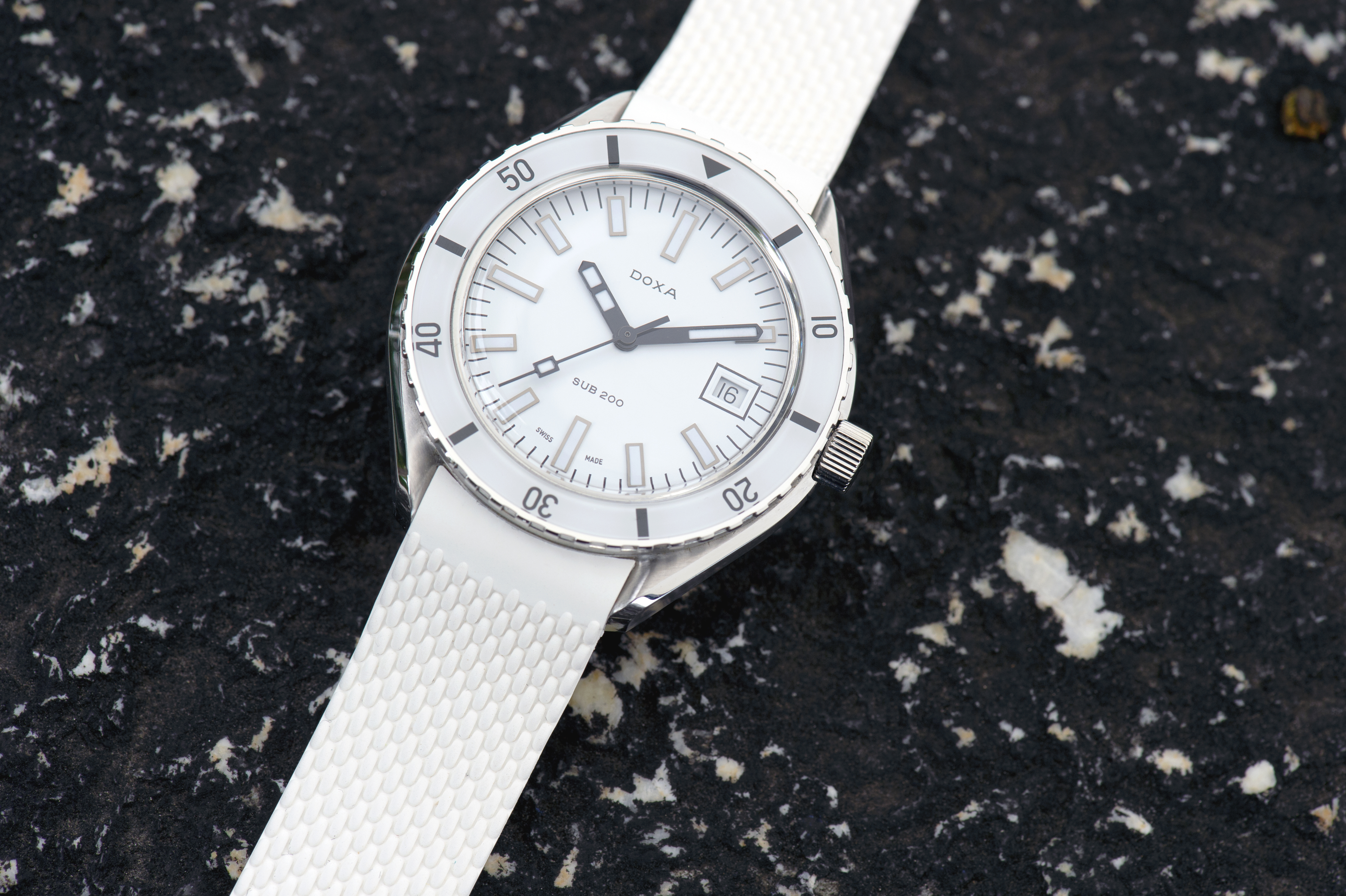 Amongst the six bright colours in the SUB 200 arsenal, this stand out as pure blast of summer white. Whether you choose the soft comfort of the beads-of-rice bracelet, or DOXA's mesh-patterned, supple rubber, this is a watch that's fresher than the white snow on the summit of Everest.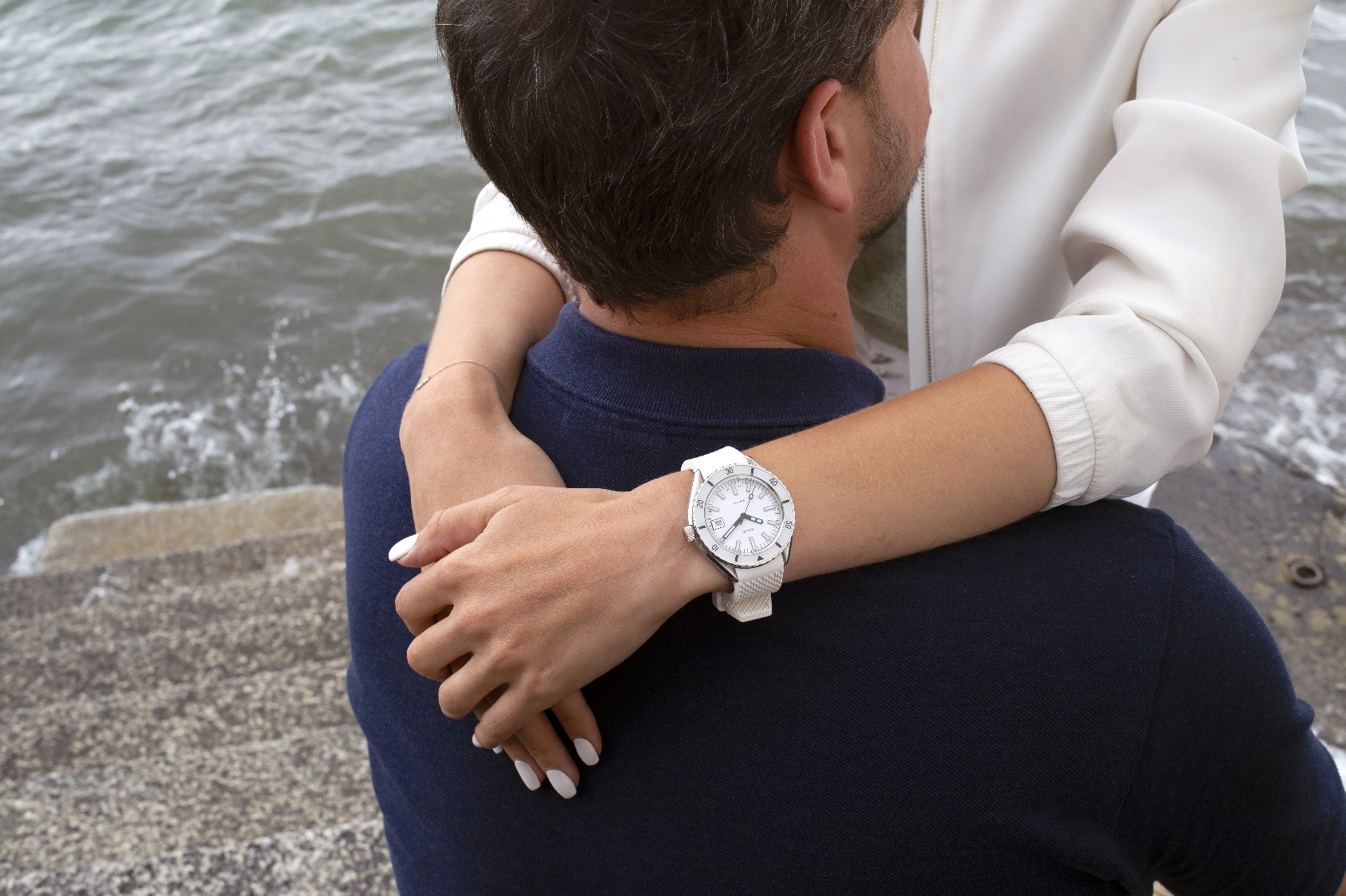 The pure white dial makes the applied indexes pop, while the lacquered black hand-set completes a distinctive shot of monochromatic style.
The case of the SUB 200 is 42mm, but wears more like a 39-40mm through a stroke of Swiss genius. The stubby but delicately twisted lugs are the reason for the comfort belying its size. Visually, the watch offers the skin diver look of fat steel bezel and thin middle case with a dynamic blend of brushed middle with a swathe of polished bevel along the flanks. This pure '60s design strikes you as classic DOXA, yet somehow feels more contemporary than the SUB 300 range with its delicious barrel-shaped tonneau case.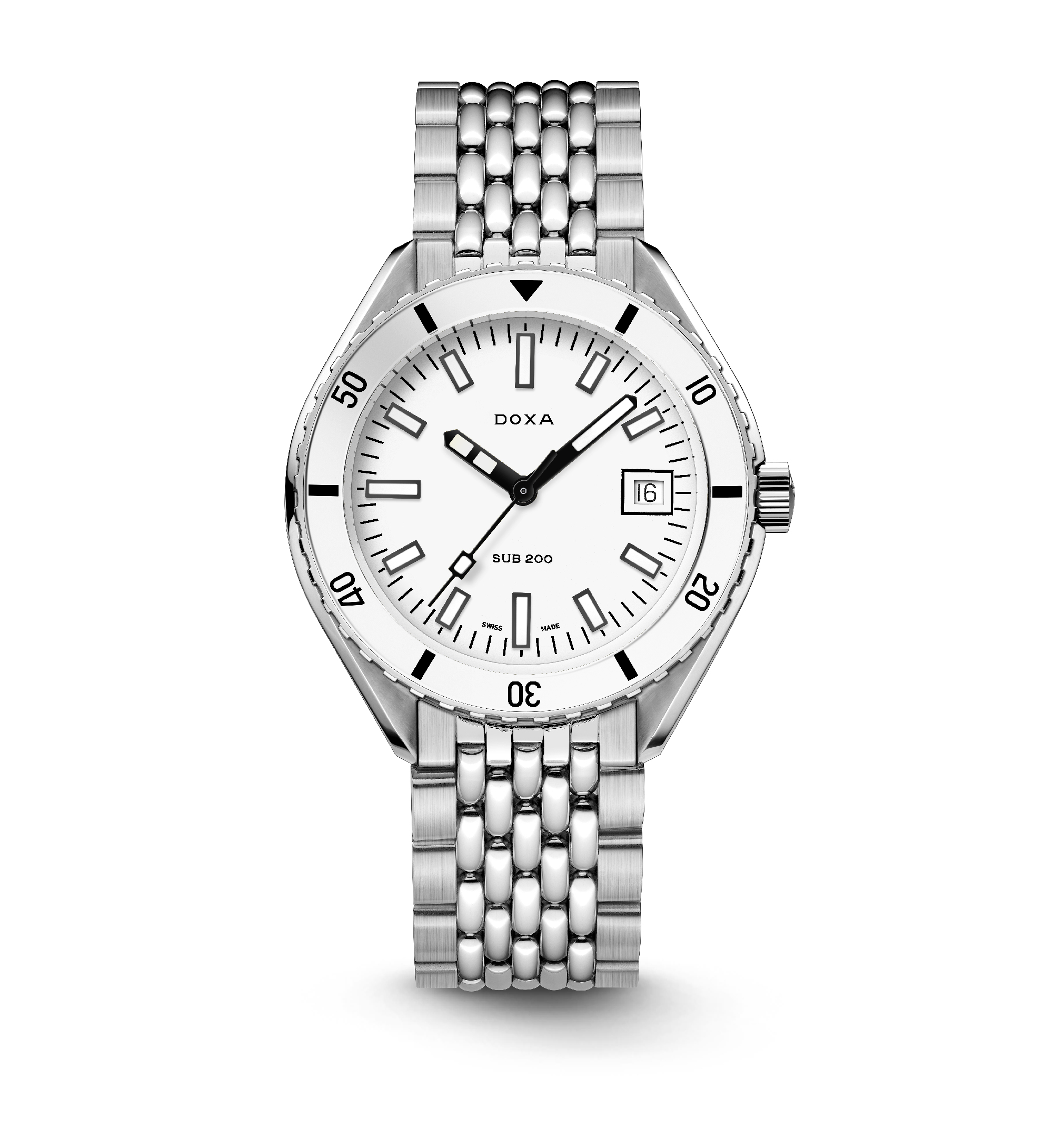 Without sounding cheeky I'd say you actually might need two DOXAs. Yes, this is a diver's watch, but with its non-lumed sapphire bezel insert it's really the perfect pure sports watch, the slim profile easily slipping under a shirt.  For your dives, get a SUB 300 for when that chunk of a digital dive computer just doesn't give you the quite right vibe.
With its 200m depth rating and box type sapphire, the SUB 200 is nothing but bullet-proof, and its ETA 2824-movement brings a 48 hour power reserve that comes with a reliable dose of Swiss craftsmanship. If there's a crisper choice for a white '60s sports watch I have yet to find it, as this new DOXA proves that we don't need bright colours to be won over by their distinct design language.
The DOXA SUB 200 Whitepearl, price and availability:
The DOXA SUB 200 Whitepearl is $1550 AUD on rubber, and $1590 AUD on a beads-of-rice bracelet.
For Australians wishing to buy, please click here 
For anybody outside of Australia wishing to buy, please click here