INTRODUCING: A brand new gold Speedmaster for half the price of vintage – the Omega Speedmaster Apollo 11 50th Anniversary Limited Edition
Cameron Wong
Seriously, what better way to celebrate the 50th anniversary of the moon landing than with a traditional gift of gold. And a very special type of 18k gold at that, but a little more on that later. Omega has just dropped its most anticipated release of the year, the Omega Speedmaster Apollo 11 50th Anniversary Limited Edition. And I've got to say, while I knew something special was coming, my jaw dropped when I saw the news.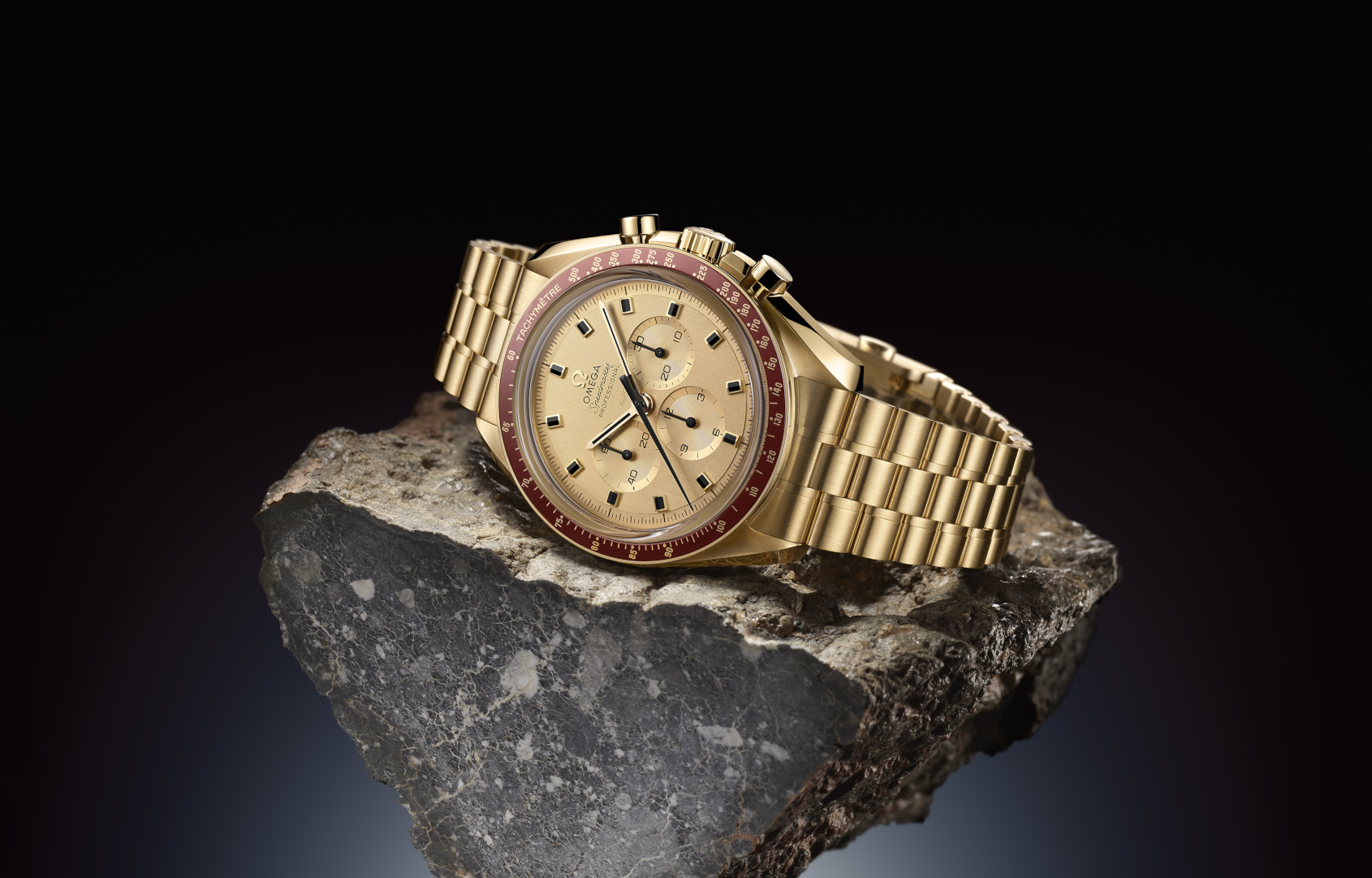 First, a quick history lesson. On the 20th of July 1969, Neil Armstrong and Buzz Aldrin became the first humans to walk on the surface of the moon. Leaving their defining footprints in not just the lunar dust but also in the history books. As I'm sure most of you are already aware, during this momentous achievement, Buzz Aldrin was wearing the Omega Speedmaster on his wrist – a reference ST105.012 for those of you playing at home. Marking an incredible moment in time, particularly for the Swiss watch brand with the legacy of the Omega Moonwatch taking flight.
However, this brand new limited edition sees its inspiration taken from another equally as cool reference. Omega have re-created one of the most widely coveted vintage Speedmasters, the solid gold 1969 BA145.022 – the brand's first ever commemorative numbered edition. Only 1014 of these models were ever produced, and with space fever sweeping across the globe soon after the incredible success of Apollo 11, in November of 1969, 19 of these models – with numbers between 3 to 28 – were presented to the astronauts of NASA's space program in Houston at a special "Astronaut Appreciation Dinner". Numbers 1 and 2 were ceremonially presented to US President Richard Nixon and Vice President Spiro Agnew, while numbers 33 through to 1000 were offered for sale to the general public, with the remaining numbers reserved for future astronauts of the Apollo program, as well as for industry leaders, politicians and other personalities. To say that getting your hands on one of these was/is hard would be a massive understatement, and recent sales have seen vintage examples go for well over $90,000 AUD, with at least one reportedly selling privately during a Phillips auction in November last year with an asking price converting to almost $200,000 AUD (140,000 CHF), however its final price is unknown.
Now, for 2019, owning a solid gold Speedmaster was just made a little easier, but you best be quick. Limited once again to 1014 pieces, design-wise, the Omega Speedmaster Apollo 11 50th Anniversary Limited Edition is a living image of the original. With a solid 18k gold 42mm case complete with burgundy bezel, black onyx hour markers, and black varnished hands. Aesthetics are the only similarity, however, and what is actually on offer is a fully updated Moonwatch. Its case, bracelet, dial, hour markers, and hands, while all gold, are actually created in Omega's brand new proprietary 18k gold called Moonshine – a unique alloy made with additional palladium. While Moonshine's golden hue is slightly paler than regular 18k yellow gold, its composition enables a greater resistance to its colour and lustre fading over time. A timeless quality that is mirrored in the now ceramic burgundy bezel, which remains true to the original with a base 500 tachymeter scale (now represented in Ceragold) that features a dot over 90 (DON) and a dot diagonal to 70.
Just as on the original, the mix of contrasts between the burgundy, black and gold creates an opulent and, quite frankly, drool-worthy look. However, flipping this Moonwatch over is an even greater feast for the eyes. Displayed underneath a sapphire crystal display caseback is an all new generation of hand-wound chronograph movement. Based on the architecture of the calibre 1861, this new movement, dubbed the 3861, now features a Co-Axial escapement and a silicon Si14 balance spring. Meaning that this is the very first Omega Master Chronometer rated hand-wound chronograph movement to be featured in the series – and most certainly a view as to what's more to come. In celebration of the anniversary, the calibre 3861 also features Moonshine gold-plating on its main plate and bridges, while an inner ring, also crafted from 18k Moonshine gold, immediately surrounds it after undergoing two separate laser ablation processes, as well as two PVD colour treatments in black and blue. Culminating in a matte finish, which displays text as well as a partial world map that shows the Americas with a glimpse of Cape Canaveral – Apollo 11's launch site. On the opposite side of the map, produced in perfectly true proportion to the world map (that is 3.67:1 in diameter) sits a domed lunar meteorite, representing the moon and reminding of the significance of the accomplishment being paid tribute to here.
For fans of Omega, there are also numerous vintage Omega logos used throughout the design, creating yet more interesting little Easter eggs just waiting to be found, while each model ships in its own unique crater box similar to that of the originals, with side panels made of grey ceramic that are 3D printed with the lunar surface while the Sea of Tranquillity (Apollo 11's landing site) is printed on the box's top. Because of its construction, no two boxes will ever look the same either.
It's these tiny, yet significant, details that make the Omega Speedmaster Apollo 11 50th Anniversary Limited Edition a truly special piece for both watch and space nerds alike. A truly fitting tribute to one of mankind's greatest achievements.
Omega Speedmaster Apollo 11 50th Anniversary Limited Edition Australian Pricing
Omega Speedmaster Apollo 11 50th Anniversary Limited Edition, $46,350
Specifications
Model
Speedmaster Apollo 11 50th Anniversary Limited Edition
Reference No
310.60.42.50.99.001
Case Material
18k Moonshine gold
Movement
Omega Master Chronometer Calibre 3861