To celebrate their 70th birthday, luxury watch retailer Ahmed Seddiqi & Sons have released a limited-edition watch with Bovet. The distinctive black and yellow design of the resulting watch is certainly eye-catching. But what makes the Ahmed Seddiqi & Sons and Bovet 19Thirty Dimier U.A.E Limited Edition such an intriguing proposition? Well, to understand the watch, let's remind ourselves of exactly who we are dealing with.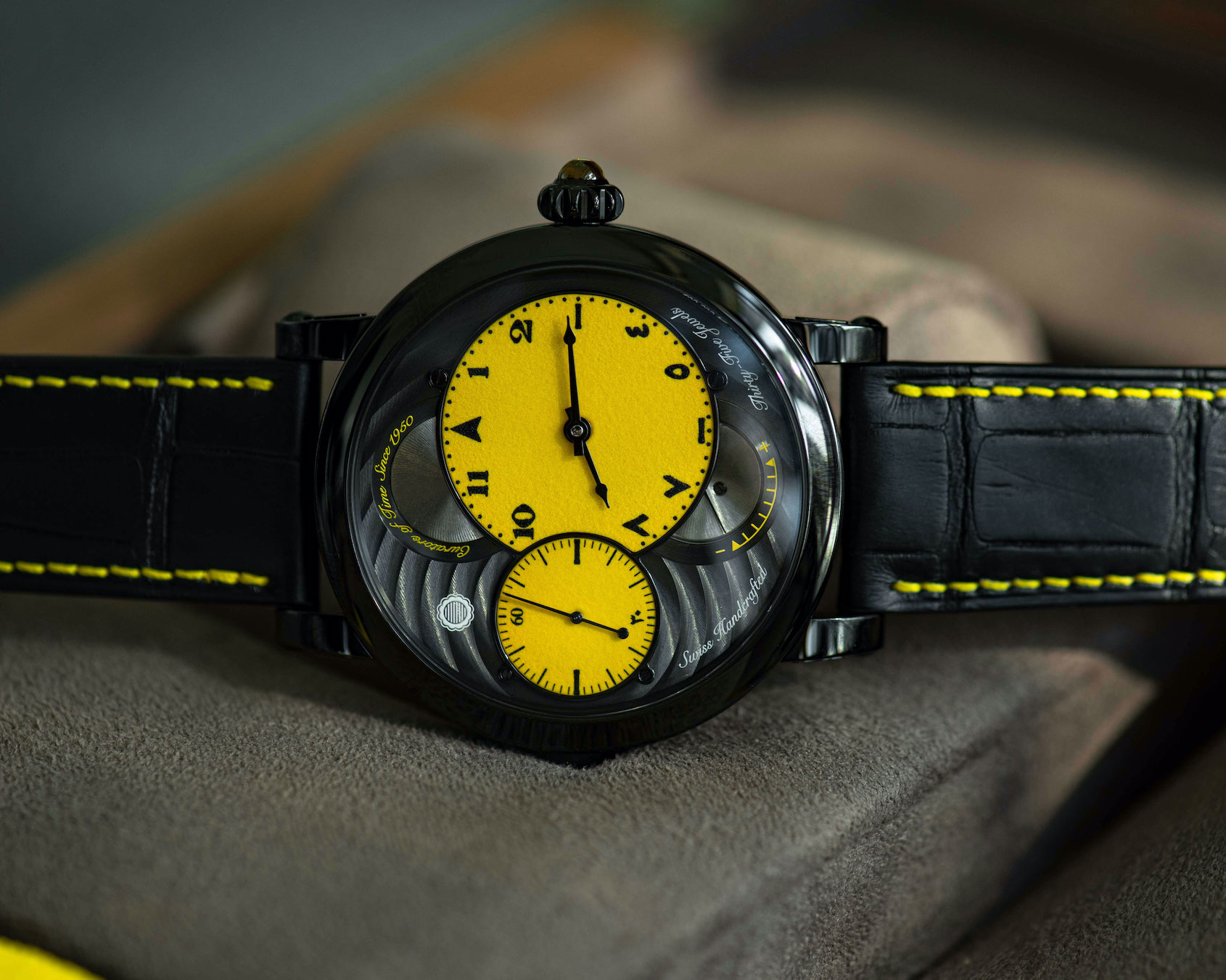 Founded half a decade after World War II, in 1950, Ahmed Seddiqi & Sons is one of the most important luxury retail networks in the Middle East, and indeed the world. Beginning humbly as a single shopfront in Dubai's souk, the retailer now has dozens of boutiques across the UAE, representing dozens of luxury watch brands. Ahmed Seddiqi & Sons is also the force behind Dubai Watch Week, the biannual watch fair that serves the horological world more as a conference than a trade show. In the years when Dubai Watch Week isn't held, they put on the virtual Horology Forum (which was thankfully scheduled for 2020, so no physical event had to be cancelled due to travel restrictions), which is, in effect, a summit for the watch world to discuss and debate. Compared to the now defunct Baselworld that had about a century of success behind it, Dubai Watch Week is an up-and-comer that now has a lot of space in which to grow.
Bovet, on the other hand, is a storied watch manufacturer with a founding date much further in the past, but who have faced more challenges over the last half-century. The firm was founded by Edouard Bovet from Fleurier, Switzerland, in 1822, and for more than a century was well known for producing immaculately finished pocket watches. For a variety of internal reasons, Bovet was bought and sold a number of times, with the brand sadly remaining dormant for a number of years. In 2001, the brand was saved by a keen watchmaking enthusiast Pascal Raffy who, after a very successful career in pharmaceuticals, was looking for an exciting new project. Nearly two decades later, Bovet is once again a successful independent watchmaker, producing only a couple of thousand watches a year.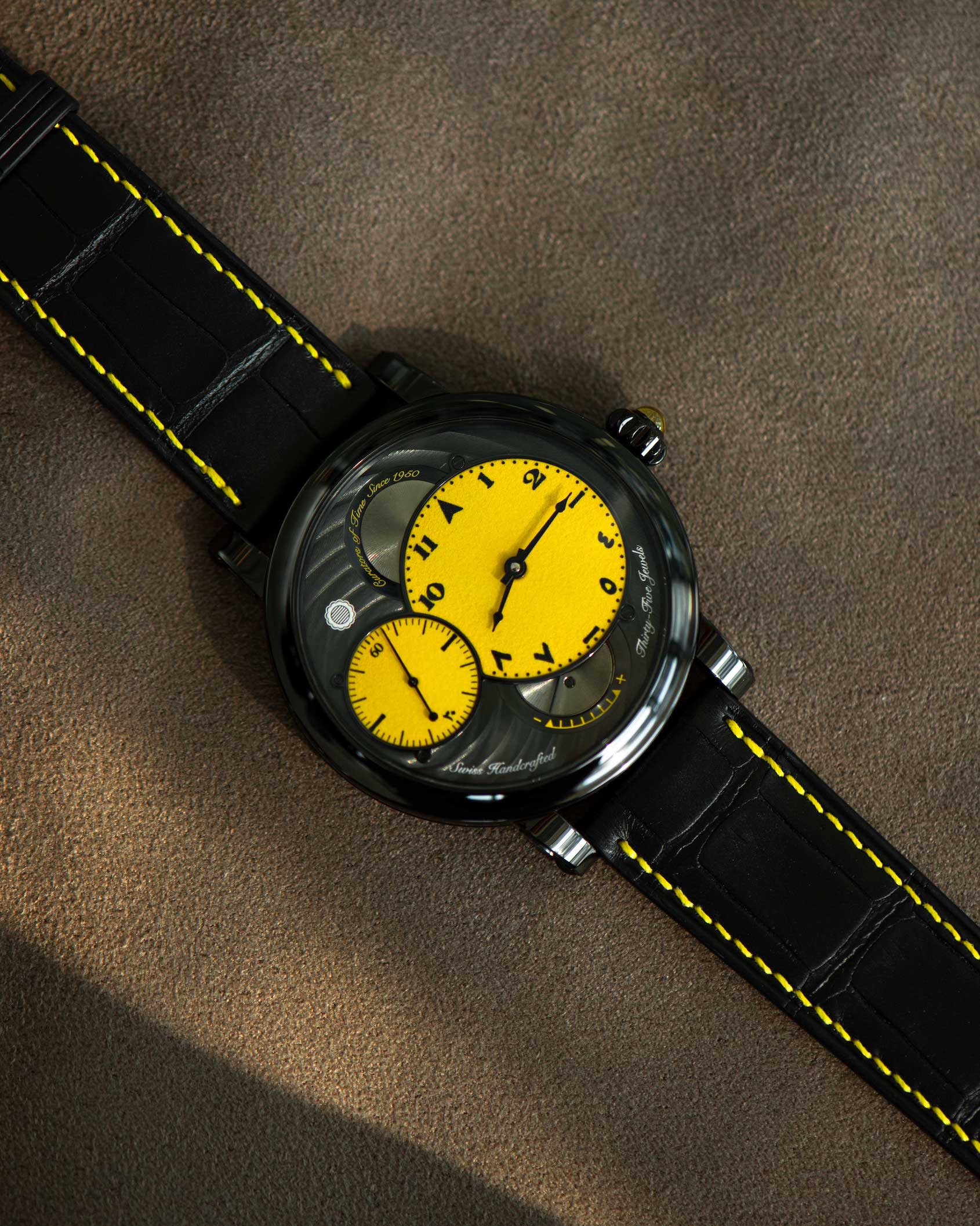 Turning our attention now to Bovet's collaboration with Ahmed Seddiqi & Sons and we find a black DLC-coated case measuring 42mm in diameter. Bovet has never produced a watch with a case in this material, but the black DLC coating provides a sensational contrast for the bright yellow of the dial, a tone further highlighted by the yellow sapphire cabochon on the crown of the watch.
The dial features spiralling Côtes de Genève that's blackened to match the case and yellow luminova that fills the entirety of both main and sub-dials. Marking the main dial is a blend of Arabic and Hindi numerals, which is a nod to the Middle East where the watch will be sold. Above the dial you can read the text "Curators of Time Since 1950", which is the tag line of Ahmed Seddiqi & Sons. Another interesting note — and one that speaks to the strength of the relationship between the two brands — is the simple Bovet logo featured on the dial rather than the full Bovet name you would normally see.
What is also rare to find in a Bovet watch is a caliber that does not feature a tourbillon. Instead, the calibre 15BM04 allows the watch to remain quite slim at just 9.5mm tall. The hand-wound movement boasts a pretty impressive 7 days of power reserve, which is displayed near the 6 o'clock position on the dial. The watch also arrives on two straps – a black matte alligator strap and a matching yellow rubber strap.
The Ahmed Seddiqi & Sons and Bovet 19Thirty Dimier U.A.E Limited Edition is a special watch, not only because it marks the anniversary of one of the most important watch retailers today, but because it shows the strength of the link that they have as a retailer to the brands they work with. Plus, it's basically impossible to feel unhappy with a yellow watch on your wrist, so it's bound to add some pep to your step.
Ahmed Seddiqi & Sons and Bovet 19Thirty Dimier U.A.E Limited Edition price and availability:
The Ahmed Seddiqi & Sons and Bovet 19Thirty Dimier U.A.E Limited Edition is AED105,000 and is limited to 50 numbered pieces. For more details, visit Ahmed Seddiqi & Sons right here.