INTRODUCING: The Fratello × Czapek Antarctique Passage de Drake Viridian Green Limited Edition
Zach Blass
Fratello knocked it out of the park in their last collaboration outing with Oris to create a bronze/burgundy Big Crown that nailed all the details with aplomb. Now our friends in the Netherlands have brought their keen eye for aesthetics to another end of the pricing spectrum, teaming up with a high-end independent watch manufacturer that anyone who calls themselves a watch enthusiast needs to know about. In the wake of Watches & Wonders, and the clear trend for green dials throughout this year's novelties, the Fratello x Czapek Antarctique Passage de Drake Viridian Green Limited Edition will be available for pre-order next week.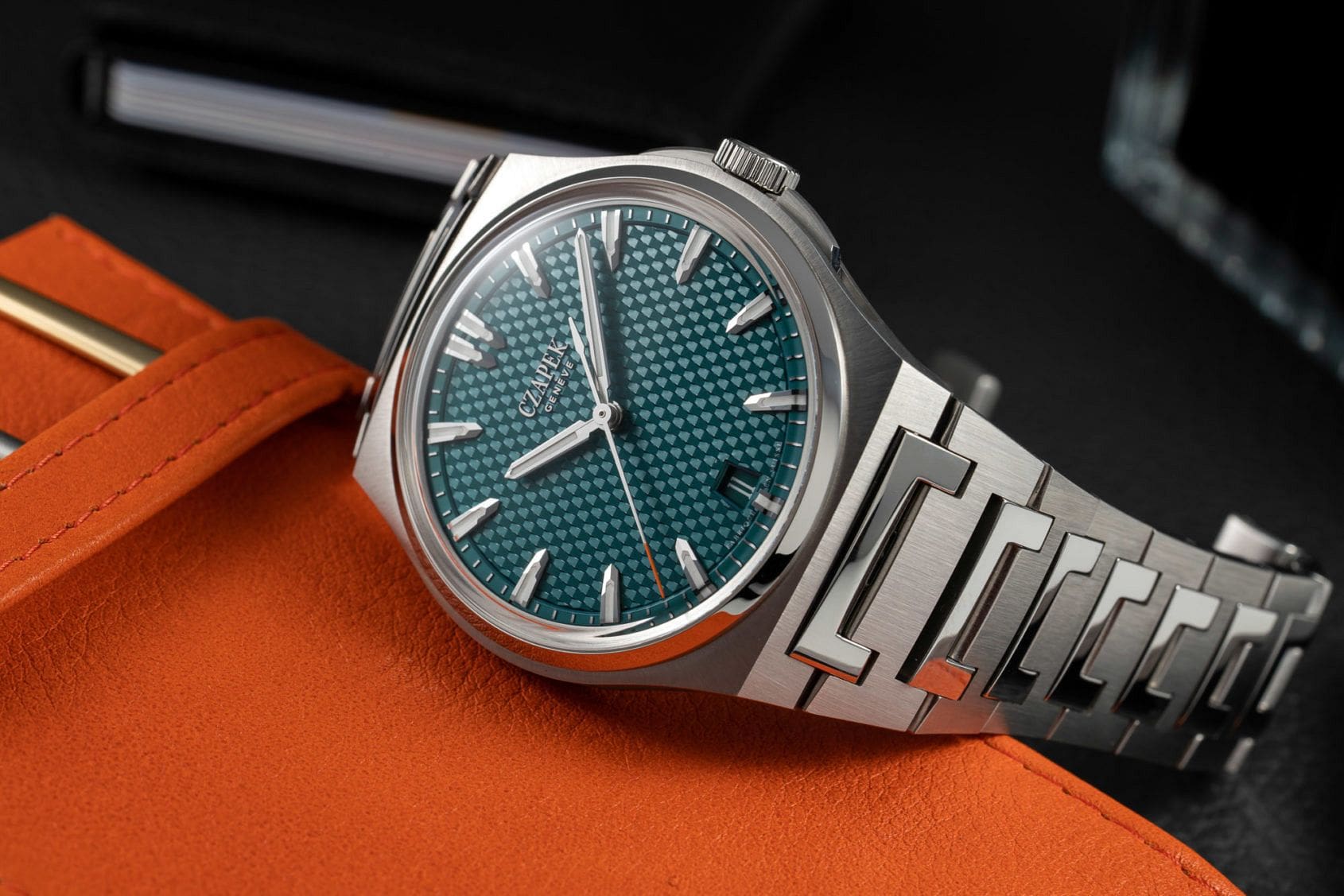 Czapek emerged, or should I say reemerged, on the scene in 2012 – a modern manufacturer built upon a classic name in the pantheon of watchmaking. You probably have heard of Patek Philippe, but when the now holy trinity brand was born it was actually known as Patek, Czapek & Cie. Founded in 1839, Antoine Norbet de Patek and François Czapek would work together for six years before parting ways – Antoine later founding Patek Philippe in the aftermath. Czapek, whose horological work was so respected he would create timepieces for figures such as Napoleon, would continue to manufacture watches until 1869 before slowly disappearing from the industry.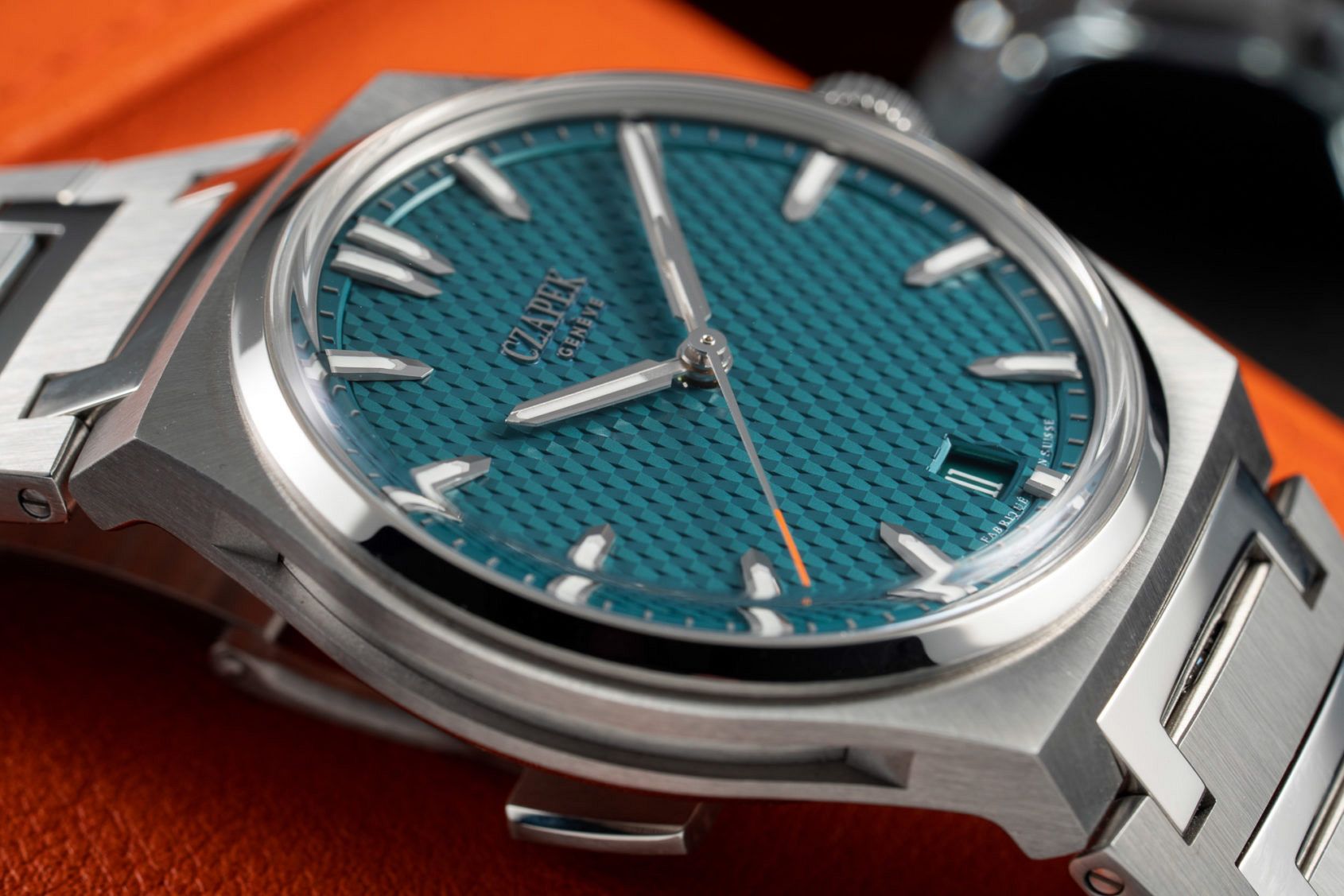 Where the modern day Czapek brand has resonated with collectors is through their distinct means of taking classic high-horology and applying it to modern aesthetics and original creations. When their first Antarctique was released, the watch was praised for its on-trend design that simultaneously stood on its own merits and originality. Aside from an integrated bracelet, every other facet and component of the watch is designed in a manner unlike the popular integrated designs that enthusiasts clamor over.
Like its predecessors, the Fratello x Czapek Antarctique Passage de Drake Viridian Green Limited Edition is 40.5mm in diameter, 11.3mm thick (including the sapphire crystal), and 45mm lug-to-lug across the wrist. Its stainless-steel case – 120 metres water-resistant with a screw-down crown – is almost entirely satin-brushed with the only mirror-polished element on its front being the conical sloped bezel. A notable design element is the scalloped case flanks of the watch, which add a futuristic element to its overall look. Its form is not also purely aesthetic in purpose but the result of its case core and carrier being designed to better protect the watch against shock.
After a lot of back and forth between Fratello and Czapek, the pair finally locked in a viridian green dial that is decorated with flinqué guilloche. The checker-like pattern adds a lot of depth to the dial, as well as creating dynamic shadowing through light play. The hands and applied claw-style indices are filled with SuperLuminova®, further driving home the sporty nature of this elegant timepiece. They are also affixed to a raised outer minutes ring that creates a step into the central textured dial. A date aperture at 6′ seamlessly and symmetrically blends into the dial, offering the mainstream complication in a manner that should not offend dial purists.
An interesting aspect of this limited offering is the subtle customisation offered. Fratello watches explains: "Ultimately, a watch should reflect your personality and your style. We get that. Therefore, you can choose how to make the overall aesthetic a little more personal: ‍ 1. A full steel seconds hand 2. Steel seconds hand with an orange tip 3. Full orange seconds hand (for the very bold among you)."
Whatever you choose, I don't think you could go wrong. Call me boring, I would would probably go for a full steel seconds hand.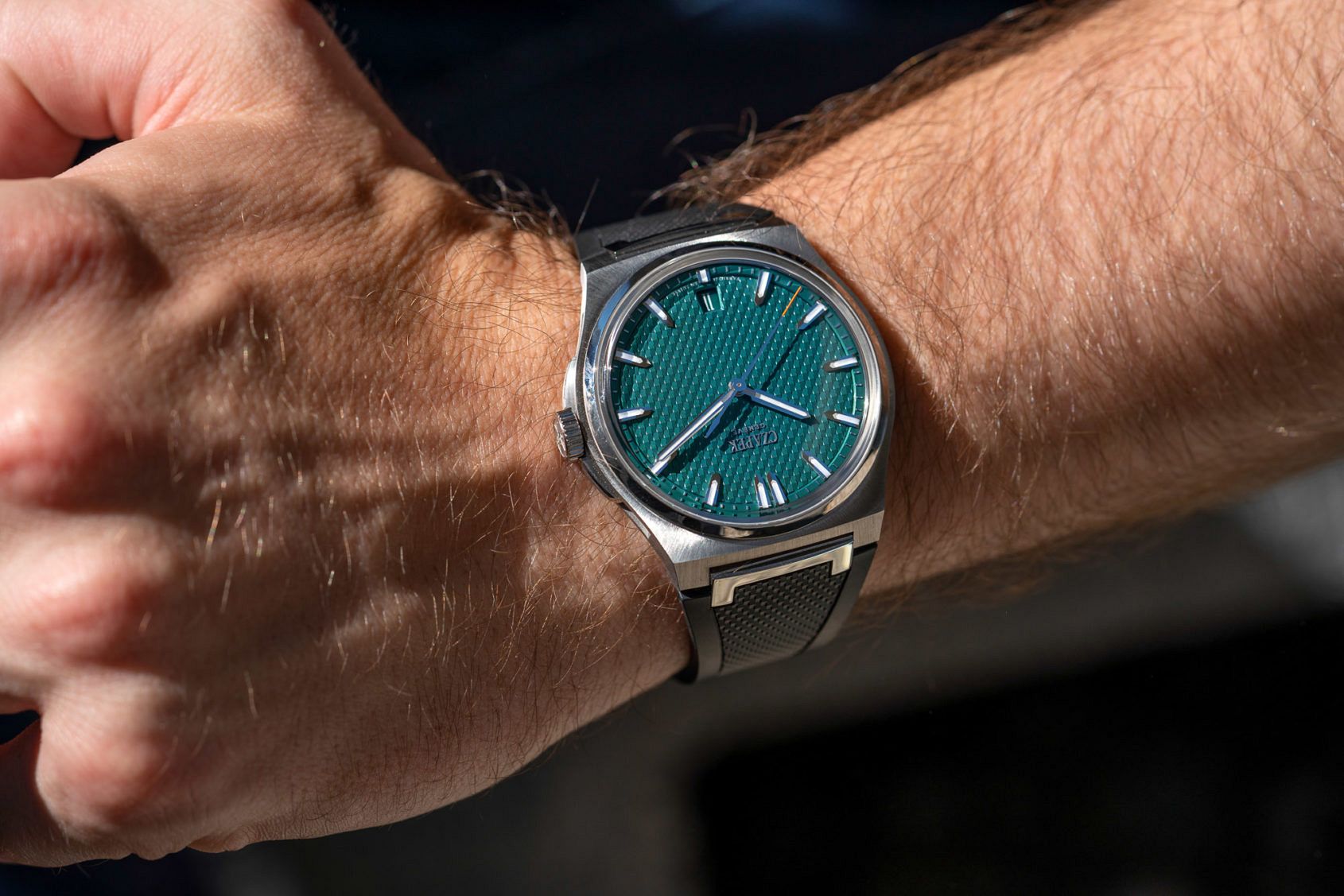 The Fratello x Czapek Antarctique Passage de Drake Viridian Green Limited Edition is bundled with two strap options: an integrated stainless-steel bracelet and integrated rubber strap. The rubber strap tames the look a bit, gravitating closer to the sportier side of the spectrum. As somewhat of a clasp connoisseur, I love that Czapek leverages a twin trigger butterfly-style clasp – in my opinion, they centre better on the wrist and improve how the watch wears. Once cut to size, I imagine it is super comfortable on the wrist.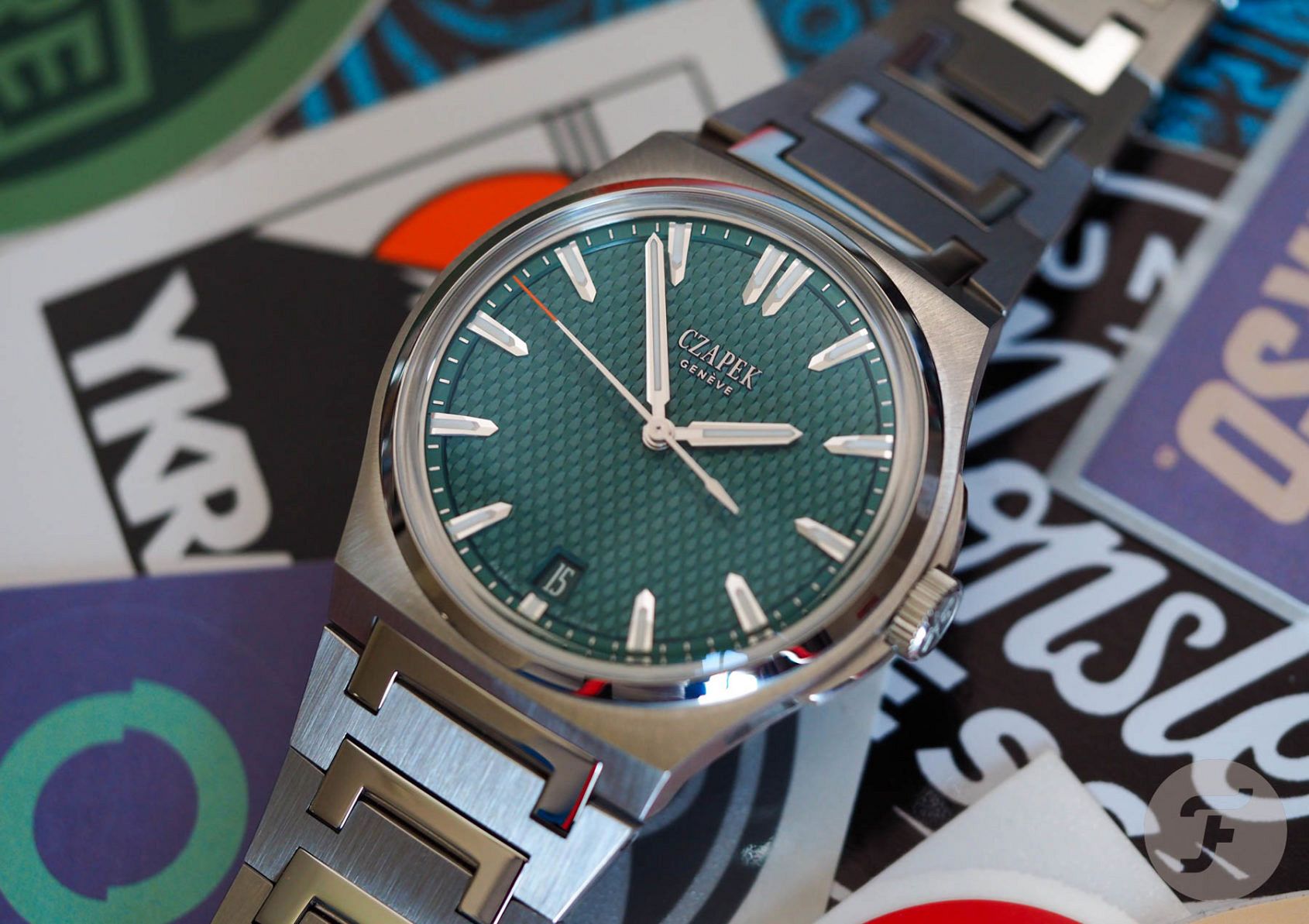 The bracelet, while still made of sporty stainless steel, raises the elegance factor through the increased incorporation of mixed finishes. While the case is predominantly satin-brushed, the brushed bracelet features C-shaped centre links that are entirely mirror-polished. This is a familiar formula, a satin-brushed bracelet with polished centre links, but the C-shaped centre links are a clever solution to mix a traditional style with a modern form – as well as a playful tribute to the brand's name. It also utilises a butterfly-style closure like the rubber strap. The beauty of the bundled duo is that they can be easily alternated by the owner simply through a depressed underside trigger.
Like the externals of the Fratello x Czapek Antarctique Passage de Drake Viridian Green, the SXH5 caliber inside has a rather distinct Czapek appearance and finish. The closest visual style to the bridges here would be Grönefeld, with chamfered framing that surrounds the slightly sunken frosted metal – and, to be fair, the comparisons to Grönefeld  speak volumes to the quality of work.
Fratello Watches elaborate: "Czapek went with sharp angular lines and a combination of frosted and brushed black surfaces, and the multi-bridge layout of the movement creates a lot of visual depth. The final result is stunning, with an almost industrial vibe that simultaneously pays attention to form and function. It is an aesthetic that works very well alongside the angular, scalloped case, and the recycled platinum micro-rotor is another visual delicacy. The movement offers a 56-hour power reserve, beats at 4Hz, and comprises 193 parts."
What horology heads can really appreciate about the caliber is how visible the gear train is throughout the caliber. Very little of the inner workings are obstructed in view, and while largely skeletonised you still have the brushed, chamfered, and frosted elements to further add dimension.
No bullshit, this is yet another collaboration piece that has me reading Hypnotisation for Dummies in effort to convince Andrew for an advance. Personally, I feel it is near impossible to criticise the aesthetic and its construction. I also love the fact that, when worn on the wrist, there is no other watch the Fratello x Czapek Antarctique Passage de Drake Viridian Green Limited Edition could be confused for. It's distinct and delectable, a quality that modern watchmaking sorely needs in an era of homogenous design.
Fratello x Czapek Antarctique Passage de Drake Viridian Green Limited Edition pricing and availability:
Launching on July 8th 2021, the Fratello x Czapek Antarctique Passage de Drake Viridian Green Limited Edition will cost €17,206.61 (excluding VAT).
To reserve yours, you will be able to place a pre-order with the balance to be collected towards the end of October 2021, with delivery starting shortly thereafter.
Full Specifications:
Dial: Viridian Green
Case Material: Stainless steel
Case Dimensions: 40.5mm × 45mm × 11.3mm (including crystal)
Lug width: 20mm
Crystal: Sapphire
Case Back: Sapphire
Movement: Czapek Caliber SXH5
Power reserve: Up to 70 hours
Water Resistance: 12 atm (120 meters)
Strap: Steel bracelet and rubber strap included
Functions: Hours, minutes, central second hand, date
Price excluding VAT: €17,206.61, Limited to 50 pieces. Click here to access pre-order page.