TAG Heuer have a long history in motorsport. Heuer chronographs adorned the dashboards of now priceless Porsches and Ferraris that were being rallied in the 1960s. Fans of Steve McQueen will know he wore a Monaco in his famous 1971 film Le Mans. Then only three years after that film, TAG Heuer championed digital precision timing at the highest echelon of motorsports – Formula One. Their relationship with F1 is so strong in fact, they've had the Formula 1 watch in their range for more than three decades.
These days, TAG Heuer are a major sponsor of the Red Bull Racing F1 team. Time+Tide were invited to the international launch of the Red Bull Racing Connected watch earlier this week, an event held in the lead-up to the first race of the F1 season at Melbourne's Albert Park. The official name of the watch is the succinct TAG Heuer Connected Modular 45 Aston Martin Red Bull Racing Special Edition, and is a limited run of their second generation Connected, a smartwatch Andrew spent some time with a year ago. This new Mod 45 is surprisingly slight on the wrist, due to TAG's employment of a titanium case and lugs. But we had to drag our attention away from the watch, as we also chatted to Perth boy and Red Bull Racing driver Daniel Ricciardo, one of the most popular of the current Formula One drivers thanks to his trademark smile, larrikin antics behind the scenes, and his unforgiving on-track attitude.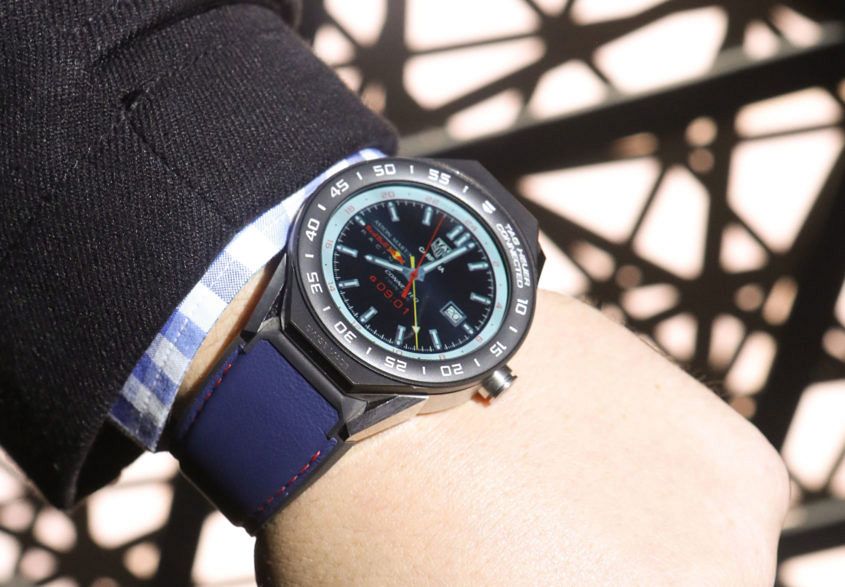 T+T: Hi Daniel, there's a big crossover between watches and motorsports. Would you call yourself a watch guy?
DR: Yeah, I am. It feels a bit like wine, in that it comes with a bit of age. The last few years I've certainly got into watches. I think I understand them and just appreciate them a bit more now. In my mind it's really the only cool bit of men's jewellery you can wear.
T+T: TAG Heuer developed the Automatic Car Identification Timing system for Formula One back in 1974, and have been a supporter of F1 for decades. Does that experience bring anything to the Red Bull Racing team?
DR: I think so. From a heritage point of view, it's cool. You're going to have partners in the sport that will actively add to the car and its performance, but if it's not able to give you better lap times then it should at least have some form of association with the sport. And I think that's where TAG's been really strong – in motorsport.
T+T: You're on the record saying that one of your dream cars is the Ferrari 250 SWB. Say you take your very own 250 out for a cruise around your hometown of Perth, what watch would you wear to match the car?
DR: I will say it's a TAG, certainly a vintage kind. When I was in Tokyo last year for the race in Suzuka, they had in their flagship store a cabinet of vintage watches. There was one there I saw and I actually fell in love with it … though I couldn't tell you what model it was.
T+T: You have a full day of media and events and you're about to jump in your Aston Martin DB11 – what's your go-to watch?
DR: Then I would go with the Connected Modular 45. Bit of technology going hand-in-hand. I'll keep the tech geeks happy.
T+T: Let's talk about that for a minute, because the new TAG Heuer Connected Red Bull Racing smartwatch is an impressive piece of technology. As someone who is surrounded by a lot of very sophisticated gear in their day-to-day life, do you personally enjoy smartwatches or do you prefer more traditional mechanical watches?
DR: Definitely my personal opinion is the more traditional … I'm actually not really a tech guy. I'm always at least one, probably two models of iPhone behind everyone else. It just moves so quickly. So I'm more traditional from that point of view. Obviously it's impressive what they can do now, but if it's one or the other, I'd go traditional.
T+T: We've seen special watches owned by celebrities and racing drivers sell for significant amounts of money over the years, including Steve McQueen's TAG Heuer Monaco selling for $800,000 back in 2012. Do you take care in storing your old watches when they're replaced?
DR: I do keep all of my stuff. I've got a watch box, the ones that keep them moving. I keep that locked and it's safe and secure. Most of my stuff is in Monaco, which has been my base for the past five years. But I'll always hold onto them. I still wear all of them, there's always an occasion for a watch; I think that's a cool thing. I'll keep adding to that collection and hopefully one of mine will sell for stupid money one day [laughs].
T+T: TAG's motto is 'Don't crack under pressure', a motto that one of your personal heroes, Ayrton Senna, adopted for himself. How do you manage the pressures of being a Formula One driver?
DR: I think understanding what the pressure is, and understanding that no one should be putting more pressure on me than myself. Obviously I race for a team, but essentially I do it for myself (in terms of the results). I want to win because I want to win, not because the team wants me to win. I also put an expectation on myself of what to do and how to deliver it. And then just trying to find a happy place amongst the chaos, and for me that's listening to music, and kind of zoning out a little bit. So there are some ways I deal with it. On Sunday I know there's going to be a lot of attention, but then it's a chance … If I really believe I'm as good as I think I am, then there's a chance to show that, to show everyone.
T+T: You're coming out of pre-season testing with one of the quickest cars on the grid, and powered by a TAG Heuer engine. What can fans expect to see this weekend?
DR: Certainly more than last year [laughs]. I didn't even make it to the start line last year. I'd like to think we're a good chance at doing better than 2017. All the testing went well, reliability looked a lot better for us, and speed as well. I think Mercedes didn't show their cards, Lewis [Hamilton] will still be probably the one to beat, but we're going to be a lot more competitive. If it rains, anything can happen, so I'm pretty excited for Sunday.
T+T: We've seen TAG Heuer associated with Formula One champions such as Niki Lauda, Mario Andretti, Michael Schumacher, and of course Ayrton Senna … will 2018 see the brand once again aligned with an F1 champion?
DR: I believe that can happen. I obviously really hope it can. I've got more belief that it can happen this year than probably any other year I've been with the team. So yeah, I think we're in a good place. Hopefully a good enough place to make that happen.
T+T: Daniel, thanks so much for your time, and best of luck for Sunday. We'll be watching.
The Aston Martin Red Bull Racing special edition is available exclusively online in Australia, the US, UK, Japan and Switzerland for AU$2650. With this unique smartwatch, TAG Heuer are showing that after four decades they are still at the forefront of digital horological development, and ever a stalwart of Formula One.