INTERVIEW: Walter Von Känel, CEO of Longines
Felix Scholz
When Andrew and I walked into our interview with Longines CEO and industry veteran Walter Von Känel, we expected the usual – a chat about Longines' latest watches and the industry as a whole. We didn't expect an exam. We didn't expect a wildly charismatic professor to be holding court.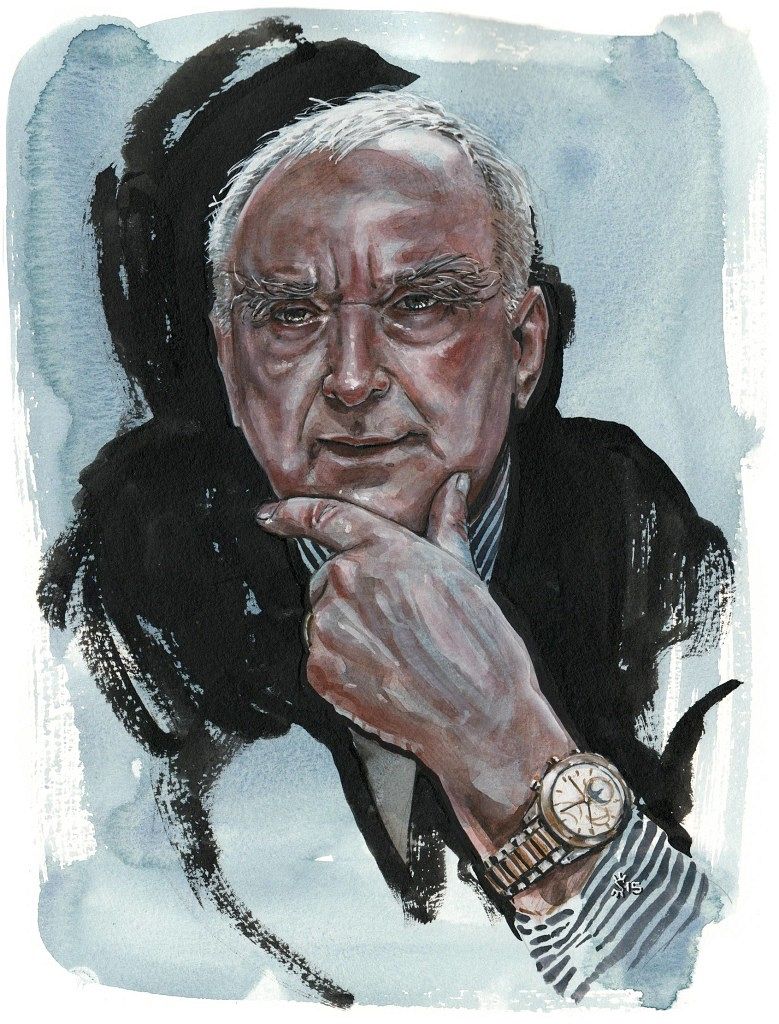 Barely had pleasantries been exchanged and refreshments ordered (espresso and sparkling water is the lifeblood of Baselworld) before Mr Von Känel had produced out of thin air a pen and a fresh pad of paper and asked us to rank the top four Swiss watch brands in terms of turnover. He wasn't joking. He wrote down our guesses. We suspected that how successful the next 30 minutes were depended on how we answered. Andrew scored three out of four. I scored three out of four. We both ranked Longines on our lists. By Mr Von Känel's reckoning Longines sits fourth on the ladder, amongst some very respectable company. With a raised eyebrow, Mr Von Känel nodded. He seemed satisfied with our horological bona fides. If we had answered otherwise (or not included Longines on the list), we suspect the interview might have gone differently. Instead we endured an entertaining, informative rapid-fire half hour full of laughter, insight and industry truth bombs.
T+T: Let's start with the obvious, the boring. Smartwatches. How long until we see a connected device from Longines?
WVK: Ok, let me give you my opinion. For me, the time function on a traditional watch is getting less important and the status symbol function is more important. Do we agree on that? (We agree) It's like a car, why do you buy a Bentley when you could have a Toyota. Why buy Patek or Breguet when you could have a Swatch? Our product and philosophy is that a watch is an emotionally branded consumer good. This is my territory.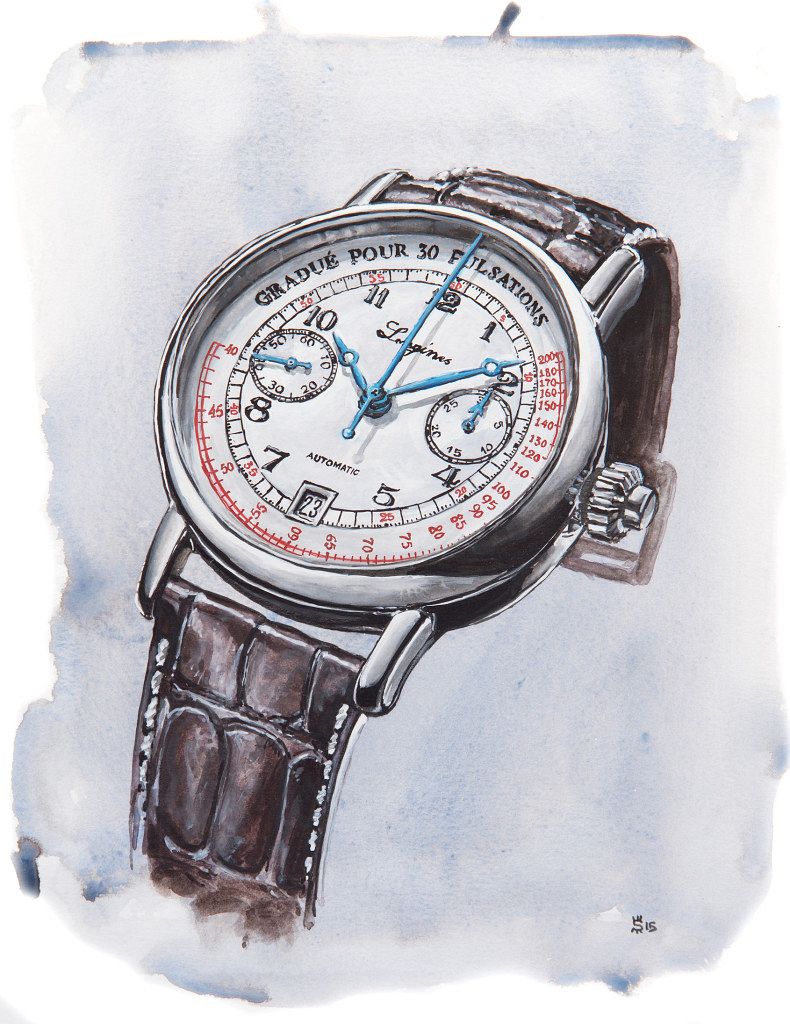 T+T: This is your territory today. We've heard other brands say "We're never going to do a smartwatch," and this year they've all got smartwatches…
WVK: I fully understand and accept that Apple, Samsung and all the rest are are coming into our space to get additional business. These companies have a big advantage over us. They're flexible. Every six months or so they come with new stuff. This is their area of expertise. I accept this. Let's give them a chance and see how it works. So I understand silicon valley doing smartwatches. What I don't understand is why other brands at the fair are all doing them. But the truth is it doesn't matter. It's very good for me they do it. Because they all spend money doing it, money they can't spend on advertising.
"But the truth is it doesn't matter [what other Swiss watch brands do smartwatches]. It's very good for me they do it. Because they all spend money doing it, money they can't spend on advertising."
T+T: Could you compare and contrast the R&D lead times between say Apple and Longines?
WVK: Look, we do one year product planning! And we're faster than many of the other Swiss brands. The difference is we plan for products to last a lifetime. Whereas, they plan obsolescence.
T+T: You're still about timelessness – you make something that will last a lifetime and they're about something that lasts two years.
WVK: No! Not two years, I think they will last six months.
T+T: So here's what I want. I want you to put your hand on your heart and tell me that Longines isn't going to make a smartwatch. And then in five years time we'll be sitting here again, with no smartwatches in the booth. Can you do it?
WVK: I never said never! (Everyone laughs) I said for the time being I don't understand those guys (the other Swiss brands making smartwatches). I will not go into the business of smartwatches for a certain period of time. I want to see how it goes. It will certainly be a flop for the early adopters.
T+T: When was the last time we saw an entirely new category in watches?
WVK: For me smartwatches are an additional business, it's not a new category. In my 46 years with Longines, I've seen many challenges to the industry and I've seen Longines itself change from a family structure to a joint venture, to part of the Swatch group. And I've seen mechanical watches get challenged by LCD, LED, duo-combo, analogue battery, gen 1 quartz, gen 2 quartz, and then the trend has turned back to mechanical watches. Longines had quartz from the very beginning, I must remind you. Our first quartz model was in 1969, one month after Seiko. We have a very long history in quartz.
T+T: So will smartwatches hurt the Swiss industry?
WVK: It's too early to know. My staff ask me the same question; they seem to think I have a crystal ball. Nobody knows! What I do know is that I'm much more concerned with our traditional business, which is traditional watches. If you're asking, this is going very well. We focus on that; we don't mess around telephones or anything like that. But if other brands want to, great, it's good for us! My focus is watches between 1000 and 3000 francs and in that space we dominate. That's where we are strong and that's where we stay.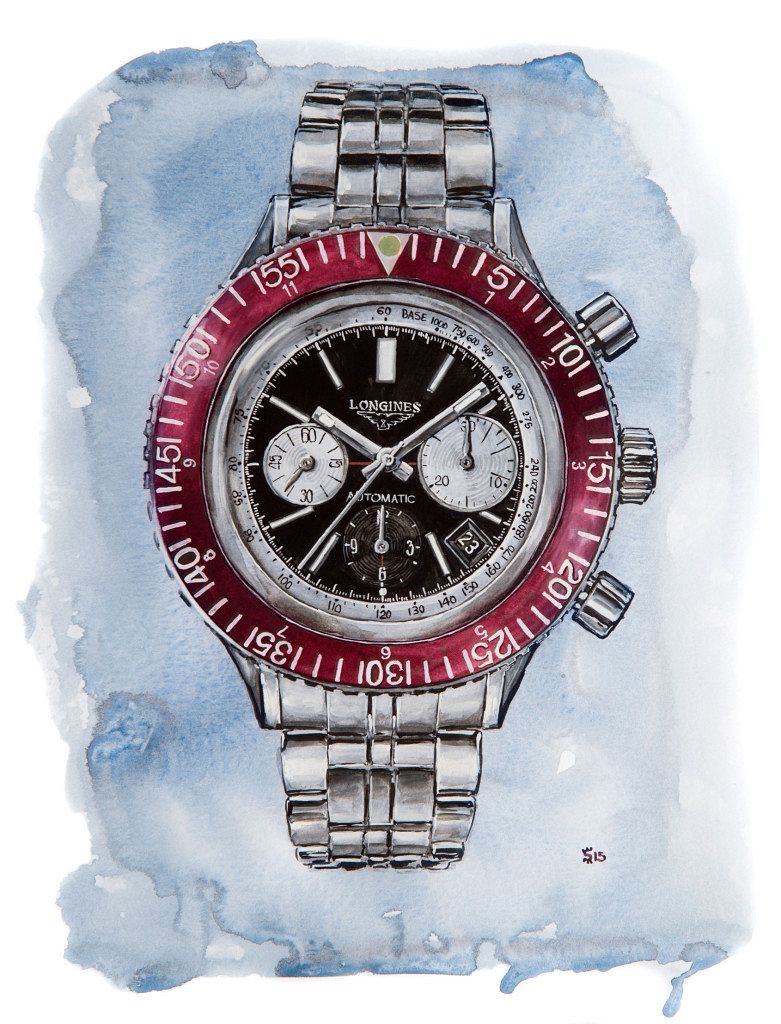 T+T: The Longines everyone is talking about is the Heritage Diver 1967.
WVK: It's great because we have a heritage and we have a history – so it's important for us to push that message. But it's also very good food for journalists. You guys love these, they've got good stories in them. Mr Von Känel pulls out a catalogue from last year, flicks through pages and points at a watch, and then looks up expectantly. Andrew puts his hand up like he's still in an exam.

T+T: The Majetek! 1935!
WVK: Yes the Majetek. The best PR returns I've had in the last five years.
T+T: That was all us (Laughter, but maybe funny because it's true – this story was very well read in 2014).
WVK: Thank you very much. Yes, the press love these types of pieces and I love them because we have the heritage. Unlike some others we don't have to make it up. From there the interview degenerates into us all flicking through Longines' catalogues and debating which are our favourite heritage pieces (Mr Von Känel likes the Weems Second-Setting watch, Andrew prefers the Monopusher and I'm a sucker for the Legend Diver). In the final scene of the interview, our photographer dances around Mr Von Känel trying to have him pose, which is, it must be said, a very tall order, because Walter tends to live life his way, and doesn't like to be told where to stand and how to behave. But, even when he's unwilling, he's entertaining, he holds the room in his thrall, pointing this way and that, cracking jokes, looking to the heavens, stamping his feet. The visage of him, when it is captured – and later beautifully painted by Sunflowerman – is perfect. Intense, focused, but with a light in his eyes. Out in the grand halls of Baselworld we turn to Adam from Longines Australia and ask how often Mr Von Känel is that lively? That alive? "Every time," Adam says. "Every. Single. Time." If it was an exam, the result doesn't matter. Just attending it was a win.