The interview gets off to a disastrous start. What worse things can happen in an interview than waltzing into the media suite (in the gargantuan Omega Booth at Baselworld) and sitting in the wrong seat. The President's seat. Mr Urquhart's seat. (No-one calls Mr Urquhart 'Stephen'. No-one. Just FYI).
He reacts, in fact, very well. "No, you take it. Let me sit here. Let me have a different point of view. I've been sitting there all day."
Mr Urquhart, Stephen, boss, whatever you prefer, tells the truth. The President of Omega has had back-to-back half an hour interviews since 9am, and it's 4:30 in the afternoon. I'm no mathematician, but that's something like 15 interviews before ours. 15 interviews? I've done six over the course of the day and I am dying to bathe in Ruinart champagne and Epsom salts. I'm finished.
What has made the day more trying for Urquhart is that they've all started with the same line of questioning…"So, smartwatches…" It's lucky the topic is nowhere near my agenda today. There are a couple of elephants in the room that I want dispatched before we can get on to chit chat about technology versus emotion.
QUESTION ONE: We get that you went to the moon, when are you going to move on from it?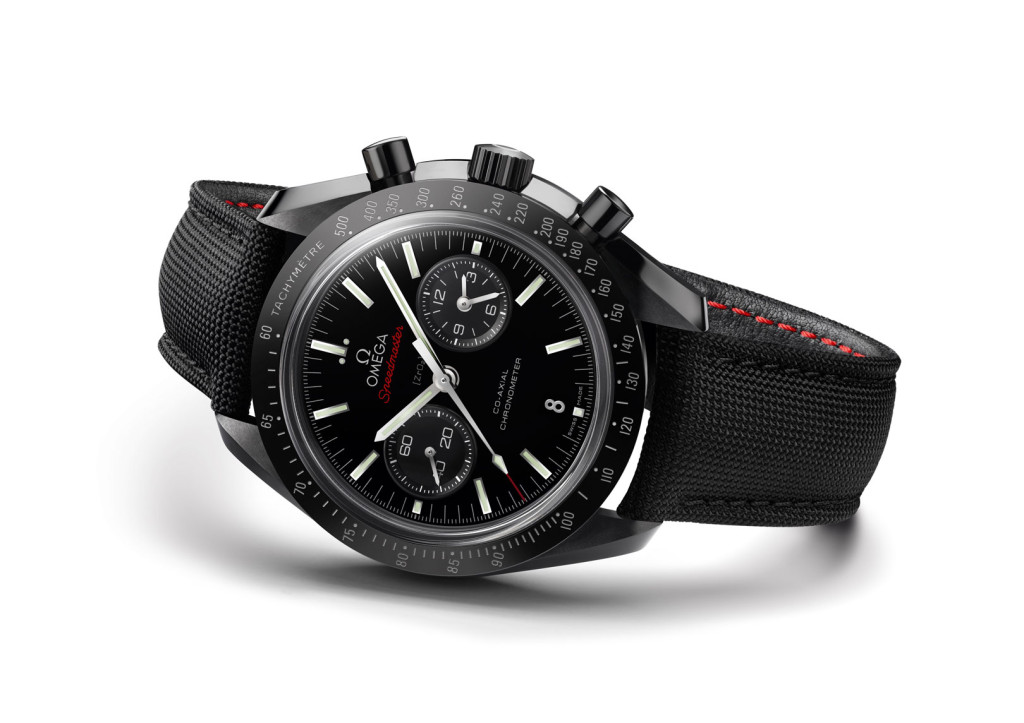 Well, the moon is there but it's there in a different vein today a little bit. It's more of a reminder than a central kind of story. If I look at the Dark Side of the Moon – a watch that has given us new life – yes the moon was there as part of the selling pitch, but it wasn't why people bought that watch. They weren't the guys that buy the limited edition Moon Watches every year. They were new customers and honestly, what I hear from the trade is that half of the guys that bought that watch didn't even know we went to the moon. And they didn't really care. The Dark Side is a completely new kind of breakthrough for the brand.
QUESTION TWO: If the Moon Watch is now a 'new watch', does that mean you're going to update the movement?
It's a big discussion internally. Do we make it now a modern watch because it's an old fashioned watch? It's nice, it works, but we have everything ready to make it Co-Axial, to make it everything. Most of my people think – I'm not saying rightly or wrongly – that there are a lot of people out there who still want that reference. Well I personally think that if we change that watch the existing guys who have that original movement, the value of their watches will go up a lot. It doesn't matter, it's not a big deal for us.
QUESTION THREE: The last two years have been so focused and clean from Omega in terms of a 'hero' product. 2013: Dark Side. 2014: Grey Side. And now, 2015, a profusion of models….?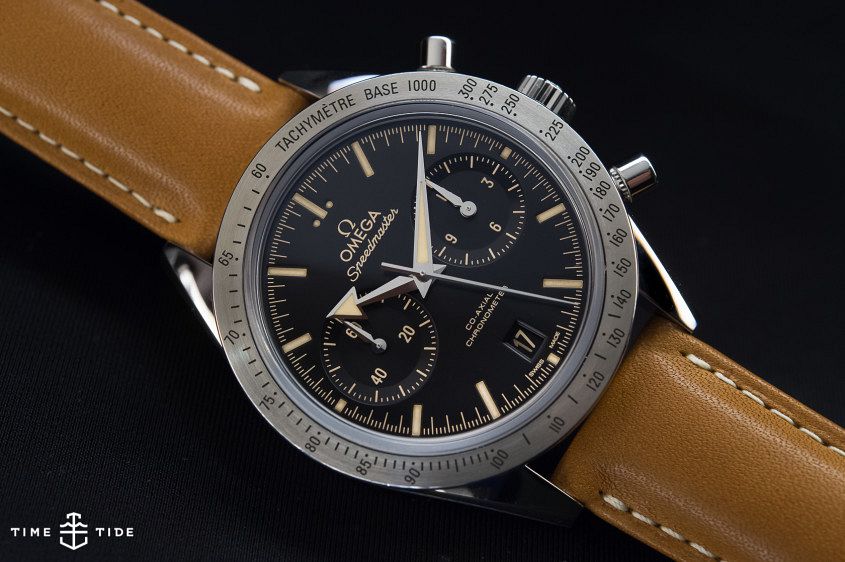 Not as clean. You're right. You ask what the strategy is…? It's to sell watches my friend. (The room, including Time+Tide Ed, Felix Scholz and Brand Manager from Omega Australia, Erin Collins, erupts into laughter.) I know what you're saying, but in general no one else has really said that. The trade side is happy. We are selling watches.
A QUESTION FROM MR URQUHART: What do you think of the white side Andrew, would you wear it?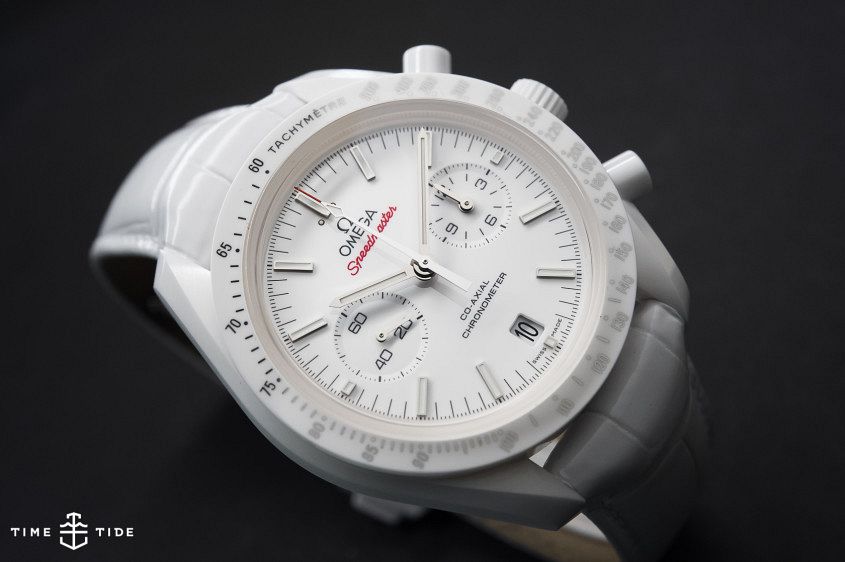 For me, it's a ladies' watch for sure. I tried it on. But you're asking a straight man. With a tan it would look incredible. Like a white J12. Maybe in Florida. It might look really good in Florida, would you wear it? Mr Urquhart: No. It would be out of place. It's not that I don't like it. It's a ladies' watch. That's the main reason why. OK, so we go that one over with.
QUESTION FOUR: Is the moon still cool anyway?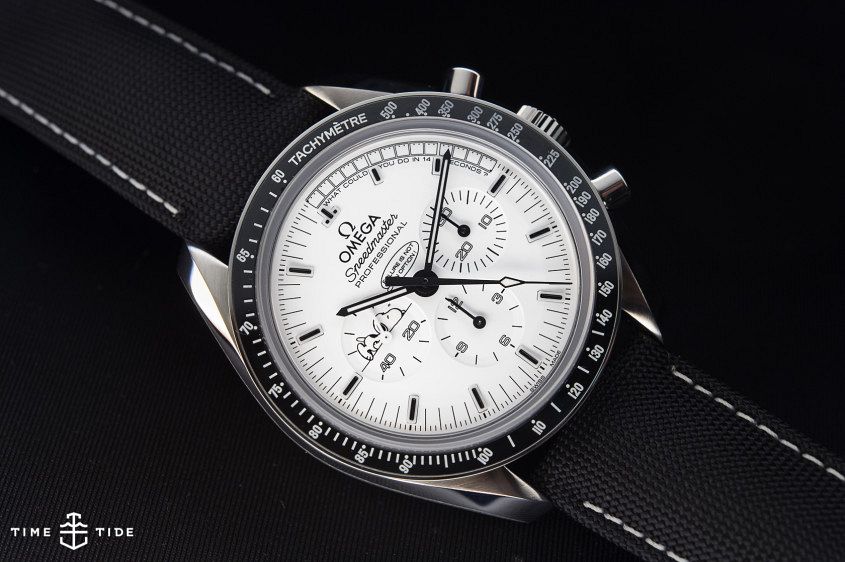 I actually don't really know, it's a good question. It was the hook that kept Omega going through the difficult years. The Dark Side has changed the whole picture. It's called the 'Dark Side of the Moon' and all that but the moon thing is there as a backup, as a prop to the real story, which is the materials and the overall look of the watch.
QUESTION FIVE: The Snoopy Speedy shows Omega's more playful, less serious side. I wonder if the fluted bezel on the new Globemaster is evidence of the same spirit. Yes, there's a historic link to the 1963 Constellation and the Cosmic had a fluted bezel, but you must have know it would turn heads at Rolex. Was there a playful intention to reference the brand?
It is and it isn't (there is a smirk here that must be reported). It wasn't our intention to poke them in the back, but we felt it was a part of our history that, for reasons most people understand, we hadn't really continued to push all these years. We knew it would be a problem. I think it's come out interestingly. I wear this watch on my wrist, I tell you, I don't think this watch looks a bit like a Rolex. I tell you. If you want a watch I love in the collection, that I wear most of the year actually that looks much more like Rolex, it's the Seamaster 300. Now from afar, that looks like a Rolex.