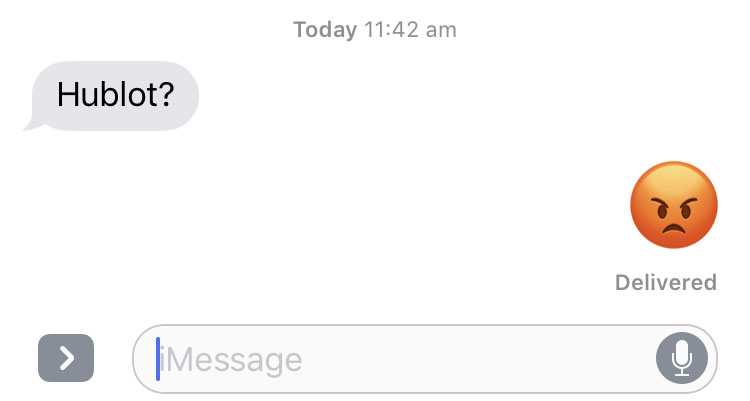 So, in some parts of the watchosphere, it's fashionable to be a Hublot Hater. While I'm not a HH (professional detachment, there are other, better uses for my energy), I will admit to being in the "not loving it" camp for quite some time.
It was the bigness, the brashness, the it-watchness of it all. Given the choice, I'll take off-trend. It was the flashy image – the rappers, footballers and boxers. Which is ironic, really, since Hublot began with Carlo Crocco as the anti-bling of the 1980s. At the time, the watch world was elbow-deep in gold, with wall-to-wall Cartier and Rolex. And then Hublot arrived: a matt black rubber strap on the gold. The brand was as polarising then as it is today, but in a different way. There were still the questions you can find all over the internet: the price-to-value relationship? Originator of materials or an opportunist? Creator or copyist?
…Hublot began as the anti-bling of the 1980s. At the time, the watch world was elbow-deep in yellow gold, with wall-to-wall Cartier and Rolex. And then Hublot arrived: a matt black rubber strap on the gold.
Especially, it was the loudness. Jean-Claude Biver's Hublot has been PR-noise turned up to 11. That's not to question his genius as a marketer, only a fool would do that; it just didn't convince me. The more noise a brand makes, the more I feel my inner Queen Gertrude kicking in. As she said in Act III of Hamlet, "The lady doth protest too much, methinks."
But now, I have changed my mind. Why? Aside from "I'm a woman, so I can," I blame Felix.
He challenged me to write a riposte to the Hublot Haters. How to begin was the big question. Then one day, deep in Google, I stumbled on an article about École Polytechnique Fédéral de Lausanne (EPFL), Professor Andreas Mortensen and unscratchable gold. Hublot's 'Magic Gold' to you and me. So who started it? Hublot or the boffins at EPFL?
I asked Professor Mortensen. He was clear: the impetus, and the funding, came from Hublot — it was Biver who approached EPFL. "We explored, with great freedom and the direct, personal, involvement of Mr Biver all the way, a certain class of materials," said Mortensen. "Unscratchable 18-carat gold was a goal, but not the only thing we played with."
Hublot had already been using third-party materials – cermet, tungsten and a magnesium-aluminium alloy that they called Hublonium – but Magic Gold prompted a real shift, says Mathias Buttet, the company's Head of R&D. They brought Senad Hasanovic – a member of Mortensen's Magic Gold team – in-house full-time and invested heavily in research and engineering.
There followed a succession of highly unusual materials – highly unusual for watches, that is. Denim (although Chopard's square-cased denim watch of the mid-1970s was the first with that idea, as far as I know); tobacco leaf, linen, leather, embroidery and, this year, tweed. These were cosmetic materials (for the habillage, not for movements) and the Hublot Haters had a field day: "Hah! Fashion watches!" Which, as the watchfam knows, functions as both a pretty deep insult and a synonym for being overpriced.
"The work we are doing is too expensive to use just for fashion," responds Buttet. How so? What's so hard about making a leather or linen dial? In a word, humidity – mortal enemy of the mechanical watch. With normal drying processes the fibres retain latent humidity. Enter bComp, a Swiss new-tech company with quite astonishing expertise in natural-fibre composites (as strong and light as carbon composites, used in surfboards, skis, racing yachts, guitars and car bodies – so far). As with Magic Gold, many of the ideas, impetus and project management were taken care of in-house; a third-party researcher worked closely with Hublot to find the solution. It led to a cementing of the partnership. In January 2014 Hublot signed a five year collaboration with bComp for exclusive rights to the development of natural-fibre composite parts for luxury goods.
It took two years to develop the right drying technique, says Buttet. First result: the tobacco-leaf Classic Fusion Forbidden X Arturo, in December 2014. Then, in 2015 and 2016, two iterations of linen (flax) – a core material for bComp. Finding the solution for linen dials meant that Hublot could also use linen for the cases and straps. Why linen cases? Because carbon fibre doesn't take colour well, says Buttet. The composition of the case material – flax fibre and an epoxy resin – is similar to that of carbon fibre.
So, yes, it's all about making the watches look pretty – but that's why watch companies use gold, titanium, brushed steel or any other material. Are Hublot's materials less valid? Or is this trad-watch prejudice? Could it also be simply – gasp – a matter of personal taste?
Buttet admits that even for him, tweed (the Italia Independent–Rubinacci collaboration) seemed a step too far. "My first reaction was: 'Are you mad?' I was one of the people internally who was very opposed to it. Wool fibres are completely incompatible with watch mechanisms. But the first aesthetic mock-ups were so lovely in the hand, I said, 'We have to find a way to do this'."
The challenge: to keep the texture and colour of woven wool while eliminating all fibres. It took a year of intense work for Hublot's internal team to solve the conundrum, says Buttet. Embroidery posed "a whole set of other problems – it took 18 months of research and six months of production-testing to make it usable. You have to remember: if these things were easy, everyone would already be doing them."
There's another point related to fashion watches: they are, in most cases, Swiss Made only in the loosest sense. So why has Hublot decided to be so Swiss (even the flax for the linen watches comes from an organic farm in Emmental canton)? "It's a question of values – and then it becomes an ethical problem," says Buttet. It's no secret that as hard-to-machine and therefore expensive materials become fashionable, many brands are sending case production offshore. "We decided to do the opposite and come back to being Swiss. So, taking sapphire as an example, when people are talking price/quality, they have to compare like with like."
Swiss researchers don't come cheap. Nor do Swiss toolmakers and case-machinists. Is Hublot 100 per cent Swiss? I don't know – but given what I now know about its "fashion" materials, the pricing makes a lot more sense than it did.
Ironically, one of Hublot's most challenging projects so far – crystallised Osmium – fell flat with buyers when it was introduced on watch dials last year. Why? "It's probably the hardest material to do properly [it's highly unstable and has a melting point above 3000C] but it's too technical to communicate properly," says Buttet. "Clients don't care – there's a limit to wanting to understand the thing."
And that's the spot between the rock and hard place where Hublot finds itself. Having so successfully made itself into a pop-culture brand, it has built a fan base that is not interested in understanding its substance (as well as an anti-fan base that is equally uninterested). Perhaps the question HHs should be asking is, "Do I really know anything about Hublot?". Beyond that, it's a matter of style. And, yes, whatever style we choose, we are all style snobs.