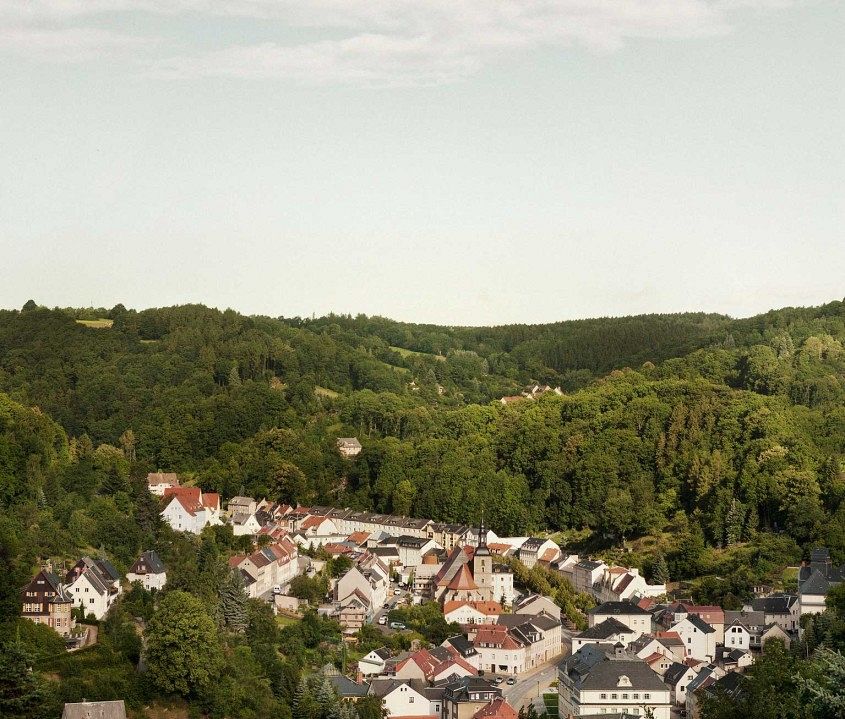 I didn't know much about Nomos when I told Time+Tide I was going to be in the Glashütte area. They did minimal watches. They did some in-house movements. The Time+Tide team seem pretty into them. That was about it. Still, there was enough intrigue to put my hand up for a tour of their facilities, if one was possible. This was quickly arranged by the good people at Nomos. I was off.
First, a bit about me. If the name looks familiar it's because I'm Andrew's brother. He's been into watches for years but I'm new to this thing and at this stage I'm coming at it more from design and style than anything else. But I'm already feeling the pull. I have a growing list of 'grail watches' sketched on the blackboard of my mind and am forever drawn to a love story – in people and in business. When people and business combine, it can make for a glorious dance, as their story and dedication to an ideal are intertwined, making it nearly impossible to pull them apart without destroying both. The only other thing I knew about Nomos was that they had something going on with their story and their people – something very different to other watch brands. Not just in the design itself, but the way they were doing it. The simplicity is compelling. A real breath of fresh air in a world cluttered with busy watches.
The journey – Getting from A to B (via Z, thanks GPS)
The day of the visit begins as fresh as the dial of the Metro Power Reserve (pictured below), with blue skies and lush green hills. I'm flying over the mountains of Saxony, Germany in a rental car better suited for a circus clown routine. I am a tall Aussie and this is a shoebox with a lawnmower engine and a discombobulated GPS. It leads me halfway to Berlin, seemingly via Prague, before I revert to the old-fashioned method of a paper map. Yet again technology has let me down, and I'm craving the simpler option, the low-tech, the low-fi. The 'X' I drew on the spot was a welcome friend.
A very short history of Glashütte
I crest my last green knoll and descend into the mecca of German watchmaking that is Glashütte – a town of reliability and honest crafts that's isolated enough to stay true to its roots. It's a town where 'handmade' is a way of life, not a marketing slogan. This town has lived and breathed the art of time for centuries; after the silver and zinc ran out in the local mountains, the miners and the basket makers were plucked up by the entrepreneurial Ferdinand Lange in the early 19th century and with that, the heart of German watchmaking excellence sprang to life and began beating.
Centuries on, this legacy of superior skill and attention to detail has established Glashütte as the home of more than 10 watchmaking maisons, including but not limited to Union Glashütte, Mühle Glashütte, Glashütte Original, A. Lange & Söhne, Nomos Glashütte; with at least three remaining fully in-house. The thing about a movement manufacture is the end-to-end nature of production and the line of sight you have to the whole process. It's astonishing to see the birth, infancy and adolescence of a watch before your very eyes, right up until the point that the watch walks out the door on a proud owner's wrist.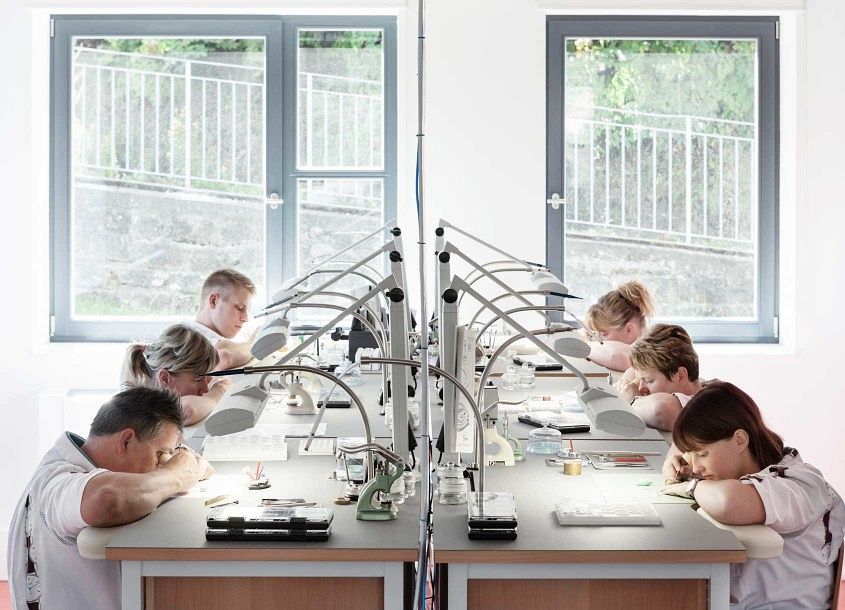 The distance a Nomos watch can travel from raw materials to the wrist can be as little as 300m. It might begin with the hum of brass-spitting drill sets and end with a walk up a quiet rambling hill to the Chronometrie – a beautiful old cottage overlooking the town, which is the assembly point of all Nomos productions. From the outside it looks almost edible, like a gingerbread house. Inside it's more like Tony Stark's workshop.
Nomos has doubled in size in the last three years
Perhaps all watch brands with a decent history were once like Nomos, but as production numbers become more important than the founding values and being more competitive on the global stage takes over, their true "identity" becomes diluted along the way. It's more difficult to trace back the values of a business selling a million watches to that of a company selling a handful. A piece of the Nomos story is represented in every one of its watches; a reason why they have doubled in size in the last three years; an amazing effort. In an ever-squeezed marketplace, there still seems to be a place for care, individuality and fastidious quality.
The story of Nomos spins around this quality. The craftsmanship and excellence is sustained by sons and daughters of fourth and fifth generation watchmakers piecing together each and every one of their watches. Such a dedication to quality for an in-house company comes at a cost; the Nomos Swing System – a synchronised orchestra of metal, stones and springs – cost Nomos 12-million euros to develop and patent.
What it's like to work at Nomos, where the horseriding is free
The investment in production quality doesn't stop there. Half of their workforce are watchmakers; they are the lifeblood, the ones that make the complex simple. Staff are offered a company house in Glashütte to stay in if travel to and from home is too far for a daily commute. There are no offices at Nomos; they have work areas, all which resemble an IKEA catalogue in that they are unreasonably neat to the point where they look styled. Considering that they live and breathe their own watch process, each "work area" is essential to the final product and although in some areas it seems like a pirate's bounty of strewn brass base plates on a desktop, there is a calm, a quietness, and every piece has its place.
There's a company horse that staff are allowed to ride; how very German! Food is highly subsidised and if the scenery didn't convince you that you were in Germany, the hearty beef pasta-casserole cooked by hipster chefs surely would. Employees at Glashütte are happy and proud. They clearly love the name Nomos and everything it represents. The investments in equipment and technology ensure that the process from start to finish, although back-arching and aching in effort, is a seamless and accurate one, something even NASA would be proud of.
It is investments in people and tech like this that keep Nomos sharp and ahead of the field. Numerous awards for design, sustainability, green carbon neutral practises have mounted up. There is a modesty to their success; the accolades and "trophy room" is a black board in the stairwell; shelves of awards and notches on the Nomos belt. But it is whispered, not shouted. The fact that the founder and CEO drive around in perfectly maintained and polished blue and green 1970s Mercedes Benz's – reminds me of an ethos that newer is not necessarily better and that good design is eternal.
The collaborative dance between form and functionality
The design and creative side of Nomos is a collaborative dance between designers and watchmakers, and it's a beautiful thing to watch as they're both working off the same step sheet. They are especially proud of two patents for their power reserve and date mechanism, which some other watch companies have struggled to add without venturing into chunky, clunky territory.
Nomos, in true style, placed the mechanisms to the side of the movements, thus maintaining the slim, minimalist aesthetic. It's a solution that seems so simple, but of course arriving at 'simple' can be extremely complex.
In terms of marketing, a team of four controls the entire online presence of Nomos. There are just watches telling the story of the watches; no come hither glances from Nicole Kidman necessary. How would you improve on the beauty of this face anyway?
Putting my money where my mouth is
At the end of the tour, I find the nearest (and oldest, always a novelty to Aussies) Glashütte pub to have a pint and reflect. I can't shake the feeling that everything is right in this remarkable place I've just been immersed in. If the wider community were as in love and committed as the people behind Nomos are to their watches, then the world would be a better place.
I was so taken by this that I wanted just a little of that idea – that feeling – to stay with me so I could experience it every day. The 38mm Orion 1989 – an homage to the fall of the Berlin Wall – stole my heart. It's an emotive grey-faced dial representing the hardships and sadness of the time with markers and hands in a stunning gold to represent the future of a re-unified Germany – the richness of things to come for a country emerging from the shadow of the wall.
The funny thing is, having 'met the parents', I actually don't feel like I really own this watch. I feel as though it's been brought to this point by a family, and that I'm simply taking it on a walk through life – the wider world outside the Saxony mountain peaks of Glashütte.