INSIGHT: Spies, dives, and an Academy prize – a brief Blancpain history of the dive watch
Cameron Wong
They say legends aren't born, they're made. And the immortal story of the archetypal diver's watch, Blancpain's Fifty Fathoms, is as legendary as they come. Beginning with tales of clandestine underwater missions and Oscar-winning performances.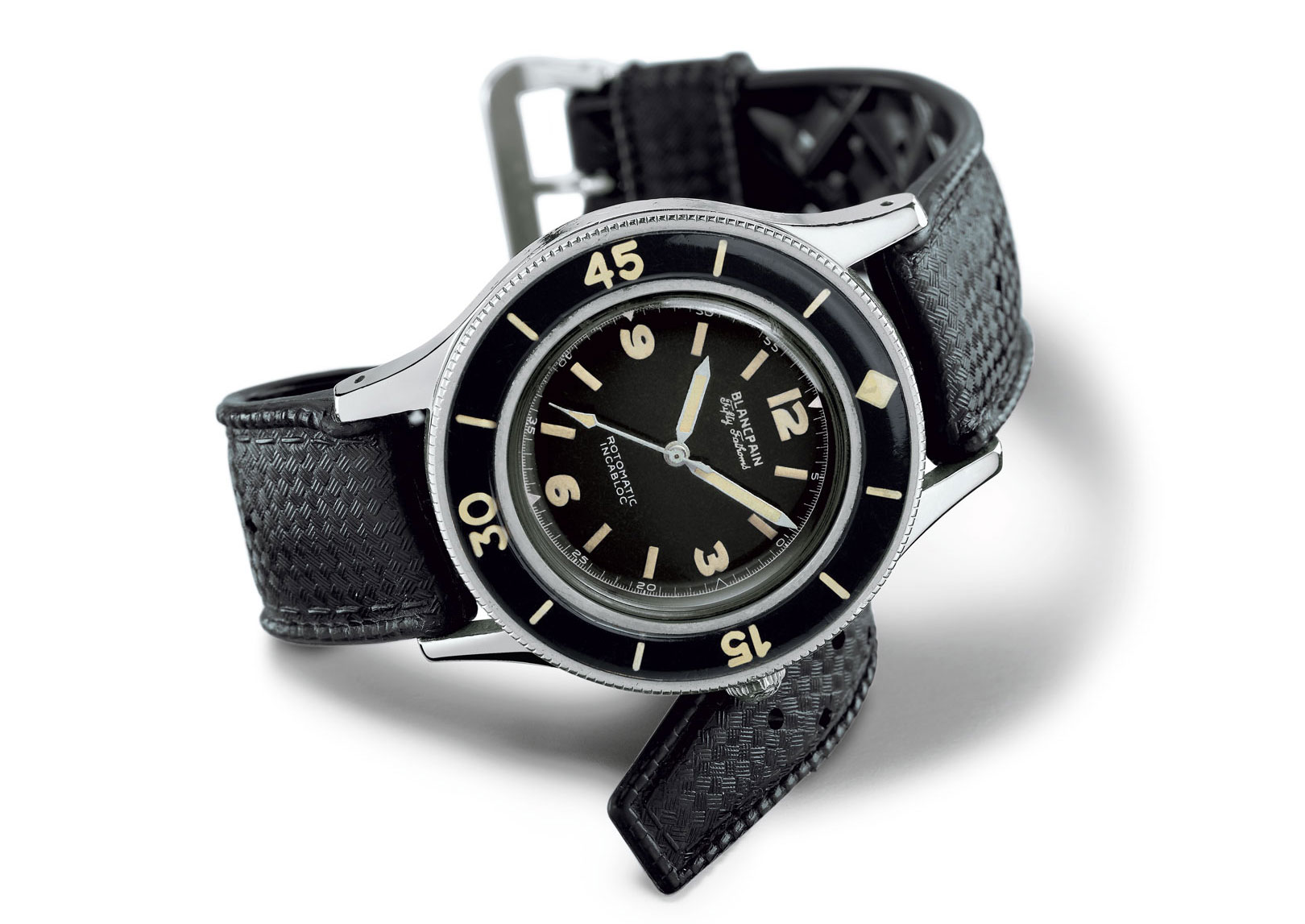 Following a long and ultimately unsuccessful search for a watch that would suit all their aquatic espionage needs, in 1952, Captain Robert "Bob" Maloubier and Lieutenant Claude Riffaud – two commanding officers from the then recently established French combat diving corps – sat down with a drawing pad and pencil, and set out to design a watch that would not only play an instrumental role in the military unit's covert undertakings, but could also survive the immense pressures found at the murky depths of their usual field of operations. Essentially, what they were after was a water-resistant watch with a black dial, large numerals and clear indications using triangles, circles and squares, that used an external rotating bezel for measuring elapsed time, and had markings that could be easily read in both light and under the discreet cover of darkness.
With a sketch in hand, the pair then approached a small Villeret watch manufacturer by the name of Blancpain, and then-CEO, Jean-Jacques Fiechter, who was an avid sports diver himself, quickly jumped at the challenge. Creating what is now considered the standard reference among dive watches, with the Blancpain Fifty Fathoms incidentally setting many of the rules that now define the modern-day dive watch.
While there were a number of water-resistant watches that came before, the Fifty Fathoms (as its name suggests) introduced a water-resistance rating of fifty fathoms, or 91.45 metres, which at the time was thought to be the deepest a diver could safely descend. Ushering in new inventions to the watchmaking world, like its double-sealed crown and a newly developed screwed caseback for water resistance, as well as an impressive locking mechanism for its unidirectional rotating bezel. Cementing its place in dive-watch history as the world's first automatic dive watch and the first with a rotating bezel.
With its deep-diving intent firmly established, Blancpain's Fifty Fathoms was unveiled to the public in 1953 and initially sold in the dive shops of the world. As such, it found its way onto the wrist of famed underwater explorer Jacques Cousteau, who wore a Fifty Fathoms during filming of his 1956 documentary Le Monde du Silence (The Silent World), which not only won the Palme d'Or award at the Cannes Film Festival but also an Academy Award for Best Documentary Feature in 1957.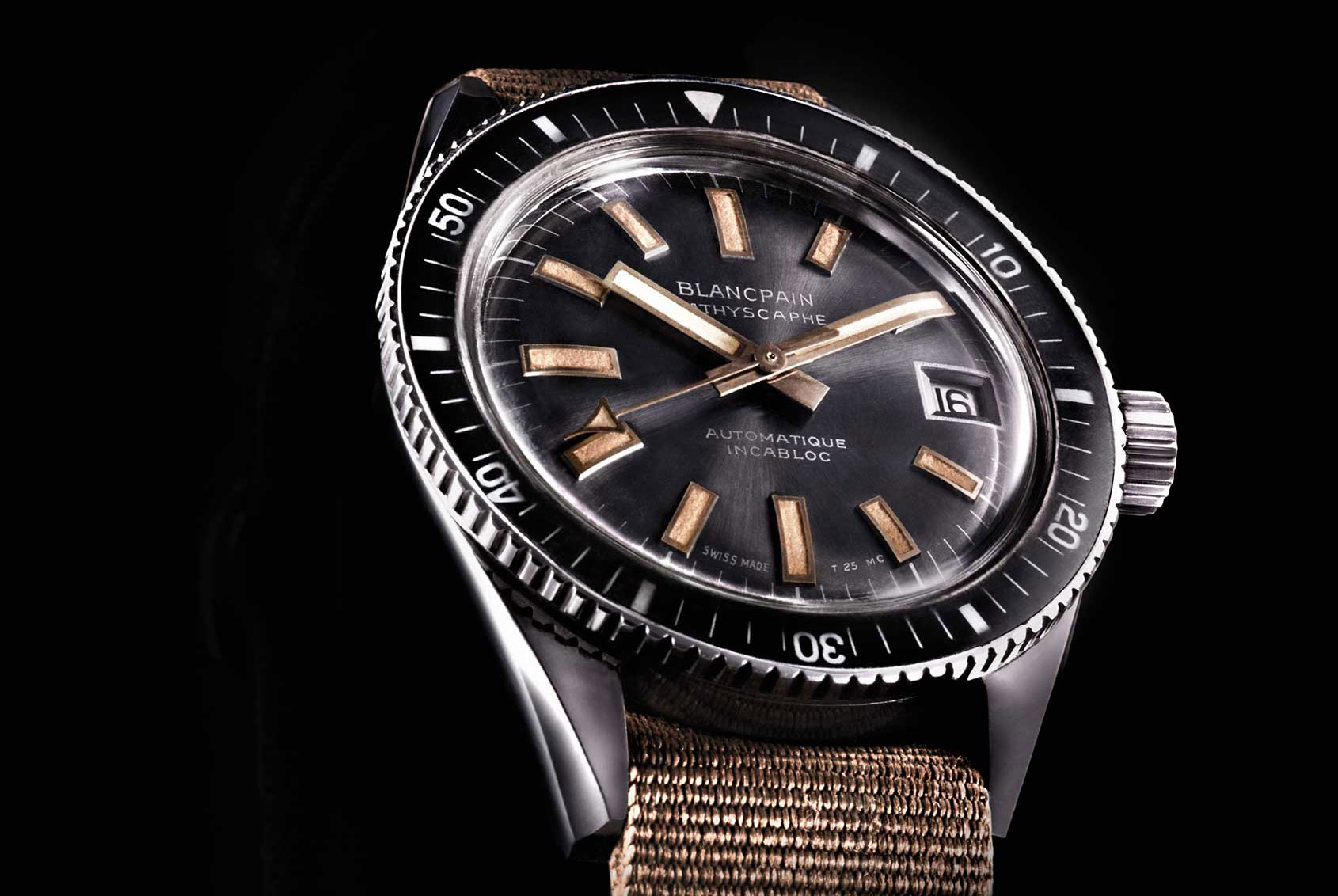 Then, supported by the impressive military, professional, and Hollywood feats of the Fifty Fathoms, in 1956 Blancpain introduced a more civilian-friendly version of the original dive watch. Named after a free-diving deep-sea submersible, that at the time was capable of taking crews down to a pressure-squeezing depth of 4050 metres, the Bathyscaphe was Blancpain's answer to a watch that would be equally at home under the sea as it was above deck or in the yacht club — and provided a simple, elegant, and smaller alternative to the 40mm and upwards Fifty Fathoms.
The two then evolved side by side in a changing and ever anxious world. And in the years after, Blancpain continued the tradition of the Fifty Fathoms and Bathyscaphe by introducing new technologies, case shapes, and dial designs. Easing tensions during the Cold War by adding "No Radiation" labels to the dial of the third-generation Fifty Fathoms and giving peace of mind to its wearer by using a safer tritium, instead of the much more dangerous (and ever increasingly less desirable) radium, to make its dial glow.
From the late 1950s through to the '60s and '70s, Blancpain was also tasked with supplying the other militaries of the world, making versions of the Fifty Fathoms for the German Navy Combat Divers, which were water resistant to 200 metres and featured a 3H on the dial, as well as for the US Navy, that added hemispheric moisture indicators to their dials. However, these US mil-spec divers were rebranded as Tornek-Rayville and supplied under the Buy American Act, which required US government organisations to prefer US-made products. It meant that some or all of these US Navy-built Fifty Fathoms had their Swiss jewels replaced by American ones.
From cloak-and-dagger beginnings, the story of Blancpain's dive watches could have been taken straight from the silver screen. And it's a history that the Villeret-based brand continues to honour to this day.