INSIGHT: Speedmaster, Seamaster, Railmaster – which Omega 1957 Trilogy watch is right for you?
Felix Scholz
Seeing Omega's 1957 Trilogy 60th Anniversary boxed set in the metal was one of the highlights of Baselworld this year for Andrew, Andy and myself. Not least because we realised that seeing these three pitch perfect reissues in one place ever again was unlikely, given the astonishing demand. And while getting your hands on the big boxed set (limited to 557 pieces) is a nigh-on-impossible task, we suspect getting one of the Speedmaster, Seamaster or Railmasters limited to 3557 pieces each is more achievable. The only question is, which one do you pick? Read on for what we chose, and why.
Andy's choice – the Speedmaster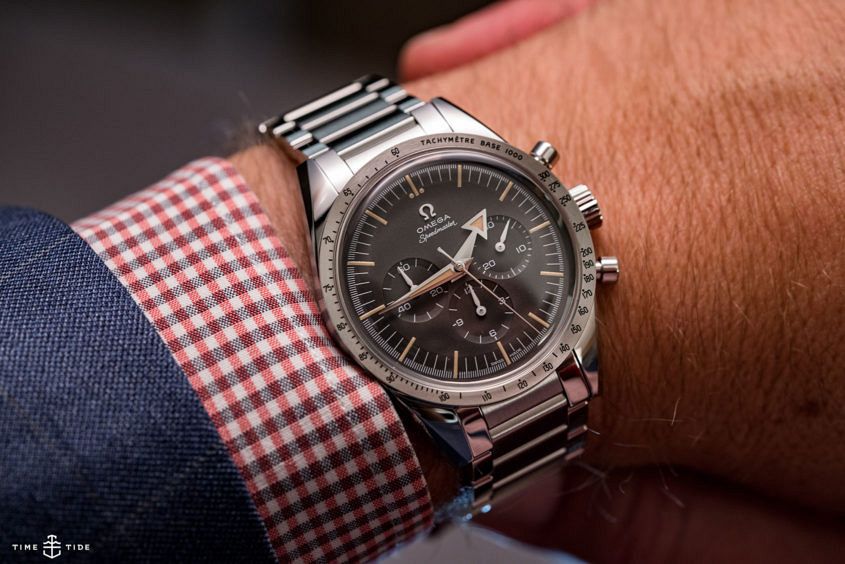 Why I chose it…
Aside from being a genuinely handsome watch, I really like how similar the proportions and details are to the original (having tried on both the original and the modern). I specifically LOVE the size, which at 38.6mm, is so close to the 1957 original (ref CK2915), which was 38mm. We so often see tribute pieces with cases that have been inflated over time, when they just don't need to be. It's honestly one of my favourite reissues that I've seen over the years.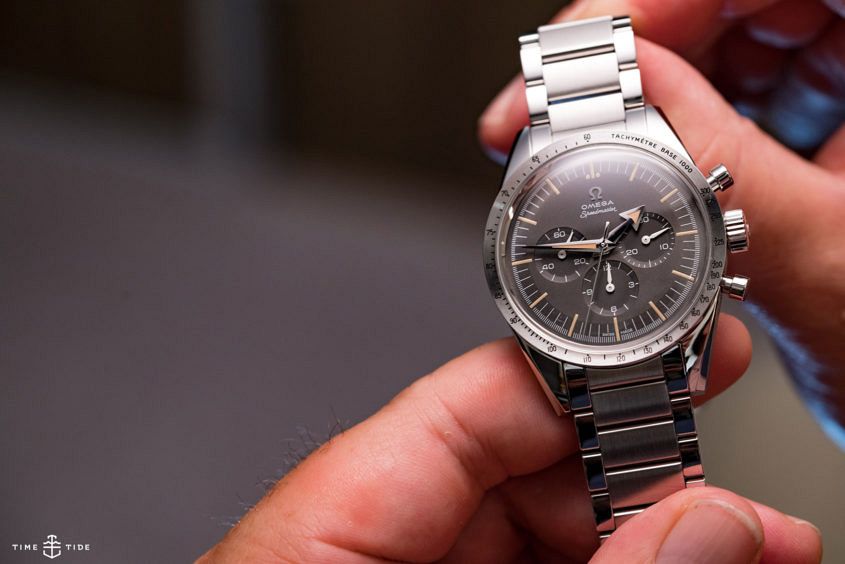 Why you should…
In my opinion, it's perfect for all the speedy lovers out there – as it's where it all began. With this watch, you get the best of both worlds, in terms of aesthetics and mechanics. And, from a distance, you'd be forgiven for mistaking it for the original. Short of handing over six-figures, this is as good as it gets. Let's not forget all the usual perks of owning a Speedmaster either. It will look great with any outfit and hold up as a great daily watch (for most). And of course, it'll look fantastic on literally any strap you decide to throw it on.
Andrew's choice – the Seamaster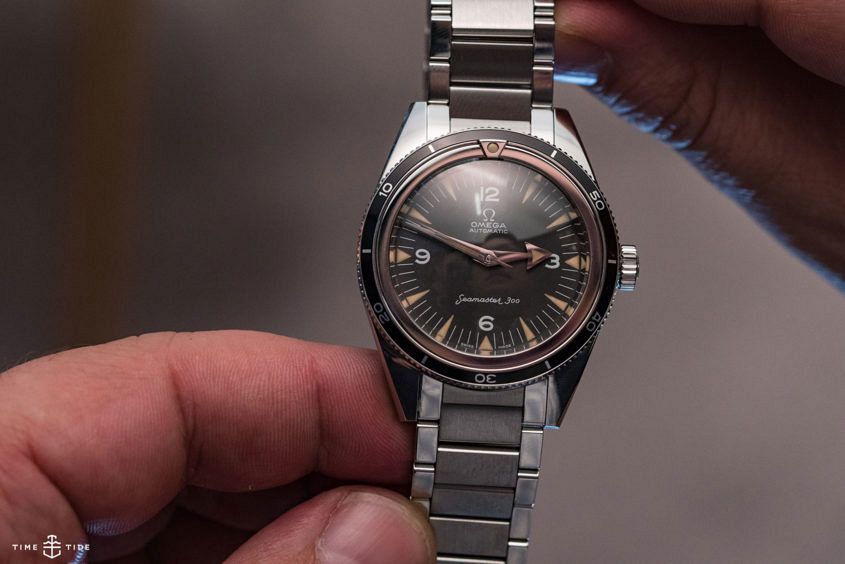 Why I chose it…
Come on, we all know it, Bonds have more fun — and the particular brand of fun Daniel Craig had in Spectre made me fall back in love with the Seamaster. And I fell hard. The new 300 Master Co-Axial had already caught my attention, but seeing how hackable it was on a striped NATO, and how good it looked in two-tone on a Russian guy I met at the Olympics sealed my choice here. The fact is, the Seamaster is also an incredible workhorse and it carries so many of the modern Omega models, from the ever expanding Aqua Terra range to the muscliest model in the mix, the Planet Ocean. But truth be told, this variation is it for me. That lack of text on the dial, the PERFECT shade of faux-tina in the wedge shaped lume plots. This is the power of simple done right.
Why you should…
Because it one-ups anyone with a Seamaster, and that matters. You have in your possession 'the Daddy'; The Daddy of Bond and of every guy on the exec team's PO. And in true alpha male style, it whispers rather than roars from the wrist. It says quietly, with unerring confidence, "Hello there, I am an unimprovable design from the past to make your day. I am not winning you over with force, or brute size, but with story. Sit down, would you like to hear one?" Or, yeah, something like that.
Felix's choice – the Railmaster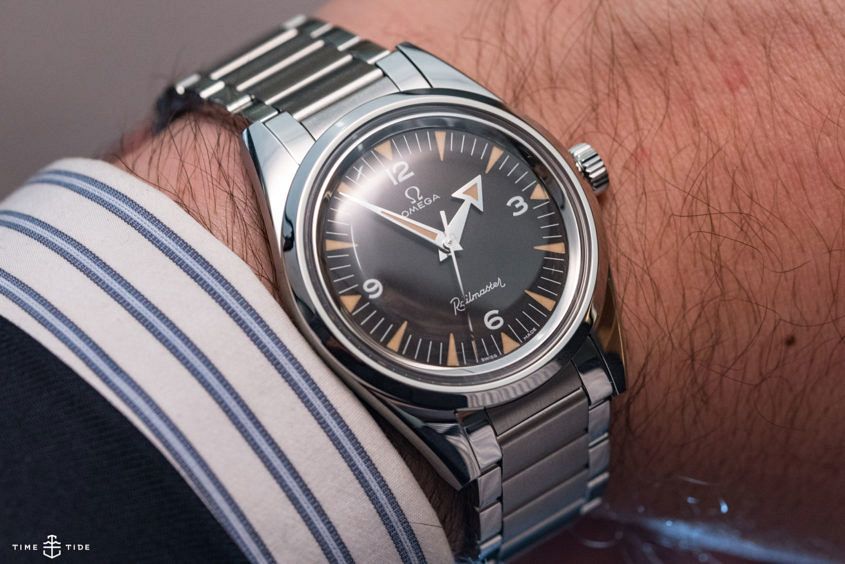 Why I chose it…
The Railmaster is the dark horse of the trilogy — a lesser known quantity than both the chrono and the diver. The Railmaster is the quintessential nerd's watch, from back when nerds were busy shaping the world (I guess they still are). It's this under-the-radar aspect that really won me over. I'd also say it's the purest, most pared-back watch in the trilogy; an incredible, historical watch, reduced to its essentials. Plus there's just something about that case — those long lugs and that broad bezel. Hot stuff.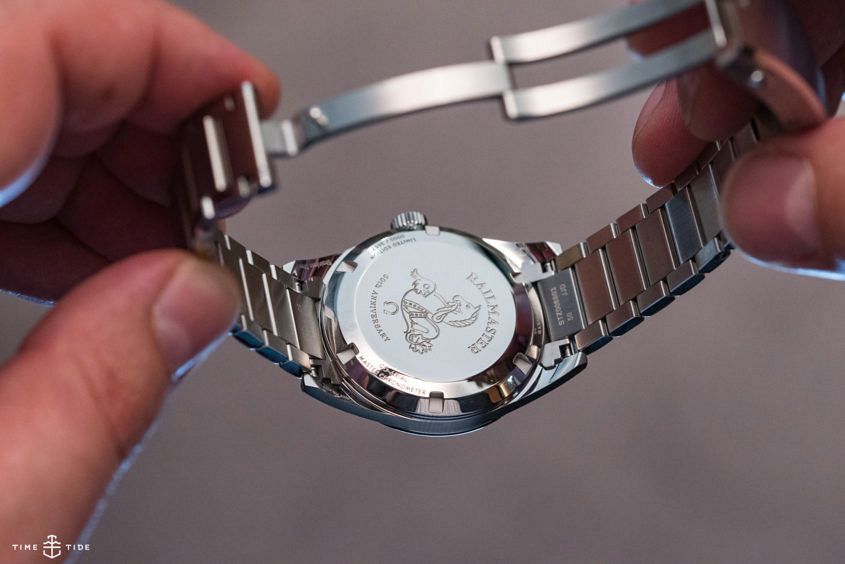 Why you should…
Often we're drawn to particular types of watches. There's certainly a lot of 'dive watch' and 'chronograph' guys out there. But if you're the sort of person who just needs a rock solid daily wearer with oodles of style and the feature-packed caliber 8806, it's hard to go wrong with the Railmaster.
Want to spend a bit of time dreaming about that boxed set? Check it out in all its glory, below.