Every now and then, among the hundreds of new watches I get to see and handle each year, one will stop me in my tracks. That happened with Bulgari's Octo Finissimo Automatic when I first encountered it in early 2017 – and it's what happens again and again every time I see it, handle it, put it on my wrist. To know it better is to love it more. This goes beyond its record-breaking thinness (truly impressive intellectually, but not emotionally) and beyond the design – although I can feast my eyes for hours on those pure, strong lines. I'd go as far as saying that it's one of those rare items that fundamentally changes the "order of things" – that flips preconceptions on their head.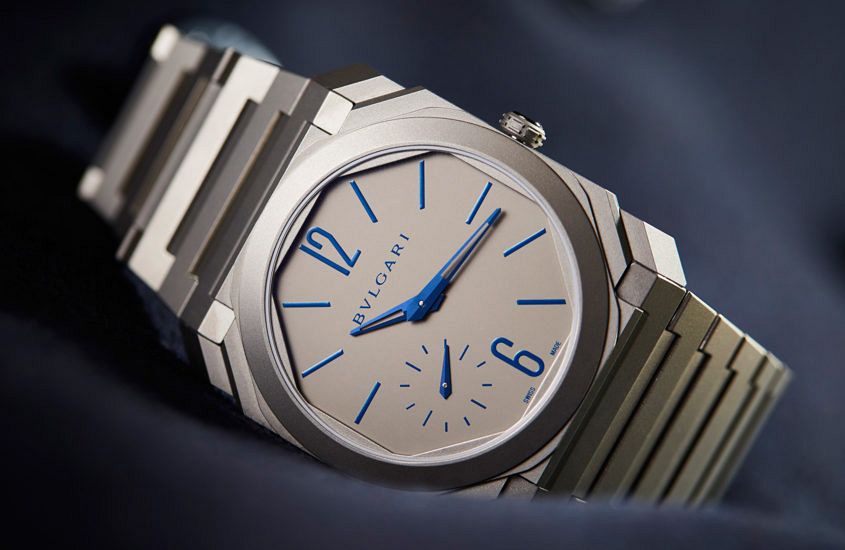 How? Well, there's the idea of what defines "luxury" in a watch: a beautiful, big chunk of precious metal, perfectly polished, heavy enough that you feel the luxury – right? The Finissimo is none of those things: matt-finished titanium, no shiny surfaces, so light that it's almost surreal. Wrapped around the wrist, it feels more like a piece of grosgrain ribbon than a watch.
It's so absurdly (weirdly) second-skin comfortable that you could forget it's there – but you won't, because those crisp angles and taut lines keep catching your eye. As any designer can tell you, the greatest challenge is to do something simple really well; without ornamentation, there's nowhere to hide. This watch has nailed it.
Aside from the object itself, the thing that really blows me away is its price. Twenty grand is not a small amount of money to pay for a watch but the Finissimo Automatic is not expensive. Not Expensive (with its connotation of over-priced) but a value proposition. Seriously? For a time-only watch, 20k is value?
Some of the answer lies above but most of it is contained inside the case: ultra-thin movements are among the most challenging thing in the watchmaking canon. Not because of any complexity but because of simple physics: the thinner and finer a piece of metal, the less robust and stable it will be. Achieving the balance is unbelievably difficult. Certainly more difficult than making most of the classical complications.
So much about this watch is counter-intuitive – flipping perceptions on their head, changing the rules about luxury –and yet it makes perfect sense. Which is why I am completely and unashamedly crazy about this watch, and why I think it will be regarded as a great modern classic in a decade or two from now.