When I had the opportunity, in Geneva this past summer, to get my hands on the 20th century's most famous wristwatch and talk about it with the man who will be holding the hammer when the watch is auctioned by Phillips in New York in a few days, my immediate thought was I-love-my-job-I'm-so-lucky.
Followed by a few key questions: Would the watch feel more special on the wrist than your typical Cosmo Daytona? Does Aurel Bacs, auctioneer supreme, regard this as anything more than another (likely) record-breaking piece? And, on that note, just why was the pre-sale estimate — "In excess of $1 million" — so low?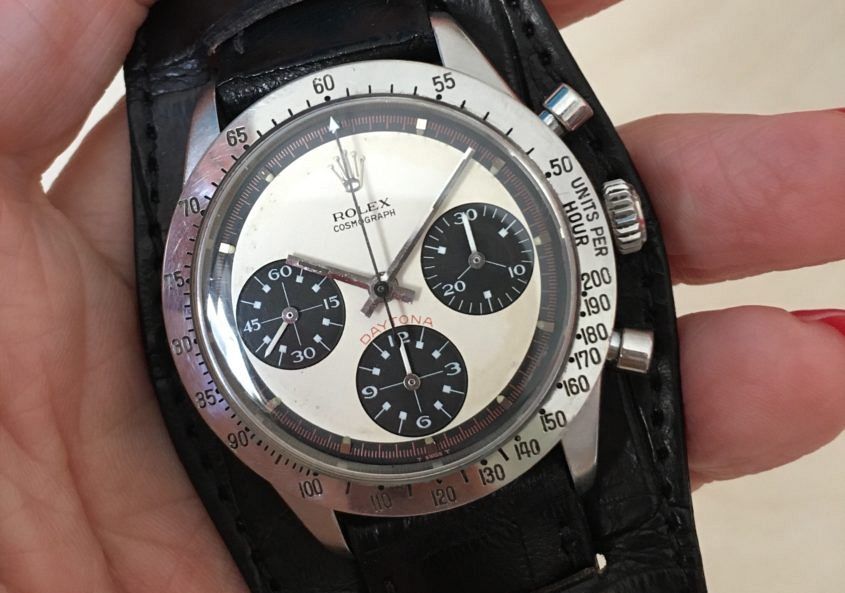 The importance of provenance
When I found out that this watch was entering the market I was intellectually excited but emotionally detached. It's a watch, right? With a very good story. A watch that loads of collectors would willingly sell their furniture (if not their mother-in-laws) for. But it's a Rolex Cosmograph Daytona with an exotic dial, Ref 6239, circa 1969. It's only a watch.
That's how it looked and felt for about the first three seconds after Alex Ghotbi from Phillips handed it to me. Then something took over – the knowledge that this, THIS, is the grail watch for thousands of collectors. THE Paul Newman was in my hands. Ouff! And the knowledge of its provenance: the first owner had not only pre-dated my dislike of the cult of celebrity but was the subject of a major (major) crush throughout and well beyond my schooldays. Double ouff!! And then I saw the little scratches and dings on the case sides and back – the story of the watch's life (no matter whether those bumps had been from its Paul Newman days or its James Cox days, the man to whom Newman had given the watch towards the end of the 1970s). That, more than anything, makes this watch beyond special in my eyes – the lives it has witnessed on the wrists of its owners. And then Alex said, "Go on, put it on." I did. No words.
Grown-up professional detachment totally out the window. And so to my second question, which was pretty much about that: Does this watch mean more to Aurel Bacs than another potential record price?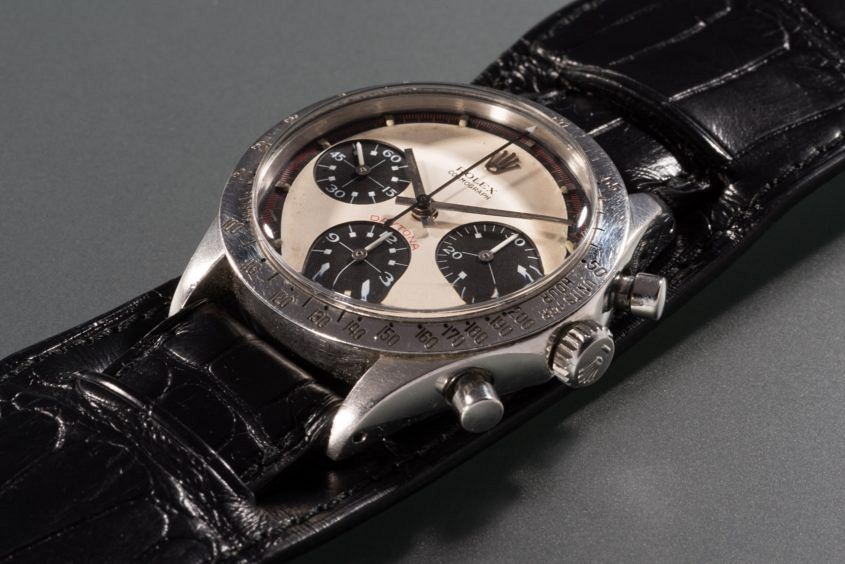 Feeling professionally detached, Aurel?
Here's his answer, in a few verbatim snatches of our conversation. But first, he insisted that contrary to some reports, he didn't find Paul Newman's Paul Newman.
"Let's be very clear: it's the exact opposite. One day I got a call from a collector who told me that, through a [lawyer] friend, he had met the man who owned the watch and that man was interested in selling and had asked who should be the auctioneer. I did not find the watch. The watch found me."
Cut to a dinner in Los Angeles in summer 2016, the first time Bacs met the owner, James Cox (to whom Newman had given the watch when Cox was dating the actor's daughter, Nell Newman).
"As we chatted, James said casually: 'Well, I suppose you'd like to see the watch? Here it is.' And he put it on the table. Just like that. I wanted to do what Tom Cruise did on Oprah's show — but in a smart dinner club in Los Angeles you just don't. So I said something like, 'Oh, that's rather nice.'"
"Of all the people out there who could have been in the fortunate situation to handle the sale of this watch, I still don't fully understand the dimension of me being the lucky one. To have been picked to hold the gavel when this piece comes to market …" [No more words; Bacs is sounding rather emotional.]
Yes, clearly he meant it.
But why does it mean so much?
"I find that objects such as John F. Kennedy's pen or the hat of Napoleon or the wallet of Winston Churchill bring you very, very close to that person. So for this watch, first of all, I absolutely love the story. There was Paul Newman, at the age of 40, sitting in a race car and telling his wife [Joanne Woodward] — who probably imagined that she would have a safe, relaxing life with her actor husband — that he just discovered how much he loved going 120 miles per hour in a single seater … So she gave him the watch with the engraving on the back, 'Drive Carefully. Me'. It's just a wonderful story.
"Second, to me Paul Newman has always been a man of absolutely mythical dimensions. As an actor, as a race driver, as a benefactor, as the husband in an amazingly strong marriage, as a man who had no scandals! Who died of natural causes. In Hollywood! He was the antithesis of what a Hollywood star should be. Of course I love Rolex, of course I love Daytona, and love Daytonas with the exotic dial. But the fact that Paul Newman owned it adds a personal dimension – I have always been a huge fan."
Yes, the fan thing does make a difference.
And finally, that low estimate. Why?
Over to Aurel again:
"Before going to California (for that first meeting with James Cox in 2016), I thought of everything except the estimate: 'I hope I make a good impression on them'; 'Is it going to be the real watch?'; 'If it's real, how will we prove it?' When I was in LA and they asked me the estimate, I was alone. I couldn't consult the experts' committee at Phillips. I had to come up with something on the spot.
"I knew that there was a possibility it could make $2m, $4m, $5m and I also knew at that time (July 2016) that if we offered it at 2–4–5 there would be no interest. Because the 1518 [Patek] hadn't been sold yet. The Bao Dai hadn't been sold. In July 2016 the record for a Rolex was CHF 2 million hammer price against an opening estimate of 800,000 – the best hammer-price-respective-to-estimate ever achieved for a Rolex. So when they asked me for my estimate I said, 'I think this is the most valuable Rolex in the world. And since the previous most valuable Rolex carried a pre-sale estimate of $800,000, I think we can offer yours at $1 million.'"
We will soon know how many multiples of a million. Whatever the number, nothing will take away the privilege – and the frisson – of having worn, for just a few minutes, one of the world's most wanted watches. A watch that one of my heroes had worn for more than a decade. Professional detachment? Decidedly overrated in this case.