INSIGHT: 2 takes on the Rolex Sky-Dweller from people who bought it
Felix Scholz
Reviewing watches like the Sky-Dweller is all well and good, but we're (usually) quite detached about it. So we decided to find the opinions of people who had handed over their own hard-earned for the Sky-Dweller and asked them for their far less impartial take.
Ashley's perspective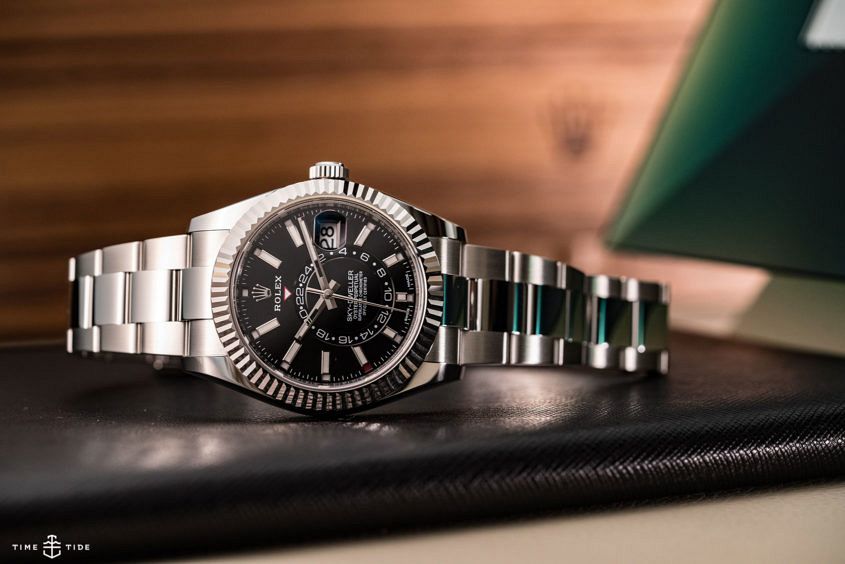 First we spoke to Ashley, a Sydney-based collector who's eagerly awaiting the delivery of his Sky-Dweller. Ashley was pretty sure he was going to get it as soon as he saw the news from Basel, but handling it in person at a retailer's event sealed the deal.
Which one did you get?
I went with the black dialled, white gold Rolesor version. I know the blue photographs better, but the black's better in person and is a much more classic option.
Why did you get it?
When I first saw it online – partially through you guys – I thought it was a bit of a left field release for Rolex. I've always loved the Sky-Dweller but it's always been out of reach for me. I've had loads of Rolexes, and I've worked out that I like ones with a bit of character or tool purpose. The Explorer and Datejust are beautiful watches, but they're a bit plain for me. The Sky-Dweller is a bit flashy, which I like — it's a great modern size but it's also a very traditional Rolex design so it covers a lot of bases. Plus the complications are useful and well done.
So, do you actually have it on your wrist yet?
No. I'm going on my honeymoon in a month, so hopefully the watch gets here in time. If it does, it's the only watch I'm taking, which is unusual for me as I'll typically pack three watches for a weekend away!
And finally, what do you think the reaction from Rolex fans has been? 
That it's a good value watch, though 'normal' people might disagree. At $18K you get an annual calendar and a second time zone — that's not much more than the Daytona which is a simple chronograph, or the new Sea-Dweller.
Next, we spoke to Bernard, a watch retailer who we happened to know was the proud owner of a very gold Sky-Dweller. We spoke to him to find out what it was like after years of wear, and what he thought of the latest update.
Bernard's perspective
Which one have you got? 
I've got the yellow gold version on a bracelet, with the silver Roman numeral dial. I've also decided I want to get the white gold Rolesor version with a black dial.
Double down Sky-Dweller! Why that one? 
I originally wanted the blue, but the black did it for me in real life. There's something about the way they've done the black that comes across slightly better than with the blue.
Interesting. Now, back to the yellow gold — when did you get it and why? 
Well, it was originally released in 2012. I got mine at the end of 2013, and I went with this version over the chocolate dial Everose version because I found it easier to read. The reason? Aside from liking how it sat on my wrist, I like the fact that it's one of the only annual calendar GMTs that you can adjust backwards and forwards. I also really like the fact that the bezel forms part of the movement, ensuring the integrity of the watch. It's a smart solution. Every time you put a hole in the case there are more chances for moisture or dust to get in.
I happen to know you've got a number of 'serious' watches. What makes the Sky-Dweller stand out? 
I have 100 per cent confidence in it running well. I've had other calendars and they've often spent long times in servicing. I've now got more Rolex in my collection than any other brand simply because they're so reliable.
Finally, as an industry guy, what are your thoughts on how important the Rolesor Sky-Dweller is? 
The interest in it is huge right now. I think it's a really interesting move. I remember having a discussion with someone who said there'd never be a steel or Rolesor version of the Sky-Dweller simply because of the massive investment that must have been put into the movement; they predicted it would always be precious, like the Day-Date. Personally I'm really pleased with this release as it means I'm wearing mine more regularly.