This year marks the 10th anniversary of Hublot's iconic model, the Big Bang. The bold shaped watch is instantly recognisable, and has been so phenomenally successful – 44,000 were sold in 2014 – that it now lays serious claim to being considered an icon of not just modern watch design, but watch design immemorial. Given the brand's meteoric rise under the leadership of Jean Claude Biver it might be surprising to know that Hublot has quite a long history – being founded in 1980 by Italian Carlo Crocco. What might be even more surprising is that many elements that are synonymous with the Big Bang exist on the original model from 1980. The hooded lugs with exposed screws, the rubber strap and the screwed down bezel which, like other popular '70s and '80s designs is based on a ship's porthole. In fact the name Hublot comes from the French word for porthole.
The story of modern Hublot begins in 2005 when the revitalised brand launched the Big Bang at Baselworld. It retained the spirit of fusion explored in Crocco's original designs, but supersized them. It captured the spirit of the times, and the unconventional watch design had a sensational impact. The acclaim, controversy and at times downright confusion that followed the release of the Big Bang only increased the buzz around it and cemented its place as the must-have new luxury status symbol.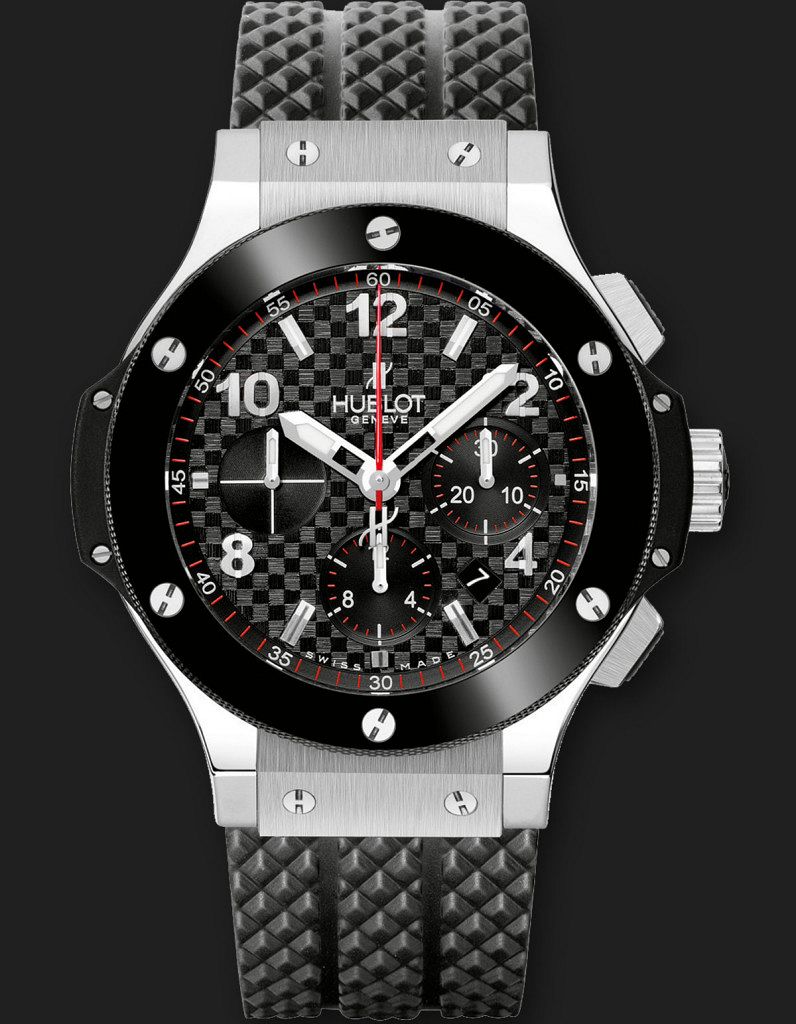 That was 10 years ago, and these days the Big Bang no longer has anything to prove, being very much a part of the horological establishment. But does being accepted lessen the power of the Big Bang? And will Hublot move on from their iconic design? We sat down with Raphael Nussbaumer, Hublot's Product and Purchasing Director, to discuss the Big Bang's past, present, and future.
T+T: The Big Bang was one of the first watches that really made an impression on me as I started to get interested in watches. Which seems like it was only yesterday, but was actually 10 years ago. I remember thinking it was so unlike anything else out their at the time. Can you tell me about these early years of the Big Bang and why it's significant?
RN: When Mr Biver joined Hublot in 2004 he decided to rejuvenate the brand, and in 2005 he presented the Big Bang. He kept some of the iconic DNA of Hublot, such as screws on the bezel and the case. But he developed a completely new case construction. This kind of construction was the first innovation of the Big Bang, and this is the real start of the story of the Big Bang.
We are not 100% manufacture because we are not Rolex, we are not Audemars Piguet, but slowly we work on in-house development and production. We are more than a marketing brand.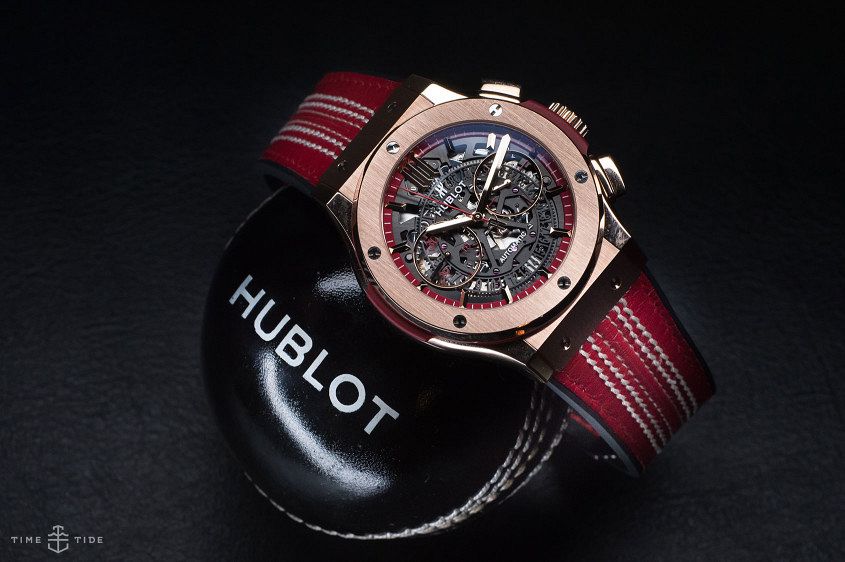 T+T: Why did the Big Bang succeed?
RN: The two main ingredients are the very nice product and the very good marketing. Together it's an unstoppable combination. Now we can say that other brands are a little bit inspired by our design and construction.
T+T: That's a very polite way of saying it. I guess imitation is the sincerest form of flattery. If this is the start of the Big Bang story, what was the next major advance? RN: Well, two years ago we decided to present a new Big Bang, this time with an in-house Unico movement. This is a natural part of our evolution – we keep the DNA but now we have more in-house capacity.
T+T: So why was it important to design a new movement and what were the challenges?
RN: It was a challenge to develop a new movement – it's very expensive and risky process. BNB Concepts delivered the first versions, and they had to be completely re-worked in house, as they weren't suitable for production in commercial quantities. So in two years we've developed from scratch a new chronograph. We had a small team with a lot of experience, who are the best people to develop a new movement in a short time, and they did it, a double horizontal clutch chronograph. It's a completely new integrated chronograph.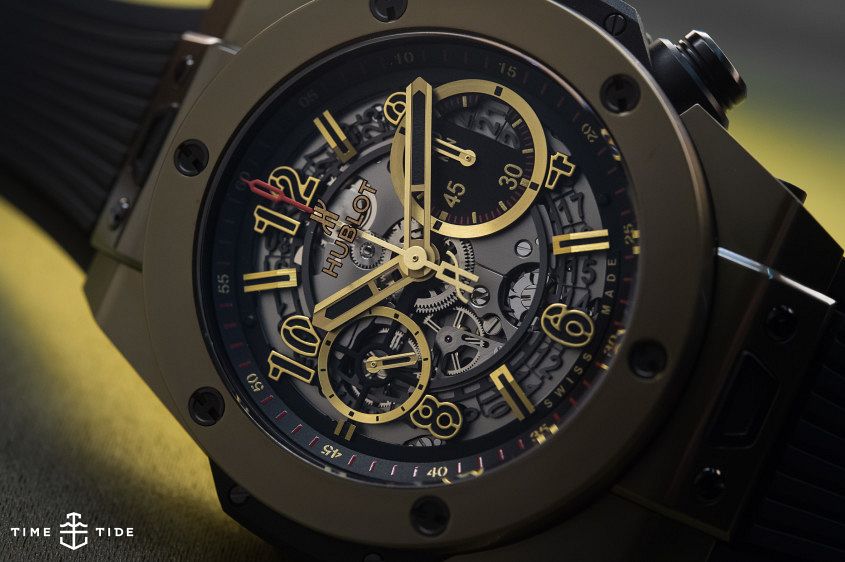 T+T: Has it been a success for you?
RN: It has done very well, and more importantly – after four years of sales our customer service centres say there is a very low incidence of issues on these movements. That's how we measure a good product.
T+T: How many new Big Bangs have Unico movements?
RN: All the new ones with open dials are Unico. We've had a lot of interest in the last few years, and production has increased strongly. We delivered more than 8000 Unico powered Big Bangs in 2014, up 25% from last year – out of a total of around 44,000 Big Bangs.
T+T: And what does this manufacture status mean for Hublot?
RN: It is an important story for us to tell, especially this year – the 10th anniversary of the Big Bang. It's important for us to demonstrate this capacity. We are not 100% manufacture because we are not Rolex, we are not Audemars Piguet, but slowly we work on in-house development and production. We are more than a marketing brand.
T+T: And looking to the future, do you aspire to be 100% in-house?
RN: It's hard to speak accurately so far into the future, but I would be surprised if we ever became 100% in-house. We are looking to increase to 40% in the next 5-10 years. We never say never, but it's not a high priority at the moment.
T+T: And in terms of design how important is the Big Bang? Will it be eclipsed by the Classic Fusion as the next 'big' Hublot?
RN: When we first presented the Classic Fusion it wasn't an important pillar for us, but it's become very successful – more than 30% of our sales is now Classic Fusion, compared to 50% for the Big Bang. So yes, we're diversifying, but the Big Bang is our core, and will remain our most important product line for the foreseeable future.
Original images by Kristian Dowling/Time+Tide Images.