The story in a second: The Doxa SUB 1200T offers a huge amount of legacy, technical capability and exclusivity.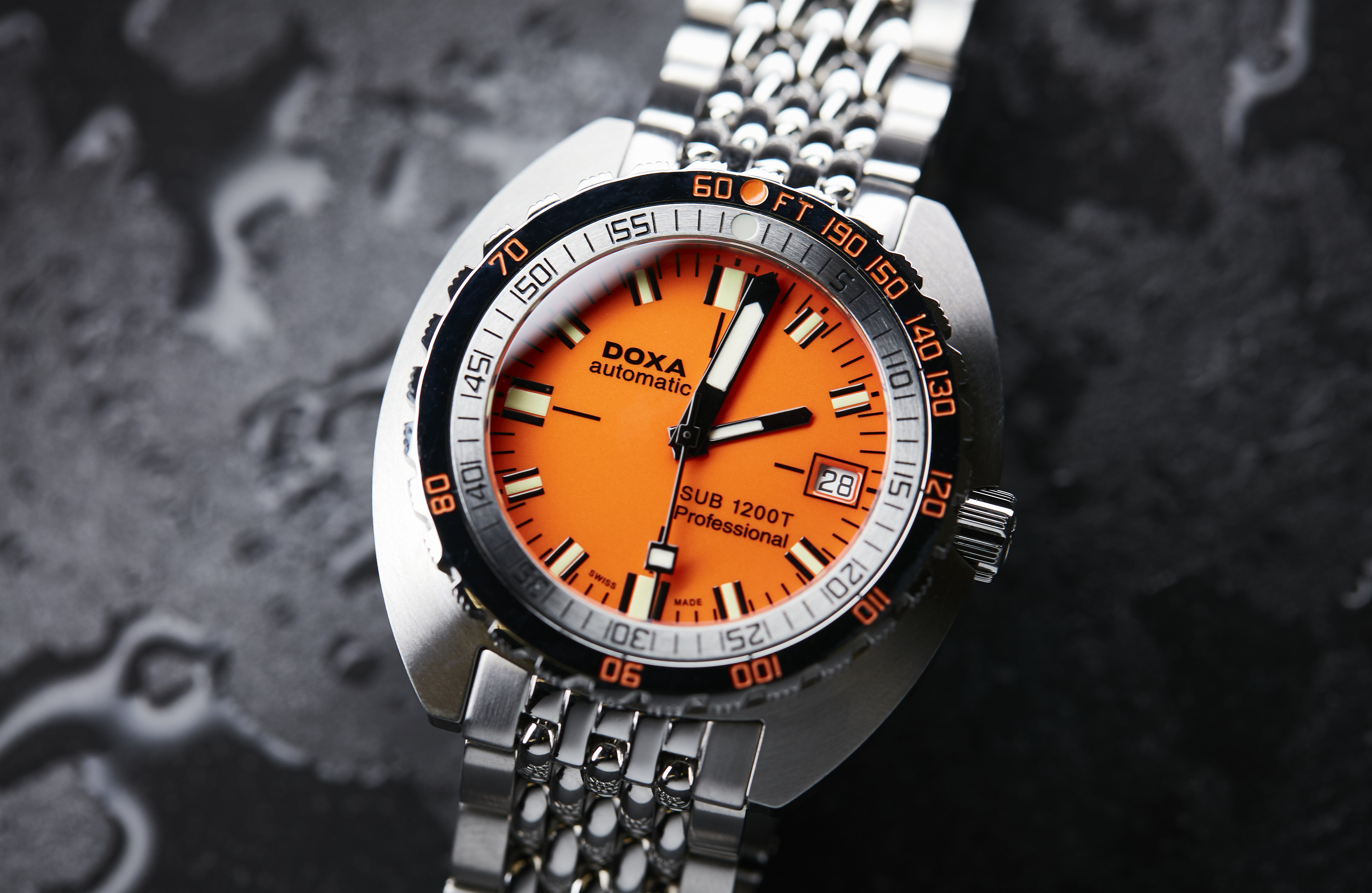 Let's press rewind for a second: the year is 1969, and Doxa S.A., a storied watchmaker established 80 years previously, in 1889, unveils the first publicly available dive watch in the world with a helium escape valve – the Doxa SUB 300T Conquistador.
Developed in conjunction with the doyen of deep sea diving, Jacques-Yves Cousteau, the SUB 300T Conquistador became an instant must-have among the diving fraternity. And Cousteau believed in the product so resolutely that his company, U.S. Divers, became an official distributor for Doxa watches.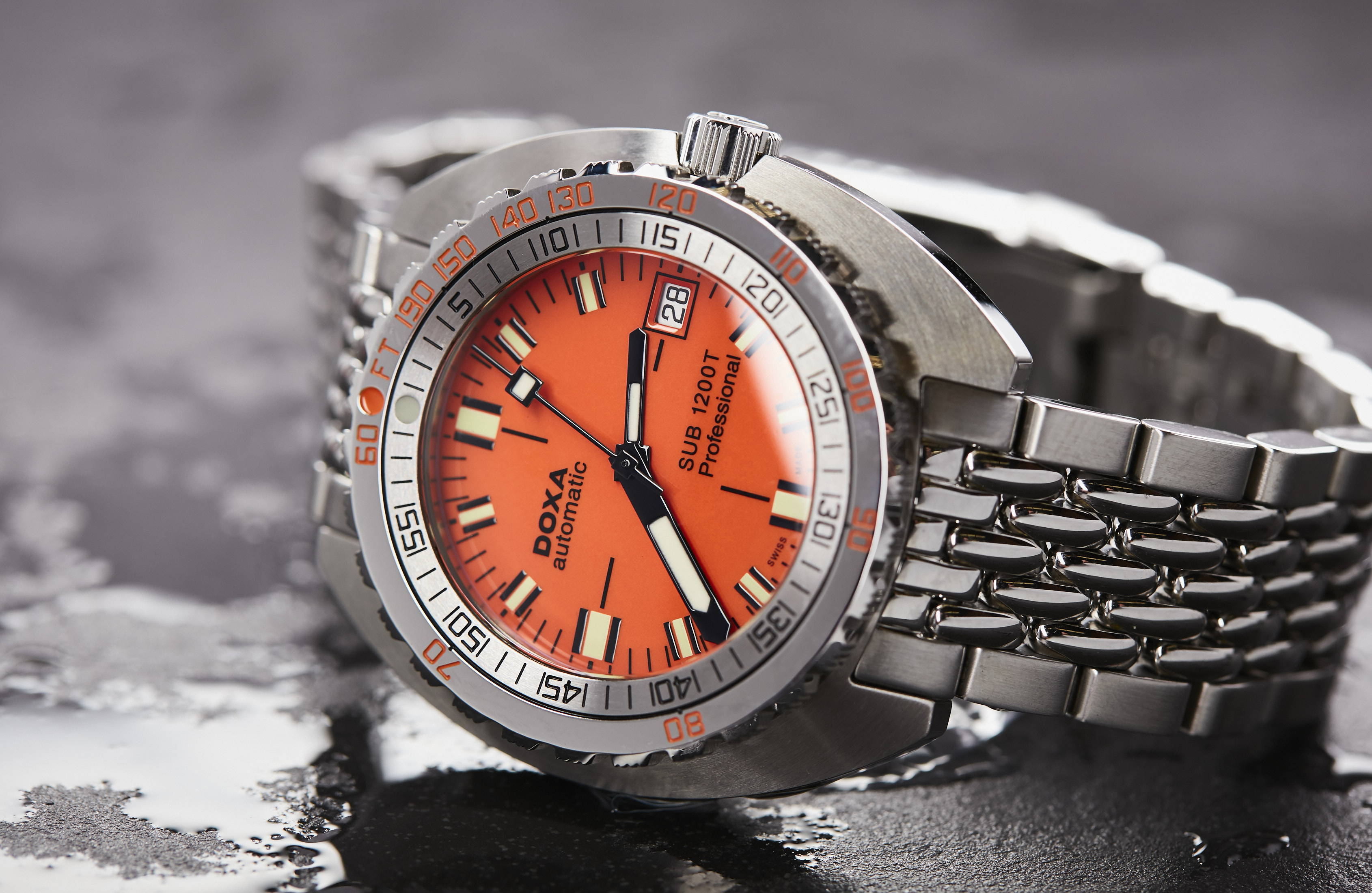 The watchmaker's now iconic orange dial became synonymous with deep-sea exploration, and, according to Cousteau, he favoured the arresting bright orange over any other colour due to its superior legibility in the murky depths of the ocean.
Now, back in 2019, Doxa has created the Doxa SUB 1200T, a limited edition dive watch that pays homage to the eponymous SUB 300T Conquistador, while also introducing a host of new technological features and benefits.
Time+Tide is proud to be the first ever official distributor for Doxa Watches in Australia and New Zealand, and as a result, I've been lucky enough to spend a fair bit of time with the SUB 1200T attached to my wrist, and these are my thoughts: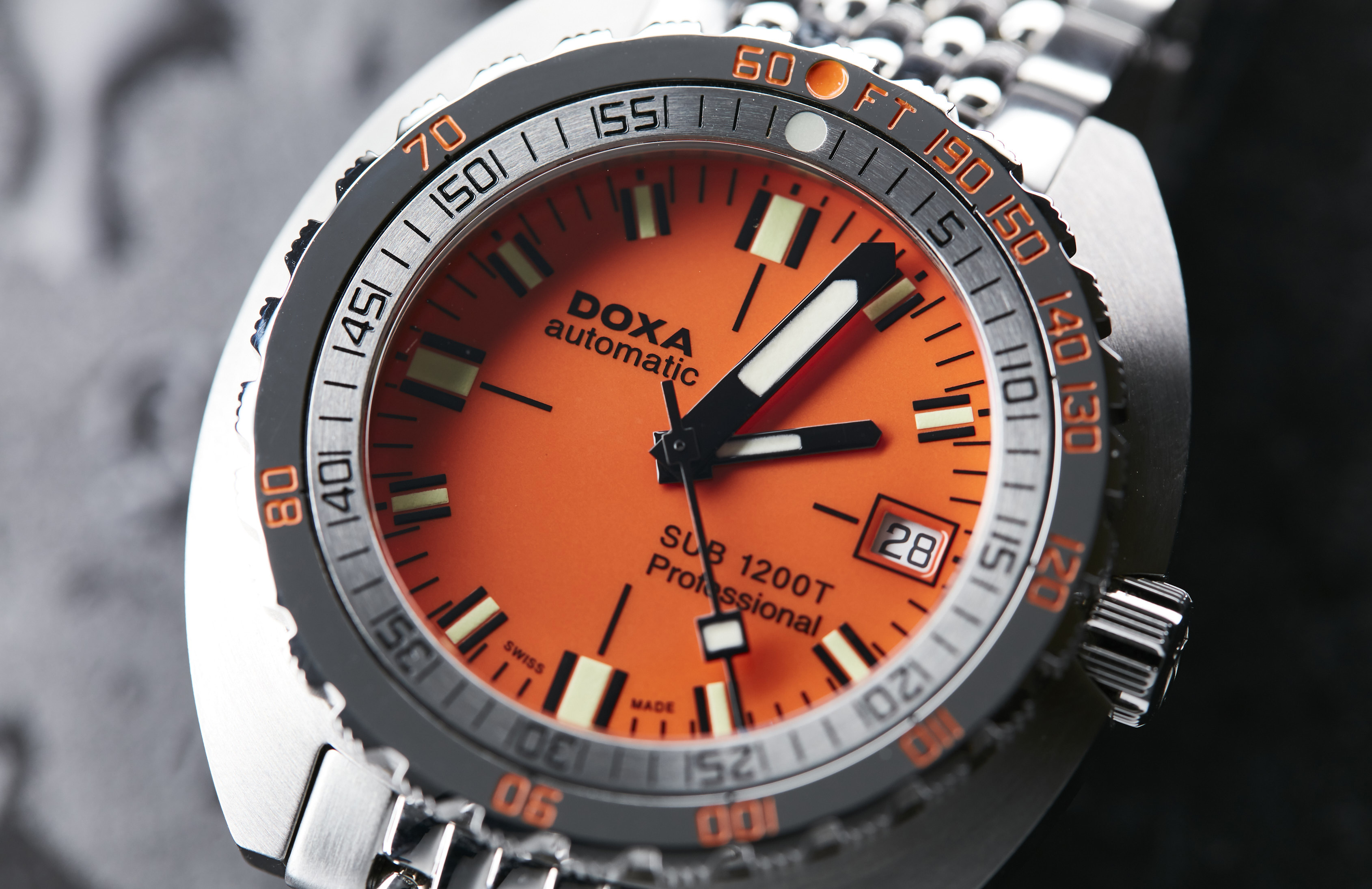 The dial
There's no mistaking it: even with the most fleeting of glances, you know it's a Doxa. The orange is so iconic, and as a rather large fan of dive watches and the sheer history behind these pressure-defying timepieces, it fills me with a palpable sense of excitement having such an icon on my wrist. And Mr Cousteau really was onto something having a preference for the striking orange dial – it is very, very legible. I love its decidedly late '60s/early '70s aesthetic, too, with the Super‑LumiNova lumed, baton-like indices flanked on either side by glossy black blocks, which provides a great amount of contrast. It's the same story with the angular gloss black hour and minute hands, and I'm particularly fond of the slim seconds hand, which sports a wonderfully jarring square piece of lume near its tip. The date aperture, located at three o'clock, is unassuming and as you'd expect, useful, and the partially sectored dial does an excellent job of creating diagonal symmetry between the words "Doxa Automatic" located on the upper left-hand side of the dial, and "SUB 1200T Professional" located on the lower right-hand side. All in all, it's a dial that constantly draws you in, and I've caught myself several times just gazing at it through the ever so slightly domed sapphire crystal.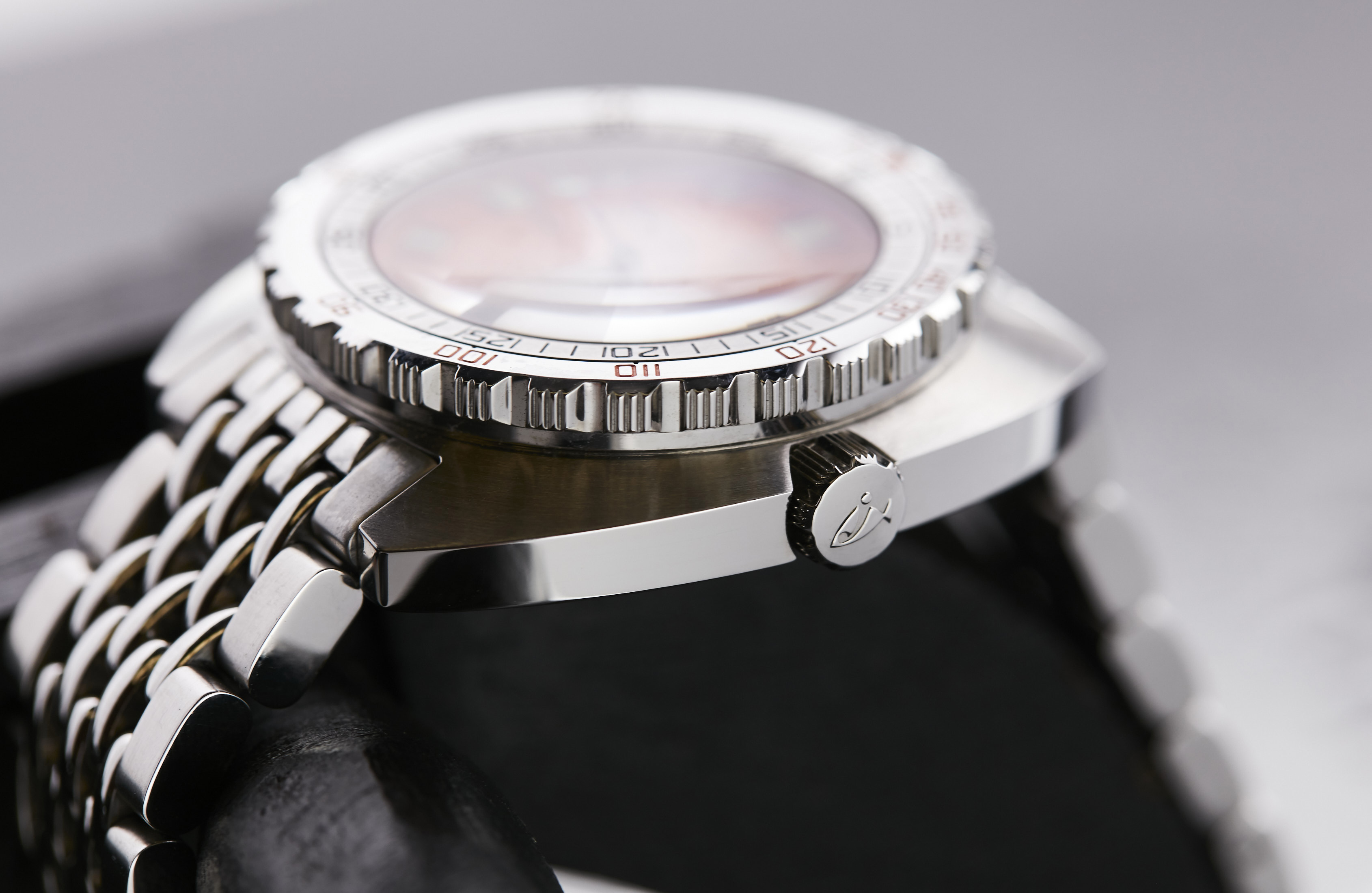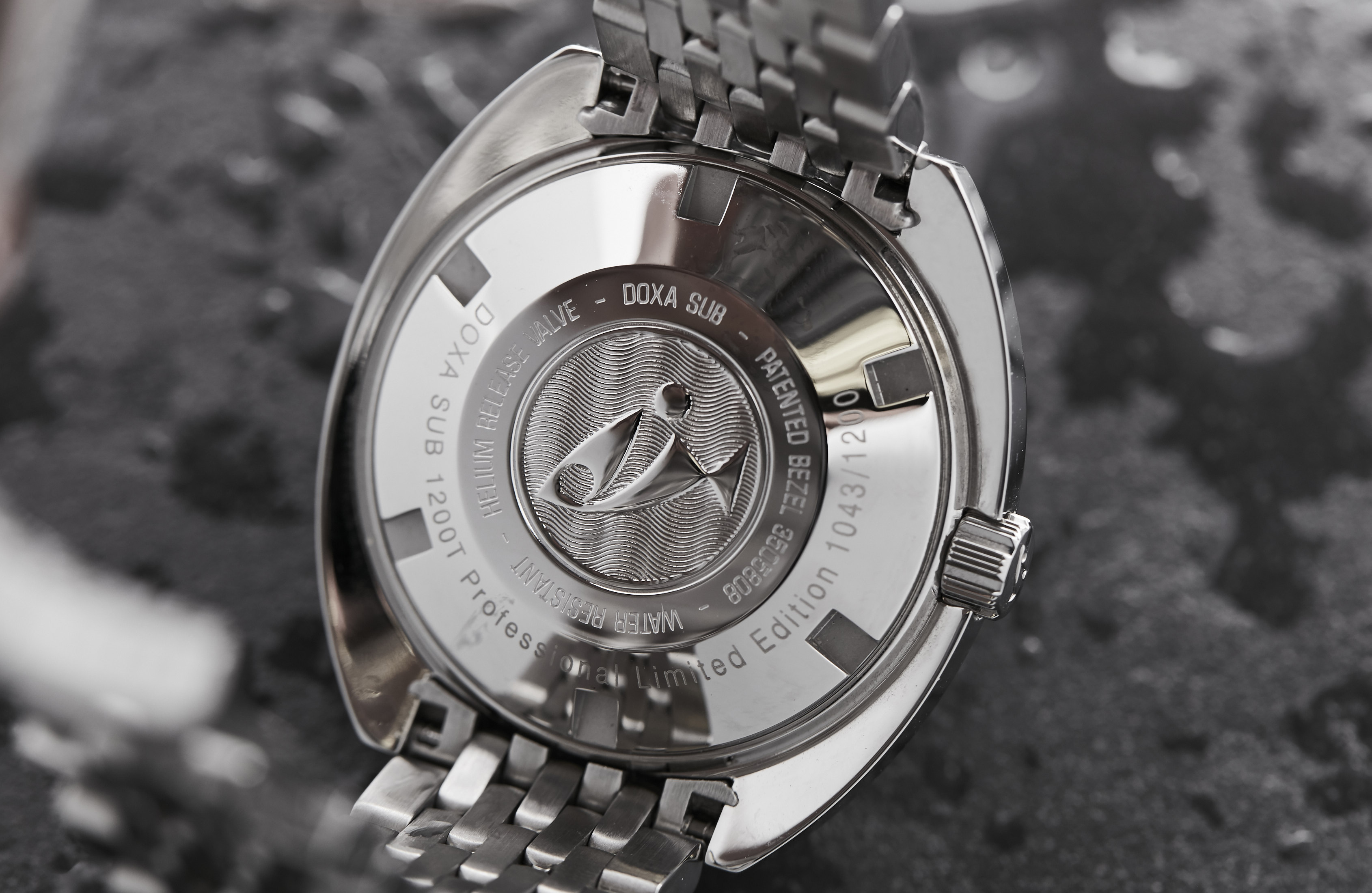 The case
Anyone fond of '70s-style watches will adore the SUB 1200T's quintessentially tonneau-shaped case. Finished in 316L steel, the hefty body features both brushed and polished elements, and on the wrist it presents an ideal blend of rugged utilitarianism and date-night dressiness. Measuring in at a not-unsubstantial 42.5mm case, the SUB 1200T also sits quite tall – 14.0mm, to be precise. However, those afflicted with a smaller wrist shouldn't despair, because thanks to a combination of the aforementioned shape of the case and the relatively small dimensions of the dial itself, it actually wears a good 1-2mm smaller. Turning the watch over, it's easy to admire the polished screw-down case back and signature Doxa fish logo, as well as the individually numbered engraving – this one is number 1043 of 1200. Located on the right side of the case, and in addition to the screw-down case back, the crown is, rather obviously, a screw-down job as well, and it also features Doxa's fish logo. The left-hand side of the case hosts the fabled helium escape valve, which is slightly recessed into the case, and goes a fair way to helping the SUB achieve its deeply impressive 1200 metres of water resistance. The lug-to-lug gap measures 20mm across, allowing for an absolute plethora of aftermarket strap/band options.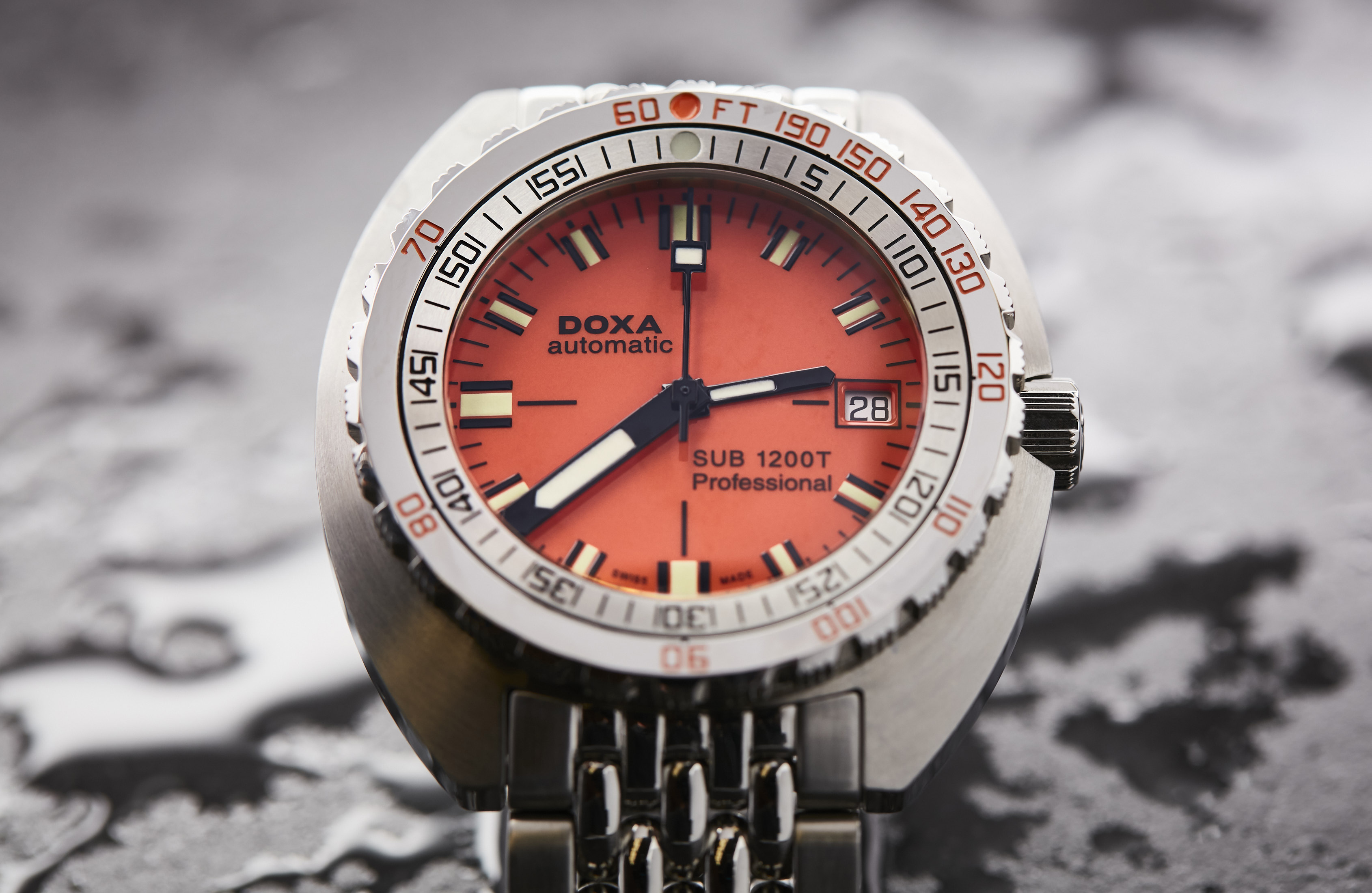 The bezel
For any dive watch to retain even a shred of credibility it needs to have a good bezel … and the SUB 1200T does not disappoint. For a start, it's a patented design that incorporates both standard 5-minute markers, which are engraved in black on the inner edge of the bezel, and what's known colloquially as a "no-deco" scale, which is engraved in orange on the outer edge. "No-deco" denotes no-decompression, and without wanting to sound too much like a layman, it essentially, rudimentarily, indicates the no-decompression limits for given depths. Furthermore, the unidirectional bezel is a treat to interact with, thanks to a highly tactile machined edging and a smooth, easy to rotate action that has zero play.
The movement
Personally one of my favourite things about the SUB 1200T is its employment of ETA's prolific 2824-2. In-house movements are great and all, if you can afford them, but these ETA movements are, in my experience, verging on bulletproof and they retain a great level of accuracy, as evidenced by the Doxa not losing or gaining more than five seconds a day for the entire week that I had it on my wrist. Furthermore, the SUB 1200T easily lived up to its estimate of 42 hours of power reserve, and adjusting the time and date felt solid as a rock. It's probably also worth noting that because the 2824-2 is so well known in the horological world, servicing will not only be easy but, more importantly, cheap.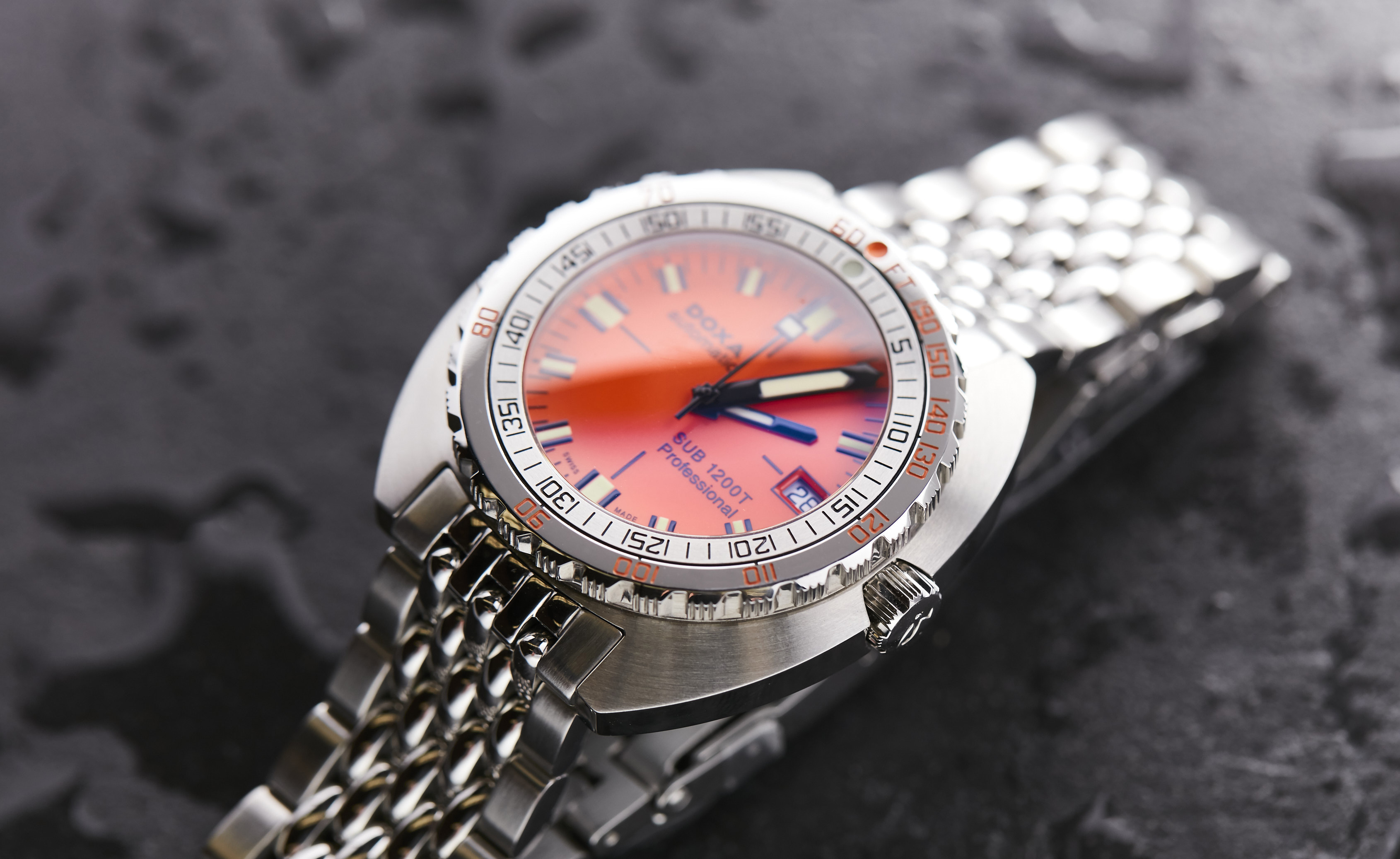 The bracelet
I've got three words for you … beads of rice! Need I say more? OK, I probably should. Well, it's a very good bracelet, indeed. The construction feels weighty and solid, and the fit and finish is impressive, benefiting from both brushed outer links and polished inner links. And unlike bracelets fitted to some much more expensive watches, the adjustable links on this beads of rice bracelet are being held together by screws rather than knock-pins, making sizing the bracelet a piece of cake. The single fold security clasp is reassuring and it also features a (I'm sure) handy diver's extension, in case you plan on throwing the SUB 1200T on over a wetsuit.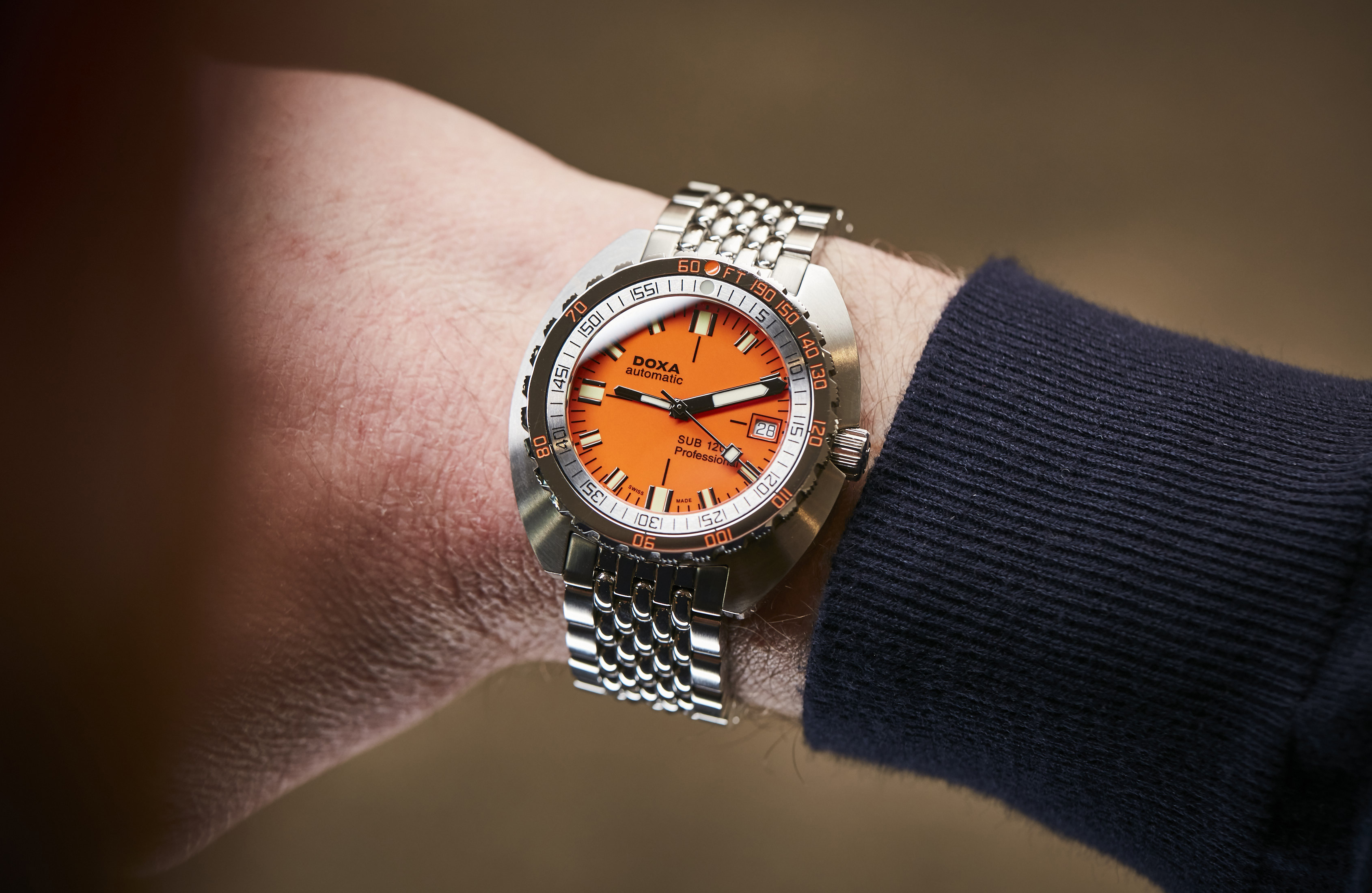 On the wrist
Full disclosure, there was an initial hint of trepidation wearing this watch. Why, you may ask? Well, I'm very much a subscriber to the theory that the "Goldilocks zone" of watch case sizes falls between 36mm and 40mm. And the Doxa SUB 1200T does not follow those strict guidelines. But, as I alluded to earlier, because the tonneau-shaped case lends itself to sitting snugly on the wrist, and the actual size of the dial is comparatively not that large, measuring just 27mm across, the Doxa does wear smaller. And while I wouldn't be daily-ing this watch if I wore a suit (it's not cuff-friendly), if you're fortunate enough to wear what you want to work, I say go right ahead. I also found the beads of rice bracelet a joy to wear, offering a good amount of comfort and a reassuring amount of heft. In addition — and this shouldn't come as a surprise — the SUB 1200T does garner a fair bit of attention, from both the uninitiated and the enthusiast community.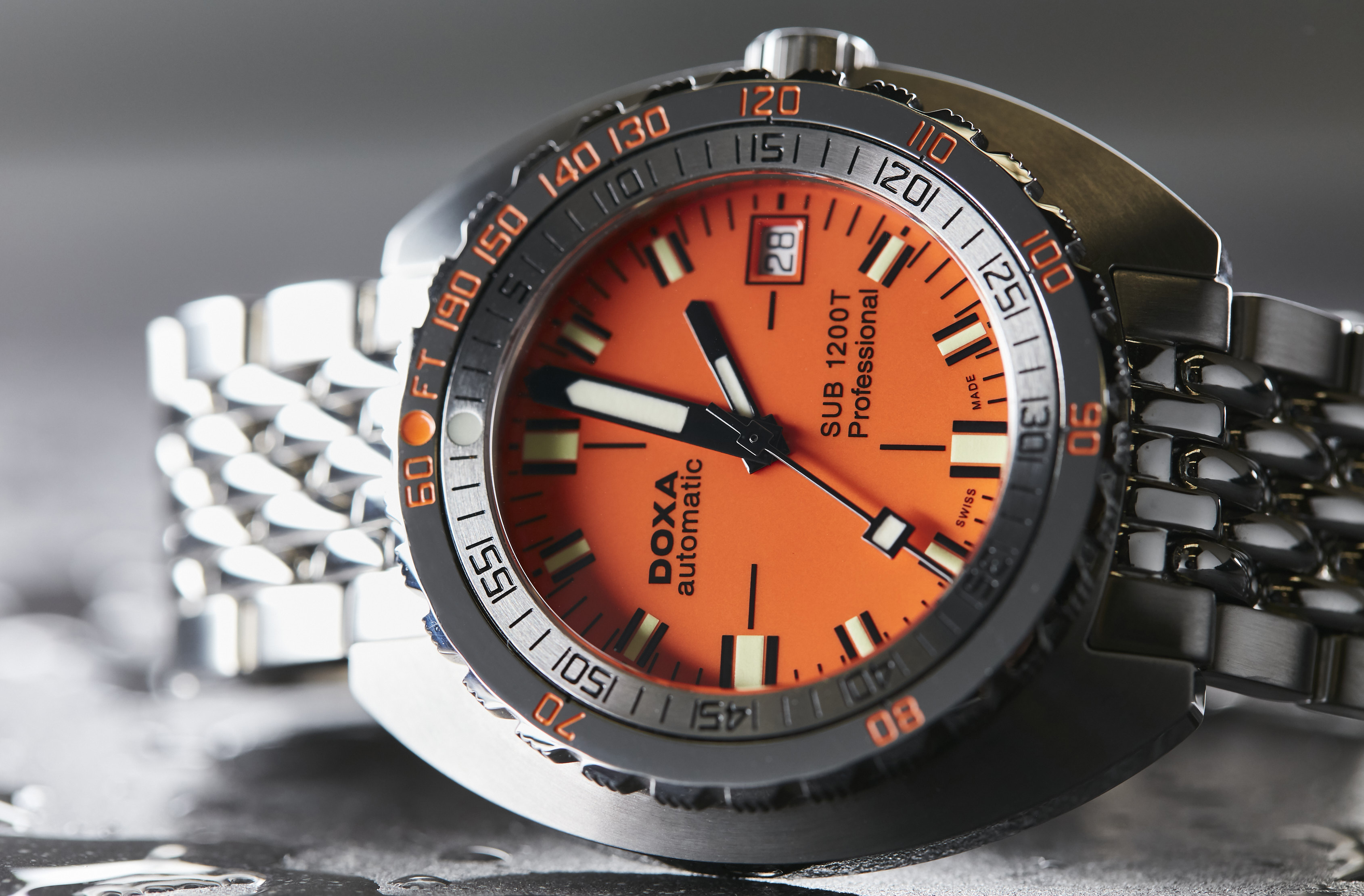 The verdict
There's no two ways about it, I'm a big fan of this watch; it offers a lot for very little outlay. Genuinely, tell me another purpose-built dive watch with this much pedigree, technical innovation and aesthetic appeal for less than $3000 … there isn't any. Just about the only downside I can think of is that the SUB 1200T is limited to just 1200 pieces. However, Doxa is replacing the SUB 1200T with the SUB 300T, and I'll let you in on a secret – besides the 300T being affixed with a tapered beads of rice bracelet – both these watches' features are pretty darn similar.
Who's it for?
Anyone who's seriously into their diving, dive watch enthusiasts, horological enthusiasts, or just anyone who wants a well-made watch at a very reasonable price.
What would we change?
Almost nothing. I personally wish the beads of rice bracelet was tapered rather than being completely straight, but aesthetics are subjective, and several people I've spoken to say they prefer the bracelet as is.
Doxa SUB 1200T price and availability
The Doxa SUB 1200T is $2990 and you can buy it right here at Time+Tide by clicking this link.