Google Maps has done a good job of ruining the job of the safari-suited explorer, taking crystal clear pictures of the entire surface of the rock we call home. Where there is hope for the Indiana Jones' of the world is what lies beneath the surface, where under the white-capped waves of the world's oceans only five per cent has been properly explored. It is this unknown factor, and the consequential opportunity for discovery, which gets ocean explorer, diver and conservationist Fabien Cousteau out of bed each morning.
While it certainly isn't a career path that high school counsellors are pushing you towards, Fabien has continued the good work of his family, which was most notably carried out by Fabien's grandfather, the world-renowned French naval officer and explorer Jacques-Yves Cousteau. Other than a life spent in the water, both Jacques-Yves and Fabien shared a love of diving watches, with Jacques-Yves known to wear DOXA, Blancpain and Rolex, and Fabien who is rarely seen without a Seiko on his wrist.
I had the chance to sit down with Fabien and discuss this in a little more detail, where he explained his position as a global brand ambassador for Seiko Prospex. "I hesitate to say Prospex, because Prospex is much more than just dive watches," he said. "When the average person hears 'dive watches', they go, 'Oh, it's either for me or it's not for me', but dive watches really address a lot of lifestyle possibilities.
"They're built to last through whatever lifestyle you have. Be it desk diver, or scuba diver, or mountain climber or what have you, there's a watch and a flavour for your style, pretty much on every level. But full disclosure: I was a Seiko fan before I even had any relationship with them, and I have a few old Seikos in my collection."
His current favourite is the Seiko SNR029J (a watch we took a closer look at here), which is water resistant to 300m and boasts a spring drive movement in its polished titanium case. While these features are nice-to-haves for most people, for Fabien they are functional elements of a tool that he uses every day below the waves.
"For me as an explorer and as a diver, I've always had a watch with me. Really for pragmatic sake. Because as technology has advanced, people are mostly on computers nowadays for diving, and I am as well, but as we all know, electronics and saltwater don't mix very well. Usually things go wrong or things crap out at the exact wrong time. No pun intended.
"That's why I have a mechanical watch with me as a backup. It's my fail-safe. Whenever something goes wrong, it's usually exactly at the wrong time. Your buddy might be around the other side of the reef or your gauge may crap out. You need to be able to count on something that doesn't require anything but the most elemental aspect of things, which keeps you safe, and that is a dive watch.
"If you're in an alien environment like when diving, then your fallback is your watch because it'll tell you how much time you have left. If you've learned your basic scuba regulations, as you should have, then you will know approximately what your consumption rate and everything else is. So just based on your watch, you know how much time you have left."
Yes, Fabien Cousteau is playing a game with high risks, but one where a mechanical watch improves the odds of his success in a challenging environment. The fruits of these risks are seen through the Fabien Cousteau Ocean Learning Center, an organisation he established to run a "number of programs based in education and activities, and restoration programs".
"What we do includes planting mangroves, seagrass or sea oats, releasing baby sea turtles, you name it. We also do work around 3D printing of coral reefs, and other things like that. So basically, we get to dabble in some unusual approaches for engagement and restoration," he explained.
In essence, his work is focused on educating the world — through both community engagement programs and educational series on television — on how to take better care of our oceans. This goes some way to explaining his relationship with Seiko, which, beyond his enthusiasm for dive watches, taps into the Seiko Save the Ocean initiative, which offers support to organisations who are working to do exactly what it says on the tin — save the ocean. I asked Fabien what watch he might wear if he could choose any … his answer didn't surprise.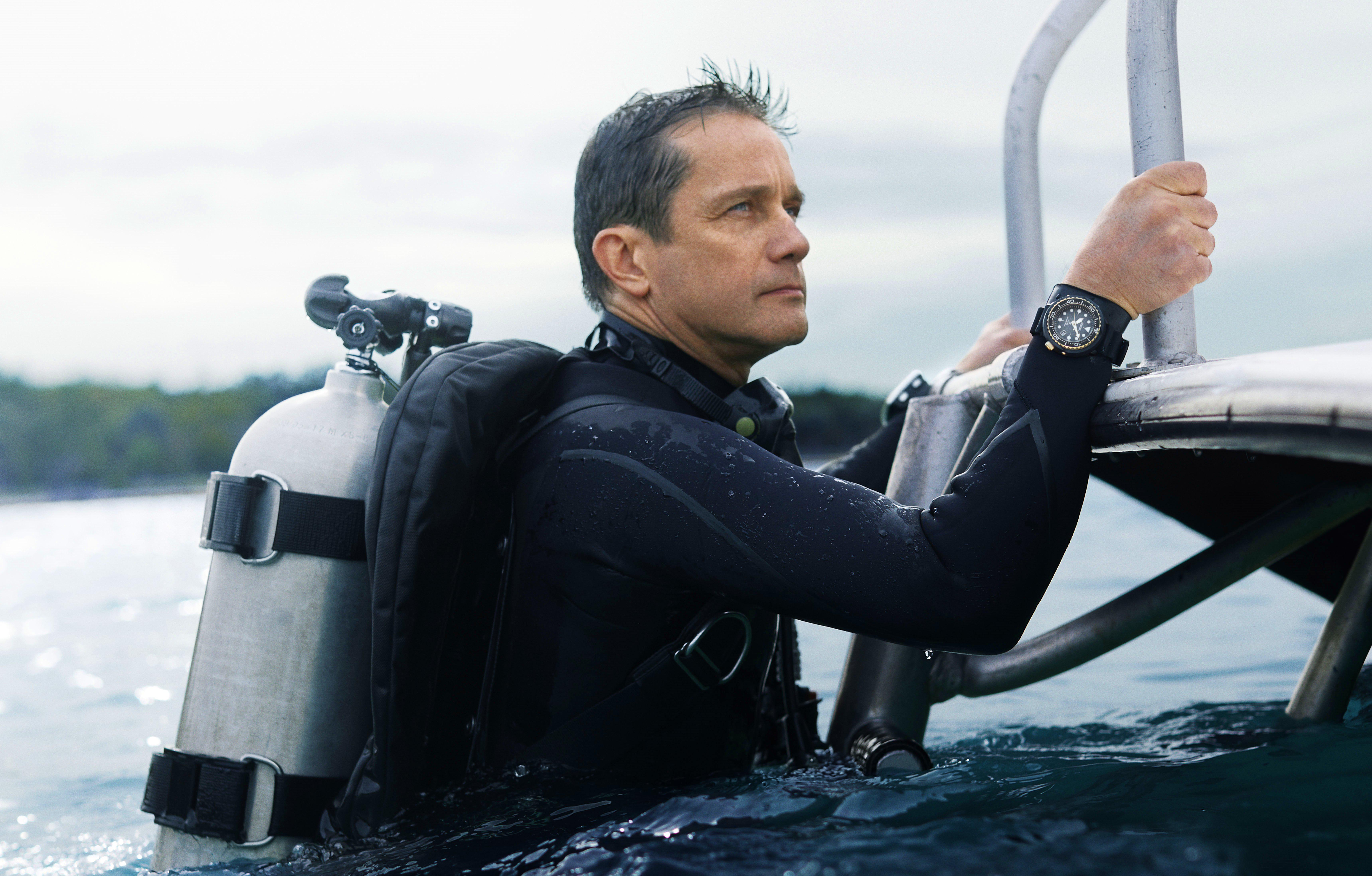 "If I could pick any watch? And price was no limit? It would be a Prospex LX or one of the higher-end Tunas. Yeah, I would probably steer towards the Spring Drive, or possibly the Hi-Beat. Oh man, that sweeping hand is just a work of art," he sighed. Not only is Fabien Cousteau saving the ocean one dive at a time, but he has very good taste in watches.