THE ICONS: The Seiko Turtle combines bullet-proof reliability with a bargain price
D.C. Hannay
When it comes to iconic dive watches, Seiko has to be near the top of any enthusiast's list. My personal connection to the brand is quite strong, as I'm sure it is for many, given the quality and value associated with the brand. You see, Seiko was my gateway drug to the wider world of watch collecting. I'd always been fascinated with watches since I was a kid, but my first "real watch" was a 1979 vintage Seiko 6309-7049 "Turtle" diver, which my wife traded a gold bracelet for at a local mom & pop jewellery store. Now that's true love. Those were the days when you could find one for around $100 dollars…my, how times have changed.
A true manufacture, Seiko does it all in-house, including movements, cases, dials, and even their own proprietary lubricants. Ever since their first professional dive watch, the legendary 62MAS, Seiko has been a serious contender in the field, on par with the leading tool watches from Switzerland. Their next evolution, the 6105, was released in 1968, and proved its mettle as a favourite within the military community during the Vietnam conflict, immortalised in the film Apocalypse Now. Martin Sheen wore the 6105 in his role as Captain Willard, the unwitting assassin sent upriver to eliminate the mad Colonel Kurtz, leading to the reference being nicknamed the "Willard". And it was this model that was the immediate precursor to one of Seiko's most iconic creations, the "Turtle".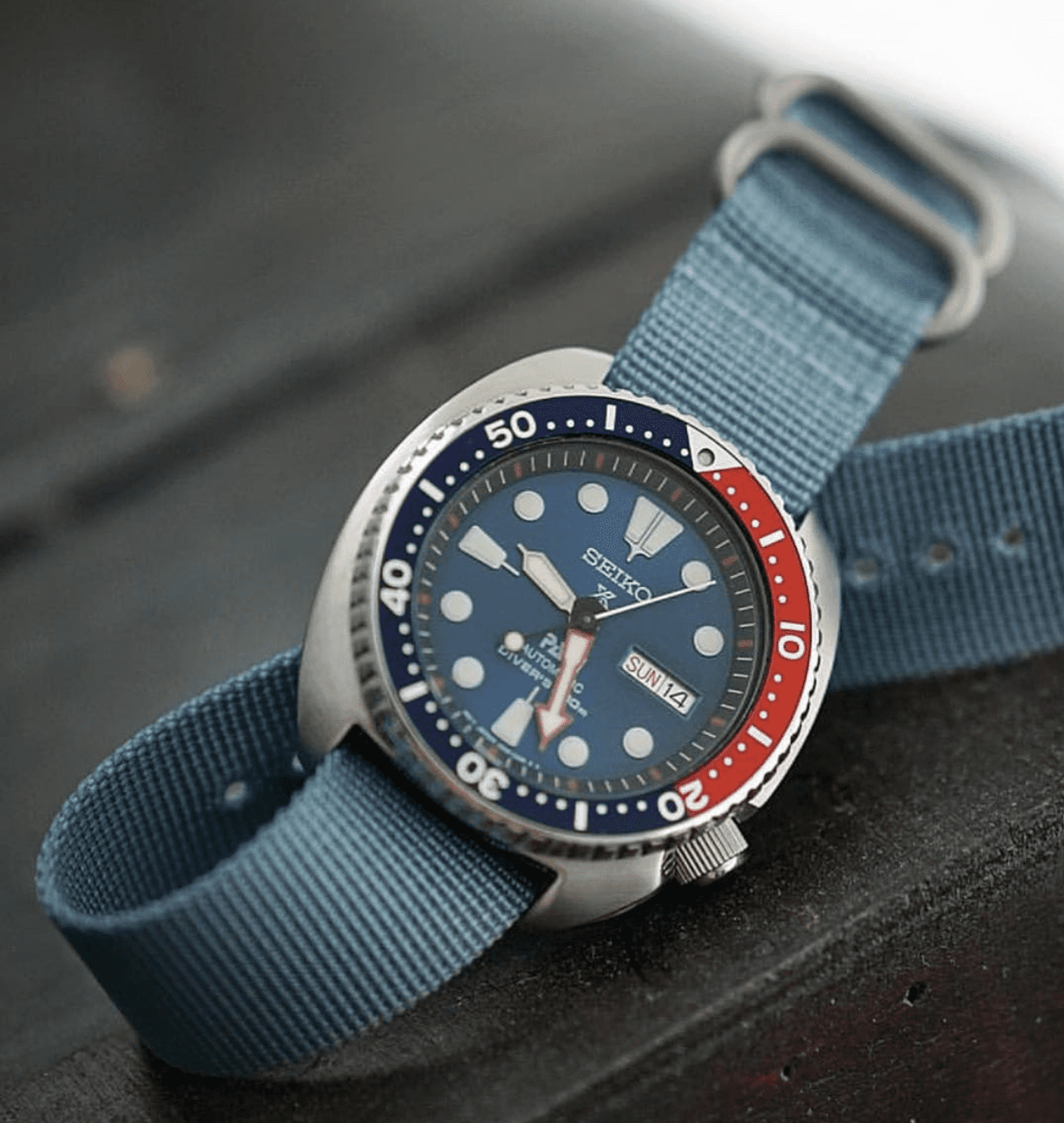 Early History: The Seiko Turtle
Seiko aficionados are true fanatics, and are well-known for nicknaming the objects of their affection. Among the names bestowed by avowed Seikophiles, you'll find the Samurai, the Tuna, the Monster, the Sumo, and many more. Perhaps the most iconic of all Seiko divers, the Turtle gets its name from the rounded contours of its cushion-style case that resembles a turtle's shell. The watch is sufficiently beloved that it even has its own dedicated Instagram page (@theofficialseikoturtleclub) where we sourced many of the images for this story.
First introduced in 1976 as the Japan-only 6306-7000 and 7001, its case is an evolution of the 6105, and it retained its distinctive 4 o'clock crown (which now screwed down for better water resistance), implemented to prevent it from digging into the wearer's wrist. Flip the case over, and you'll find the famous Seiko Silver Wave-embossed caseback, evocative of Hokusai's Great Wave off Kanagawa, and a hallmark of the brand's divers. It also featured a day/date complication, unusual for a tool watch, but perhaps that's why it became a daily driver for so many.
The next iteration, the 6309, was produced with two different model numbers for different markets: The North American version was known as the 6309-7049, which is the one I own, and the 6309-7040, which was the designation for the rest of the world. Widely available at military PX stores, it again proved popular among soldiers, but also found fans in the recreational SCUBA diving community. Seiko had a runaway hit on its hands, and produced scads of them during its run. Their rugged construction is legend: tales are common of vintage models that have never been serviced, despite decades of daily wear. It's not unheard of for a 6309A movement to start right up with the tiniest flick of the wrist after years in a drawer.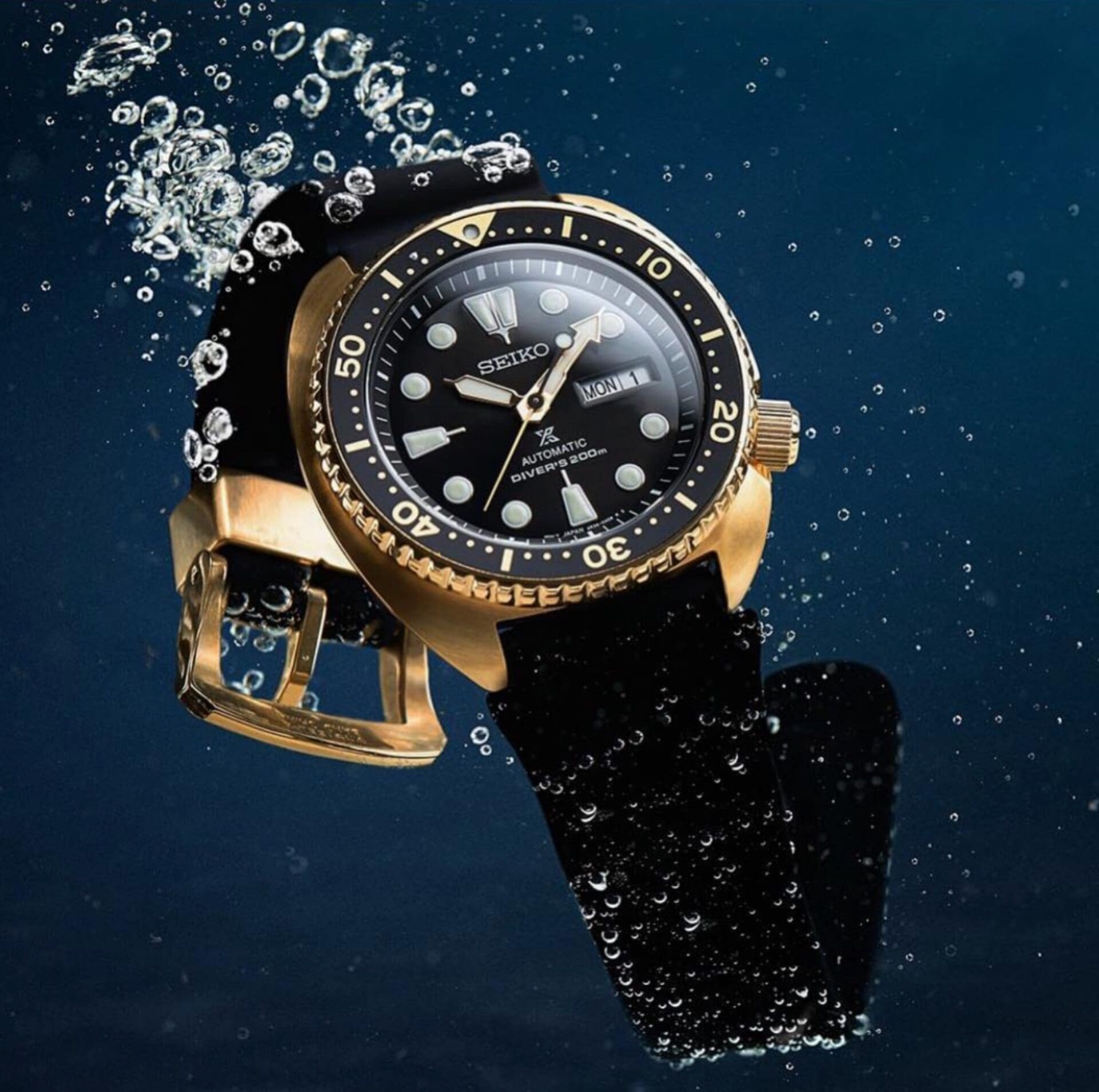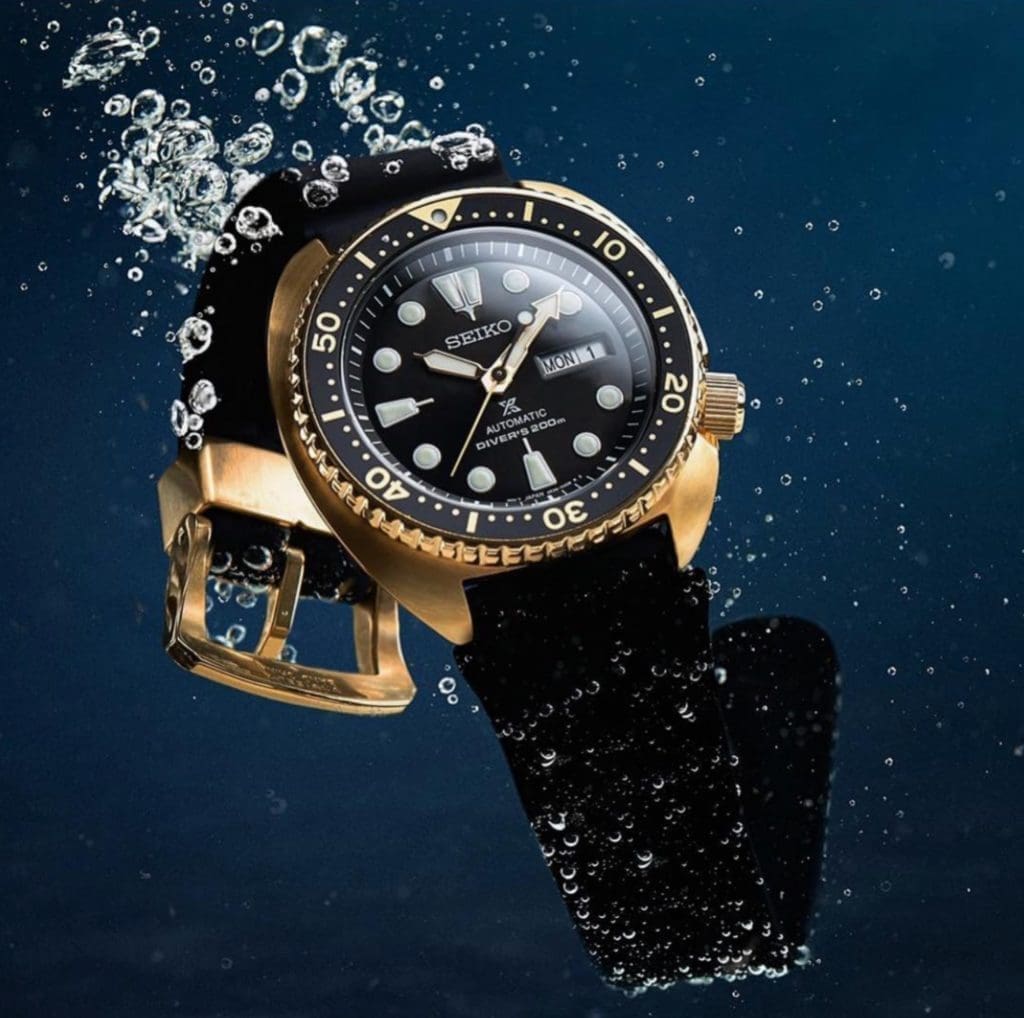 Rise To Fame
The combination of bullet-proof reliability and bargain pricing proved to be irresistible, and the Turtle was wildly popular. Besides being one of the watches of choice among divers of the day, the Turtle has had some notable wearers among its fanbase.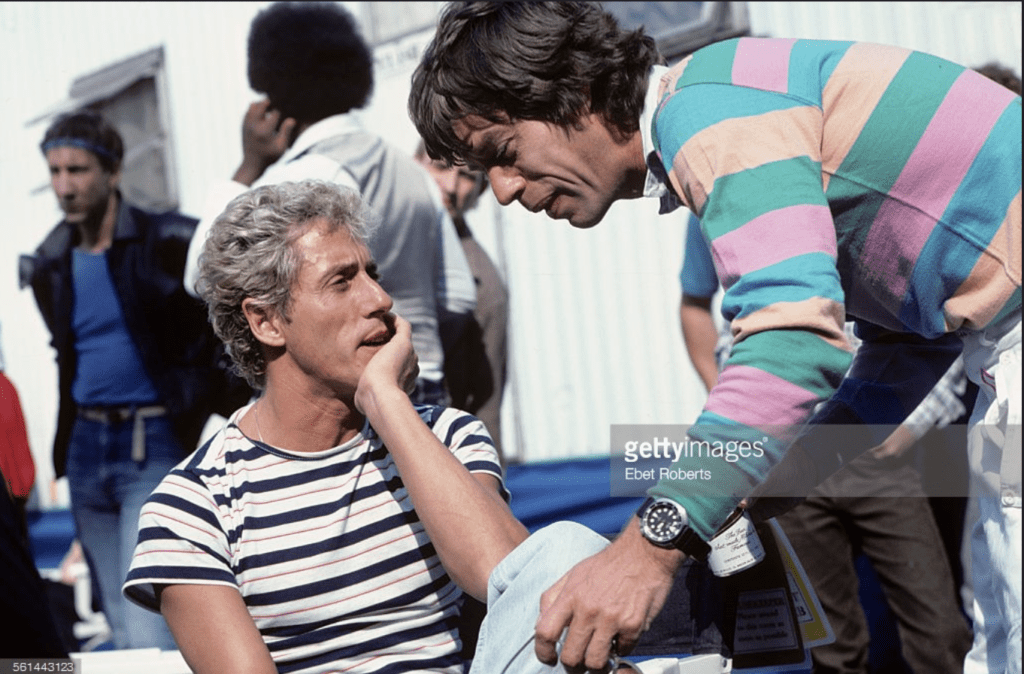 The Rolling Stones' Mick Jagger was a Turtle fan, and wore one from the late '70s. The watch was certainly rugged enough to keep up with his high-energy stage performances, and would have been a great choice for going on holiday to his favourite getaway on the island of Mustique. 
The Turtle was Seiko's flagship dive watch up until 1988, when the 7002 was introduced. In the ensuing years, the original Turtles have become so popular (and pricey) among collectors, that fake dials and other non-original parts are rampant. Always buy the seller when searching for vintage examples, lest you get burned by one of these so-called "Frankenturtles. 
Fast forward to 2016, when Seiko shocked the watch world by announcing the return of the Turtle, in updated form. It was an instant hit, fuelled by years of pent-up demand from Seiko fans the world over. The new version, which falls under the umbrella of Seiko's Prospex tool watch series, saw an upgrade in water resistance to 200 metres, up from its original 150m, and was available in basic black, black/gilt, blue, and black dial/Pepsi-bezel variants. The new watch had slightly bigger case dimensions, drilled lugs, a unidirectional 120-click bezel, and an upgraded 4R36 movement that handwinds and hacks. Thankfully, the larger case still wears well for a wide variety of wrists. In addition to my vintage 6309, I also own a modern iteration of the Turtle, the SRP787K1 "Batman" variation, named for its distinctive black and blue bezel insert and blue outlined hour hand. This one was made for the Asian market and can be tough to find, but luckily for fans, Seiko has released a plethora of new models and special editions. So many in fact, it would be impossible to cover them all here, but keep reading for a list of my favourites.
Famous Wearers
Actor Keifer Sutherland has been spotted wearing a Turtle on-screen and IRL. Survivor Australia host Jonathan LaPaglia rocks a vintage 6309-7049 that he rebuilt himself. Talk about self-sufficiency!
Legendary Queen guitarist Brian May has worn a quartz 7548-7010 (a direct descendant of the 6309) for 40-plus years. If that doesn't speak to the legendary durability of Seiko divers, I'm not sure what does.
Favourite Models
And now, I'll walk you through some of my favourite modern versions of the many flavours of Turtle.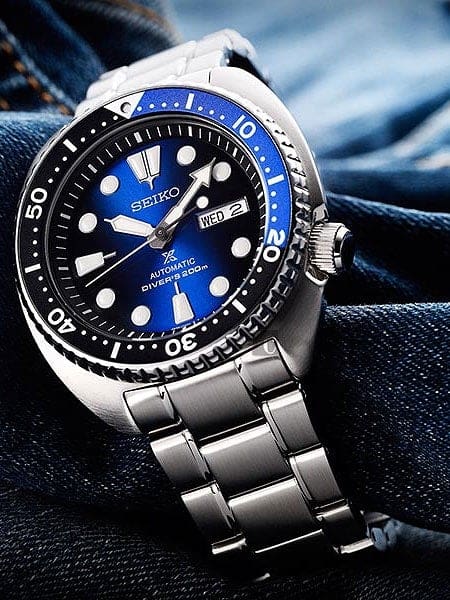 This Seiko Prospex Turtle 200M Automatic Black/Blue Ref. SRPC25J1 is a close cousin of my Batman, except you'll get a sweet blue-to-black sunburst dial. It's a classic combination that pairs well with a wide variety of looks.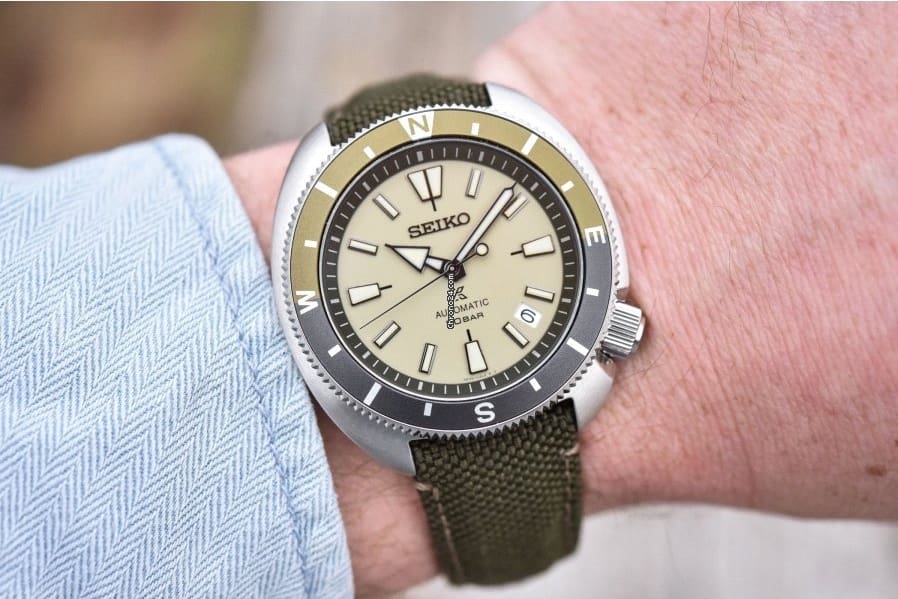 Here we have a super-tactical variant, the Prospex Automatic Land Edition "Tortoise" Green Ref. SBDY099
. It sports a badass khaki green colourway, and has the unexpected addition of a compass bezel insert.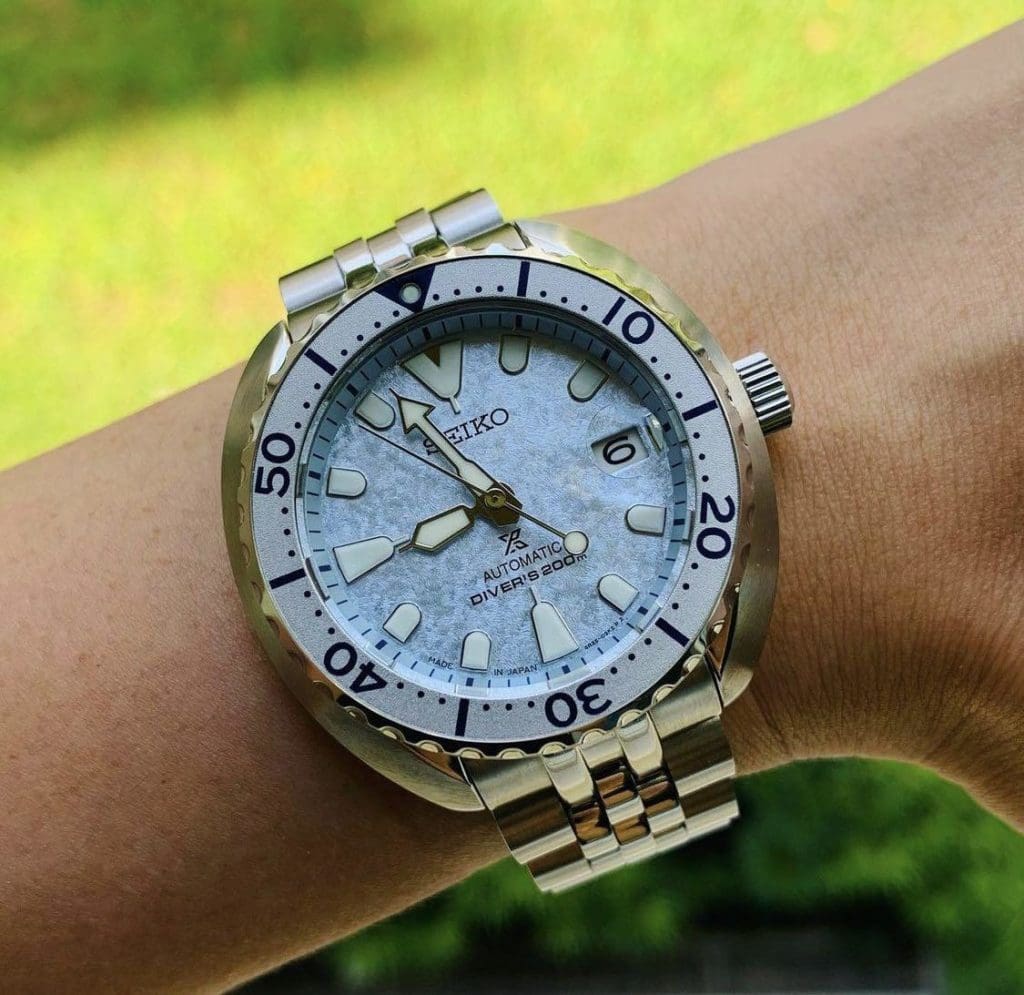 This one is officially known as the Turtle Mini 200M Automatic "Ice Frost" Ref. SBDY109, but I'm calling it the 'Ice Ice Baby', since it's the newer 42mm 'Mini Turtle' size. The cool blue variegated dial and blue-on-white bezel recall the tones of some of my favourite Grand Seikos, but at a way lower cost of entry.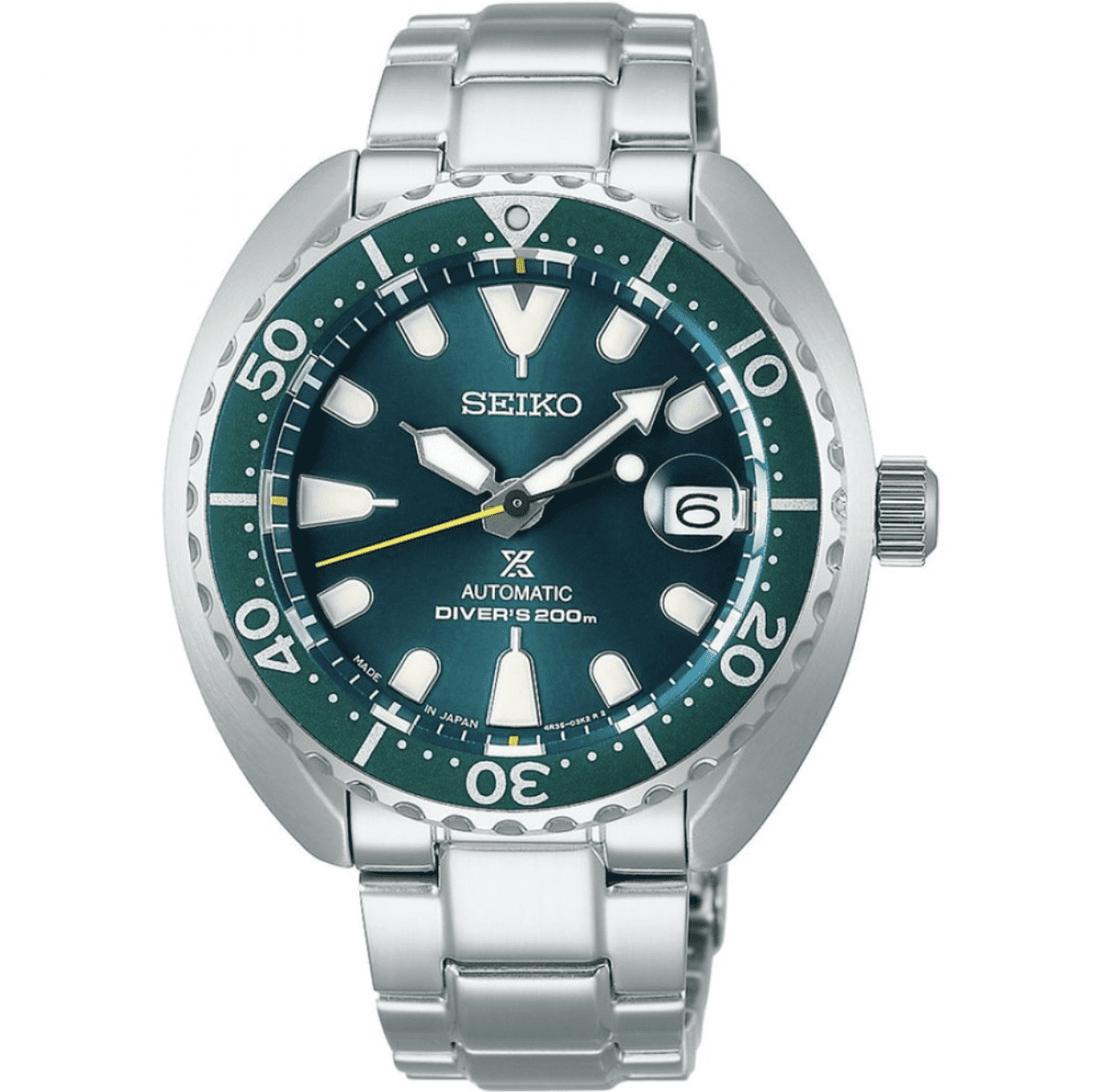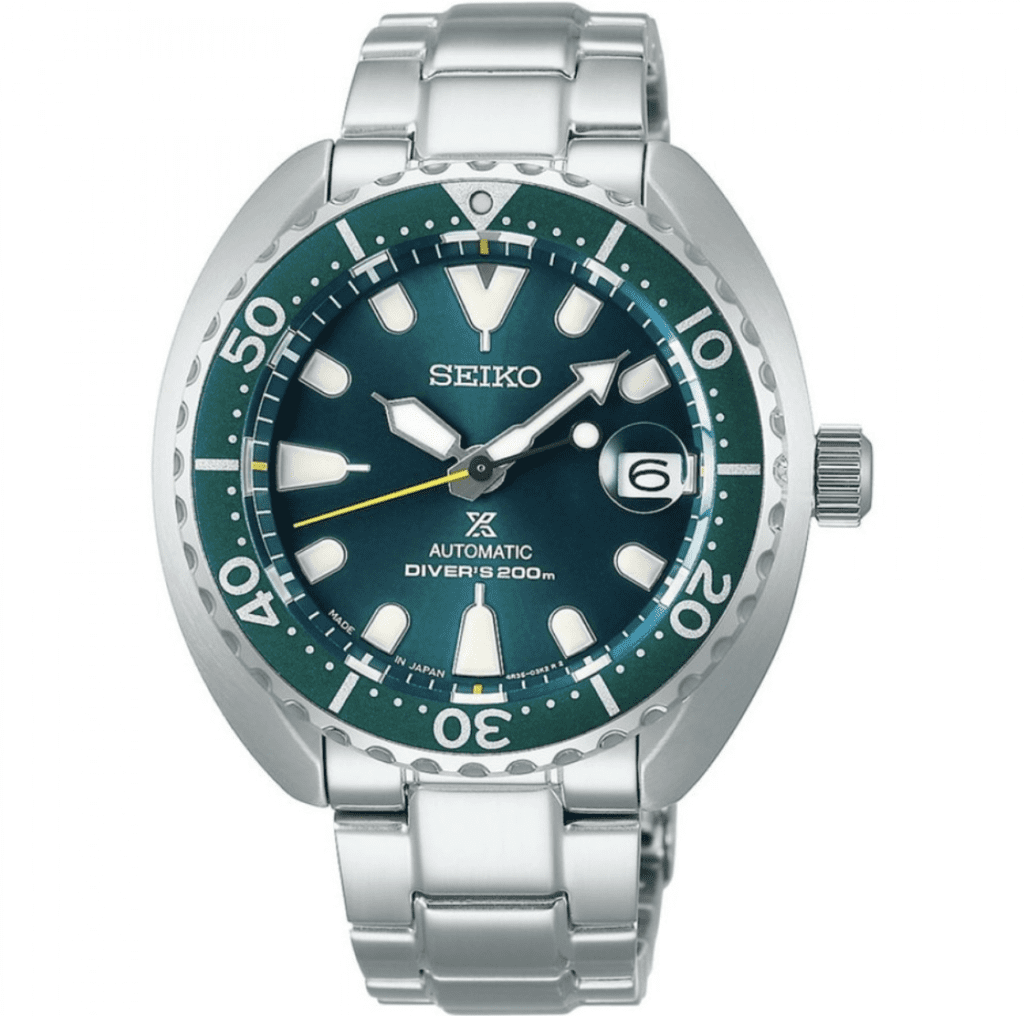 Here's another Mini Turtle, the SBDY083, but this one sports a green dial and bezel, lending some serious Hulk Sub vibes.
Here's one of my faves, sadly discontinued, the infamous blacked-out "Ninja Turtle". With its stealthy black case and jolt of orange in the hour hand, it's a stunner. If this one's a must-have for your collection, expect to "shell" out about double the original retail price.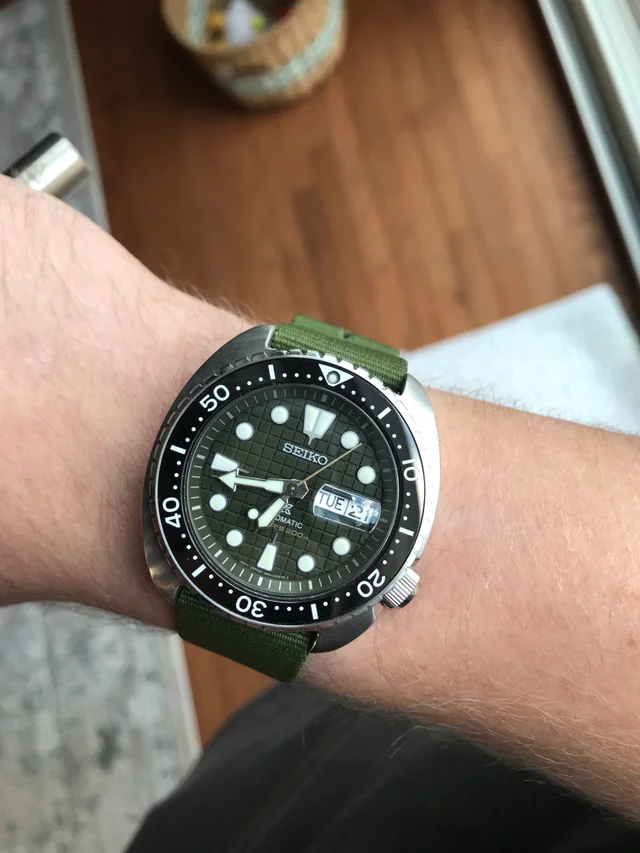 My last pick is the SRPE05K, another olive drab-coloured beast with a fantastic grid-patterned dial that recalls the AP Royal Oak Offshore. This one also features an extended cyclops on the crystal to magnify the day/date window.
So there you have it: The Turtle is an icon among the horological denizens of the sea, from its humble beginnings as a true diving tool, to the dozens of fashionable variations available today. Thankfully, most of these versions can still be had at a relatively bargain price, which makes adding one to your own collection a no-brainer. Discovering your perfect choice is half the fun.