Hunter S. Thompson: The unlikely Rolex Man
Luke Benedictus
"I hate to advocate drugs, alcohol, violence, or insanity to anyone, but they've always worked for me." Hunter S. Thompson was good like that. Always generous when it came to doling out whacked-out life advice. In his writing, he offered heartfelt tips on many things, from hotel liaisons ("Don't have sex in the lobby – it's usually awkward") to optimised forms of hedonism ("Have an objective to give your bender a theme. For instance, stalking and killing a wild pig with a bowie knife").
This type of off-kilter wisdom reflects Thompson's libertarian values and drug-addled life. Until these hard-living ways dulled his creative fire, he channelled this material into Gonzo journalism – an energetic form of subjective reporting that involved the writer becoming a central participant in the story. Yet what truly supercharged Thompson's writing was his electric style, a form of hyperbolic invective that influenced countless young journalists all over the planet.
On the back of his Fear And Loathing books in particular, Thompson became a countercultural hero, right up until his suicide in 2005. But given the unorthodox nature of his daily existence – the firearms, the pranks involving frozen elk hearts, the oceans of Chivas Regal – Thompson's choice of watch is a little surprising. Despite his literary outlaw status, he plumped for the most conventional of social signifiers on his wrist. Hunter Stockton Thompson was a committed Rolex man.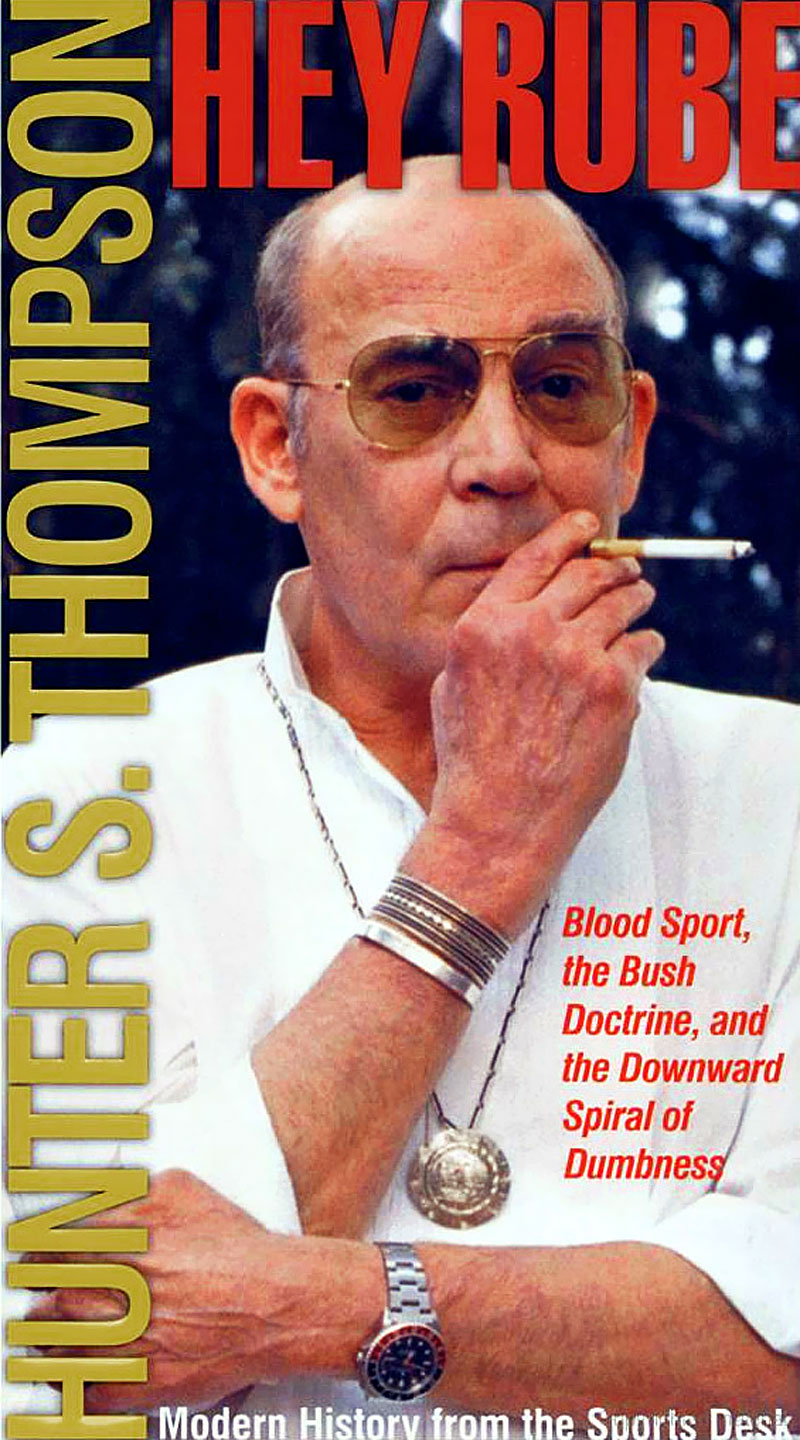 Admittedly, these Rolex watches were sometimes used in uncustomary ways. In Generation Of Swine, for example, Thompson stops his convertible at a red light when a man rushes up to him clutching a hookah pipe and grabs his arms.
"Come with me brother," he said. "The time has arrived. The Lord works in wondrous ways."
I bashed him away with a shot in the cheekbone with the edge of my stainless steel Rolex and we roared off toward the Alvarado Freeway …
His timepiece is treated with similar irreverence in Fear And Loathing In America. Staying in Saigon to witness the chaotic end of the Vietnam War, Thompson trades another Rolex for $200 in order to pay his tailor.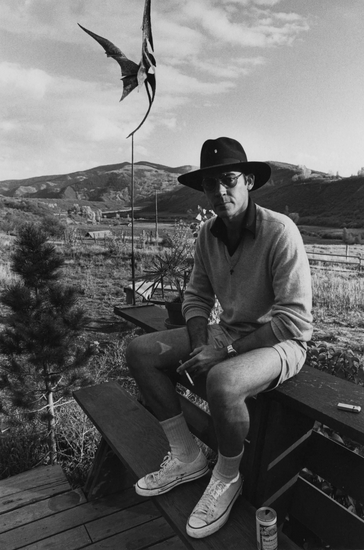 Yet despite this carefree approach to watch ownership. Thompson was nothing if not brand loyal. The watch he wore most regularly was his Rolex GMT-Master (ref: 16700), more commonly known as the Rolex Coke. The watch was released in 1989 with three different bezel variations — red and black (Coke), blue and red (Pepsi) and one with a solid black bezel (which never got a nickname for some reason).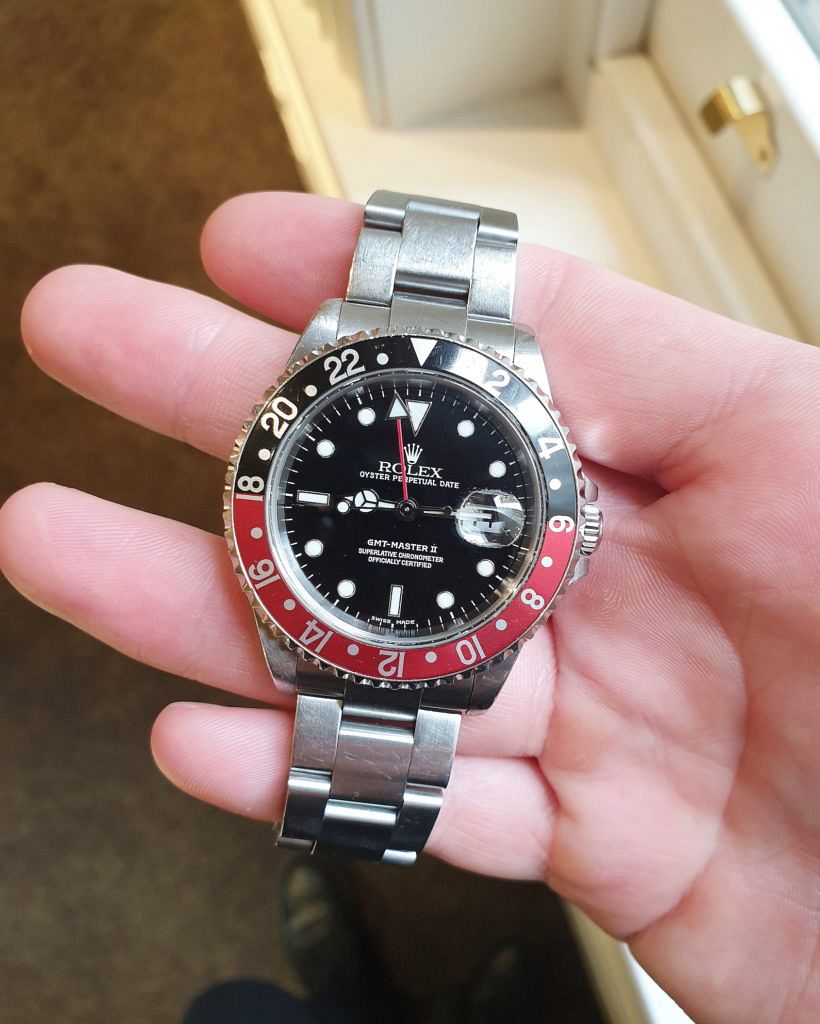 It would be easy to assume that Thompson went for Rolex by dint of the fact they were the default watch brand for a man of moderate means. But Thompson was, in fact, more stylistically discerning than you might think, particularly when it came to the accessories that defined his look. From the cigarette holder permanently wedged between his lips to his diverse collection of hats and those Ray-Ban Kalichrome Shooters with yellow lenses, Thompson had a flair for such accoutrements. Given such joyous attention to madcap detail, it's unlikely that Thompson's watch was haphazardly selected either.
Here then are four wildly speculative reasons why we think the Rolex GMT Coke was the ideal watch for HST:
1. A robust watch for a full-contact lifestyle
Vogue described Thompson's clothing as "a glorious, gonzo mishmash of sportsmen's utility". There were the safari jackets and fisherman's bucket hats, with Thompson even known to don a pith helmet on occasion.
Such items may have been put together with an eccentric swagger. But they're also highly practical items of hard-wearing outdoor gear that are able to cop a lot of punishment. This hardiness was necessary given the precarious nature of Thompson's fast-lane existence. This is a writer, after all, who got stomped by the Hells Angels and whose daily routine (see below) would give a match-fit Keith Richards a run for his money.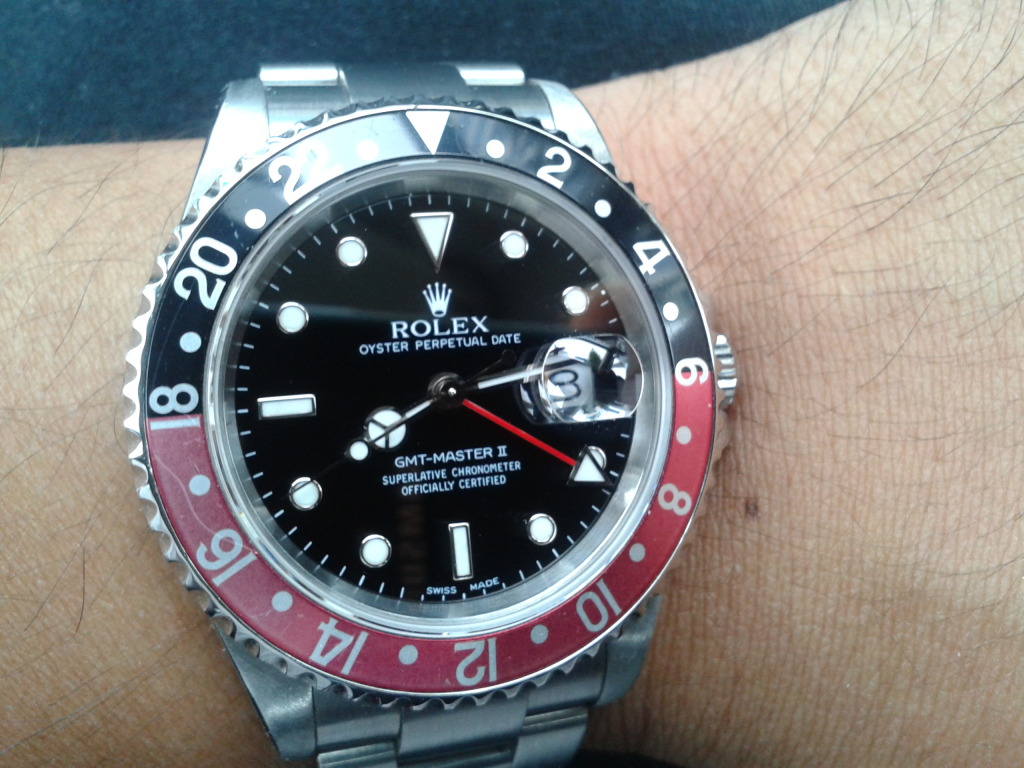 The Rolex GMT-Master II is a hardy tool watch that's pressure proof to 100m and ringed with a sturdy aluminium bezel. In short, it's a sturdy enough timepiece to handle the daily chaos of HST's turbulent lifestyle.
2. The Hemingway connection

It's no exaggeration to say that Thompson worshipped Ernest Hemingway. Sure, he shared the writer's love of macho escapades and heavy drinking. But he was also such a huge admirer of Hemingway's work that, as a young man, he typed out whole pages word-for-word from A Farewell To Arms "just to get the feeling of what it was like to write that way".
Such was Thompson's awe of the man that in 1964, when he visited Hemingway's Idaho home, he stole the elk antlers from above the writer's front door. His long-suffering wife, Anita, eventually returned them after Thompson's death.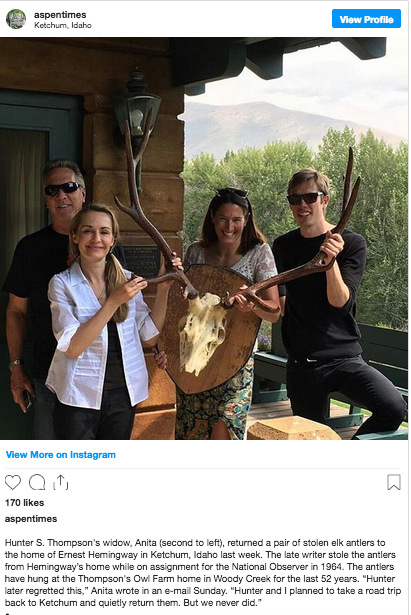 Hemingway, of course, was also known as a committed Rolex man and wore his Oyster Perpetual on a daily basis. Given Thompson's admiration of the literary great, it's not out of the question to suggest the influence extended to his choice of wristwear.
3. The anarchic colour scheme

Thompson was essentially a libertarian, but his politics leaned towards the radical left. It's a point that Arvind Dilawar makes persuasively in this essay on Gonzo Socialism. "For Thompson," he writes, "the enemy that had to be fought was a twin-headed hydra: oppressive, authoritarian government and soul-crushing, exploitative capitalism. Both were an affront to the individual freedoms he cherished."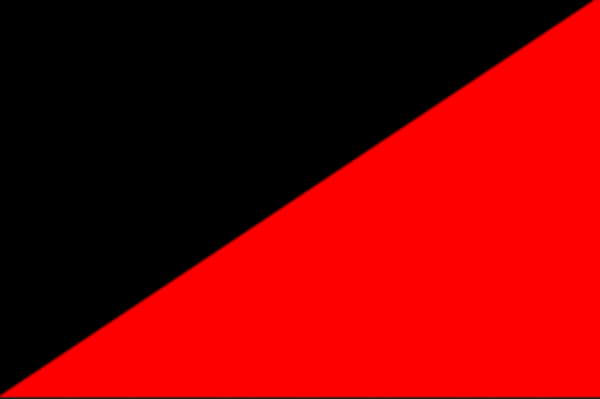 Perhaps herein lies the reason that Thompson plumped for the GMT Coke over the Pepsi. The colours black and red have been used by anarchists in their flag (above) since the late 1800s. Given Thompson's passionate belief in the freedom of the individual, the coincidence seems entirely appropriate.
4. The second time zone
The photo below of Thompson wearing two watches – one his aforementioned Rolex, the other spotted by a reader, Thorsten, to be a TAG Heuer Super Professional Divers watch – is supremely ironic. The man had no sense of time, much less punctuality of any description. Sent to Zaire to cover Muhammad Ali and George Foreman's famous "Rumble in the Jungle" for Rolling Stone, he missed the fight entirely. In fact, Thompson's dysfunctional lifestyle meant that he rarely met any deadlines whatsoever. "After the election and Watergate, he wrote small things for us," Jann Wenner, the longtime publisher of Rolling Stone, recalled. "But he'd miss flights and never turn anything in."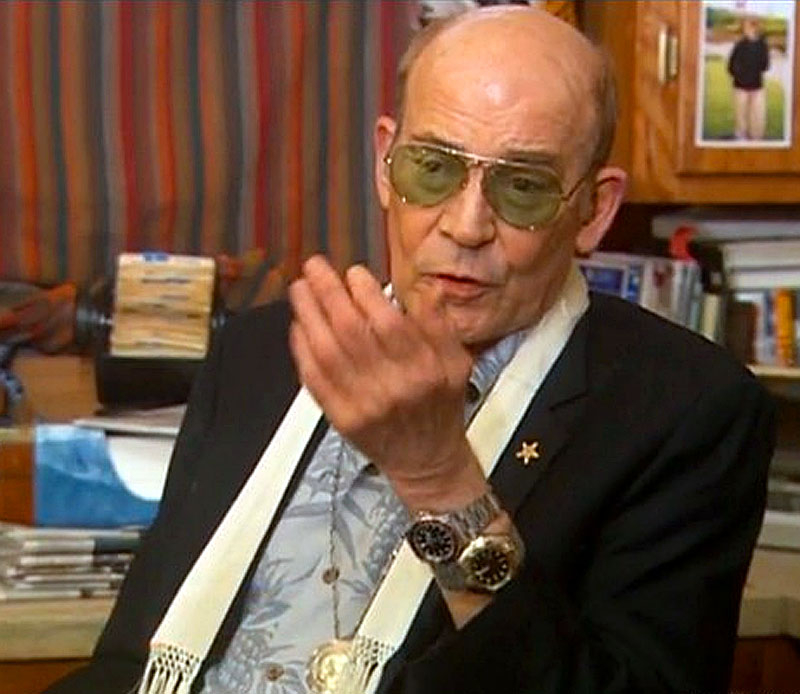 A glance at Thompson's notorious daily schedule, as reported by the Associated Press, reveals that Thompson flatly ignored the conventional hours that most of the planet is forced to comply with.
Yes, it's almost certainly exaggerated, but it echoes a famous line from Thompson. "I have a theory," he once said. "That the truth is never told during the nine-to-five hours."
Instead, Thompson chose to live by his own rules and occupy his very own time zone. No wonder he needed a GMT.