VIDEO: A five-minute crash course on how a tourbillon works and what it's comprised of
Andrew McUtchen
Editor's note: If I look a little flustered and stiff in this video, it's because I'm not entirely comfortable when I'm invited to get a lab coat on in a watch manufacture. Too many times, humiliation has followed. I don't come at watches from a technical perspective, and that's largely because I don't have that kind of brain. When I'm asked to reconstruct an escapement, I want to escape, basically. Know thyself, right? While some dignity was restored recently, when I went up against the venerable @fkscholz in a watchmaking challenge 101, I'm unlikely to be buying a set of tools any time soon. I'll leave that to the experts, like the fine people at Hublot's headquarters in Nyon, who give us a tour here inside a Hublot tourbillon cage. It's among the most popular technical videos we've ever created, which I'm sure has a lot to do with the magic and the mystery of the tourbillon, not to mention the mastery required to play with them.   
Hublot have made big strides in recent years to establish watchmaking credibility as a counterweight to its heavy-hitting celebrity power. Regular nominations in various GPHG categories – across womens and mens watches – have been a meaningful benchmark for progress, and new crowd-pleasers, such as the delightful movement architecture of the Meca-10, have opened up a fresh conversation with watch lovers about what wearing a Hublot actually means in the modern day.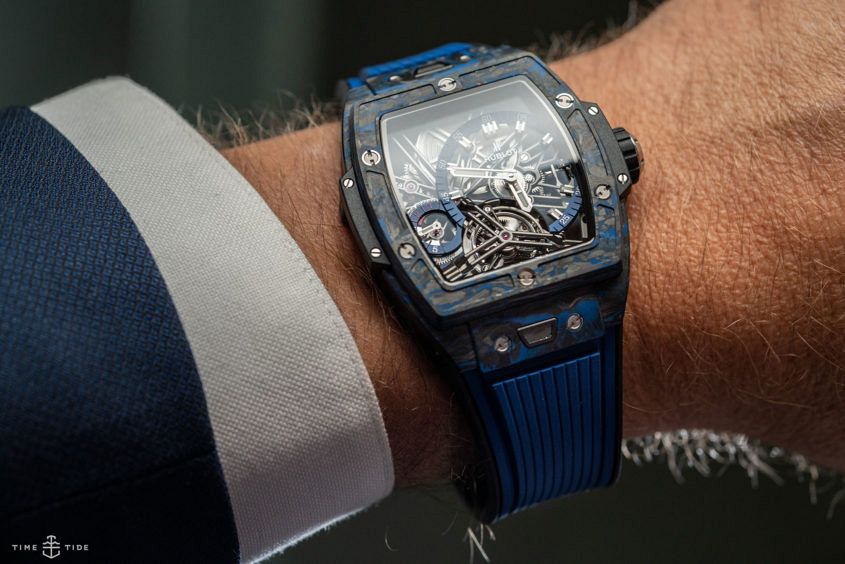 To this end, when we were invited to the manufacture in Nyon to better get to know the brand, we were immediately interested in the High Complication Department and thought we might use its expertise to get inside the cases of some of the most popular, desirable and useful complications that Hublot offer.
So, prepare yourself, we have a little three-part miniseries coming your way – each honing in on a complication. But rather than telling the story from A-Z, we get quickly down to business and isolate each complication's idiosyncrasies. In this video, it's the tourbillon cage itself on a watch that takes roughly 10 times longer than a Hublot Unico chronograph to construct.